Commentary
Who's bad: Ndamukong Suh
Originally Published:
December 7, 2010
By
Dave Wilson
| Page 2
Detroit Lions defensive lineman Ndamukong Suh is a (rather large and) complicated man.
He's made headlines this season by grabbing Dallas Cowboys running back Marion Barber by the hair while tackling him and by being penalized on Sunday for using a forearm shiver to take down Chicago Bears quarterback Jay Cutler.
Off the field, however, he's a gentle giant. He's soft-spoken and polite and, on Tuesday's visit to ESPN, was wearing a singular, sequined glove like Michael Jackson used to wear.
The glove is a limited-edition replica made as part of a charity campaign tied to the release of the "Michael Jackson The Experience" video game for Wii. Game publisher Ubisoft worked with Michael Jackson's estate to come up with the campaign, in which celebrities will wear the gloves, then auction signed versions for charity. Suh's auction proceeds will go to the Detroit Medical Center.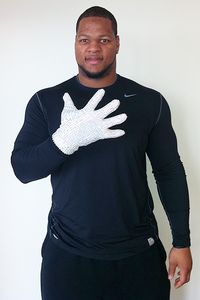 TwitterNdamukong Suh posted a picture of him wearing the Michael Jackson replica glove on Twitter. He will auction off the glove for charity.
So is the 6-foot-4, 307-pound defensive lineman breakin' it down at home like MJ?
"He was an excellent dancer, so it's tough to replicate him, but I try my best to get close to him," Suh said. "All his practice made him perfect, so I need 10 to 20 times more practice than he did."
For Suh, the opportunity to be linked to Jackson at all was a thrill.
"Me and my sister had all his videos on VHS," Suh said. "Pretty much any time we were stuck in the house, we put the video on, dance to him, watch him. 'Thriller,' 'Beat It,' 'Bad,' just being able to go back and reminisce to those things. … Definitely a huge Michael Jackson fan. Now to be older, to still be a fan of him, being able to work with that estate, not that many people can say that they've had an opportunity to have some connection to Michael Jackson."
This mental image seems at odds with the terror on the football field, which he realizes.
"I don't know why. I am just kind of a laid-back person. I flip a switch when I am on the field. My best analogy of it is that I'm bipolar," he said. "On the field, mean streak, going after, killing quarterbacks, killing running backs. Off the field, mild-mannered, goes about his business and wants to help other people that he can."
Even admitting that he's out for quarterbacks, does he take issue with being flagged for the hit on Cutler on Sunday?
"I don't know if I hit him too hard, or if I'm not allowed to hit him in his back, but as far as I know in the rulebook, hitting a guy with a shoulder, an arm, an elbow, whatever it may be, as long as it's not to the head, it's pretty much legal," Suh said. "It's a physical sport; physical things are going to come out. I didn't lead with my head to try to take his head off. I led with my forearm to try to take him down, to hit him at the top of his number, and it was perceived a different way by the refs.
"I'm 300 pounds going full speed. There's no way I'm stopping on a dime to avoid a quarterback or avoid any runner at that."
But dancing? That's another story.
"I love 'Bad,' being able to replicate his dance with that, but it's not easy at all," Suh said, saying he may use his Twitter account to show off his moves. "I'm going to go home and practice, and I might [tweet a video] of one of my dances trying to do it."
Fans can send photos or videos of themselves to Suh's Twitter account, and he'll select winners to receive an autographed copy of the game. They also can post the photos on the game's Facebook page.
Dave Wilson is an editor for Page 2.