Commentary
Page 2's look at obscure bowl facts
Updated:
December 17, 2010, 8:16 PM ET
By
Rob Daniels
| Special to Page 2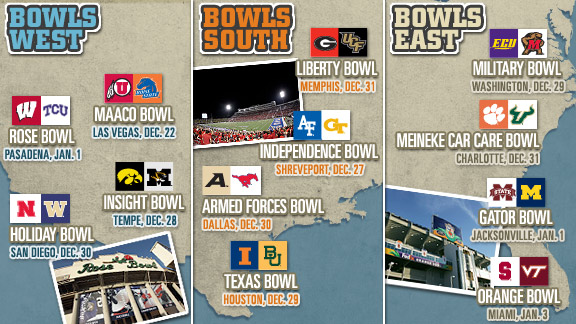 ESPN.com Illustration
Think you've got all these bowl matchups figured out? Page 2 doesn't know it all, but it does promise that if you keep reading, you'll learn something about firearms, Liberia and a trade association representing beef producers.
Welcome to the 2010 edition of Obscure Bowl Facts.
Las Vegas, Dec. 22: Bet you wouldn't have guessed that this one's the only of the 35 bowls in which both competitors have won multiple BCS games in the structure's 12-year history: Boise State (Fiesta, 2007, 2010) and Utah (Sugar, 2009, Fiesta 2005).
Hawaii, Dec. 24: Features the teams with the shortest trip -- Hawaii's 11-mile drive to its home ballpark -- and the longest -- Tulsa's 3,827-mile flight from the dust bowl to paradise.
Independence, Dec. 27: Georgia Tech is home to a major research facility used by the Air Force. Cooperation. What a concept.
Texas, Dec. 29: This one involves two members of the George Herbert Walker Bush administration. Kenneth Starr, currently the president at Baylor, was solicitor general under Bush, whose chief of staff in 1992 was Sam Skinner (Illinois, 1960).
Pinstripe, Dec. 30: Call this the Vice Presidential Bowl instead. Vice president Joe Biden graduated from the law school at Syracuse in 1968. Kansas State's alums include Joseph Boakai (1976), elected to the No. 2 post in the Liberian government in 2004.
Meineke Car Care, Dec. 31 Generation gap: South Florida has had a football program for 11 years; among Clemson's former coaches is John W. Heisman.
Sun, Dec. 31: Catholics vs. Convicts doesn't work anymore. So let's call this what it is: the only meeting of two private schools.
Fiesta, Jan. 1: Connecticut and Oklahoma prove the value of diverse talents. UConn assistant coach Darrell Perkins was once a high school basketball coach in Colorado. Matt McMillen, administrative coordinator for OU football, is the former director of marketing for the National Cattlemen's Beef Association.
Ticket City, Jan. 1: Also known as the "Second Amendment Bowl." Former NRA majordomo Charlton Heston attended Northwestern. According to Texas Tech's website, mascot Raider Red "fires his two 12-gauge shotguns using powder-filled shells after every Tech touchdown and field goal."
Capital One, Jan. 1: Replay the 1950 World Series. Mel Allen (Alabama, 1937) was the Yankees' broadcaster and former Michigan State pitcher Robin Roberts worked in two games for the Phillies. You expected a Nick Saban reference?
Rose, Jan. 1: Two schools with academic records befitting the Grandaddy of Them All: TCU and Wisconsin both check in at 968 in the APR. That's among the best in the postseason populace.
Sugar, Jan. 4: The "Dr. Lou Bowl." ESPN's coach Holtz was an assistant to Woody Hayes at Ohio State in 1968 and Boss Hog at Arkansas from 1977-83.
BCS National Championship, Jan. 10: Coaches in this game are only five years removed from the small time: Oregon coach Chip Kelly was the offensive coordinator at the University of New Hampshire and the Auburn offensive coordinator Gus Malzahn was the head coach at Springdale (Ark.) High School at this time in 2005.
Rob Daniels is a freelance writer for Sports Media Exchange, a national freelance writing network.