Commentary
Q&A: Politics and sports with Dave Zirin
I guess it can be called a natural progression. When you are as good, outspoken, respected and feared in the field of demanding social, political and racial equality in sports as Dave Zirin has been over the past decade, magazines, books, television and radio aren't enough. Film has to be explored. In his new documentary, "Not Just A Game: Power, Politics & American Sports," Zirin gets his Michael Moore on. With the entire landscape of sports as his target, Zirin -- as he always seems to do -- puts a mirror up to America and makes us realize that we ain't as pretty as we like to think we are. Page 2's Scoop Jackson discussed the film with Zirin.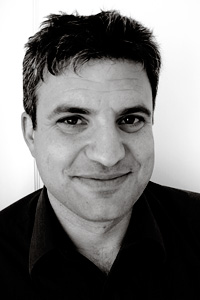 Courtesy of Dave Zirin Author Dave Zirin: "We love sports because it provides escape and the promise of magic. But beneath the pyro, it's a fun-house mirror of who we are as a country."
You could have done this entire film on sexism in sports, agree? What made you not do that and decide to tackle a bigger, broader story?
It's a great question. One reason is that this film has already been made. People can check out the brilliant "Playing Unfair." Another is that, more than anything, the film is about the way politics and sports are forever enmeshed/entangled with one another. The historic relationship between the sports world and American women is one part of that story. But no matter the "ism" we're talking about -- racism, militarism, sexism, commercialism -- the point of the film is that there is politics and promise woven throughout. For Bobby Riggs, there is Billie Jean King; for Avery Brundage, there is Muhammad Ali. For the caricature of Pat Tillman, there is the real flesh-and-blood man Pat Tillman. Sports is the closest thing to a national language we have. So the results of these battles for social justice inside sports have serious repercussions in the real world.
Is there a Title IX equivalent for racism in sports?
No, but what if there was? What if African-Americans were guaranteed equal access to coaching and scouting jobs? To being on a board of trustees of a college or board of directors of a team? The closest thing to it is the Rooney Rule, which has not only made the NFL more diverse; it far more importantly forces the door open to a new generation of coaches. The league is better for Mike Tomlin, Raheem Morris and Leslie Frazier. That required not pretending the owner's box is colorblind, but acknowledging that it isn't.
Devil's advocate: What do Jim Brown and Muhammad Ali, outside of films like this, have to show for their fights and struggles? Outside of pride (which to me is a lot) and all of their social and political contributions, what did they leave behind for their kids?
Two athletes; two very different answers. Ali was someone who will go down as the most visible and vocal draft resistor in the history of the United States. Agree or disagree, his historical and global impact is profound. Nelson Mandela once wrote that he could hear the impact of Muhammad Ali's punches while behind the prison walls. But that being said, Ali wasn't Malcolm X with boxing gloves. He was someone who was very bound with the political rhythms of his time. In other words, when the anti-war and African-American freedom struggles were ascendant, so was the political Ali. When these movements crashed in the 1970s, Ali's outspokenness as a political figure fell as well. His Parkinson's also robbed him of his voice and ability to build on his own legacy.
As Jim Brown said: "The Ali that America ended up loving was not the Ali I loved the most. The warrior I loved was gone."
Speaking of Jim Brown, he is someone who, irrespective of the times -- the '60s, the '80s or today -- never stopped fighting. His legacy is seen in kids who went through the Amer-I-Can Program and stayed out of gangs. It's in unpopular stands against the growth of the prison system or the death penalty. It's about using the platform to make a difference.
Would America's reaction to John Carlos and Tommie Smith [who raised their fists as a Black Power salute in the 1968 Olympics] be any different today had they done the same thing in 2008?
I think so, because the way media is disseminated and processed is so profoundly different. There wasn't social media in 1968. There wasn't a blogosphere. Today, if they had been kicked out of [the] Olympic Village, the online petition would be up before they could pack their bags. Twenty-four-hour sports radio channels would flock to them just for the content. In other words, you wouldn't have half a dozen powerful columnists shaping the national consensus on such an audacious act. Back then, Smith and Carlos actually had a lot of love in cities and on campuses, but there was no way to organize that love to counteract the grand shapers of opinion.
Is commercialism in sports bigger than racism or sexism?
Commercialism is the starting point from which all else flows, now more than ever. Commercialism is also why we have Playboy's "Women of the Olympics" issue and Danica Patrick being asked if she wears "flame-retardant underwear" in Maxim. It's commercialism that keeps my hometown Washington football team the Redskins. It's commercialism which is how we judge the cultural capital of LeBron (his Q rating is down!) or Vick (his jersey sales are up!) or the WNBA. Sports has become so, as Dr. King said, "thingified." That's what makes stories like the concussion story in football or the collapse of the [Metrodome] so powerful. It's like peeking behind the curtain at a pro wrestling show. It's a reminder that as much as we might love fantasy sports, reality is much more frightening and, frankly, more interesting.
What, to you, is the "social function in sports"?
Damn, Scoop. That's like asking the social function of drugs, sex, music or anything that gets people up in the morning in these tough times. We love sports because it provides escape and the promise of magic. But beneath the pyro, it's a fun-house mirror of who we are as a country. The scary part is when people start taking the reflection more seriously than the reality standing in front of the mirror.
Scoop Jackson is a columnist for ESPN.com.