Commentary
SABR Day 2011 celebrates baseball
Originally Published:
January 28, 2011
By
Doug Williams
| Special to Page 2
OK, quiz time. SABR Day 2011 is:
A. The day "Star Wars" fans dress up as Luke Skywalker and Darth Vader and duel with their flashlight-powered light sabers;
B. The always-anticipated, highly wacky annual gathering of the Society of American Bone Radiologists;
C. The second annual celebration of all things baseball by men and women who have often been referred to as (take your pick) statheads, geeks, nerds, seamheads and "the pocket-protector brigade."
[+] Enlarge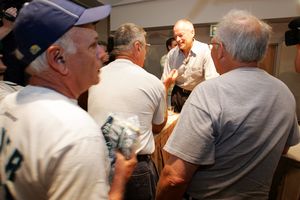 AP Photo/Kevin P. CaseySABR members, like these at an annual convention meeting "Ball Four" author Jim Bouton, are serious about their baseball.
If you picked "C," put an "HR" on your scorecard and find a chapter of SABR (Society for American Baseball Research) near you, where SABR Day II will be celebrated Saturday in cities across the U.S., Canada, the Caribbean and in a London pub.
While the rest of the sports world is gearing up for next week's Super Bowl in Texas, or is hip deep into the college basketball, NBA or NHL seasons, as many as 1,000 hardcore baseball followers are expected to gather at 36 venues -- ranging from ballparks to eateries to the Hall of Fame in Cooperstown -- to talk about baseball.
In January. With many parts of the country covered in snow. When Opening Day can seem as distant as a Pirates pennant.
In Cleveland, attendees will hear a presentation on "The Impact of Foul Territory on Srikeouts." In Milwaukee, they'll be able to talk to GM Doug Melvin about the Brewers' offseason moves. In San Diego, there will be a discussion of "Ernest Hemingway and Baseball." And in Denver -- no matter what the weather -- they'll gather for a game of catch outside in the parking lot.
"For me, this is a good time," says Marlene Vogelsang, the president of SABR's San Francisco Lefty O'Doul Chapter. "And I don't really pay much attention to the other sports, anyway. It's always a good time to celebrate baseball, and the end of January is good because it's the end of the hot stove, it's just before spring training and it signals the end of winter."
It's true. One week after the Super Bowl, pitchers and catchers are scheduled to report for several teams in Arizona and Florida.
Who are these people?
SABR, founded in 1971, has a membership of almost 7,000 in 55 chapters in the U.S., Canada, Japan, the Caribbean and United Kingdom.
Each chapter has a name unique to its region. There is the Smoky Joe Wood Chapter in Connecticut, for instance, and the Ted Williams in San Diego, the Connie Mack in Philadelphia, the Oscar Charleston in Indianapolis, the Field of Dreams in Iowa and the Orlando Cepeda in Puerto Rico.
The idea to have an annual SABR Day was adopted at the organization's annual convention in Washington, D.C., in 2009, says Susan Petrone, the publicity and member services manager for SABR at its Cleveland headquarters.
"It's much harder to get everybody in one place, so we get together all over the country," she says. Last year's first SABR Day drew 712 people which, she says, would have been the third-largest attendance for a SABR national convention. This year, she expects attendance of about 1,000.
The SABR Day programs are open to the public, not just SABR members. Some chapters will charge admission; at others, the event is free.
"We would love, love, love people to come out," says Petrone. "Baseball is the people's game."
So who are SABR members? There are the number-crunchers, the statistics gurus who love to analyze trends, create charts and author studies with titles such as "Does Walking the Leadoff Hitter Result in Big Innings" and "the SABeRhagen Syndrome." They often represent the stereotype of a SABR member to those on the outside.
At a SABR convention in Atlanta last year, one presenter, Mark Stang, referred to he and others as having an image as "the pocket protector brigade."
But SABR members say the image is a bit off base. Some former major leaguers have become SABR members, including Ted Williams, who once wrote a paper on why Shoeless Joe Jackson belonged in the Hall of Fame.
"It's a misconception," says Vogelsang, a San Francisco librarian and fervent Oakland fan who displays a photo of one of the A's World Series trophies on her cell phone. "SABR's for people who love baseball. Yes, we have lots of statisticians and nerds, and they love the numbers. But there's so much more. We love the history, the teams, everything about the game."
Says Daniel Boyle, the president of the San Diego Chapter: "There's the perception of Sabermetrics and Bill James, and there's certainly a lot of statheads," he said, about the organization's pioneering statistical analysis, and their champion. "But a lot of it is just being interested in baseball history."
Highlights of SABR Day
Among the most notable items on Saturday's SABR Day lineup are:
Denver: The Rocky Mountain Chapter will meet at the Blake Street Tavern, not far from Coors Field, where many of the expected 40 to 60 attendees will bring their gloves and balls and play catch as part of the program. "I just thought it might be fun to do, regardless of the weather, just to say we did it," says Paul Parker, the chapter president. "And if the weather's bad, it'll be a great photo op." He says he's had a great response from members. "Some of them have told me they're loosening up their arms."
San Francisco: There will be a joint meeting of the Lefty O'Doul and Sacramento chapters at AT&T Park, where attendees will take a ballpark tour and have a joint video conference with members at the Hall of Fame. It was hoped they'd be able to view the Giants' World Series trophy at AT&T, but the trophy will be on the road. It's had a busier offseason than Aubrey Huff.
Cleveland: The Pittsburgh and Cleveland chapters will meet together at Progressive Field, where former Indians bullpen catcher Tom Tomsick, now a physician with the University of Cincinnati Neuroscience Institute and the author of a book, "Strike Three! My life in the 'Pen," will discuss how ballparks with large foul territories adversely impact the strikeout totals of a pitching staff.
London: Mike Ross, a former Maine man and founding chief of the Bobby Thomson Chapter, expects about 30 to 35 people to gather in the Three Kings Pub ("for Elvis, Charles and Kong," he says), some coming from as far as Scotland and the Netherlands. Many will be Americans, but some will be from U.K. baseball and softball associations.
But whether it's a London pub or a Rocky Mountain parking lot, Petrone says SABR Day is just a time to celebrate baseball -- even if baseball is hidden right now behind the fog of football frenzy.
And everyone, she says, is a baseball expert with SABR research abilities.
For example: The other day, she was watching an old "Seinfeld" episode, in which Keith Hernandez -- the guest star -- supposedly made an error for the Mets vs. the Phils at Shea on June 14, 1987. So, she went to her computer to check the box score that day, and found it was the "Seinfeld" writers who had erred, not Hernandez. The Mets were in Pittsburgh that day.
"People hear SABR and they'll say, 'Oh yeah, those are the old guys who do statistics,'" she says. "Well, I'm not an old guy and I don't do statistics and I'm in SABR."
Doug Williams is a freelance writer in San Diego.