Commentary
My life in baseball, by the Beard
Tracing World Series greatness back to its roots, almost literally.
Updated:
February 28, 2011, 11:11 AM ET
By
Dave Eggers
| ESPN The Magazine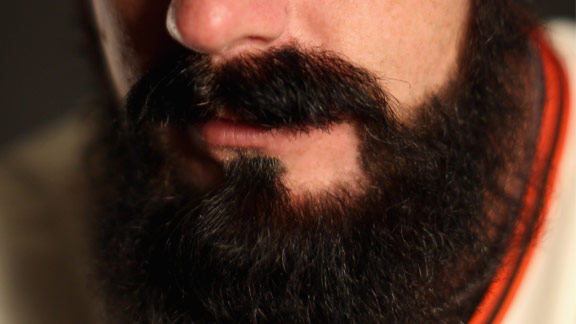 Ezra Shaw/Getty Images
I remember the phone call. This must have been last July. I was at my place in the Keys, sitting on the back deck, looking at the Gulf, thinking about nothing at all. The phone rings, and like an idiot I pick it up. I hadn't worked in years, but this guy on the phone says he's got a job for me. I say, "Oh yeah?" and I hang up. I'm into my third mojito and I'm not in the mood. But the phone rings again, and before I can hang up the guy says his name is Brian Wilson. Okay, I've always loved the Beach Boys, so my ears prick up. But the guy on the phone wasn't the guy who did "God Only Knows."
I've been a beard-for-hire for 50 years now. Fifty-seven, actually. I pretend I don't know the exact number, but of course I do. I remember every year, every gig. It's been a great ride.
Everyone thinks I started with Fidel, but he wasn't the first job. I wasn't some overnight success. It took years to get to that point. Everyone back then was trying to work up to getting a gig with a commandant or generalissimo, but I was happy for any work at all. My dad was a handlebar, strictly barbershop quartets and all that, and my mom was a lady 'stache, mostly working circuses.
So my aspirations weren't sky-high. But I worked hard and lucked into some good genes. I got bushy quick, and I had an ink-black thing happening that a lot of people really liked. The average guy puts me on, and boom, there's gravitas, there's machismo, there's a certain, vaguely menacing sense of mystery and power. So I did some work with lower-level military figures in Argentina and Venezuela, some work in Hollywood for stock villains. I'm on the Warner Bros. lot one day, and I get a telegram. The sender says he's seen my work, needs me in Cuba, that we'll change the world together. The telegram was signed just Fidel.
Once he began transitioning to that scraggly gray look -- don't get me started -- I packed my bags and moved back to the States. It's just an hour or so by boat from my deck to Havana, so he and I keep in touch. I worry about his health, though.
Anyway, I'm at my place in the Keys, talking to this guy who's Brian Wilson but not Brian Wilson and ready to throw the phone into the ocean. But then he says he's a pitcher for the Giants. I say, "The Giants? Like from New York?" I'm old-school, forgive me. "No," he says. "San Francisco." He went on. "We're contending, and I need a look to take us through the playoffs and into the Series." I tell him, "Buddy, I'm old, I'm tired, I can barely make it off the couch, let alone all the way to San Francisco. And bopping around the mound every night, with all the lights, soaking in sweat? No way."
But he couldn't be dissuaded. Next thing I know I've agreed to a meet-and-greet. He sends a plane, and next day I'm in San Francisco, face to face with this guy. And the first thing I say is the first thing everyone says: "Brian, are you out of your damn mind?" He was clean shaven and looked like a scoutmaster. Not a beard type of guy, right? Worst of all, his hair was almost blond. On a good day, you'd call it auburn. I'm jet-black, engine-block black. Hair like his with a beard like me? It would look ludicrous. It wasn't gonna work. So I get up, start walking out. He runs after me, stops me and says, "I know it sounds crazy, but you gotta trust me. Think of the batters. They look up, see this guy with this big intense beard, right? That's intimidating." Well, you don't have to convince me of that. On the right face, I can strike fear in the heart of any man. I know this. You should have seen me and Fidel storming the Cuban countryside together. People crapped their pants. Repeatedly.
Now Wilson's got my attention. "Okay," he says, "now think of the batter who's standing there, not only freaked out by the beard, but also trying to figure out what kind of lunatic would have a beard six shades darker than his actual hair."
So I start to picture it. I see us in the NLCS. We trot out to the mound together, and immediately the batter's thinking, What the holy hell is that? It's not just the big bushy beard. It's not just the mismatched colors. It's the fact that this pitcher is wearing this messed-up look in the most important games of his life. The game is on the line, and when the Giants call in their closer, he comes out wearing the most insane hair-beard combo in the history of sports. And while the batter's trying to process all this, trying to make some damned sense of it, Wilson is blowing 98 mph fastballs by him. Boom boom boom.
Right then, I knew this guy was the real deal. That he could pull it off, and together we'd make history. And he did, and we did.
Dave Eggers, a longtime contributor to The Magazine, is the author of seven books. His most recent, Zeitoun, is a nonfiction account of a Syrian-American immigrant and his extraordinary experience during Hurricane Katrina. Eggers is also the founder and editor of McSweeney's, an independent publishing house based in San Francisco.
Dave Eggers is the author of seven books including Zeitoun, and the founder and editor of independent publishing house McSweeney's. He co-founded the nonprofit writing and tutoring center 826 Valencia in San Francisco, and sister 826 centers have opened in seven cities. An early consultant to ESPN: The Magazine, Eggers was the magazine's first Answer Guy.
ESPN The Magazine: March 7, 2011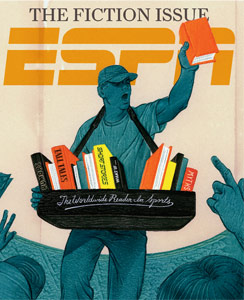 Check out ESPN The Magazine's March 7, 2011 issue below.
Fiction
Features