Commentary
The Bowtie Miracle
A funny thing happened on the way to a Saints-Panthers game
Updated:
March 7, 2011, 4:02 PM ET
By
Michael Bible
| ESPN The Magazine
This short story appeared in the March 7, 2011 Fiction Issue of ESPN The Magazine.
I WAS SEEING my brother as a Taoist sage.
We were in the bathroom of a Cracker Barrel. I knew he was ancient by his swagger. A wise traveler, a carrier of light and truth. I was wearing a bow tie. It was Christmas Eve. We were on our way to see the Carolina Panthers play football and I wasn't happy about it.
"I'm going to church," I said, "to worship."
He was a 15-year-old with a five-o'clock shadow.
"Grow a pair and watch some football," he said.
---
BIG-SCREEN TVs were on all hours of the day in our house, blaring the play-by-play of anything with something at stake. My family could tell you all about Rollie Fingers in the '74 Series, describe in detail Kobayashi's finest eats, give you all 101 of hockey's greatest goals, who scored and who was scored on. I was dragged to water polo in Key West, horse jumping in Maryland. We had season tickets to two minor league hockey teams, a losing WNBA club and, of course, the hometown Panthers.
---
SOMETHING WAS TAKING over inside of me. It is hard to say exactly what that thing was now. It may have been Jesus himself, that morning of Christmas Eve, who floated into my house -- past the life-size Shaq posters and Mia Hamm lunch boxes, past the jumbo Howard Cosell bobbleheads and a closetful of foam fingers -- entered my bedroom and touched my spirit.
---
THE CRACKER BARREL was crowded. Customers snaked from the door to the hard-candy barrels to the sock monkeys to the John Deere flatware sets. My brother was by the rocking horses, his face aflame with glory.
"What is the message, guru?" I yelled at him.
He slowly extended his middle finger.
"Godhead, friend, nurturer, truth-giver," I yelled to my brother. "Show me the way!" He made a gesture like he wanted to hit me. An Asian woman with a country accent called out our name from the hostess stand.
---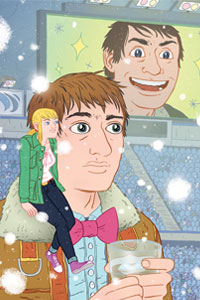 Mike Bertino for ESPN The Magazine
BIRDIE WAS MY NEIGHBOR. She was a year older than I was, a senior, and I was bad off in love with her. She'd gone to New York to be a ballerina when she was 15 but quit so she could smoke cigarettes. Her father invented an herbal breast enlargement drug called Best Chest and made millions off it. Birdie and I skipped school and went to Bojangles' and talked about music and books and the sorry sacks we went to high school with.
She met us in front of the stadium. Collar flipped up, she was standing in front of the black granite panther sculpture. It looked like the stone cat was about to rip her head off.
"Merry Christmas," I said.
"Sure," she said. "Why not?"
Inscribed on the panther's base were the names of all the season ticket-holders. My old man made us touch his name before every game for luck.
"I'm not wearing panties," Birdie whispered as we swiped.
"You teasing witch," I said to her.
From the nosebleeds we watched the pregame spectacle. Punters punting, kickers kicking, long-snappers long-snapping. The cheerleaders were a bunch of silicone stuffed into body suits prancing at midfield. The loudspeaker roared nonsense as a light snow fell.
"I think Christ might be inside me this morning," I said. "It feels like he's a wind. And my brother is a sage." "You think we can smoke up here?" Birdie asked. She pulled a Camel from her pack.
I continued: "He told me to remember something: Look at the simple snowflake if you wish to find me. Something like that, a platitude."
She wiped a piece of biscuit off my face.
"You're like a 5-year-old sometimes," she said.
She put the cig behind her ear.
The game began. It was unbearable. Grown men crushing bodies. Two fans behind us with airbrushed whiskers screamed at each other.
"How 'bout them cats?" one screamed.
"What did you say?" the other screamed back.
"Exactly!" the first one screamed. "Big day!"
The game dragged on and on. "I have the light now," I said to Birdie, feeling the breeze move inside me. "I can reach the other side. But though I have learned how to swim, I must wait to cross the river. I must teach others to swim."
"Wow," Birdie said. "That was almost profound."
"Touch me," I said.
"Let's keep our hands to ourselves," she said. "I'm leaving. It's freezing out here."
We walked down through the shrieking hordes and through the maze of the stadium. An obese man in a double-zero jersey shoved a foot-long hot dog down his throat.
---
WE FOUND A service door near the east gate and jimmied the lock. It led into a long hallway that curved around to a set of concrete steps.
"Thanks for the adventure," I said.
"At least I don't have to spend Christmas in Portland with Doug's bulimic wife," said Birdie.
I opened the door at the top of the stairs. We were in the lobby of the luxury-suite section. It was some kind of Christmas party. There were black Oriental rugs with panthers stitched on them. A buffet table had shrimp piled higher than my head and ice sculptures of the Vince Lombardi trophy. In the corner of the room was a wide oak bar, and behind it, a tall window overlooking the skyline of Charlotte. A guy was serving drinks wearing a "69" jersey and a Santa hat.
"Scotch neat, big guy," I said.
"How old are you?" he asked.
"Ancient," I said.
"You got some ID?"
"Do you know who I am?" I asked. "I am a bodhisattva."
"You got a ticket to be up here?" he asked.
"Look, I'm having a weird day," I said. "I just need you to get the Scotch and put it in a glass. Isn't that what you do?"
"I'm gonna have to see some ID, little man."
Birdie nudged me. "Forget it," she said.
"I will not," I said.
Then I called this man a name no man would want to be called. He called for security on his Bluetooth headset. We ran.
"This way," said Birdie. We headed back toward the stairwell just as a security guard came out of it. We turned around and took off down the hall to the closest door.
It belonged to a suite. Some finely dressed rich people watched the snow fall on the halftime show. There was an open bar and I fixed myself a Scotch, neat. A young girl, maybe 10, came over to us. She had a cast on her leg.
"Are you Uncle Jerry's friends?" she asked.
"Yes," said Birdie. "We're Uncle Jerry's friends."
"Then you need one of these."
She had me kneel down and put an all-access pass around my neck.
"Bless you, child," I said. "What happened to your leg?"
"I got run over by a car."
"Oh my god," said Birdie.
"It's okay," she said. "My daddy sued them."
A man in a dark suit walked in talking to his wife. His face was orange with fake tan. His wife had a large diamond football around her neck. He approached us.
"Who are your friends, Mary Anne?"
"They're your friends, Uncle Jerry," she said.
"Who are you?" the man asked. "How did you get in here?"
"With all due respect, sir," I said, "this is the ugliest place I've ever seen in my life." I finished my drink. There was an enormous whirlwind gathering inside me.
"Do you not know who I am?" he asked.
"Do you not know who I am?" I asked.
"I'm the team owner."
"Nice to meet you," I said. "I'm a bodhisattva."
I was stoic, lost in my own mind, looking out at the snow and the country music idiot singing on the 50-yard line. I could've been in another place and another time, it didn't matter. It was like I was being hit by a hurricane of love, gusts of truth thrust upon me. I had something to say and I wasn't going to be stopped by this Uncle Jerry, owner of the Panthers.
"Can you understand this?" I said. I pointed out at the snow. "Can you even comprehend the amazing awesomeness of this?" I paced as I talked. The people were stunned. I was getting going. I channeled a Baptist preacher: "Look into your own heart for just one moment, friends. Now tell me what you see there. Do you see a heart of greed or do you see a heart of love? Love if you got it, friends. Say love!" Then I channeled my high school gym teacher. "Looks like you're dragging ass, folks," I screamed. "Get up. Get your asses up!" I got up on a table. I was a drunken Irishman now. "Fix us a drink there, lass, for the sermon," I said to Uncle Jerry's wife.
"Get off my table," he said.
I channeled the preacher again. "This is a den of sin, friend, and I'm at war for souls. I'm putting you on my Holy Spirit hit list! Are you with me? Who's with me?" I noticed Birdie had inched away from me. "Stop there, sister," I called to her. "I'm just getting started." But the spirit wavered. My mind stopped racing. I sat on the edge of the table.
"Look at the simple snowflake if you wish to find me," I said and shook my head. I went over to the window and stuck my face on it. I tried to reach through the glass to the other side. Then the security guard opened the door.
"Where have you been, Orenthal?" Uncle Jerry asked.
Orenthal went for Birdie. She sidestepped like a boxer, and he whiffed. Birdie did some jiujitsu move. He dropped to his knees. She ran over and grabbed me from the glass and we bolted.
---
WE LEFT THE way we came, but Orenthal was close behind us. Out in the big fancy lobby I yelled, "The day is here, people! Repent!" They looked up from their shrimp cocktails, then went right back to them. We took the service door and ran down the stairs.
We lost Orenthal among the throngs. I thought about my brother and his light. I thought about my family and how they were a kind of team. Pale folks trying to get along in the weird world. I wanted to get through to my brother. I wanted to shake his hand even though he hated my bow tie. I wanted to hug him, damn it. I could not remember his name, but to me his name was Christ.
"I want to hug Christ," I said to Birdie.
"We need to get out of here," said Birdie.
I saw an old man pushing a trash can into an elevator.
"There," I said. I grabbed Birdie and we jumped into the open elevator.
"Hey," the man said.
"Merry Christmas," I said as the door closed.
When the elevator opened we went a ways down the hall. I saw a janitor's closet and we went inside. Birdie lit her cigarette.
"I miss my family," I said.
"I thought you hated your family," she said.
"I don't think I do anymore."
"I wish I had your family," Birdie said. "My father is a millionaire and the unhappiest person I know. At least your family has sports."
I was feeling that zephyr inside me again.
"You know I love you, Birdie," I said.
"Sometimes I wish things were different," she said. "I wish I could feel better or something."
I moved toward her. She put out her cigarette and grabbed me. Afterward, I was a new man.
---
WE GOT DRESSED and I relit her cigarette. Then we heard what sounded like a great thunder. I tied my bow tie and we left to investigate. We walked forever but finally came to a long hallway. At the end stood a policeman.
"Easy," he said. "You got a pass to be back here?"
"I do," I said and showed it to him.
"Okay," he said.
"And you?" he said to Birdie.
"She's with me," I said.
"She don't get through without a pass."
"You know Jerry?"
"Jerry who?"
"Jerry, the owner."
"Yeah, what about him?"
"He's my uncle."
The policeman stared at me.
I stared at him.
He let us through.
"Go," he said. "Before I change my mind."
We went through a door that led us down a hallway toward an archway full of light. It seemed to signal some kind of other world. Christmas air rushed through the tunnel. And then we were on the sideline. The multitudes were on their feet. From where we stood the players were monsters, and the crowd blurred into a single twisted face. There was snow and light, no shadows anywhere. Pure white.
The last moments of the fourth quarter were draining off the clock. The Saints were down six but driving. "Isn't it beautiful, babe?" I said.
"Don't ever call me babe," she said.
Everyone was on their feet. The snow stopped falling. Plays began in slow motion. Each time Drew Brees dropped back, the crowd fell silent. One throw after another. I could see the arc of each pass through the air. They all seemed to want to come to me. As the seconds ticked away, the Saints took a timeout. It was fourth down.
It was then I saw the sage, my brother, on the big screen. His wet eyes, his auburn hair, his whole being larger than life, as large as the face of a god, staring down on me. I knew what I had to do. My spirit wind was back.
Christ was there. He is born, the song rose in me. Go tell it on the mountain!
The players were back on the field. The crowd screamed but I could hear nothing. The ball was snapped. The pass rose high in the air. The Saints receiver slipped through the coverage. The ball was falling into his hands but shouting that it wanted to be in mine. I started to run. I was out on the field, my penny loafers tracing across the 10-yard line. Before I knew it, I was right in front of the receiver.
The hordes erupted. I was exposed. Everything was light. The heavens opened. The wind was at full pitch inside me and I floated, yes. The Christ-air brought me off the ground and toward the object, that most coveted thing. Then out of the corner of my eye, I saw darkness come. My whole world shot to black.
Jon Beason, the Panthers linebacker, broke both my arms. My jaw was sideways, my bow tie was destroyed.
---
THE CALL ON the field was fan interference and the down replayed. Gasps again, but the bomb fell incomplete. The next morning my whole family went to a special Christmas Mass. The newspaper took a picture of us outside the church. Beason holding me high in the air. My arms in casts straight out like a cross. My mother and father in their Panthers jerseys. My brother, the Sage, smiling next to me. "He's my older brother," he told the reporter, "my hero." I was smiling as much as I could with my mouth wired shut. Birdie was beside me too, kissing my cheek.
"The Bow Tie Miracle," the headline read. That was my best day.
Last summer ESPN The Magazine launched a fiction contest with sports lit magazine Stymie. "The Bow Tie Miracle" took top honors, but other submissions proved worthy challengers. Stymie will print the following finalists in its spring issue, which hits stymiemag.com on April 15.
ESPN The Magazine: March 7, 2011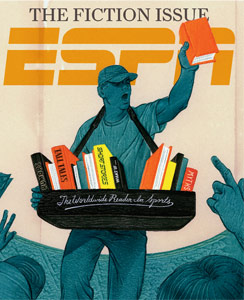 Check out ESPN The Magazine's March 7, 2011 issue below.
Fiction
Features