Commentary
David Beckham talks MLS, new tattoo
Updated:
March 16, 2011, 11:41 AM ET
By
Lynn Hoppes
| Page 2
David Beckham is in the final year of his five-year contract with the Los Angeles Galaxy, which opens its Major League Soccer season Tuesday night against the Seattle Sounders.
With the league's best player (Landon Donovan) and a powerful striker (Juan Pablo Angel), this probably is Beckham's best chance to win his first MLS crown.
Page 2 had a chance to talk with the soccer legend about the sport, his family and his new tattoo:
1. In Europe, you had a lot of success. You've been close here but haven't won it all. How tough is that for you?
"It's not difficult at all. I had the weight of the league on my shoulders when I arrived here. I had to carry the flag for the sport in this part of the world. But this game is something I've always enjoyed. It's been a great challenge. This is something I'm totally passionate about. I've seen improvements in the American game. We have some new teams coming into the league. In certain areas, the attendance is up. When I see all this, it makes me proud. Since Day 1, I've been proud to be part of this league. I came to the United States to win a championship. I still want to do that."
2. You've had some injuries the past few years which has limited your play. Is soccer still fun for you?
"I know it's easy for me to say this because I have gotten paid so much money to play, but I've always enjoyed playing soccer. It's never a job to me. I know it might sound silly but I would be doing this if I wasn't getting paid. It's never been about the money. I've helped raise the profile of this league. I think we've been successful. It's going to take more years here to equal the level of the European leagues. I've had some injuries and I'm 35 years old. I've worked hard in the offseason to get my body right."
[+] Enlarge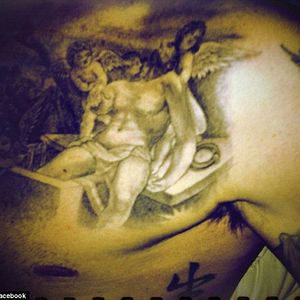 Courtesy of David Beckham It took artist Mark Mahoney 12 hours to complete David Beckham's newest tattoo.
3. You have always been in the spotlight. Are you tired of the paparazzi?
"We've had it for quite a few years. You actually get used to it. You come to terms with it that it's just part of your life. I've never really complained about it except when it affects my children. That, to me, is when it crosses the line. I've been with Victoria for 14 years and married for 12. So I know the deal. But we're very protective of our children. Thankfully, our children are very grounded. They say 'please' and 'thank you'. They know how to handle the situations. We're trying to keep their lives as normal as possible."
4. Do you and Victoria read the tabloids?
"I literally don't. I don't even really notice when people take my picture. I don't worry about seeing the end product. We haven't had it that bad in the United States. But just last week when we were in London, these aggressive photographers were jumping on our cars. I'm watching this realizing that my wife is pregnant and I just wanted to get out of there."
5. A lot has been made about your recent tattoo. What was it like?
"I wasn't planning on getting another tattoo. I've had a lot done. But I heard all these great things about legendary artist Mark Mahoney, so he created this tattoo of Jesus being lifted by three cherubs [for Beckham's three children]. It took about 12 hours over two days."
5a. So with a little girl on the way, thinking of adding to that tattoo?
"Uh, I'm not so sure about that."
Lynn Hoppes is Senior Director for Page 2 and Commentary for espn.com. He can be reached at lynn.hoppes@espn.com