Commentary
Jeff Motuzas will do anything for cash
Updated:
March 27, 2011, 11:33 AM ET
By
Jerry Greene
| Special to Page 2
Bullpen catcher.
Just thinking about that job as a career choice makes you suspect bullpen catchers probably are eccentric characters, much like kickers in football. And Jeff Motuzas, the Arizona Diamondbacks' bullpen catcher, confirms that suspicion of oddity.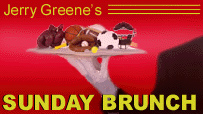 As reported by Scott Cacciola for the Wall Street Journal, Motuzas certainly is one of the most colorful characters in baseball. Why? Because of what he will do to pick up some spare change.
What will he do?
Pretty much anything.
[+] Enlarge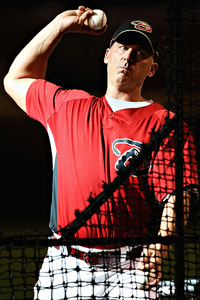 Christian Petersen/Getty ImagesJeff Motuzas will do almost anything for money. Seriously.
In Cacciola's article that you can reach here, the focus is on what Motuzas will eat to win a wager. And again, it's pretty much anything -- including an "appetizer" that came from another guy's nose.
But that's not what caught my eye and made me bend over in empathetic pain. Motuzas once agreed to a deal that allowed a Diamondback pitcher to punch him in the groin anytime he wanted to do so. Motuzas got $50 a groin punch and -- are you ready for this? -- a $300 bonus after every 10th punch.
Brilliant!
I'm not sure of the details but I am convinced this method could solve every dispute on our globe. President Obama, for example, is a healthy guy. Think how much more he could accomplish internationally or in our own Congress if he could take as many groin punches he wanted at just $50 each. Talk about money well spent.
And I'm guessing we would not be in danger of missing a single pro football or basketball game if we had "Groin Punch Arbitration."
Why don't you break into small groups and discuss this? Meanwhile, here are a few more thoughts before we move on to the main courses of the Brunch provided by some of our best sports commentators.
• Dallas Mav Owner Mark Cuban was on the Jimmy Kimmel show last week and said he is so successful that "when I die, I want to come back as me." Amazing! Cuban and I are exactly alike. When I die, I want to come back as him, too.
• Six countries put in bids to host the World Figure Skating Championships after Japan had to give it up due to natural disasters there. Russia won, beating out the United States, Canada, Austria, Finland and Croatia. Russia won for two reasons: (1) Jerry Jones' bid to bring the skating to "Dallasland" was disqualified and (2) Qatar didn't put in a bid.
• This coming weekend do not forget that Fiskars will be the official scissors of both the men's and women's Final Four. After all, what's the point of product placement if you aren't paying attention?
• From Jay Leno: "New data just released shows Detroit's population has dropped 25 percent in the past decade. It is now at the lowest level since 1910. They are saying the majority of residents usually flee Detroit after watching a Lions game." Stop it! Detroit doesn't deserve this!
• As for Cleveland, however, LeBron James' second return game there with the Miami Jamesters Tuesday will be shown on NBATV as nobody else picked it up. Cleveland fans were much too civilized on the first return to be good network TV.
• We checked and, yes, any Florida Gators' fan does have the right to punch the nose of anyone who walks up and says, "The butler did it."
• We now have an iPhone and iPod app for Tiger Woods swing. Too bad we didn't have it two years ago.
OK, let's get to good stuff provided by some of our best literary chefs working today:
• You will have to read this detailed report by James Varney of the New Orleans Times-Picayune to decide whether St. Louis Rams GM Billy Devaney was really all that upset by the remarks of political lightning rod James Carville (who looks like Terry Bradshaw's lost twin brother). You also must decide who Carville was insulting when he compared potential Republican presidential candidates to the NFC West.
• Whatever happened to Jerry West, the architect of pro basketball dynasties? Howard Beck of the New York Times tells us along with West's advice to New York Knicks fans about the perils of needing "instant gratification." No, it's not dirty and shame on you for going there.
• This is a short and really sweet account by Mauricio Maldonado of the Fort Lauderdale Sun-Sentinel about what Alonzo Mourning did as a self-appointed crossing guard in Miami.
• You heard of the Orlando Magic's pledge to remain unshaven for as long as they are alive in the NBA playoffs? Brian Schmitz of the Orlando Sentinel provides a long and biting list of better pledges they could make -- such as "pledge to prevent Gilbert Arenas from shooting the ball unless it is inscribed with the word 'Nerf.' The Magic got their new arena; they need a new Arenas." Ouch.
• We'll close with a report from the Hollywood Reporter about the movie plans to tell the real-life story of the NFL's oldest cheerleader. She's 42 -- which is really 112 in cheerleader years.
There you have it. And if you need to stay warm, just build a fire using the scraps from your NCAA basketball brackets.