Commentary
Next battle in trading cards: video
Originally Published:
April 11, 2011
By
Chris Olds
| Special to Page 2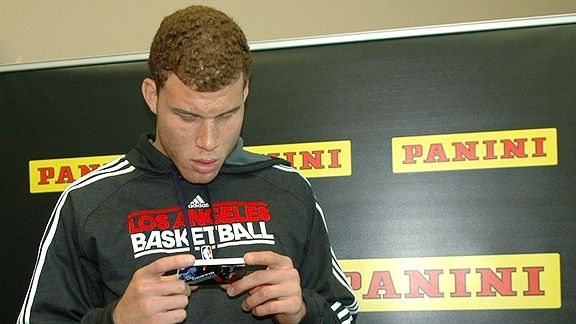 Courtsey of Panini Blake Griffin sees his video trading card for the first time at Panini's headquarters in Dallas.
If you know your MTV history, then you know that "Video Killed the Radio Star" was the prophetic first clip aired on the network.
Let's just hope the latest creation from Panini America isn't someday subtitled "Video Killed the Trading Card."
Panini, the NBA's exclusive trading card licensee, recently unveiled its plan to take trading cards into the future with collectibles that play high-definition video highlights -- and one of the first people on the planet to see one of its HRX cards was Los Angeles Clippers forward Blake Griffin.
"It's unbelievable, man. I just got to see it," said Griffin while at the company's headquarters in Dallas. "It's crazy. You never think something like that is going to happen and then to actually see it ... it's going to be game-changing."
Griffin, the newest spokesman for the card company (a deal signed Thursday), got to see firsthand an innovation that has had collectors buzzing -- and that chatter had little to do with the highlights he watched on his own card just by hitting the play button.
"Man, to be honest, it kind of takes you back a little bit at the beginning," said Griffin in an interview with Beckett Basketball magazine. "But it's unbelievable, and it kinda takes me back to when I was trading cards as a kid and it was just a little cardboard card -- but now they have videos playing."
Griffin will join the other members of the Panini spokesman squad -- Kobe Bryant, Kevin Durant and John Wall -- as the first NBA players on video cards when they are found randomly inserted into packs of Panini's 2010-11 Totally Certified, which arrives in June.
Panini was the first card company to unveil its plans for a video trading card at a recent industry event in Las Vegas, but it's not alone. Two days after Panini's news, Upper Deck pulled back the curtain on a project that it had in the works for its line of NCAA-focused football cards.
The Carlsbad, Calif.-based company had been teasing an "Evolution" in cards to be found in packs of its 2011 football set. However, it hadn't revealed exactly what the project was going to be when Panini made its announcement. In its unveiling, Upper Deck said it would be the first on the market with video cards -- its product arrives April 12 -- and it has since fired a jab or two at its rival. (Upper Deck is a former NBA card licensee.)
"No. 1, they have a concept, we have a card," wrote Upper Deck customer care manager Nick Leslie on the company's blog. "That is very important. We didn't share anything about the Upper Deck Evolution cards until we had the actual cards in-house to show off. The reason why is because these are not easy to make. What Panini has shared is a concept for what they think their video card will be along with a mock-up. They have not shared an actual card. We could mock-up a flying trading card, that doesn't mean we have one ready to go. From concept to final product is a long distance."
Upper Deck's cards, which will feature college highlight reels for Adrian Peterson, DeSean Jackson, Tony Romo and Patrick Willis, look like a small video-recording device with a cardboard flap covering the screen. Meanwhile, Panini's cards look a bit different (no flap) and have a little something extra attached.
An autograph.
Among the videos on each and every Panini HRX card will be a recording of the player signing the actual card that is being watched. If it's the 12th card Griffin autographed, the video will show card No. 12 being signed.
That's pretty crazy, ain't it?
"Yeah it is," said Griffin, who was averaging more than 22 points and 12 rebounds per game. "I think that's one of the best parts because you actually know that it's one of the players signing it and it's not just a fake or a fraud or anything like that."
Reaction from collectors has been largely cynical in comments on sites such as Beckett.com. After all, some collectors remember a late-1990s creation from Upper Deck called PowerDeck, which were card-sized miniature CD-ROMs with stats and highlights inside. It didn't last long -- just like innovative attempts at enhanced cardboard in the past. After all, talking collectibles actually arrived in the 1960s with Auravision sports records and briefly returned in the late 1980s from Topps.
One big concern of collectors was how much the video cards will cost and whether the money used in the technological investment will take away from the products' inclusions, particularly autographs.
Panini officials said that won't be the case -- and that the intent of the video cards is to find the next big thing that might capture the attention of collectors and noncollectors alike, prompting them to buy -- you guessed it -- more cards.
"We're going to do this out of our marketing budget so the integrity of the product isn't weakened in any way," Panini America CEO Mark Warsop said. "This will be an added bonus."
Chris Olds is the editor of Beckett Basketball magazine. Check out Beckett.com -- for the latest news on sports cards and memorabilia. You can also follow him on Twitter.