Commentary
Anthony Robles' 'unstoppable' drive
Updated:
July 12, 2011, 12:54 PM ET
By
Kalani Simpson
| Special to Page 2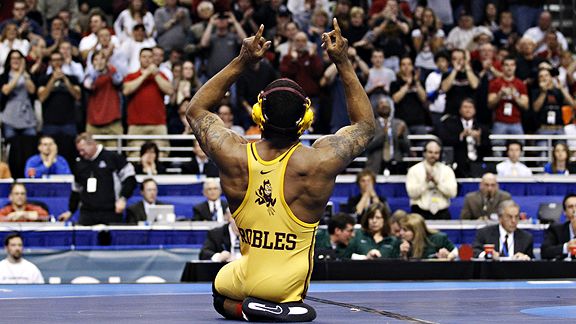 AP Photo/Matt SlocumAnthony Robles celebrates after completing a 36-0 season with an NCAA wrestling title.
"I was 16," she says. "Anthony was breach."
This was the day Anthony Robles was born, almost 23 years ago.
Judy Robles' parents cried that day. They came to see her in the recovery room, they stood there, for a moment, as she waited, and at last, her father got it out:
"He's missing his piernita," her dad said. His leg.
She started to cry.
Later, she laid him beside her. For the longest time she just looked at her son, the way new mothers do.
"To me, he was perfect," she says.
On March 19, in Philadelphia, at the NCAA Division I Wrestling Championship, Anthony Robles was a national champion, wrestling at 125 pounds for Arizona State. He was missing his piernita. His leg.
Anthony Robles finished his 2010-11 senior season 36-0, and he beat the defending national champion, Matt McDonough, of Iowa, in the final, and he was named the tournament's outstanding wrestler. And July 13, at the 2011 ESPYS, he will accept the Jimmy V Award for Perseverance.
Jimmy V. is the man who at the very first ESPYs said, "Don't give up. Don't ever give up."
Anthony Robles will have his own speech Wednesday. It has a theme: "Unstoppable," he says. "You can be unstoppable." Those in attendance, those watching on television, will see it in him, when he gives this address.
[+] Enlarge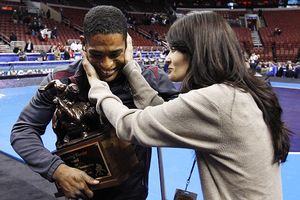 AP Photo/Matt SlocumAnthony Robles, left, greets his mother, Judy, after winning the outstanding wrestler award at the NCAA Division I Wrestling Championships.
This is what happens when you never give up.
This is the world Anthony Robles grew up in. He could do anything. It never occurred to him that he couldn't.
His mother wouldn't stand for it. "Knowing that he was different," Judy Robles says, "it was kind of like my job as his mom that he never felt it. Maybe I overdid it in a way. Maybe I wanted him to be so normal that I kind of pushed him."
"He would play basketball with us, football with us," his little brother Nicolas, now 19, says. "He had one leg, but I always wanted him on my team because he was one of the best."
There is a famous story -- anyone who has googled Anthony Robles knows it -- about Anthony throwing away his prosthetic leg as a kid. "I tried to hide it," he says, "so my mom wouldn't make me wear it." So she didn't.
"He wanted to go play with everyone else," his mom says. "And I would let him." She couldn't stop him.
Unstoppable. He was unstoppable then.
His innocence was shattered in the third or fourth grade. That's when he first noticed. When he saw that not everyone thought he could do anything, the way his family always did. It shook him, and he tried to not stand out too much, the way every kid does, at some point in his or her life.
But it wasn't something he could fix with the right sneakers or cooler clothes.
Nicolas would jump in front of him, trying to take the bullets. He would stare daggers at anyone whose glance lingered just a beat too long.
His family -- his parents, three younger brothers, a little sister -- they always saw the stares.
His first wrestling meet, his freshman year, the team ran out, the way wrestling teams do. They jogged around the circle on the mat. Anthony ran with them, hopping on one foot. There was laughter; you could hear it. His family will never forget.
Judy cornered the offender. "My mom was like, 'What the hell are you laughing about?' " Nicolas says.
On the mat, Anthony got killed. "Anthony went out there and he lost," Judy says. "That didn't matter to me. It showed me his heart, who he was."
He was unstoppable.
He was also terrible. "I was really bad," Anthony says. "I was a 90-pound little kid, tiny. Last in my city. Got pinned all the time."
People would shake his hand after he got pummeled, tell him good job, like this was a victory for a kid with one leg, just showing up. Wow, how he hated that.
Years later, long after he'd forced people to stop feeling sorry for him, some claimed that he had an "advantage," because he had a bigger upper body and one fewer leg to grab.
"Well," says former Mesa (Ariz.) High teammate and close friend Chris Freije, "it wasn't an advantage when he was getting beat by everybody."
No. He made it through that first season, somehow, after getting his brains beaten in just about every time. He looked over at Freije, a stud on the team who was where Robles wanted to be. To hear Robles tell it, it sounds like a restraining order could have been called in.
Wherever Chris was, scrawny Anthony would show up, inviting himself into all the tough-guy drills. He demanded Freije take him on. It was the code of the room. You can't refuse a challenge. And Freije obliged, dominating the wannabe every time.
"He would throw me around the room, beat the crap out of me," Anthony says.
Somewhere along the line, that summer, he went from pest to best friend.
In the movie, this would be the "training montage," Rocky and Apollo Creed running on the beach.
Everybody saw it. The coach, who had been waiting to see whether the kid with one leg was going to stick it out, began to work with him on a strategy and style to fit his body. Soon, he was the one being looked up to in the wrestling room. "All of a sudden he was the guy," Freije says. "He was whipping guys. Guys would want to come in and train with him."
He would win two state titles. He went to Arizona State.
On March 19, in Philadelphia, the city of Rocky, he wrestled for the national crown.
They'd talked about it for so long, dared to dream. Anthony Robles had envisioned the moment so often the moment itself was almost too much. "I was terrified," he says. As the national anthem was sung he stared straight ahead and tried to fight off the tears, the way a wrestler on his back fights to keep from being pinned.
"I was afraid," he says. He doesn't care who knows.
And then he went out and dominated. Up in Section 223, his mother went nuts.
It hadn't come easy. His parents went through a divorce while he was in college. He was burned out, having pushed himself so hard for so long. As easily as he could see himself winning a championship, he saw himself walking away. Except &
"My mom wouldn't have me quit," he says. "She wouldn't let me quit."
And just when he needed it, a package arrived in the mail. Letters from a class of third graders in Atlanta. He was their favorite wrestler, they all said. Third graders in Atlanta? It hit him, then. It wasn't just about him anymore:
"I'm wrestling for more than just myself now," he says.
He's hoping to have the same impact doing other things now. Things like motivational appearances. Like his ESPYs speech.
Nicolas puts it this way: "I think [wrestling] was just a gateway to show everybody who Anthony was." So the world could see what kind of person his big brother is. So people could see in his brother what he's always seen.
"'Here I am,'" Nicolas says. "That's all it really did."
With his Jimmy V speech, we'll all see.
Robles is also up for an ESPY for Best Male Athlete with a Disability. Well, everyone who knows Anthony knows he doesn't have a disability. He just has a different body type.
But it's funny. The other day, after all these years, he took another crack at that prosthetic leg. Manufacturer Otto Bock and the Wiggle Your Toes Foundation came forward (Robles says his insurance company wouldn't) to fit him with a state-of-the-art prosthetic Helix hip and C-leg.
"It was pretty much like I was wrestling the national finals all over again," Robles says. He poured sweat like he was wrestling. His face grimaced. The fear coursed through him. "It's like you're asked to fall backwards and have someone catch you," he says. That first step -- he'd never done that before.
For the second time in their lives, his mother took her first look at him and sobbed.
"I stood next to him," Judy says, "and I started walking with him. Usually there's this physical barrier between us, his crutches. But this time it was my arm, his arm. My son.
"It was something I never had."
She posted it on her Facebook page: Her baby boy took his first steps today.
Two legs. After a lifetime of being the guy who showed the world he could do anything he wanted with one, is this something he'll stick with?
"Eventually I plan to be running on it," he says.
Don't think he'll ever stop.