You know what the numbers mean even without the names attached: 100, .406, 2,003, 1.12.
Now we can add Tom Brady's 50 touchdown passes. Athletes talk about playing in a zone -- Brady was there for an entire season, which is why we add his name to our list of 25 greatest individual seasons in sports history:
SEASONS FOR THE AGES
Baseball
The Babe vs. The Bonds. Where do these guys fall in the list of the all-time greats?
Rob Neyer
Hockey
From Gordie to Gretzky no puck is left unturned when determining the best show on ice.
David Amber
Football
Tom Brady helped set a bunch of records this year, but is he worthy of the top spot?
Jeffri Chadiha
Basketball
Wilt and Oscar blew up in 1961-62. MJ had a couple seasons for the ages. Who else cracked the top 10?
NBA
Golf
Tiger Woods and who else? Check you numbers again -- Eldrick isn't even our No. 1.
Jason Sobel
College basketball
When these players took the floor, you could always count on more than just one shining moment.
Andy Katz
College football
When your name alone becomes larger than the school you've played at, you make the cut on this list.
Chris Low
Tennis
The tennis court has seen more than its share of players who danced and flirted with perfection.
Keith Hawkins
NASCAR
Who had the most dominant year on the asphalt? Gentlemen, start your rankings.
Mark Ashenfelter
Fantasy
Behold, the players who helped you raise your Fantasy League trophy with pride.
Fantasy legends
SportsNation
Don't agree with our picks? Don't worry, that's what SportsNation is for. Create you own Top 25 list.
Rank 'Em
Picture perfect
If a picture is worth a thousand words, then here are 25K on the greatest seasons ever.
Top 25 gallery
25. Marcus Allen, USC Trojans, 1981
Allen became the first player in Division I history to rush for more than 2,000 yards. His 2,342 yards and 212.9 yards per game have been eclipsed just once (by Barry Sanders in 1988). He was the first player to rush for 200 yards in five straight games, a record he shares today. His eight games of 200-plus yards still stand as the single-season record. Allen was a durable workhorse for the Trojans, setting the record for rushes in a season with 403. All of this made him the fourth USC running back to win the Heisman Trophy.
24. Ted Williams, Boston Red Sox, 1941
Williams became the last player to hit .400 -- and also the youngest of the 20th century. Heading into the final day of the season, Williams' average stood at .39955, which would have been rounded up to .400 had he sat out. However, Williams played both games of a doubleheader, going 6-for-8 and finishing at .406. While the Red Sox finished second behind the Yankees, Williams hit .471 in 22 games against New York. He led the league in home runs, runs scored and slugging percentage. He just missed the triple crown, trailing Joe DiMaggio by five RBIs. His amazing .553 on-base percentage was the best ever until Barry Bonds surpassed it in 2004.
23. LaDainian Tomlinson, San Diego Chargers, 2006
Tomlinson rewrote the NFL record book, breaking 11 single-season marks in the most prolific scoring season in history. He rushed for 28 touchdowns, breaking Shaun Alexander's record. Tomlinson's 31 total touchdowns and 186 points also broke NFL records -- and those numbers don't include his two touchdown passes. He became the first player in league history with at least three rushing touchdowns in three straight games. The Chargers won a franchise record 14 games, and Tomlinson won the MVP award.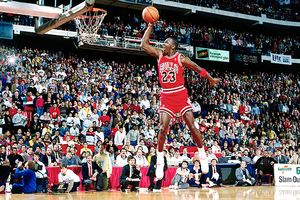 Andrew D. Bernstein/NBAE/Getty Images
Even if you weren't a Bulls fan, you probably had a Jordan poster in your room.
22. Michael Jordan, Chicago Bulls, 1987-88
Jordan led the NBA in scoring at 35.0 points per game, and was also the best defensive player in the league, averaging 3.2 steals and 1.6 blocks. No other player has won the scoring title and Defensive Player of the Year award in the same season. Not surprisingly, Jordan also won his first MVP trophy. Jordan also took over All-Star weekend, winning the dunk contest and scoring 40 points in front of his home crowd.
21. Martina Navratilova, 1984
No tennis player has ever had a more dominant stretch than Navratilova's 74-match win streak in 1984. During that stretch, she won a record 13 straight singles titles. Navratilova won three majors, losing only in the Australian Open semifinals to Helena Sukova to end her win streak. On the year she went 78-2, posting the third-best winning percentage and second-most wins ever. To top it off, Navratilova and doubles partner Pam Shriver won all four majors and did not lose a match all year.
20. Mario Lemieux, Pittsburgh Penguins, 1992-93
Lemieux started the season with goals in the Penguins' first 12 games and by January was making a run at Wayne Gretzky's single-season scoring record. But on Jan. 12, Lemieux announced he had been diagnosed with Hodgkin's disease. He missed nearly two months of action while undergoing radiation treatment. On March 2, Lemieux returned to the ice on the same day as his final radiation treatment, scoring a goal and an assist against the Flyers. Upon his return, he trailed Pat LaFontaine by 12 points for the scoring title. But Super Mario surpassed him, while leading the Penguins on an NHL-record 17-game win streak. Lemieux finished the season with 160 points (69 goals, 91 assists) and won the Art Ross Trophy despite missing 24 games. His 2.67 points per game put him on a pace for 224 points over a full 84 games.
19. Pedro Martinez, Boston Red Sox, 1999
Martinez had a lower ERA in 2000, but his memorable performances made 1999 his greatest season. He won the pitching triple crown with a 23-4 record, a 2.07 ERA that is especially impressive when the league ERA was 4.86, and 313 strikeouts in 213 1/3 innings, a rate of 13.2 per nine innings, the best in history at the time. He struck out 15-plus batters in consecutive games, including 17 against the Yankees. Despite battling injury, Martinez turned in one of the most memorable playoff pitching performances of all time. Coming on in relief, Martinez pitched six innings of no-hit ball in the deciding Game 5 of the ALDS against Cleveland.
18. Richard Petty, 1967
Petty set two NASCAR records in 1967 that likely will never be topped. He won 27 of the 49 races that season (only Petty himself has even approached that mark, with 21 wins in 1971). Petty also won a record 10 straight races. His 19 poles are the second-most in history, just one shy of the record. He finished in the top 10 in 40 of 49 races. But perhaps the best illustration of Petty's dominance in 1967 is the nickname he earned that year: The King.
17. Lew Alcindor, UCLA Bruins, 1966-67
It didn't take Alcindor long to prove his dominance. In his first varsity game, the sophomore center scored a school-record 56 points against rival USC. He went on to finish second in the nation in scoring (29.0), the best single-season average in UCLA history. Alcindor also set an NCAA record at the time in field-goal percentage (66.7). He led UCLA to a 30-0 record and the NCAA championship. Alcindor was named AP Player of the Year and the NCAA Tournament's Most Outstanding Player.
16. Bobby Jones, 1930
In 1930, Jones was pursuing a career in law in Atlanta, already possessing degrees from Georgia Tech and Harvard. He was also an amateur golfer. He set aside the 1930 season to do something no other golfer had ever done: win all four major golf tournaments (at the time, the U.S. Open and Amateur and the British Open and Amateur). After captaining the U.S. to a Walker Cup win, Jones won the British Amateur at St. Andrews. Two weeks later, he won his third British Open. Jones returned to the U.S. to a ticker tape parade in New York City. At Interlachen, he won his fourth U.S. Open. Two months later, Jones won the U.S. Amateur in Philadelphia. Atlanta sportswriter O.B. Keeler dubbed this unprecedented achievement the Grand Slam. Several weeks after completing the Grand Slam, Jones retired from competitive golf at the age of 28.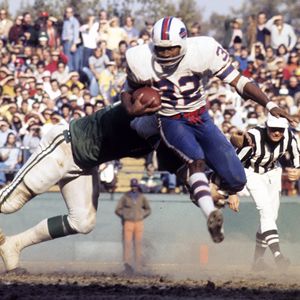 Tony Tomsic/Getty Images
When you out-rush the competition by a near 2-to-1 margin ... you make this list.
15. O.J. Simpson, Buffalo Bills, 1973
Simpson ran for 2,003 yards, the first running back to surpass 2,000 and the only one to accomplish that feat in a 14-game season. Simpson's 143.1 yards per game projects to a record 2,289 yards over a 16-game season. Simpson had 1,584 yards after 12 games, but went off for 219 and 200 yards in the final two games of the season. His rushing total nearly doubled Green Bay's John Brockington, who was Simpson's closest competitor at 1,144 yards. Simpson was named the NFL's MVP and the AP Male Athlete of the Year.
14. Steffi Graf, 1988
Graf won all four Grand Slams as well as Olympic gold in Seoul -- an unprecedented feat known as the Golden Grand Slam. But Graf's Grand Slams alone don't illustrate her dominance in 1988. She won 11 singles titles, including eight consecutive. She finished the year with a 72-3 record, at one point winning 46 straight matches. She lost only 20 games in the entire French Open and 23 games en route to the U.S. Open title. At Wimbledon, she beat Martina Navratilova, who had won the previous six singles titles at the All-England Club.
13. Oscar Robertson, Cincinnati Royals, 1961-62
The term "triple-double" would not be coined for another 18 years, but in 1961-62, Robertson showed us how it was done. He averaged 30.8 points, 11.4 assists and 12.5 rebounds, marking the only season a player has averaged a triple-double. It shouldn't be surprising that his 41 triple-doubles are also a record. Overshadowed by Wilt Chamberlain's monstrous scoring effort that season, Robertson surpassed Bob Cousy's single-season assists record by a whopping 184 with 899.
12. Dan Marino, Miami Dolphins, 1984
In just his second year in the league, Marino had the greatest season the NFL had ever seen by a quarterback. He threw for 5,084 yards, breaking Dan Fouts' record of 4,802. The MVP's 48 touchdown passes obliterated the previous record of 36 shared by Y.A. Tittle and George Blanda. For a quarterback infamous for never winning the Super Bowl, 1984 also represents Marino's only Super Bowl appearance.
11. Jerry Rice, San Francisco 49ers, 1987
Rice caught a record 22 touchdowns in 1987 -- and he did it in only 12 games. Despite missing four games because of the players' strike, Rice still had the greatest season ever by a wideout. Over a full 16-game schedule, those 22 touchdowns prorate to 29-plus. No other receiver has ever had more than 18 until Randy Moss broke Rice's mark with 23 touchdowns this season.
10. Bobby Orr, Boston Bruins, 1969-70
Orr revolutionized the way defensemen played the game. In 1970, he became the only defenseman to lead the NHL in points. At the time, his 87 assists set an NHL record and his 120 points were six shy of the record. Orr became the only player to win all four major awards: Hart (MVP), Ross (scoring), Norris (defenseman) and Conn Smythe (playoff MVP). His season ended with perhaps the most famous goal in league history, the game winner in Game 4 of the Stanley Cup finals, when he was sent airborne. It was the Bruins' first Stanley Cup in 29 years.
9. Bob Gibson, St. Louis Cardinals, 1968
In the Year of the Pitcher, Gibson dominated with a 1.12 ERA, the fourth-best all time, over 304 2/3 innings. He threw 13 shutouts, tied for the third most. During one ridiculous stretch of 10 starts in the middle of the summer, Gibson allowed two runs in 90 innings. His 22-9 record is quite misleading: Gibson had a 2.14 ERA in his nine losses, games in which the Cardinals scored only 12 total runs. His brilliance continued in the World Series against the Tigers. He gave up just one run in winning Games 1 and 4. Even after being touched up for four runs in a Game 7 loss, he wound up with a 1.67 ERA.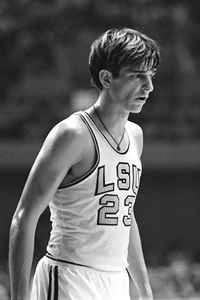 Martin Mills/Getty Images
No one has been able to match the offensive talent of Pistol Pete.
8. Pete Maravich, LSU Tigers, 1969-70
Simply put, Maravich is the greatest scorer in college basketball history. In 1969-70, he set D-I records for scoring average (44.5) and total points (1,381). Pistol Pete notched 50-plus points 10 times, including three games over 60 points. He scored 69 against Alabama, which stood as a D-I record for 21 years. Maravich's season-low scoring output was 29, which is more than any D-I player averaged in 2006-07. And just imagine what he would have done with a 3-point line.
7. Barry Bonds, San Francisco Giants, 2001
Despite the cloud of controversy surrounding Bonds, there is no denying his superhuman statistics in 2001. Everyone knows about the record 73 home runs, but Bonds set several other records on his way to the MVP. His .863 slugging percentage broke Babe Ruth's single-season record of .849. With 177 walks, he broke Ruth's 1923 record (Bonds has since exceeded that total twice). His .515 OBP was the best since Ted Williams in 1957, and he hit .328 with 137 RBIs.
6. Barry Sanders, Oklahoma State Cowboys, 1988
Emerging from the shadows of Thurman Thomas, Sanders had the greatest season in college football history. The Heisman winner set the record for rushing yards (2,628), all-purpose yards (3,250), rushing touchdowns (37), and total touchdowns (39). And those stats don't even count his 222 yards and five TDs in a 62-14 Holiday Bowl win over Wyoming. Sanders had four 300-plus rushing games that season -- more than anyone else has had in a career. Sanders scored at least two touchdowns in every game and scored three or more nine times.
5. Tom Brady, New England Patriots, 2007
Here's what you might already know: Brady set an NFL record with 50 touchdown passes. He did so while leading the Patriots, the highest-scoring offense in league history, to the NFL's first 16-0 regular season. Brady also topped all NFL quarterbacks in passing yards (4,806) and passer rating (117.2). Here are a few things you might not know: He had three or more touchdown passes in 12 games, including 10 consecutive, both of which are records; Brady probably could have made a case for the Pro Bowl based solely on his performances in the second quarter, when he threw 20 TD passes (only 12 quarterbacks had more on the whole season); Brady threw only eight interceptions, fewer than Marino (17) and Peyton Manning (10) had in their record-setting campaigns.
4. Tiger Woods, 2000
Woods won nine tournaments in 2000, the most in a year since 1950. Those wins included three consecutive majors, making Woods the second pro to win three in a year. However, Tiger's great season was not just about wins -- it was about dominance. He won the U.S. Open at Pebble Beach by a major championship record 15 strokes. At 12-under, he broke the U.S. Open record in relation to par. Tiger won the British Open by 8 strokes. At 19-under, he broke the major championship record in relation to par. Tiger went on to win the PGA Championship in a three-hole playoff. He finished at 18-under, giving him a share for the PGA record. In all, Woods set or tied 27 PGA Tour records.
3. Wayne Gretzky, Edmonton Oilers, 1981-82
After winning the Hart Trophy the two previous seasons, Gretzky had already established himself as the best player in the NHL. With his 1981-82 season, he showed he might just be the best of all time. Gretzky destroyed the record book with 92 goals and 120 assists, both records at the time (Gretzky later broke his own records for assists and points). Most famously, the Great One broke Rocket Richard's record for reaching 50 goals in the fewest games. Gretzky netted five goals on Dec. 30 to reach 50 in the Oilers' 39th game (Richard's record was 50 games). He also had 10 hat tricks that season, setting an NHL record that he would later tie. For this great season, Gretzky became the only NHL player ever selected as AP Male Athlete of the Year.
2. Babe Ruth, New York Yankees, 1921
Ruth set records at the time with 59 home runs -- eclipsing the totals of eight other teams -- and 177 RBIs. His totals for runs (177), extra-base hits (119), and total bases (457) still stand as records. The Bambino also led the league in on-base percentage (.512), slugging percentage (.846) and walks (145). He hit .378, third in the league, and led the Yankees to their first World Series, where Babe hit .313 despite being limited by injuries (the Giants beat the Yankees in the series 5-3).
1. Wilt Chamberlain, Philadelphia Warriors, 1961-62
Chamberlain averaged 50.4 points and 25.7 rebounds. He set the NBA record with 4,029 points -- Michael Jordan is the only other player in league history to crack even 3,000. Chamberlain scored 50-plus points 45 times. Just how impressive is that? Michael Jordan cracked 50 points 37 times in his entire career. Chamberlain's 100 points on March 2 against the Knicks is perhaps the most famous single-game performance in sports history. Chamberlain also logged 48.5 minutes per game, playing all but eight minutes the entire season. To put all this in perspective, take Tim Duncan's best scoring and rebounding season -- then double it.
Jeremy Lundblad works in the ESPN research department.
GREATEST INDIVIDUAL SEASONS
What are the greatest individual single-season accomplishments in sports? Let the debate begin here, with the all-time list of the top 25 seasons, a writers debate, top-10 lists from each sport, a listranker and a photo gallery.
Greatest individual seasons
•
Top 25 greatest individual seasons
•
Page 2 writers debate the top-25 list
Sport by sport
•
Top 10 NBA seasons
•
Amber: Top 10 NHL seasons
•
Ashenfelter: Top 10 NASCAR seasons
•
Chadiha: Top 10 NFL seasons
•
Hawkins: Top 10 tennis seasons
•
Katz: Top 10 college basketball seasons
•
Low: Top 10 college football seasons
•
Neyer: Top 10 MLB seasons
•
Sobel: Top 10 golf seasons
•
Top 10 fantasy seasons
Worst seasons
•
Dirty dozen: the worst individual seasons
Photos
•
Zoom photo gallery
SportsNation
•
Listranker: Create your own top-25 list
•
List researchers chat wrap

•
Conversation: Join the debate/discussion!
ESPN Top Headlines