The 50 greatest moments in LCS history
Baseball is about the unexpected, the surprise, the drama of one pitch or one at-bat deciding a game or a series. Let's hope we get many such moments in this year's League Championship Series. Here are our 50 greatest moments in LCS history (remember, the ALCS and NLCS were best-of-five from 1969 through 1984).
50. Zimmer charges Pedro, Game 3, 2003 (Yankees vs. Red Sox): A Yankee (Karim Garcia!) gets plunked by Pedro Martinez. Pedro then gestures to the Yankee dugout, possibly indicating he's going to throw at their heads. Fast-forward to a high-inside Roger Clemens pitch to Manny Ramirez. Benches clear and 72-year-old Yankees bench coach Don Zimmer tries to take out Pedro, only to be thrown to the ground.
49. Jose Canseco's mammoth home run at SkyDome, Game 4, 1989: Canseco's blast off Mike Flanagan landed in the fifth deck.
48. Gary Carter beats Charlie Kerfeld in 12th inning, Game 5, 1986: Do you remember Kerfeld? He was a rookie with a gut, long hair and glasses. He also threw some serious heat. Game 5 had been a classic duel between Nolan Ryan and Dwight Gooden. Ryan fanned 12 in nine innings. Gooden went 10. With it still tied 1-1 in the 12th, Wally Backman reached on an infield single, went to second on an errant pickoff throw and, after Keith Hernandez was intentionally walked, Carter (who was 1-for-21 in the series at that point) singled to center for the winning hit.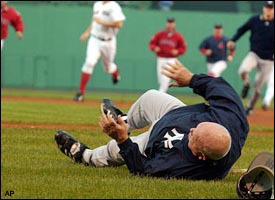 AP Photo
Zimmers wobble and they do fall down.
47. Dave Roberts' steal, Game 4, 2004 (Red Sox vs. Yankees): Bottom of the ninth, Yankees lead 4-3 and Mariano Rivera is on the mound to complete the sweep. Kevin Millar walks and is replaced by Roberts, whose lead grows with every throw to first, leading Fox analyst Al Leiter to say, "He's goin'." Rivera finally pitches to Bill Mueller, and Roberts steals second. Mueller hits the next one up the middle, Roberts scores to tie the game and the rest is choking history.
46. Adam Kennedy homers three times, Game 5, 2002 (Angels vs. Twins): Kennedy had already homered twice off Joe Mays when his three-run blast off Johan Santana in the seventh gave the Angels a 6-5 lead. The Angels would go on to score 10 runs in the inning to wrap up the series.
45. A.J. Pierzynski reaches base after striking out, Game 2, 2005 (White Sox vs. Angels): After initially hesitating, Pierzynski dashed to first base upon realizing that plate umpire Doug Eddings hadn't called an out after Pierzynski's swinging third strike. Angels catcher Josh Paul, convinced he caught the third strike cleanly, rolled the ball out to the mound. Pinch runner Pablo Ozuna then stole second and scored the winning run on Joe Crede's double.
44. Roger Clemens goes nuts, Game 4, 1990 (Red Sox vs. A's): With the Red Sox down in the series 3-0, Clemens faced Dave Stewart to try to prevent the sweep. Clemens was pumped ... too pumped. Clad in his son's Teenage Mutant Ninja Turtle shoelaces and eye black, Clemens turned in a 1.2 IP, 3 H, 3 ER line before being ejected by umpire Terry Cooney for arguing balls and strikes. The Sox lost their 10th straight playoff game.
43. Bert Campaneris throws bat at Lerrin LaGrow, Game 2, 1972 (A's vs. Tigers): After banging out three hits, stealing two bases and scoring two runs, Campaneris was hit in the ankle by a pitch from LaGrow. Campaneris flung his bat at the Detroit pitcher, and Tigers skipper Billy Martin had to be restrained from going after Campy. Both players were suspended for the remainder of the series.
42. Brian Hunter's three-run homer, Game 7, 1991 (Braves vs. Pirates): The Braves had won 1-0 in Game 6 on Greg Olson's ninth-inning double. They didn't wait that long to inflict final misery upon the Pirates. Hunter's two-out shot off John Smiley in the first inning was all John Smoltz would need in a 4-0, six-hit shutout.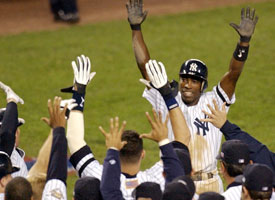 AP Photo
"I still can't believe you guys let me play second base."
41. Alfonso Soriano shocks Seattle, Game 4, 2001 (Yankees vs. Mariners): The 116-win Mariners trailed the series 2-1, yet led 1-0 in Game 4 after Bret Boone homered in the eighth. But Bernie Williams hit one out off Arthur Rhodes and Soriano won it with a walkoff against Kaz Sasaki in the ninth.
40. Jim Sundberg's triple, Game 7, 1985 (Royals vs. Blue Jays): The Royals had trailed 3-1 in the series, but Sundberg's bases-clearing triple off Dave Stieb was the big blow in a 6-2 win in Game 7.
39. Bert Campaneris' 11th-inning blast, 1973, Game 3 (A's vs. Orioles): In one of the great LCS pitching duels, Ken Holtzman and Mike Cuellar were both still tossing in the 11th. Campy's leadoff homer in the bottom of the 11th sent the A's home happy with a 2-1 victory.
38. Big Papi's game winner, 14th inning, Game 5, 2004 (Red Sox vs. Yankees): Could David Ortiz win two games in two days for the Red Sox? Yes. The victim this time was Esteban Loaiza, as Big Papi's two-out, game-winning single in the bottom of the 14th inning (on the 471st pitch of the game) sent the ALCS back to New York. You know the rest
37. George Brett homers three times off Yankees, Game 3, 1978 (Royals vs. Yankees): Brett homered in the first, third and fifth innings, all off Catfish Hunter. However...
36. Thurman Munson's home run, Game 3, 1978 (Royals vs. Yankees): K.C. led 5-4 in the bottom of the eighth. After a Roy White single, Doug Bird replaced Paul Splittorff, but the Yankees' captain homered to left for a 6-5 win. For the third straight season, the Yankees had defeated the Royals in the ALCS.
35. Livan Hernandez fans 15, Game 5, 1997 (Marlins vs. Braves): With help from Eric Gregg.
34. Endy Chavez's catch, Game 7, 2006 (Mets vs. Cardinals): The greatest catch ever? Chavez's amazing, leaping, over-the-wall, snow-cone grab robbed Scott Rolen of a go-ahead home run in the sixth inning. Alas, the Cardinals would score two in the ninth for a 3-1 win.
33. Magglio Ordonez's homer off Huston Street, Game 4, 2006 (Tigers vs. A's): Ordonez blasted a three-run, walk-off shot to left with two outs to give the Tigers their first AL pennant, 22 years to the day after winning their last World Series.
32. Pete Rose and Bud Harrelson fight, Game 3, 1973 (Reds vs. Mets): Despite Rose's tying homer in Game 1 and winning homer in the 12th inning of Game 4, it's the dust-up between Rose and the smallish Mets shortstop that is most remembered. After Rose slid into second and popped Harrelson with an elbow, words were exchanged and both benches cleared, although neither player was ejected. The Mets, winners of just 82 regular-season games, went on to win in five.
31. Lenny Dykstra's walk-off home run, Game 3, 1986 (Mets vs. Astros): He wasn't yet the pumped-up Dykstra of his Phillies days, but he still had the chaw dripping from his mouth. Dystkra's two-run homer beat Dave Smith 6-5, leading to one of the all-time classic postgame quotes: "I haven't done that since Strat-o-Matic."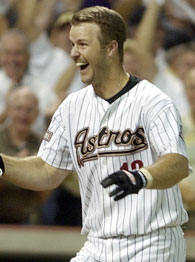 AP Photo
Did Jeff just hit a homer or did the PA guy start playing "Car Wash"?
30. Jeff Kent's homer off Jason Isringhausen, Game 5, 2004 (Astros vs. Cardinals): Entering the bottom of the ninth, the St. Louis tandem of Woody Williams and Isringhausen and the Houston duo of Brandon Backe and Brad Lidge had allowed just one hit each. With two runners on, Kent blasted a shot off the left-field facade at Minute Maid Park to give the Astros a 3-2 series lead after losing the first two games.
29. Jim Edmonds' homer off Dan Miceli, Game 6, 2004 (Cardinals vs. Astros): Two days later, Edmonds hit a 12th-inning, walk-off shot over the Cardinals' bullpen in right field off Miceli. Astros manager Phil Garner turned to Miceli after Brad Lidge threw three perfect innings.
28. Scott Rolen's homer off Roger Clemens, Game 7, 2004 (Cardinals vs. Astros): What a series! Rolen's two-run shot broke a 2-2 tie in the sixth inning, ultimately sending St. Louis to the World Series and touching off speculation whether Clemens would re-retire.
27. Mike Scioscia homers off Doc Gooden, Game 4, 1988 (Dodgers vs. Mets): Scioscia's ninth-inning, two-run line drive shot to right tied the game, leading to...
26. Kirk Gibson's 12th-inning home run, Game 4, 1988 (Dodgers vs. Mets): Gibson's blast off Roger McDowell gave the Dodgers the lead, and Orel Hershiser (who had started Game 3) would come on for the save, leading to ... Hershiser's pitching a shutout in Game 7, as the Dodgers pulled off one of the great upsets in LCS history.
25. Albert Pujols takes Brad Lidge deeeeeeeep, Game 5, 2005 (Cardinals vs. Astros): With Houston one strike away from earning its first World Series trip, Pujols crushed a hanging slider by Lidge, launching a three-run homer over the train tracks high atop left field at Minute Maid Park. Astros starter Andy Pettitte could be clearly seen on camera in the dugout mouthing the words, "Oh my," as Pujols' blast sailed into orbit.
24. Johnny Bench's game-tying homer, Game 5, 1972: The Pirates led 3-2 entering the bottom of the ninth when Bench led off with a homer off Dave Giusti. Two outs later...
23. Reds win series on wild pitch, Game 5, 1972: After Bench's homer, Tony Perez and Denis Menke each singled, and with two outs Bob Moose wild pitched in pinch runner George Foster for the series-winning (losing?) run.
22. Greg Luzinski's misplay, Game 3, 1977 (Phillies vs. Dodgers): Series tied 1-1, Phillies leading 5-3 in the top of the ninth. Two outs. Insanity ensues: 41-year-old Vic Davalillo reaches on a bunt single. Manny Mota hits a fly to left that the lumbering Luzinski couldn't field cleanly (it was ruled a double). Davey Lopes' grounder to third hits a seam, bounces off Mike Schmidt's knee to Larry Bowa, who may or may not have gotten Lopes on a controversial safe call. There's an error on a pickoff throw. Then a go-ahead single. As Jim Murray wrote, "God had had it with the Phillies." The Phillies, who hadn't been to a World Series since 1950, would lose Game 4.
21. Steve Garvey's home run, Game 4, 1984 (Padres vs. Cubs): Garvey's shot in the bottom of the ninth off Lee Smith forced a decisive Game 5. Thanks largely to that homer, the Padres eventually retired Garvey's No. 6 jersey. The Dodgers haven't done so.
20. Roger Clemens fans 15, allows one hit, Game 4, 2000 (Yankees vs. Mariners): In the most dominating LCS game ever pitched (tied for most strikeouts and the only one-hitter), Clemens allowed only a seventh-inning double to Al Martin.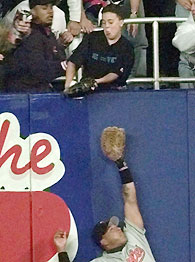 AP Photo
Meet Jeffrey Maier ... the anti-Steve Bartman.
19. Jeffrey Maier interferes with Derek Jeter's fly ball, Game 1, 1996 (Orioles vs. Yankees): Right fielder Tony Tarasco was camped at the warning track ... a 12-year-old kid reaches over the fence ... umpire Richie Garcia somehow misses the interference ... the Yankees tie the game on the "home run" and win it in 11 innings on Bernie Williams' home run.
18. Kenny Rogers walks in series-winning run, Game 6, 1999 (Braves vs. Mets): The Braves had won the first three games of the series. The Mets won the next two. Game 6 was a tug-of-war as Atlanta led 5-0, New York tied it 7-7, both teams scored in the eighth and 10th, before Rogers -- much-maligned in New York for his postseason performances with the Yankees -- entered in the bottom of the 11th. Gerald Williams led off with a double and, after a sacrifice, Chipper Jones and Brian Jordan were intentionally walked. The 3-2 pitch to Andruw Jones was wide. Series over.
17. Dodgers pitch to Jack Clark, Game 6, 1985 (Cardinals vs. Dodgers): Whatever you do, don't ever bring up Tom Niedenfuer's name to a Dodgers fan. Leading 5-4 in the top of ninth with runners on second and third and two outs, Tommy Lasorda elected to pitch to Jack Clark, St. Louis' only power hitter. He drills a long blast to left. Series. Over.
16. Rick Monday beats Expos, Game 5, 1981 (Dodgers vs Expos): Tied 1-1 in the top of the ninth, Expos manager Jim Fanning brought in ace Steve Rogers, who had won Game 3. With two outs, Monday homered. It was the closest the Expos would ever come to the World Series.
15. Phillies finally celebrate, Game 5, 1980 (Phillies vs. Astros): We could probably do a list of 50 moments from this series alone. The final four games all went extra innings. In Game 5, the Phillies trailed 5-2 after seven, but scored five times against Nolan Ryan in the top of the eighth. The Astros scored twice to tie it. Philly finally pushed a run across in the 10th. Dick Ruthven got Enos Cabell to fly to center, and the Phillies would go on to win their only World Series title.
14. George Brett homers off Goose Gossage, Game 3, 1980 (Royals vs. Yankees): Kansas City had suffered devastating defeats to the Bronx Bombers in '76, '77 and '78, but finally got some revenge. The Yankees led 2-1 in the seventh when Gossage hummed a 98 mph fastball that Brett crushed into the upper deck at Yankee Stadium, a huge blast that gave a K.C. a 4-2 lead and, finally, a series victory over the hated Yanks.
13. Curt Schilling's bloody sock, Game 6, 2004 (Red Sox vs. Yankees): Hobbled by an ankle injury, Schilling had turned in a three-inning, six-run stinker against the Yankees in Game 1. After the game, Schilling said "I won't take the ball again" if he couldn't find a solution. One cadaver practice later, team doctor Bill Morgan stitched up Schilling's tendon, we had a bloody sock, and Schilling delivered a seven-inning, one-run performance.
12. Grady Little leaves in Pedro Martinez, Game 7, 2003 (Yankees vs. Red Sox): Managerial moves get over-dissected, but this one ... well, this one was warranted. The Red Sox had a 5-3 lead and one out in the eighth. Everyone knew Pedro's numbers hit the toilet after 100 pitches. Little left him in to give up hits to Bernie Williams, Hideki Matsui and Jorge Posada. With the score tied 5-5, Little finally relieved Pedro -- after 123 pitches. And then lost his job.
11. Leon Durham's error, Game 5, 1984 (Cubs vs. Padres): Did Ryne Sandberg spill Gatorade on Durham's glove? Did Cubs coach Don Zimmer tell Durham not to switch gloves because the Gatorade might bring good luck? What we know for sure is that Durham threw a ball away and let another go through his legs in the seventh inning, turning a 3-2 lead into a 6-3 series-ending defeat.
10. Johnny Damon's grand slam, Game 7, 2004 (Red Sox vs. Yankees): Could the Sox complete the miracle? Some thought Damon, who was 3-for-29 in the series, should be benched or moved down from his leadoff spot. But his grand slam at Yankee Stadium in the second inning off Javier Vazquez (who had just relieved Kevin Brown) stunned and silenced the home crowd. Damon would later add another homer as Boston finished off the Yanks with a 10-3 victory. (The Sox had trailed the Yankees 3-0 in the series, and no team had ever come back from such a deficit to win an LCS or World Series).
9. Robin Ventura's grand slam single in 15th inning, Game 5, 1999 (Mets vs. Braves): The teams had been deadlocked at 2-2 since the fourth inning. The Braves finally pushed a run across in the top of the 15th on Keith Lockhart's RBI triple. Against Kevin McGlinchy, with rain coming down at Shea Stadium, the Mets loaded the bases. Todd Pratt walked to tie the game. Ventura then homered to center, although the play was ruled a single when Pratt failed to run the bases, instead mobbing Ventura at second base.
8. The Bartman Play, Game 6, 2003 (Cubs vs. Marlins): Unfair to Bartman? Perhaps. But his fan interference is remembered as the key play in Florida's eight-run eighth inning as the Marlins rallied from a 3-0 deficit. Chicago's Game 7 loss seemed inevitable.
7. Dave Henderson's homer off Donnie Moore, 9th inning, Game 5, 1986 (Red Sox vs. Angels): The Angels and manager Gene Mauch, who had famously managed the collapse of the '64 Phillies, were one out -- one strike -- from their first World Series trip when Hendu's two-run homer gave Boston a 6-5 lead. The Angels would actually tie it in the bottom of the ninth, before Boston won (on a Henderson sac fly) in the 11th. Boston would win the next two, as well.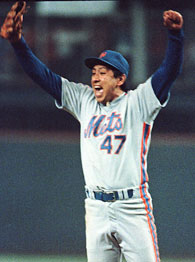 AP Photo
How did Jesse even have the energy to lift his arms?
6. The 16th inning, Game 6, 1986 (Mets vs. Astros): Many call it the greatest baseball game ever played. Houston -- with Cy Young winner Mike Scott ready for Game 7 -- led 3-0 entering the top of the ninth. The Mets tied it. The Mets scored in the 14th. Billy Hatcher homered to tie it. The Mets scored three times in the 16th for a 7-4 lead. Houston rallied with two runs and had two on with two outs. Finally, on a 3-2 pitch, his 54th in relief, Jesse Orosco struck out Kevin Bass swinging. The unsung hero for the Mets: Roger McDowell pitched five innings of one-hit relief.
5. David Ortiz's home run, 12th inning, Game 4, 2004 (Red Sox vs. Yankees): The greatest and most dramatic comeback in baseball history began with a ninth-inning rally off Mariano Rivera. It ended when Big Papi homered to right on a 2-1 pitch from Paul Quantrill for a 6-4 Boston victory.
4. Ozzie Smith beats Tom Niedenfuer, Game 5, 1985 (Cardinals vs. Dodgers): Smith's homer in the bottom of the ninth -- the first batting left-handed in his career up to that point -- led to the great Jack Buck's memorable call, "Go crazy, folks! Go crazy! The Cardinals have won the game, by the score of 3-2, on a home run by The Wizard! Go crazy!"
3. Chris Chambliss' walk-off home run, ninth inning, Game 5, 1976 (Yankees vs. Royals): The Bronx Bombers had fallen on hard times and were back in the postseason for the first time since 1964. George Brett had tied the game with a three-run homer in the eighth. Chambliss led off the bottom of the ninth against Mark Littell, who had retired all five batters he'd faced. Chambliss hit the first pitch over the right-center wall and famously rounded the bases through a mob of Yankee fans that had rushed the field.
2. Aaron Boone's 11th-inning home run, Game 7, 2003: Pedro ... Grady ... three scoreless innings from Mike Mussina ... two home runs from Jason Giambi ... three scoreless innings from Mariano Rivera ... in the end, the Yankees beat the Red Sox. Again. The victory was so emotional, Joe Torre cried on the field as the team celebrated.
1. Francisco Cabrera's single, Game 7, 1992 (Braves vs. Pirates): The most ultimate do-or-die situation in baseball history. The little-used Cabrera (only 10 at-bats in the regular season) pinch-hit with two outs, the bases loaded and Atlanta trailing 2-1. His single to left off Stan Belinda scored David Justice and the sloth-footed Sid Bream, who just beat the throw from Barry Bonds, capping the Braves' three-run rally. For the Pirates, it was the hit that destroyed a franchise: It was their third straight defeat in the NLCS and they haven't finished above .500 since.
Sources: Baseball-reference.com, with an assist from retrosheet.org, was invaluable with some of the play-by-play details.