So many different spins have been put on the NFL draft. Who were the biggest busts? Who were the most memorable steals? What were the greatest drafts by team? What was the best draft class? Which positions pay the most dividends? Etc.
In short, it's difficult to break new ground in discussion of the draft, which has mushroomed into one of the biggest preoccupations of the entire sports calendar for fans. Nevertheless, we reach deep into our imaginations to come up with a fresh, delightfully preposterous spin:
What if we could hop in a time machine and bring back all the best prospects in history for this year's draft? Of course, professional accomplishments don't count. This exercise is based strictly on the scouting reports at the conclusion of college careers. Our big board is an amalgam of only the most ballyhooed prospects. With a few exceptions, these are players who were drafted in the top five overall. Players such as Joe Montana and Tom Brady, who were seen as too physically limited by many evaluators, need not apply.
So suspend your disbelief, and let's get this party started … based on this year's draft order and team needs.
Selections 12-24 | Selections 25-32, others | Big board: Top 150 prospects

Pasquarelli: Elway No. 1 | Green: Video analysis | Photo gallery: The top 10




1. Lions: John Elway, QB, Stanford

Team needs: quarterback, offensive line


In hopes of landing Detroit's first franchise quarterback since Bobby Layne more than 50 years ago, the Lions reach for arguably the best college prospect ever with the opening selection. Elway boasts a truly extraordinary combination of arm strength, accuracy and mobility. The 6-foot-3, 215-pounder passed for 9,349 yards and 77 touchdowns, completing 62.1 percent of his attempts. Too bad he didn't
play on special teams
. Wait … this just in: Elway's representatives are saying the Stanford star, who played two seasons of college baseball, refuses to play for Detroit and demands his rights be traded. Meantime, he reportedly is negotiating a 10-year deal with the New York Yankees and is willing to pursue a baseball career if the Lions don't comply. Stay tuned.
NFC North blogger Kevin Seifert: Luckily, Detroit grabbed the Stanford quarterback before the Colts had a chance. Surely, Elway will have no problem playing for a Lions team that just missed winning (all) 16 games last season.


2. Rams: Orlando Pace, OT, Ohio State

Team needs: offensive tackle, linebacker, wide receiver


In need of a left tackle to replace recently released Orlando Pace, the Rams select … Orlando Pace, the 6-foot-7, 334-pound Ohio State standout who popularized the term "
pancake
" in the football lexicon. Pace won the Outland Trophy as a junior and is the only two-time winner of the Vince Lombardi Award. He didn't allow a sack in his final two seasons with the Buckeyes, and he was a unanimous All-America selection both years. Said Ohio State strength and conditioning coach Dave Kennedy: "I've never seen anyone like Orlando. The way he runs the 40, especially for a man his size. Let me put it this way: He could fit in well with the tight ends. … He's agile enough to be a defensive lineman." Indeed. Pace has been timed at 4.85 in the 40-yard dash, same as the Heisman winner from his final college season, Danny Wuerffel.
NFC West blogger Mike Sando: The Rams wanted a physical presence for their offensive line. Although Tony Mandarich appealed to unnamed members within the organization, general manager Billy Devaney ultimately couldn't resist Pace's stunning athleticism.


3. Chiefs: Bubba Smith, DE, Michigan State

Team needs: defensive line, offensive tackle


At 6-foot-8, 280 pounds, Smith fills a significant need and provides an intimidating complement to Glenn Dorsey. Smith was routinely double- and triple-teamed by opponents in college, and he anchored a Spartans defense that ranked No. 1 nationally against the run in 1965. Most impressive is that he's the only guy we know of who grabbed the whole backfield, then threw guys out
until he found the one with the ball
. Further, Smith's presence as an
authority figure
can't hurt in the locker room.
AFC West blogger Bill Williamson: This pick is a brilliant start to the Scott Pioli era in Kansas City. The Chiefs were the most faceless, least intimidating defense in the NFL last season. Bubba changes that in a hurry.


4. Seahawks: O.J. Simpson, RB, USC

Team needs: offensive tackle, cornerback, running back


Simpson boasts an extremely rare combination of power,
agility and speed
, even if he doesn't have
307 cubic inches of standard V-8 engine
. After scoring 54 touchdowns in two seasons at City College of San Francisco, he rushed for 3,187 yards and scored 34 touchdowns in two seasons at USC. "He's not only a wonderful football player, but he's a wonderful young man," said former USC president Norman Topping. Ultimately, Seattle opts to select Simpson instead of entertaining overtures
from the Broncos
to trade the pick.
NFC West blogger Mike Sando: General manager Tim Ruskell has built his reputation in Seattle by drawing a hard line against high-risk prospects who have demonstrated a pattern of nefarious off-field behavior. The 21-year-old Simpson checks out favorably on all fronts after his former USC teammate and Bay Area prep rival, Mike Holmgren, offers a glowing recommendation.


5. Browns: Lee Roy Selmon, DL, Oklahoma

Team needs: defensive end, linebacker, defensive back


Cleveland identifies arguably the most promising defensive line prospect ever. In addition to the skills that garnered him the Outland Trophy and Vince Lombardi Award in 1975, Selmon is an academic All-American with tremendous leadership qualities. He was considered such a sure thing coming out of college that the Steelers supposedly were willing to trade all 21 of their 1976 draft picks for his rights. The only question is
what the Browns should serve
at Selmon's introductory news conference.
AFC North blogger James Walker: The Browns made the first surprise pick of the draft in taking Selmon. Cleveland primarily needed linebacker help for its 3-4 defense. Many draft experts felt hybrid defender Lawrence Taylor would be a better fit to help the Browns' atrocious pass rush, but time will tell.


6. Bengals: Tony Mandarich, OT, Michigan State

Team needs: defensive end, offensive tackle, linebacker


Many pundits consider Mandarich to be the most promising offensive lineman ever produced by the collegiate ranks.
His massive build
, Herculean strength and ability to pound opponents into submission make him an appealing choice for a team with a relatively stationary quarterback. He was named to the
All-Madden team while still at Michigan State
. Skeptics insist Mandarich's abilities -- the 6-foot-5, 305-pounder benches nearly 550 pounds and runs a 4.65 in the 40-yard dash -- are enhanced by steroids. Still, he never failed a drug test in college. Come on,
does this look like someone
who isn't doing it naturally?
AFC North blogger James Walker: The Bengals, who traditionally do not scout well, have emphatically deemed offensive tackle Mandarich a "can't-miss prospect." Cincinnati franchise quarterback Carson Palmer has had two season-ending injuries (knee, elbow) the past four seasons and desperately needs Mandarich to prolong his career. The Bengals are banking on it.


7. Raiders: Bo Jackson, RB, Auburn

Team needs: wide receiver, offensive tackle, center


Oakland already has multitalented tailback Darren McFadden in the fold, but general partner Al Davis apparently is smitten with the idea of teaming Jackson and McFadden in the same backfield.
Jackson's athletic versatility is second to none
. He's a two-time Alabama prep decathlon champion who also starred in baseball at Auburn. We also should mention that 6-foot-1, 227-pound Jackson
ran a 4.12 40-yard dash
at the scouting combine. Seriously. Jackson rushed for 4,303 yards and 43 touchdowns at Auburn, averaging 6.6 yards per carry. He also receives high marks from scouts for vision, instincts and cutting ability. Said former Cowboys executive Gil Brandt: "He will be an immediate star in this league."
AFC West blogger Bill Williamson: Jackson will find a crowded backfield in Oakland. The Raiders don't know what to do with the running backs they already have. But Bo is a perfect Raiders back.


8. Jaguars: Calvin Johnson, WR, Georgia Tech

Team needs: cornerback, wide receiver, defensive tackle


The Jaguars get arguably the most
physically gifted wide receiver
in college history by reaching for Georgia Tech's career leader in receiving yards and touchdown receptions. Check out these measurables: 4.35 seconds in the 40, 42½-inch vertical leap and an 11-foot, 7-inch standing broad jump. This pick should give Jacksonville the elusive star receiver the team has sought by using first-round picks on R. Jay Soward, Reggie Williams and Matt Jones since 2000. Johnson admitted in pre-draft interviews with teams that he has smoked marijuana, but he passed drug screening at the NFL combine.
AFC South blogger Paul Kuharsky: Jacksonville believes it will end a long, bad stretch of receiver selections with big, athletic Johnson, who is viewed as a can't-miss talent coming out of Georgia Tech, where he averaged 16.4 yards a catch and scored 28 touchdowns in three seasons. The biggest other temptation was cornerback Charles Woodson.


9. Packers: Lawrence Taylor, DE/LB, North Carolina

Team needs: defensive end, linebacker, offensive tackle


Taylor is the prototype for a speed-rushing outside linebacker, a 6-foot-3, 242-pound package of quickness, power,
footwork
and aggression. Taylor had 16 sacks in 12 games as a senior and runs the 40 in 4.6 seconds.
A sampling of observations on Taylor:

''As good as any I've seen. He may even have an 'S' emblazoned on his chest.''
-- Mike Hickey, former director of player personnel for the Jets

"As a freshman playing on special teams, he'd jump a good six or seven feet in the air to block a punt, then land on the back of his neck."
-- former Tar Heels assistant coach Bobby Cale

"Taylor is a horse, a real horse. He's big and strong and fast and he goes all out on every play. How can you ask for more?" -- longtime NFL general manager Bobby Beathard
Taylor could command a steep salary, however, and agent Mike Trope describes the Hamilton Tiger-Cats, who hold Taylor's CFL rights, as a "viable alternative" to the NFL. Stay tuned.
NFC North blogger Kevin Seifert: Can you think of a better playmaker for a 3-4 defense? Green Bay might not offer the night life of, say, New York. But it sure beats a night spent "Dancing With the Stars."


10. 49ers: Troy Aikman, QB, UCLA

Team needs: offensive tackle, wide receiver, quarterback


Aikman possesses a strong arm, intelligence, ability to throw effectively on the run, confidence under pressure and sub-4.7 speed. The knock on him is that he started only two seasons in college, and that was in a Bruins offense that didn't necessarily develop his NFL skill set. "Aikman played [only] two [seasons], and in an offense that wasn't pro-style," said ESPN draft analyst Mel Kiper Jr. "But he's got all the physical tools, and he's a bright kid. In time, he'll be able to master the position, but it's going to take him a while." Aikman threw for 5,298 yards with 41 touchdown passes against 17 interceptions at UCLA. He completed 64.8 percent of his passes and led the Bruins to a 20-4 record. He might not want to wear
his political leanings
on his sleeve in San Francisco, however.
NFC West blogger Mike Sando: Coach Mike Singletary, eager to fill the Ted linebacker spot next to Patrick Willis, made a strong case for drafting himself. In the end, team president Jed York and general manager Scot McCloughan made a stronger case for selecting the most complete college passer in recent memory.


11. Bills: Bruce Smith, DL, Virginia Tech

Team needs: defensive end, offensive line, linebacker


Smith offers a tremendous combination of speed, strength and dexterity. He played up and down the defensive line at Virginia Tech to confuse opponents, and he projects as a dominant defensive end. He set a Virginia Tech record with 22 sacks as a junior and was the Outland Trophy winner as a senior. Smith ended his
collegiate career
with 46 sacks. Buffalo's selection of Smith likely will mean
bad things
for AFC East foes as he applies pressure from the edge.
AFC East blogger Tim Graham: The Bills hoped to land one of the defensive end Smiths and came away with Bruce Smith, who left Virginia Tech with 71 tackles for losses. Either Bruce or Bubba Smith would have filled a glaring need for a team that has struggled to mount any semblance of a pass rush in recent years.


12. Broncos: Herschel Walker, RB, Georgia

Team needs: defensive end, linebacker


It seems as if the Broncos, who used seven tailbacks in 2008 because of injuries, can never have enough backfield depth. So although they need help on defense, it's difficult to pass on Walker, who rushed for 5,259 yards and scored 52 touchdowns in just three seasons at Georgia. He was a consensus All-America selection each season, won a national championship as a freshman in 1980, and was a two-time All-American in track and field. Walker maintains an unorthodox training regimen, preferring
a daily regimen
of thousands of push-ups, sit-ups, pull-ups and dips to lifting weights. He also makes
a great first impression
.
AFC West blogger Bill Williamson: The Broncos have missed that special tailback since Terrell Davis was injured nearly a decade ago. Walker, another Georgia product, will be the next great tailback in Denver.
Selections 13-24 | Selections 25-32, others | Big board: Top 150 prospects

Pasquarelli: Elway No. 1 | Green: Video analysis | Photo gallery: The top 10


Thomas Neumann is an editor for Page 2. You can contact him here.
MOCK DRAFT FOR THE AGES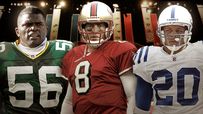 What if we could hop in a time machine and bring back history's best prospects for this year's draft?
• Selections Nos. 25-32, others
• Big board: The top 150 prospects ever
• Len Pasquarelli: Elway at No. 1
• Jeremy Green: Video analysis
• Zoom photo gallery: Top 10 picks
ESPN.COM NFL DRAFT COVERAGE
• Draft Central 2009 home page
ESPN.COM NFL MOCK DRAFTS
• Todd McShay: All seven rounds (April 21)
ESPN Top Headlines