13. Redskins: Aundray Bruce, LB, Auburn

Team needs: offensive tackle, defensive end, linebacker


Washington can't resist the size and quickness of the 6-foot-6, 245-pounder, who runs a 4.6-second 40-yard dash. While at Auburn, Bruce showed the ability to take over games but sometimes lacked the motivation NFL teams usually expect from a franchise cornerstone. "We never knew which Aundray would show up," Auburn teammate Kurt Crain told Sports Illustrated. "That's his one drawback. I often had to tell him during games, 'C'mon, we need you.'" Nevertheless, the Redskins seem convinced
a taskmaster such as Jim Zorn
can light a fire under Bruce.
NFC East blogger Matt Mosley: Owner Dan Snyder and exec Vinny Cerrato offered all four of their picks to trade up for Tony Mandarich, but the Bengals want to build around the Michigan State phenom. The Redskins are settling for Bruce because they envision him doubling as a tight end by his fourth year.


14. Saints: Charles Woodson, CB, Michigan

Team needs: defensive back, linebacker, defensive tackle


The selection of Woodson, a 6-foot-1, 200-pounder with 4.43 speed, will bolster a vulnerable defensive backfield and could create a dangerous special teams tandem with Reggie Bush. Woodson provides blanket coverage and seems to make his biggest impact in significant games. He recorded eight interceptions and scored four touchdowns (one rushing, two receiving, one punt return) as a junior. Woodson was a starter for all but two games of his three seasons at Michigan and has the ability to make plays
others would look silly attempting
.
NFC South blogger Pat Yasinskas: The Saints spent the free-agency period quietly overhauling their defense. Now, they have a marquee name to top it off. Woodson is a defensive player with a Heisman Trophy. New coordinator Gregg Williams can build around him. Heck, with Woodson's return skills, Bush could be sent packing.


15. Texans: Earl Campbell, RB, Texas

Team needs: safety, defensive tackle, running back


Running back isn't an urgent need for the Texans, but how can they pass on a homegrown human wrecking ball who commands total attention from opposing defenses? Campbell doesn't possess blinding speed -- he runs a 4.6 in the 40 -- but his 5-foot-11, 244-pound build and 36-inch thighs allow him to
plow over opponents
. He will provide a bullish counterpart to the elusive Steve Slaton. Campbell rushed for 4,443 yards and 40 touchdowns at Texas. Said Oklahoma coach Barry Switzer: "Earl Campbell is the greatest player that ever suited up. He's the greatest football player I've ever seen. Billy Sims is human. Campbell isn't."
AFC South blogger Paul Kuharsky: Despite all their defensive needs, this amounts to a no-brainer -- a Texas Longhorn transforming into a Houston Texan. With Campbell's power and Slaton's speed, Houston could have an all-time backfield. It wasn't hard to pass on Dan Wilkinson, Russell Maryland and Buck Buchanan. There was no safety on the big board to consider, and the linebacker talent will be good enough later.


16. Chargers: Jim Thorpe, RB/DB, Carlisle

Team needs: offensive line, safety, running back


Chargers general manager A.J. Smith has a knack for drafting gifted athletes other teams have passed on, such as Shawne Merriman and Antonio Cromartie. Thorpe will fortify San Diego's defensive backfield and provide depth at tailback alongside LaDainian Tomlinson and Darren Sproles. He also can kick and punt if needed. Thorpe possesses arguably the most inherent talent of any player in this draft. He famously won Olympic gold medals in the decathlon and pentathlon, then followed up those feats by scoring 25 touchdowns his final season at Carlisle. How did the 6-foot-2, 195-pounder slip this far? Other clubs believe agent Drew Rosenhaus when he says his client is willing to play baseball full time if the NFL doesn't present a rich enough offer.
AFC West blogger Bill Williamson: A perfect eventual replacement for Tomlinson: Jim Thorpe, All-American. The Chargers' Super Bowl window is far from closed with this addition.


17. Jets: Michael Vick, QB, Virginia Tech

Team needs: quarterback, wide receiver, defensive end


No doubt this is a risky pick, considering Peyton Manning and Terry Bradshaw are still on the board. On one hand, Vick offers a tantalizing combination of athleticism -- a 4.33 time in the 40 and a 40½-inch vertical leap -- and upside. It's not unreasonable to project him as the greatest running quarterback in NFL history. However, his inexperience is a significant question mark. He played only two seasons after redshirting his first year at Virginia Tech, and the 6-foot, 214-pound lefty completed only 56.3 of his passes. "I think if he was 6-3 or 6-4, people would be saying he's the next John Elway," former NFL general manager Randy Mueller told the New Orleans Times-Picayune. "He has great poise in the pocket, especially when things break down. There's no panic." Regardless, once the Jets saw
this workout footage
, their minds were made up.
AFC East blogger Tim Graham: Everybody wondered who would take the chance on the wildly talented Virginia Tech star. Now the Jets have to figure out what to do with him. With classic pocket passers such as Bradshaw and Manning available, the Jets went with a scrambler who will make offensive coordinator Brian Schottenheimer scrap his playbook.


18. Broncos: John Matuszak, DE, Tampa

Team needs: defensive end, linebacker


Some pundits question Matuszak's character, but his 6-foot-9, 280-pound frame is more than enough to make many talent evaluators overlook the red flags. He was kicked off the team at Missouri after beating up a serviceman at a fraternity party as a sophomore. Later, he punched a Tampa teammate during a pickup basketball game, crushing his cheekbone and eye socket. He also was arrested for possession of marijuana while at Tampa. Under coach Earle Bruce, Matuszak and quarterback Freddie Solomon led Tampa to its best season, 10-2 with a Tangerine Bowl victory, in 1972. The Broncos might be wise to keep him out of LoDo, however, where he might be tempted to party like
a rock Starr
.
AFC West blogger Bill Williamson: Where's the party? Apparently, it's in Denver. The Broncos parlay the Jay Cutler trade into getting Matuszak. One of the great all-time gridiron party animals now is in charge of reinventing the "Orange Crush" defense.


19. Buccaneers: Peyton Manning, QB, Tennessee

Team needs: quarterback, defensive line, wide receiver


Manning has the pedigree and intelligence to virtually guarantee he can succeed in the NFL. Yet some scouts openly wonder whether he's much closer to his ceiling than some of the other quarterbacks available. Nevertheless, there's much to be said for his level of maturity. He's an academic All-American who graduated with a 3.61 GPA. Manning's arm strength has been nitpicked by some, but that criticism is unfounded. While the 6-foot-5, 235-pounder will never be called elusive, his 4.9 speed should be enough to keep him out of trouble. Manning might be considered a safe pick by some, but at least you know he will
never embarrass the franchise
.
NFC South blogger Pat Yasinskas: In his first season, coach Raheem Morris has the chance to get the franchise quarterback Jon Gruden never could. Manning sure has the résumé coming out of Tennessee. But you have to worry about why he fell all the way to No. 19. Maybe the Bucs got a sleeper, or maybe he's destined to badly misfire … until he puts on another uniform -- like Steve Young, Vinny Testaverde and Trent Dilfer.


20. Lions: Charles Rogers, WR, Michigan State

Team needs: offensive line


Offensive line is the listed need, but Detroit has a bit of a history of deviating from conventional wisdom. This pick was acquired from Dallas in the Roy Williams trade, so why not consider reaching for a wideout to replace him -- especially a Michigan native. While he's closer to 6-foot-2 than the 6-4 he was listed at in college, the 205-pound Rogers has enough speed -- 4.4 in the 40 -- to make plays. However, concentration and work ethic aren't strong points. He passed Kirk Gibson as Michigan State's career leader in touchdown catches in 2002, finishing with 27. The previous season, Rogers shared Spartans MVP honors
with the timekeeper.
NFC North blogger Kevin Seifert: The Lions go for the sure thing. Yes, they need an offensive lineman, but the big guys are so hard to project. Detroit is where receivers go to flourish.


21. Eagles: Red Grange, RB, Illinois

Team needs: offensive tackle, running back, wide receiver


The "Galloping Ghost" is undersized at 5-foot-11, 175 pounds, but his gridiron instincts are unmistakable. His speed and agility are apparent on film, and he has the ability to turn broken plays into big gains. He also punted for the Illini. Grange's stock began to soar in a
legendary performance against Michigan
as a junior. After returning the opening kickoff 95 yards for a touchdown, he scored on rushes of 67, 56 and 44 yards in the first quarter, personally equaling the number of touchdowns the Wolverines had allowed the two previous seasons. He finished with 212 rushing yards on 21 carries and added a passing touchdown and a fourth rushing touchdown. Grange rushed for 31 touchdowns and threw for six more in 20 career games for the Illini.
NFC East blogger Matt Mosley: Grange pops off the screen with his cutback ability and vision, but the grainy footage is often misleading, despite the Ted Turner colorization process. Unbelievable numbers, but concussion concerns due to leather helmet.


22. Vikings: Terry Bradshaw, QB, Louisiana Tech

Team needs: quarterback, offensive line, wide receiver


Bradshaw is a hard-nosed, 6-foot-3, 215-pounder, and scouts rave about his arm strength, mobility, poise and competitive mindset. He has faced scrutiny for not playing against elite opposition, but
his stock soared
after his MVP performance in the Senior Bowl. Bradshaw led NCAA Division II with 2,890 yards of total offense as a junior in 1968. He threw 42 touchdown passes at Louisiana Tech despite not becoming a full-time starter until his junior season. Bradshaw's Southern upbringing and respectful demeanor seem to greatly reduce the possibility of his taking
unnecessary risks
off the field.
NFC North blogger Kevin Seifert: Finally, the Vikings address their pressing need for a backup to rising star Tarvaris Jackson. Bradshaw isn't fancy and doesn't project as a starter, but he should prove to be a competent short-term replacement should Jackson suffer an injury.


23. Patriots: Bronko Nagurski, DT/OT/RB, Minnesota

Team needs: linebacker, defensive back, offensive tackle


Extremely tough and versatile, Nagurski is a prototypical Bill Belichick player. He played tackle on both sides of the ball and fullback in college, but the 6-foot-2, 226-pounder projects as a linebacker in the NFL. Nagurski's offensive skill also bodes well for him as an eligible-receiver replacement for the traded Mike Vrabel in goal-line situations. A throwback such as Nagurski probably serves as his own agent, too, which could bode well for the Pats in contract negotiations. How valuable was Nagurski as a college player? He led
Minnesota
to a Big Ten title … although he never won the Bronko Nagurski Trophy, awarded annually to the nation's top defensive player.
AFC East blogger Tim Graham: The Patriots made a head-scratcher of a move by drafting Nagurski, a versatile athlete who excelled as an offensive tackle at Minnesota but might project best as a fullback. The Patriots could use him at linebacker, but they passed on Dick Butkus. If they wanted an offensive tackle, they could've taken Anthony Muñoz.


24. Falcons: Ed "Too Tall" Jones, DE, Tennessee State

Team needs: defensive tackle, linebacker, offensive tackle


Jones doesn't strictly fit the Falcons' need for a defensive tackle, but how do you pass up the opportunity to select a 6-foot-9 pass-rusher with an 88-inch wingspan? Perhaps Jamaal Anderson could move inside, or Jones could play tackle. Either way, you don't leave this guy on the board. Although Jones played at a small college and is somewhat underweight for a man his size, his upside is downright tantalizing to scouts. Jones anchored the defense of the 1973 black college national champions, and
his voice
commands respect in the locker room.
Take a listen
.
NFC South blogger Pat Yasinskas: Atlanta coach Mike Smith was stunned when Jones fell to No. 24, saying, "He was the No. 1 player on our board." This one's a gift for the Falcons, who drafted quarterback Matt Ryan in 2008. But you have to wonder whether Jones, who played against some suspect competition with Tennessee State, will be able to immediately work his way into the lineup ahead of Anderson.
Selections 1-12 | Selections 25-32, others | Big board: Top 150 prospects

Pasquarelli: Elway No. 1 | Green: Video analysis | Photo gallery: The top 10


Thomas Neumann is an editor for Page 2. You can contact him here.
MOCK DRAFT FOR THE AGES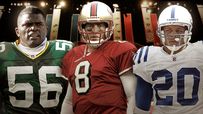 What if we could hop in a time machine and bring back history's best prospects for this year's draft?
• Selections Nos. 25-32, others
• Big board: The top 150 prospects ever
• Len Pasquarelli: Elway at No. 1
• Jeremy Green: Video analysis
• Zoom photo gallery: Top 10 picks
ESPN.COM NFL DRAFT COVERAGE
• Draft Central 2009 home page
ESPN.COM NFL MOCK DRAFTS
• Todd McShay: All seven rounds (April 21)
ESPN Top Headlines