25. Dolphins: Chuck Bednarik, LB/C, Penn

Team needs: wide receiver, cornerback, linebacker


"Concrete Charlie" perfectly fits the mold of a Bill Parcells player. He's older and more mature than most draft-eligible players, having already served in the Air Force. After flying 30 wartime combat missions, we suspect he will be able to handle the pressures of pro football. At 6-foot-3, 230 pounds, Bednarik is a durable and devastating tackler. Penn went 24-7-1 in his four seasons there and was ranked as high as No. 7 in the nation during his junior year. However, the Dolphins' strength and conditioning coach
might want to have a word or two
with Bednarik when he arrives in Miami.
AFC East blogger Tim Graham: Dolphins football operations boss Parcells has been googly-eyed since he noticed the two-way roughneck might fall to him with the 25th pick. Bednarik is a decorated World War II aerial gunner with a Penn education. The Dolphins needed a center to anchor their line and a hard-hitting inside linebacker. With one pick, they filled both needs.


26. Ravens: Dick Butkus, LB, Illinois

Team needs: wide receiver, cornerback, linebacker


Can you imagine Butkus playing alongside Ray Lewis and Terrell Suggs? "Dick was so strong and agile and possessed great quickness," said Pete Elliott, who coached Butkus at Illinois. "His biggest attributes, however, were his instincts and his desire. … He is the finest football player I have ever coached." Butkus made 374 tackles in
26 career college games
and was a two-time consensus pick as a first-team All-American. In his junior season, he made 145 tackles and forced 10 fumbles as the Illini (8-1-1) captured the Big Ten title and won the Rose Bowl. Butkus also played center at Illinois. To be on the safe side, the Ravens might want to insist on contract language to keep Butkus from
playing water polo
.
AFC North blogger James Walker: The Ravens have bigger needs (wide receiver), but grabbing a tremendous value pick in linebacker Butkus was too good to pass up. With the loss of Bart Scott in free agency, Butkus should fit in extremely well next to future Hall of Famer Ray Lewis, who will teach the rookie how to play the position in hopes that Butkus carries on the strong linebacker tradition in Baltimore.


27. Colts: Barry Sanders, RB, Oklahoma State

Team needs: defensive tackle, wide receiver, running back


Sanders boasts the sort of eye-popping measurables scouts crave: 4.39 seconds in the 40-yard dash, 41½-inch vertical leap and 10 feet, 11 inches in the standing broad jump. As a junior, he rushed for a Division I-A record 2,628 yards, produced 3,249 all-purpose yards and scored 39 touchdowns. The downside is Sanders' slight build (5-foot-8, 195 pounds) and relative inexperience (he started only as a junior after backing up Thurman Thomas for two seasons). However, good luck getting a square hit on him. Sanders is one of the most
elusive and agile tailbacks ever to grace the ranks of college football.
AFC South blogger Paul Kuharsky: Their needs at wide receiver, linebacker and defensive tackle might have been bigger, but the only real temptation at any of those spots was Irving Fryar. Sanders is a major upgrade over Joseph Addai and helps the Colts balance their offense. Sanders won't be dangerous only on handoffs. He can also be a quality target on short stuff.


28. Bills: Anthony Muñoz, OT, USC

Team needs: offensive line, linebacker


The Bills received this pick in the Jason Peters trade and immediately move to replace the two-time Pro Bowl left tackle. In spite of injury concerns about Muñoz, Buffalo takes the 6-foot-6, 292-pounder who runs a 5.0 in the 40. He's as fundamentally sound as any offensive line prospect ever, but he has undergone three major surgeries in four years to repair torn ligaments in both knees -- raising major questions about his durability. He played just one injury-free season at USC, as a sophomore, and just one game in its entirety his senior year. Still, his quickness, strength and technique are so impressive many scouts are calling Muñoz a can't-miss prospect. "He's potentially the most outstanding offensive lineman I ever saw anywhere," said former USC coach John Robinson. Agent Mike Trope, who also represents Lawrence Taylor, has threatened to steer Munñoz to a pitching career in baseball if contract negotiations aren't to their liking.
AFC East blogger Tim Graham: A few years ago, the Bills drafted Willis McGahee 23rd overall even though he was coming off reconstructive knee surgery. They made another risky pick this year, passing up Alabama quarterback Joe Namath to select Munñoz.


29. Giants: Don Hutson, WR, Alabama

Team needs: wide receiver, linebacker


After cutting ties with troubled wideout Plaxico Burress, the Giants waste no time in reaching for another No. 1 receiver. Hutson is a 6-foot-1, 185-pounder with a legendary work ethic. He has above-average speed and perhaps the best hands of any receiving prospect. He's also elusive, with a gift for shifting speeds. Although his 40 time is unavailable, the former track star has been clocked at 9.8 seconds over 100 yards -- and isn't that a more indicative football distance, anyway? Hutson arrived at Alabama on a partial baseball scholarship and went out for the football team as a walk-on. Two All-America selections later, the "Alabama Antelope" capped his collegiate career by catching two long touchdown passes in a Rose Bowl victory over Stanford, as the Crimson Tide finished the 1934 season 10-0. Hutson has experience in the business world and might opt to represent himself in contract negotiations. He operated a campus dry-cleaning service with Alabama teammate Paul "Bear" Bryant.
NFC East blogger Matt Mosley: With Burress in the rearview mirror, the Giants go with the best receiver on the board. General manager Jerry Reese praised Hutson for the way he complemented the Crimson Tide's other wideout, Bryant.


30. Titans: Steve Emtman, DT, Washington

Team needs: wide receiver, quarterback, defensive tackle


Tennessee tabs a 6-foot-4, 290-pound weightlifting disciple who was the defensive cornerstone of Washington's 1991 national championship team. Behind Emtman, a physical, intense run-stuffer, the Huskies allowed a mere 9.2 points and 67.1 rushing yards per game that season. Although not an outstanding pass-rusher, he is
a dominant inside presence
with an exemplary work ethic who occupies multiple blockers and frees up teammates to make plays. Emtman was a consensus first-team All-America selection and captured the Outland Trophy and the Lombardi Award as a junior.
AFC South blogger Paul Kuharsky: Emtman, who left college a year early, anchored a tremendous defense at Washington. The Titans believe they can play him inside or out and get excellent pass-rushing and run-stuffing. But Tennessee's line is still a very good unit despite losing Albert Haynesworth. The Titans would have been better served drafting their quarterback of the future (Carson Palmer) or a big-play wide receiver (Irving Fryar).


31. Cardinals: Eric Dickerson, RB, SMU

Team needs: running back, linebacker, offensive line


Dickerson is a hybrid in the best sense of the word. At 6-foot-3, 218 pounds, scouts like that he has the strength of a fullback. Yet he boasts halfback speed -- 4.45 in the 40. He's a refined runner with an upright style and an uncanny ability to shed tacklers.
Dickerson ran roughshod
over Southwest Conference opponents for SMU, which
outbid Texas A&M for his services
successfully recruited him with the promise of excellent academic opportunities. He broke Earl Campbell's SWC career rushing mark with 4,450 yards in just three seasons and while sharing carries with Pony Express backfield mate Craig James. We just hope
Dickerson complies
with NFL uniform guidelines. Get the checkbook ready Cardinals, Dickerson has already turned down an offer of more than $1 million from the USFL.
NFC West blogger Mike Sando: Anquan Boldin was still on the board, but team president Michael Bidwill and general manager Rod Graves sense they'll have an easier time negotiating with Dickerson's agent, Leigh Steinberg, than with Boldin's man, Drew Rosenhaus. A chance to arm Kurt Warner with a potential Hall of Fame running back proves irresistible.


32. Steelers: Ron Yary, OT, USC

Team needs: offensive tackle, defensive end, cornerback


Obviously, there's no need to start from scratch in the wake of a Super Bowl championship. Nevertheless, the Steelers did allow Ben Roethlisberger to be sacked
nine times
in a loss to the Eagles last season. Considering the investment Pittsburgh has made in its quarterback, adding a franchise tackle makes perfect sense. As a sophomore, Yary was the Pac-8
defensive
lineman of the year. Moving to offensive tackle as a junior, he received consensus All-America honors. The 6-foot-6, 245-pounder was a unanimous All-America selection and Outland Trophy winner as a senior, opening lanes for O.J. Simpson.
AFC North blogger James Walker: The defending champions got lucky with this pick. The Steelers were able to fill their biggest need and take the best player on their board in Yary. Pittsburgh already announced Yary will be roommates in training camp with fellow USC alum Troy Polamalu, who will share college stories and teach Yary the "Steeler way."
Teams without a first-round pick



49. Bears: Keyshawn Johnson, WR, USC

Team needs: wide receiver, safety, offensive tackle


The 6-foot-4, 210-pounder isn't a flat-out burner -- he runs a 4.47 to a 4.55 in the 40, depending on whom you believe -- but he does have legitimate playmaking ability and terrific hands. Naysayers point to Johnson's ego and its potential to derail a team's focus. He was forced to sit out a season at West Los Angeles College because of attitude problems, although he returned to enjoy an impressive sophomore season and later became close friends with the coach. Conversely, Johnson also has been lauded for his intensity, work ethic and leadership. Johnson caught 168 passes for 2,796 yards and 16 touchdowns in two seasons at USC. He famously ran out of the stadium and up a hill overlooking the Pacific and paused to enjoy the view after a 91-yard touchdown catch in a junior college game at Santa Barbara.
NFC North blogger Kevin Seifert:Johnson gives new quarterback Jay Cutler the big target he needs. The best thing about Johnson is that he doesn't care whether you throw him the ball or not. He just wants to win.


51. Cowboys: Brian Bosworth, LB, Oklahoma

Team needs: safety, wide receiver, cornerback


The buck stops with Jerry Jones in the Cowboys' draft room, and it appears as if longtime friend Barry Switzer convinced him to select the ballyhooed Sooners star. Bosworth is a 6-foot-1½, 245-pounder who runs a 4.6 in the 40, but his baggage has been well-publicized. Some scouts see him as insubordinate for attempting to maneuver around the draft process into a major media market, and he was suspended from the 1987 Orange Bowl after
testing positive for steroids
. What few people know is that Bosworth was an academic All-American at Oklahoma, posting a 3.28 GPA in management information. Ultimately, Bosworth is considered a franchise player in spite of his
questionable decisions
. He should be a
solid fit with the Cowboys
.
NFC East blogger Matt Mosley: In a locker room that just lost its most compelling player in Terrell Owens, this is a nice fit. Showed tremendous range on the field and in OU's drama program. The rare player who could lead a goal-line stand against Bo Jackson.


59. Panthers: Joe Namath, QB, Alabama

Team needs: defensive line, quarterback, wide receiver


Most pundits agree Namath is an absolute steal at this spot. Some scouts rate him as an absolute sure thing, equal to or even better than John Elway as a quarterback prospect. At 6-foot-2, 200 pounds, Namath has a prototypically powerful arm, but he did suffer a significant knee injury as a senior. Additionally, there are concerns that Namath's
personality
could
adversely affect
an entire team. He partied into the wee hours several nights during Senior Bowl week, even as scouts were watching his every move. Namath earned his degree from Alabama in 2007, a mere four decades after his graduating class. Ultimately, though, scouts drool over Namath because he's a winner. He led the Crimson Tide to the 1964 national championship and a 27-4 mark as a starter. Elway, by contrast, was 20-23 as a college starter. Legendary Alabama coach Paul "Bear" Bryant called Namath the greatest athlete he ever coached, yet Bryant suspended Namath for the 1963 regular-season finale and the 1964 Sugar Bowl for missing curfew.
NFC South blogger Pat Yasinskas: Carolina coach John Fox has always been against drafting quarterbacks early. But he broke that policy after a conversation with Namath's college coach, Bryant. "Namath is what he is," Bryant told Fox, who instantly was sold. Jake Delhomme is out the door in favor of "Tryon Street Joe."
Selections 1-12 | Selections 13-24 | Big board: Top 150 prospects

Pasquarelli: Elway No. 1 | Green: Video analysis | Photo gallery: The top 10


Thomas Neumann is an editor for Page 2. You can contact him here.
MOCK DRAFT FOR THE AGES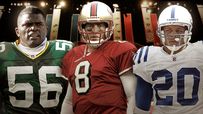 What if we could hop in a time machine and bring back history's best prospects for this year's draft?
• Selections Nos. 25-32, others
• Big board: The top 150 prospects ever
• Len Pasquarelli: Elway at No. 1
• Jeremy Green: Video analysis
• Zoom photo gallery: Top 10 picks
ESPN.COM NFL DRAFT COVERAGE
• Draft Central 2009 home page
ESPN.COM NFL MOCK DRAFTS
• Todd McShay: All seven rounds (April 21)
ESPN Top Headlines