Reel Wraps: Inside "The Hammer"
NEW YORK -- For filmmakers and thespians, unveiling your movie can be a nerve-jangling experience. If your film is kicking off the first ever Tribeca/ESPN Sports Film Festival at a film market that will have you competing with more than a hundred other independent films for the attention of buyers who have the ability to distribute your humble project to theaters, then the process can be positively terrifying.
If the film is loosely based on your experiences as a penniless loser … well, you're better off hiding beneath the popcorn stand until the credits roll.
If these are truths, then the seemingly unflappable Adam Carolla is either a stone cold warrior or he's hung over. Or, as it turns out, maybe he's both.
On the morning after the world premiere and afterparty for his comedy flick "The Hammer," Carolla says he's confident that his first effort as a Hollywood leading man delivers the goods. Good thing, because the film is essentially Carolla's own coming-of-age-ridiculously-late tale, about a down-and-out construction worker (Carolla) who returns to boxing after a 20-year hiatus in an effort to land a spot on the Olympic team.
Like his character, Jerry Ferro, Carolla showed some promise early on, then lost his way. The one-time pride of North Hollywood High (along with Molly Ringwald's sister Beth and porn star Christy Canyon) was a prep football player who, at the age of 18, took up boxing. A year later, he was fighting in the Golden Gloves. Yet despite his early success, Carolla stopped fighting and spent much of his 20s working odd jobs as a carpenter and boxing instructor.
Of course, that was then. On his 30th birthday, Carolla dropped the hammer and hit the airwaves as co-host of the syndicated radio show "Loveline" (which was later picked up by MTV) before tackling Comedy Central's "The Man Show" with longtime friend Jimmy Kimmel. After Kimmel left to host his own late night talk show, Carolla took over Howard Stern's morning radio time slot for his gabfest "The Adam Carolla Show," which airs in 11 West Coast markets.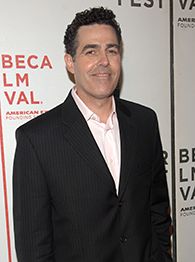 WireImage.com
Adam Carolla makes his big screen debut as boxer Jerry Ferro in "The Hammer."
Carolla's strange journey isn't lost on Stern, who took to last Thursday's red carpet in support of his pal's movie. "Adam has come a long way, that's for sure," Stern said. "I know they paid him dearly to take over my morning show and now he's got the movie thing going, so he's raking in the big bucks now.
"But I still think his girlfriend Jimmy (Kimmel) is doing a little better."
Stern might be right. The morning after the premiere, I met Carolla at Cutting Room -- a Tribeca bar owned by actor Chris Noth ("Sex and the City") -- to talk about his journey, his flick, and why Carolla is no DiCaprio. Not yet, anyway.
Sam Alipour: I know I'm coming off a long night, thanks to your party. So why exactly are we in a bar this morning?
Adam Carolla: That's a good question. I'd venture to say my night was even longer than yours. After the party, we stayed out late drinking and eating. I hear there's a lot of that going on in Tribeca right now.
I understand they ushered your afterparty out of its venue to make way for Leonardo DiCaprio's party. What does that say about your star power?
Are you kidding me? Leo? Goddamn. If I knew that, I'd still be in the bathroom hiding. What the f--- is DiCaprio's movie?
He produced something called "Gardener of Eden."
There should be a law that you need to be at least 35 to produce something. I can't stand when I hear, "Oh, the Olsen Twins produced this." Bulls---. They're 16, for the love of Christ.
When we met last year at a Dodgers game, you told me the idea for "The Hammer" came from your chat with (super middleweight boxer) Jeff "Left Hook" Lacy, who told you about the difficulties of boxing older guys. But this movie is semi-autobiographical, so who should get the credit: Lacy or you?
Geez, I must have been high. Well, Jeff just came off his debacle, a loss to Joe Calzaghe, who was five years older. And I thought, yeah, 36-year-old Lennox Lewis could kick 19-year-old Lennox's ass. But the movie captures my former life as a carpenter and boxing instructor, a poor guy who hung out with other poor, depressed guys, mostly from different countries because I worked construction. It's more than semi-autobiographical. Sadly, it's almost a documentary. But I flew Lacy out for a small role in the film, at my expense.
Why did the real Adam flip the switch to become a success?
I gave myself until my 30th birthday to become somebody, unlike that DiCaprio guy, who gave himself until his 12th. I said, by the time I'm 30, I need to be doing something other than swinging a hammer. I wasn't going that far with my dreaming. I didn't envision being behind a mic or starring in a movie at Tribeca. I'd never been to New York or even been on an airplane. I just thought it would be great to write on an animated show or do your job.
What exactly are you trying to say about my job?
(Laughs) Well, you know, anything creative. But then, about three weeks from my 30th birthday, I met Jimmy Kimmel. And the rest is history.
You were quite a football player back in the day, then you boxed in the Golden Gloves. And then, um, construction. What went wrong?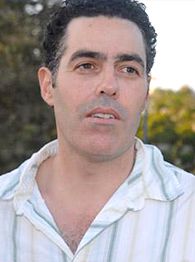 WireImage.com
Carolla could've followed in Ken O'Brien's footsteps by playing
football at UC Davis.
I got recruited to play football at, like, the really major schools: UC Davis, Cal Poly Pomona, Lewis and Clark. I wasn't a good student, as you can imagine, so I played linebacker with the dumb guys at a junior college in San Fernando Valley for a year. But I wasn't fast or strong or big enough, then I got hurt, so I gave it up. Then I thought I'd try boxing. I liked contact sports, and I knew I had skills, but I also knew I couldn't make a living at that, either.
You trusted your baby to screenwriter Kevin Hench, a sportswriter and former "Man Show" scribe -- which I get -- and director Charles Herman-Wurmfeld, the man behind "Legally Blonde 2" and "Kissing Jessica Stein" -- which I don't. What was it about Charles' résumé that screamed "sports movie director" to you?
(Laughs). Good question. It did seem a little weird. But whether it's a boxing movie, or a movie about a coal miner, or a movie about a father and his gay son, eventually it's about turning the camera on. Charles is a good storyteller and we were lucky to get him.
For better or worse, you and Kimmel are forever linked. Now, your pal has his own TV show, but you've achieved leading man status and he hasn't. So give me the scorecard: Who's doing better, you or Jimmy?
Wow. (Laughs). I'd say Jimmy's doing better. But seriously, I don't think in those terms. He's the greatest guy in the world, and I wish him every success. That said, I'm the second-greatest guy in the world, so I should get the second-most success.
Like most Tribeca-bound filmmakers, you're here to essentially sell your film and find a distributor who'll get this sucker into theaters. A little nerve-racking, right?
(Laughs) Yeah, I'm shaking like a leaf on a tree. No, here's the thing: The movie is good. If it sucked, it'd be very nerve-racking. And I don't mean to sound like a pompous ass. But Jeff Lacy isn't a bundle of nerves when he gets in the ring, because he could take your head off. If I got in the ring with Lacy, I'd be a bundle of nerves because he'd destroy me. But this movie is good, so I'm not too worried about it.
Sam Alipour is based in Los Angeles. His Media Blitz column appears in ESPN The Magazine and regularly on Page 2. You can reach him at sam.alipour@gmail.com.