Note: For more on athletes on soap operas, see the current issue of ESPN The Magazine.
LOS ANGELES -- These Brewers players are in a pickle, flanked as they are by a former playboy-turned-politician, his sleazy grease man and a groupie with a penchant for blackmail.
Another day at the ballpark? Not quite. Jeff Suppan, Bill Hall, J.J. Hardy, and Chris Capuano have left the sex, drugs and drama of MLB for, well, much of the same, risking life and limb -- but mostly ego -- to film a cameo on CBS' venerable soap opera "The Young and the Restless" (June 20).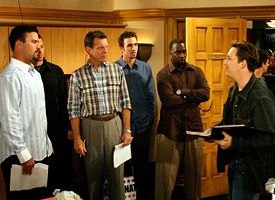 CBS photo
It's not all fun and games on the set of a network soap opera.
"The over/under is three takes," Capuano said earlier, but those present at CBS Television City know better. Hours before they'll take on the Dodgers at Chavez Ravine, the men of the Brew Crew already are sweating bullets. Although they're merely rehearsing -- and for a simple scene, no less, which has them visiting the office of Jack Abbott (Peter Bergman) for a photo op during Abbott's campaign for Wisconsin state senate -- the Brewers can't quite get this acting thing right.
Take Hall. The center fielder has, at various times, played roughly 12 positions on the field, but on a soap set, he might be out of his league. In fact, he's reciting his stage directions. "We brought this T-shirt for you … while holding the T-shirt," Hall tells Abbott, while holding the T-shirt. Hall would later explain that this was merely a gag to defuse the pressure. "It's just a soap opera," he said. "It's not like we're doing a movie and need to turn ourselves into actors."
Thankfully, director Noel Maxam didn't hear this. He's having a helluva time managing the chaos -- and positioning Capuano. He repeatedly instructs the pitcher to "stand by Suppan's upstage shoulder," but Capuano's unresponsiveness -- and the look of death on his face -- suggest that either Maxam is speaking Cantonese or he just told the lefty to throw high and inside at God.
SOAPS ROSTER
In 2006, men accounted for 21 percent of the estimated 6 million soap opera viewers. Turns out, some of those chaps were jocks who, given accommodating daytime schedules, aren't immune to the trappings of today's metrosexual male culture. "Believe it or not, we mostly reach out because word gets back to us that these guys are fans," explains "General Hospital" casting director Mark Teschner. "For them, it's a thrill."
Like Brewers outfielder Bill Hall, who'd sneak away at lunch hour in high school with a girlfriend to catch "Days of Our Lives," Montreal Canadiens defenseman Sheldon Souray admits that his afternoon naps are preceded by daily doses of "Days." "Like anyone else, athletes get addicted to the drama, and before we know it, we're all closet soap junkies," says Souray, who was so soap-smitten that he married Angelica Bridges, a Days regular ('04). "I knew she was on 'Baywatch,' but when she mentioned she was on 'Days,' I was like 'Wow, you had me at hello.' "
Other jocks who've been bitten by the soaps bug:
All My Children: Danny Sullivan (Champ car, 1987); Summer Sanders (swimming, 1992); Boomer Esiason (NFL, 1996); Bill Guerin, Rob Niedermayer and Kevin Weekes (NHL, 2001); Allan Houston (NBA, 2005); Al Leiter (MLB, 2005); Tiki Barber (NFL, 2005).
As the World Turns: D.J. Lockhart-Johnson (NFL, 2004).
The Bold and the Beautiful: Mike Piazza (MLB, 1994).
Days of Our Lives: Casey Mears (NASCAR, 2004).
General Hospital: Johnny Berardino and Yogi Berra (MLB, 1963); Jim Kelly (NFL, 1992), Sinorice Moss (NFL, 2006).
Guiding Light: Mark Schlereth (NFL, 2007); John Riggins (NFL, 2003); Carl Edwards (NASCAR, 2005).
One Life to Live: Scott Gomez, Jeremy Roenick, Sheldon Souray, Chris Therien and Kevin Weekes (NHL, 2001); Jeanette Lee (billiards, 2003).
Passions: Robert Horry (NBA, 1999).
The Young and the Restless: Wayne Gretzky (NHL, 1981, '83); David Justice (MLB, 1992); Muhammad Ali (boxing, 1999); Tara Lipinski (figure skating, 1999); Brian Jordan (MLB, 2000); Robert Griffith (NFL, 2001); Charles Woodson (NFL, 2004); Luke Walton (NBA, 2006); Tony Dorsett (NFL).
-- Sam Alipour
The jocks aren't the only ones struggling to adapt. In the scene, Abbott's ex-wife Phyllis (Michelle Stafford) barges in on the photo op, recognizes the Brewers and nearly loses it, reciting each player's achievements. Problem is, Stafford isn't much of a baseball fan, so she refers to Hall as "Jeff," pronounces Suppan as "soup-ann" (not "soup-on") and flubs the script's baseball jargon, congratulating Hall for a recent "home run single."
After six takes, Bergman isn't pleased. "Let's do that about 16 more times," he says to no one in particular. Over his 29 years in soaps, the three-time Daytime Emmy winner has seen it all -- even this. In August, he witnessed Lakers forward Luke Walton's shaky performance in a scene at a Y&R gym. "Walton was a nervous wreck," Bergman recalls. "Even if you're an actor, soaps are difficult because we work at a quick pace."
The pace is too feverish to allow for additional warm-ups. The Brewers are whisked away to the makeup room where all, except ESPN regular Hall, take their first turn in stylist chairs. The jocks are keenly aware that Suppan's wife, Dana, is getting a complimentary blowout in a chair nearby. Suppan, on the other hand, has gone missing.
"Soop is probably in his own room," suggests Capuano, his cheeks now faux rosy, legs bopping like sewing needles. "He needs so much makeup, he has eight guys working on him, sawing at his toenails."
After some nervous laughter, the Brewers go silent. Maybe Suppan, a wily veteran, had the right idea.
Maybe he's gone.
---
As baseball's top Cinderella story, the first-place Brewers are awash in media requests. So why did the Brew Crew willingly break from routine -- getting a wicked 6:30 a.m. wake-up call after a night game -- to go the soap route? Turns out, they're merely joining the crowd. The first soap episode to feature an athlete is believed to have aired as far back as '63 (Yogi Berra, as a "General Hospital" brain surgeon, no less), but today's jocks are turning to daytime dramas at an even greater clip than their predecessors. Of an estimated 38 jock-infused soap episodes, 16 have aired in the past four years.
Hardy isn't finding solace in numbers. "I've been catching a little crap for it," he admits. "When I told my parents, all I heard was laughter." It's worse in the locker room. After Walton's appearance on Y&R, it was open season on him. Kwame Brown explained: "We had to let Luke know that he looked kind of feminine."
There are many reasons jocks from Wayne Gretzky to Mike Piazza risk the ribbing. For one, soaps are a convenient passage into showbiz. There are nine daily soaps to choose from, so daytime's output and quick working writing staff allow for 11th-hour scheduling. What's more, jocks' roles don't require much homework. The Y&R casting director reached out to the team because the show is set in Genoa City, Wis., so, like most soap-bound athletes, the Brewers appear as themselves, doing what athletes often do: aligning themselves with a local politico.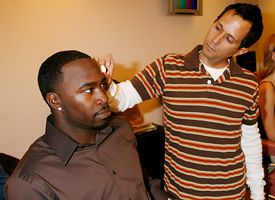 CBS photo
Brewers outfielder Bill Hall takes his turn in the makeup room as he gets ready to shoot an episode of "The Young and the Restless."
Although jocks aren't required to shed croc tears or navigate love triangles, wannabe thespians had best bring their A-games. In 2001, Sheldon Souray was among the NHLers who appeared on "One Life To Live" and, according to Souray, it took Scott Gomez 10 takes to nail his one line as an airline ticket taker. "They're not asking you to be DiCaprio in 'Blood Diamond,'" Souray said. "But it ain't easy being cheesy."
Despite what their wide eyes might suggest, the Brewers aren't taking their side gig lightly. In recent days, they rehearsed on the team bus and, yes, even in the dugout. "That's probably a first in baseball history," says Suppan, who rejoined his teammates in the makeup room after a one-on-one with a dialogue coach.
The Brewers are most concerned about soft-spoken Hardy. In the scene, the shortstop is so taken by Phyllis that he wants to continue the conversation at a later date, saying, "She can warm up with me anytime. I'll need her name and number."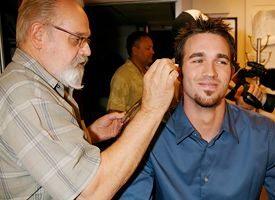 CBS photo
J.J. Hardy gets to "hit on a big soap actress" during
an upcoming episode of "Y&R," according to Hall.
"I have the cheesy lines that can really get made fun of," explains the NL MVP candidate. "I lost some sleep last night. I was a lot more nervous doing this than I would be going out and facing Roger Clemens."
Good thing for Hardy that Stafford and Bergman have come to the makeup room to corral the jocks into more rehearsals. Take by take, the kinks are ironed out.
The players even have time to engage in familiar duties like autograph signings and contract discussions. "You athletes have it good because your contracts are guaranteed," says actor Billy Warlock (Ben Hollander, Abbott's campaign manager). "In soaps, they can drop you at any time. There's no security. They own you."
Warlock's words seem to comfort the players. Stafford attempts to do the same. "Athletes can handle the pressure," she reminds them. "You're used to being booed."
Not these days, they're not.
---
Just minutes before showtime, the Brewers head for the set. Capuano, for one, has a newfound swagger in his step and his head on a swivel. Why? "I'm single, so I'm checking out the different sets, keeping my options open," he says, adding that he prepared for the shoot by conducting some highly professional Internet research. "I read up on the different cast members, and I definitely spotted some lovely young ladies."
Back at Abbott headquarters, the Brewers' presence -- and their possible train wreck -- has attracted an uncommonly large group of cast members. Ever the showman, Suppan treats the cast to a peek at his good luck charm: the 2006 World Series ring he earned with the Cardinals. Thespians jockey for position, and even taskmaster Bergman is agog, requesting permission to try the ring on his very actor-ly ring finger. "It's like a bracelet," he says.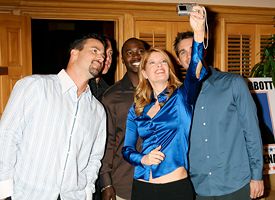 CBS photo
Jeff Suppan, Chris Capuano, Bill Hall and J.J. Hardy pose for a picture with actress Michelle Stafford.
The players laugh, and with that, their magic is back, the jocks are the stars and the stars are fans. When the cameras roll, the now-poised Brewers nail their lines, Capuano finds Suppan's upstage shoulder, and even Hardy lets it fly, turning up the charm on Stafford and giving Bergman a few improvisational pokes in the ribs.
After two tight takes, backslaps are shared and box scores are passed. Maxam, who has directed the likes of Charles Woodson and Muhammad Ali, says Capuano has "the most skills," and Bergman singles out Hall as "the guy who looked most relaxed." The Brewers, however, chose Hardy as the MVP. "He had to hit on a big soap actress," says Hall, who says the performance could help round out the boyish-looking player's young female fan base. "Maybe he can get some grandmas out of this."
Although paychecks (a whopping $375) and caps with the Y&R logo are disseminated, signaling an end to their duties, the Brewers won't leave until they receive a tour of the "Price Is Right" set.
But first a makeup artist beckons. Seems in all their glee, the ballplayers forgot to have their face paint removed. Suppan calls for a team huddle. "Well, we do look kind of tan," he says. "I think I'm going to the game like this."
The Brewers keep their makeup and set out to spin Bob Barker's wheel, giving up more of their daytime for Daytime -- but ditching their new Y&R caps.
Says Capuano: "There's no chance I'm wearing this outside the studio."
Sam Alipour is based in Los Angeles. His Media Blitz column appears in ESPN The Magazine and regularly on Page 2. You can reach him at sam.alipour@gmail.com.