LOS ANGELES -- "I warned you, didn't I?" asks Mark Philippoussis, his query muffled by the hot dog lodged inside both cheeks. "Welcome to the circus."
The Australian tennis star did warn me, but I didn't believe him. Weeks ago during a phone chat, Philippoussis implored me to visit the set of "Age of Love," yet another reality dating show in which eager women would vie for the affection of an eligible bachelor. Even though this particular program (which debuts Monday night on NBC at 9 ET) would center on a jock, I wasn't buying. Wake me up, I thought, when a reality series ends with a "very special season finale featuring castrations and horsewhippings."
In my mind, even the series' highly publicized twist was problematic. In going where "The Bachelor" has yet to dare, NBC tapped Philippoussis to serve as guinea pig in a social experiment that pits six women in their 20s (aka "The Kittens") against seven women in their 40s (dubbed, of course, "The Cougars"). So, you see, when the Aussie, 30, chooses his lady through a series of elimination ceremonies, he'll answer a question that has haunted humanoids for ages: In the search for love, does age really matter?
Problem is, since the creation of the earth -- and certainly since the advent of male enhancement science -- this much is true: All things equal, men desire pups. Athletes like Philippoussis are no different. The former top-10 player has dated models, starlets and other things (reportedly Paris Hilton) younger -- and in some cases much younger -- than he. Why then would tennis' top lothario, a virile stud nicknamed "Scud" for his powerful serves, pass on the lasses in favor of a woman who could be his mother?
"Trust me," he said on the phone. "If you saw the Cougars on this show, you wouldn't ask me that question."
Sold.
That's how I find myself in the craft service room on the top floor of a sleek downtown L.A. high-rise watching Philippoussis polish off a hot dog in three bites. Later tonight, he'll eliminate one unsuspecting contestant, narrowing his suitors to three women before filming the season finale. And, as luck (or the show's producers) would have it, two of the remaining women are in their 20s, two in their 40s.
"You're just in time," Philippoussis says before wiping strange sauces from his mouth. "Now, excuse me while I eliminate someone."
With that, Philippoussis sets off to begin the critical fifth set in this match of his life.
And we are all witnesses.
---
"There's a loss of privacy, sure, but it's a good chance for people to get to know me, beyond 'Mark the tennis player.' I'm a simple guy, very easygoing. I just want to find someone that makes me happy, who makes me smile. And to have 13 women fight over me brings me joy." -- M.P.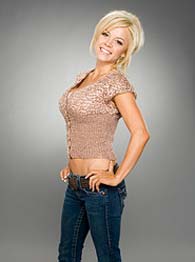 NBC
Will Philippoussis fall in love with one of the Kittens ...
A network publicist leads me to the control room adjacent to Philippoussis' bachelor pad on the 30th floor. This is the show's main brain, where two dozen producers and editors talk fast, move faster and watch everything. Forty video monitors allow us to peep inside Philippoussis' chic abode as he prepares for the shoot. Right now, he's wiping lint from his designer suit. Moments ago, he was picking his ear.
Two-thirds of the monitors are devoted to a condo down the hall where the ladies are bunking. I'm most intrigued by the woman adjusting her bra in a bathroom mirror.
"They know where they can go if they want some privacy," explains network rep Libby Hansen, VP of alternative series, who'll spend much of the night relaying news to the mother ship via BlackBerry. "For whatever reason, they just choose not to use it."
I'm seated at what creator/executive producer J.D. Roth calls a "snoop station," where a set of headphones and a laptop are your backstage pass. Here's what I surmise: Hours before the elimination ceremony, Philippoussis is sitting on his couch … watching the season finale of "The Bachelor."
---
"I don't think about what makes for good TV. The only tip I got from Lieutenant Andy on 'The Bachelor' is how NOT to be. He's like a robot. Hey, this is my time to give s---. When this show comes out, I'll be the one getting s---." -- M.P.
Every morning, Philippoussis hits the local courts while rehabbing torn knee cartilage suffered at the Hopman Cup earlier in the year. Some mornings, he'll train with Gavin Rossdale and Gwen Stefani at the couple's home. And sometimes, he'll take host Mark Consuelos ("All My Children") with him. In return, Consuelos helps Philippoussis prevent future locker room ribbing: "If he gets himself in trouble, crying or whatnot, I'll burst in and say, 'Dude, man up!'"
Consuelos then heads next door to inform the jock, on camera, that he'll be interviewing each contestant one last time prior to tonight's elimination ceremony. And then they do it all over again. Seems the Aussie revealed his pre-elimination leanings during their on-camera banter. Roth, the show's diminutive, red-haired quarterback, whispers new instructions through a mic and into Consuelos' wireless earpiece.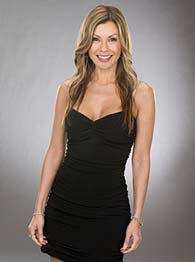 NBC
... or go with the experience of one of the Cougars?
Clearly, these men are more than voyeurs. They are ventriloquists -- the proverbial fly on the wall if that fly could rearrange your furniture. Still, Roth, the creator of "The Biggest Loser" and "For Love or Money," says that Philippoussis and his ladies -- whom he tellingly refers to as "characters" -- shouldn't fret. "What we do is what 'SportsCenter' does," he explains. "We pinpoint the highlights and lowlights. If you don't like what you see, you don't like looking in the mirror."
---
"When we have our dates, the producers say, 'Go as far as you want. If there's something we can't do, we'll let you know.' But I'm not looking to sleep with women. I want to be a gentleman. I was raised to open doors and pull out chairs. As a joke, I'll put my arm around the girls and go, 'How lucky am I?' But otherwise, I'm respectful." -- M.P.
Because of a network-imposed gag order, I'm prohibited from identifying the finalists, but needless to say, the Kitten in the red dress seated beside Philippoussis is a fine-looking woman. She's the first to elucidate why she should be the last of the ladies, but the Red Kitten with eager eyes who Philippoussis claims is "an absolute sweetheart" isn't stating her case. She's acting more like a puppy.
"Come on, say something!" Roth yells to the monitor. Whoops, she just did. "Oh my gosh!" Red Kitten giggles (again … and again). The next Kitten (who tends to "light up my day," says Philippoussis) is draped in an equally revealing black dress but inspires an equally obtuse conversation.
Never mind all that. These Kittens have smooth bronzed skin and tightly coiled bods with jiggly things, important attributes on a series with "dates" that include Jacuzzi dips and a romantic rappelling down the exterior of a high-rise -- endeavors at which women of a tender age shine.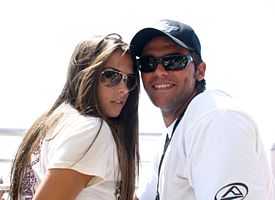 Amy Tierney/WireImage.com
The notorious playboy was once engaged to Alexis Barbara.
The Kittens' hopes are bolstered by Philippoussis' track record, which includes a relationship with Delta Goodrem, a musician eight years his junior, and a reported fling with Paris Hilton when such a fling did not result in your reproductive organs receiving a cease-and-desist order from God. In '05, Philippoussis was even engaged to then-18-year-old model Alexis Barbara. The Cougars surely don't stand a chance.
---
"I didn't know anything about the show. So when they brought out a bunch of 40-year-olds, I was freaking out. One of them has a son who's my age, so meeting him was awkward. I was like, 'So, I'm dating your mom … How 'bout them Yankees?!' But they don't look their age at all. I wish you saw this one 40-year-old in her bikini. I'll be honest, it was ridiculous." -- M.P.
The nearly extinct and highly territorial cougar, or Puma concolor, is a lean but mean stalk-and-ambush predator. Though the cougar prefers to dine on deer, it's safe to assume it'd eat a kitten if desperate.
The sultry Cougar in a blue dress currently sitting across from Philippoussis looks to be equally capable of slaughtering Kittens. Blue Cougar could pass for Angelina Jolie's older sister, but the jock likes her intangibles. She's "confident," for one. She "knows what she wants," too. The kicker? Following a recent carriage ride, Blue Cougar gave Philippoussis a splendid massage. "You're very talented," he cracked with a schoolboy flush.
Sure, the series' seven Cougars carry baggage (five are divorced, two have children), but there isn't a weak cat in the litter. They are ambitious photographers and VPs of real estate companies, big-city ladies from L.A. and down-home girls from Nashville who are quite capable of caring -- if they deem you worthy. And they do look good -- even Jennifer, the oldest at 48. She's the executive assistant to Lakers owner (and nefarious playboy) Jerry Buss -- a man, it's important to note, yet to be accused of having poor taste.
"Mark had fun kissing girls for three weeks," says Hansen. "But he's a pensive, thoughtful guy. And now he has to make some really hard decisions."
---
"The girls are so vulnerable, exposing themselves and opening up. So I feel like s--- on elimination night. Sometimes the producers will give me a shot of alcohol to relax me. But it's getting worse. The other day, I cried during 'Jerry Maguire.' Last night, I cried during a commercial. I'm like, 'What's going on with me?' I'm not here to hurt anyone. All I can do is be true to myself." -- M.P.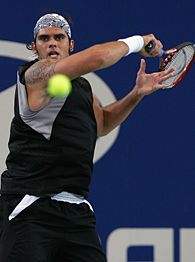 Paul Kane/Getty Images
Philippousis has 10 ATP Tour victories in his career and two Grand Slam runner-up finishes.
As Philippoussis awaits his final sit-down with a stunning Cougar in a tight-fitting gold number, there's a hiccup. Gold Cougar summons the producers into the hallway for an impromptu huddle to deliver some troublesome news. Gold Cougar, in her infinite wisdom, has had enough: She wants off the show. Now.
This shocking revelation sparks a chain reaction of barks and rapid movements. The producers are scrambling to decide how to break the news on camera to future viewers, and to the other girls, and to an oblivious Philippoussis.
"Geez, how hard is it to kiss and fall in love?" wonders Hansen.
Luckily, Roth convinces the Gold Cougar to break the news to Philippoussis in person, assuring NBC of some good television. Philippoussis' shattered ego? That's collateral damage. With fingers crossed, the Gold Cougar is sent into the bachelor's lair.
"There's so much of you I love," she tells Philippoussis before cutting to the chase. "But I just think you're spoiled." As the control room bursts into violent applause, a serious discussion rages next door. Wide-eyed and sweaty, the jock listens as Gold Cougar lists his transgressions, which include his failure to "open up," to ask questions about her and to show he cares.
The producers follow each verbal jab with "oohs" and "ahhs." They belong on TV -- these little loud men behind the curtains. "Next door, they're spilling their hearts out," Consuelos whispers to me, "and we're in here cheering like it's Wimbledon."
But Consuelos isn't ready to count the jock out. Other women have tried to leave the show, he says, but Philippoussis always reeled them back. In fact, Consuelos has his own nickname for Scud. "I call him Obi-Wan," he explains. "And he's about to use his Jedi mind tricks."
"I'm only 30 years old," Philippoussis reminds Gold Cougar. "But I'm learning every day."
Ace! Advantage, Philippoussis.
"I'm in my 40s," replies Gold Cougar, "and I don't have tomorrow."
Forehand winner! Deuce.
"You don't know what we want," she continues, "what we need."
Overhead smash! Advantage, Cougar.
"If I knew what women want, I wouldn't be on this show!"
Backhand winner down the sideline! Deuce! Yes! But, wait … will the chair umpire overrule …?
"I like it," Roth says to no one in particular. "This is it. This is reality!"
---
"That thing I said about older women … can I take that back?" -- M.P.
After Gold Cougar is whisked away (to where, I can't reveal), Philippoussis kicks open his door and leaps into the hallway, gasping for air. "Did anyone else see that?" he yelps. "What the f--- do these women want from me?"
Fame and fortune, quite likely.
Your love, possibly.
Sam Alipour is based in Los Angeles. His Media Blitz column appears in ESPN The Magazine and regularly on Page 2. You can reach him at sam.alipour@gmail.com.