LOS ANGELES -- Nick Young shuffles his feet outside Mann Festival Theater, his polka-dot Vans nudging imaginary pebbles, his mind racing. "I'm nervous as hell," Young whispers. "This whole thing is very Hollywood."
Though he's smiling -- he's always smiling -- the soft-spoken swingman from USC tends to blink in the unforgiving glare of spotlights. That's something he'll have to work on. Only days before he departs for the NBA draft in New York -- where he'll become the first USC player since 1997 chosen in the first round -- Young has come to Westwood for the Los Angeles Film Festival premiere of "Second Chance Season," a documentary detailing his senior year at Grover Cleveland High School in Reseda.
The NBA draft alone is enough to jangle one's nerves. Add to that the prospect of entering your first training camp having been the subject of a feature film, and no wonder Young, 22, is bracing for a storm.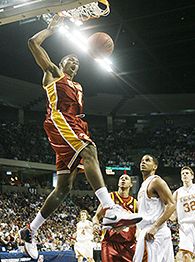 AP Photo/Rick Bowmer
Nick Young's draft stock has risen since he left USC.
"I'm ready for the clowning," he says. "But I hope my future teammates see it first and learn about me before they haze me."
Still, it's a safe bet Young can handle the hazing, for the same reason he's unfazed by hosting a Trojans party in the heart of Bruins country: Nick Young is not alone. His parents Mae and Charles Sr. are keeping a watchful eye from a cafe patio next door. Young's brothers Terrell and John, along with friends and faculty from both Grover Cleveland High and USC, have his back, too.
So ill-tempered Bruins fans and celebrity sycophants beware, because the village that raised this child has come to support the child that lifted them. And now, they're heading into the darkened theater to see this story, their story, come to light.
---
"Second Chance Season," from Emmy award-winning sports producer and first-time theatrical director Daniel Forer, is more than an exciting sports tale. It's a compelling drama that explores the residual effects of an unfathomable tragedy on a tight-knit family.
In 1991, Nick Young's eldest brother Charles Jr. was shot and killed by a member of the Bloods, L.A.'s notorious street gang. He'd been mistaken for a member of a rival gang while exiting his community college classroom. He died almost instantly.
Charles Young Jr. left behind a fiancée, an unborn child, and a family that has yet to recover. Young's older brother John suffered a breakdown following the senseless murder, and was later committed to a mental institution. As Charles Sr. notes in the film, "One bullet killed two sons."
Nick was only 5 years old at the time of the shooting, but he soon became aware that, as the youngest of the Young boys, he represented the family's last hope for a better future. Even as he clung to this common belief -- that the fulfillment of a hoop dream is suffering's panacea -- he buckled beneath its weight, flunking out of two high schools, Hamilton and Dorsey, where he could no longer stand to attend classes with members of the gang responsible for his brother's murder.
"Some athletes play for themselves, some play for their school, but Nick was playing to heal his family," Forer told me. "When he plays well, they focus on the future. When he doesn't, there's a backslide. It's a heavy responsibility for a kid."
Young would eventually take the bus across Los Angeles to Grover Cleveland High, where his 27.2 points and 10.8 rebounds per game as a senior would draw the attention of several Division I suitors. But to meet the NCAA's academic requirements, Young, a special education student, had to elevate his GPA and SAT score. He'd have only three chances to bring the latter up to 820, and he came up short on the first two.
"I feel if I mess up, the whole world will be mad at me," Young says in film. "I'm supposed to be the future, the savior."
In basketball coach Andre Chevalier, principal Al Weiner and numerous teachers and counselors, Young found the support system he needed to succeed in the classroom. And when that wasn't enough, he received an assist from an unlikely source: Jordan Farmar, the star point guard for hated crosstown rival Taft High School (now with the Lakers). Throughout the season documented in the film, Farmar offered Young words of encouragement and, in one particularly touching scene, an SAT study guide.
It took five years of high school, and three brutal rounds of SATs, but in the end, Young landed a scholarship to USC ("It's medicine for my soul," Young's mother Mae says in the film) and continued to deliver his family a safe haven from their storm.
This past season, the athletic 6-foot-7 junior sharpshooter posted 17.5 points and 4.6 rebounds per game for the Trojans. And following his eyebrow-raising performances at a series of private workouts, Young -- already a surefire first-round pick, has received indications he could be selected as high as seventh by Minnesota or eighth by Charlotte on Thursday.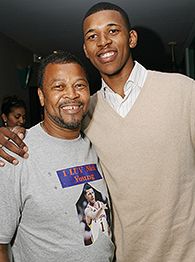 Maury Phillips/WireImage.com
Nick Young with his dad at the premiere of "Second Chance Season."
Young's rising stock led to an unexpected invite to New York, but the latest developments have become a bit of a headache for Forer. He'll follow the Young family to the draft and unveil a new cut of the film, complete with draft footage, at the festival on July 1.
"Every time I think I know where Nick's story is going, it takes a turn," says Forer, who is currently courting offers from five distributors. "It wreaks havoc on my life, but seeing the joy on Nick's face makes it worth it."
---
When the film ends, the house lights shine and a standing ovation follows, Young gamely, if not enthusiastically, takes to a podium to field questions.
There are hoots and hollers, and even instructions from Chevalier on how to properly hold a microphone ("Always coaching," he allows), but the familiar faces seem to spur Young's confidence. When asked if he plans to finish his education, he takes a comedic beat before wryly admitting he will. And when a hopeful rugrat takes his temperature on potentially going 19th to the Lakers, Young even pokes at a local star: "Hopefully, Kobe will leave and I'll take his place."
Then, at last, the Youngs head into the night -- buoyed by hugs and handshakes but weighted down by the emotions of the past few hours, ever mindful of their journey. After all, there's still the matter of the documentary's most gripping and as yet unresolved plot strand: Through an innovative rehabilitation program, the Young family has been presented with the opportunity to meet Charles Jr.'s paroled killer, who was only 15 at the time of the murder and is now on his way to earning a graduate business degree.
"I'd still like to meet him someday," Nick admits. "It seems like he's on the right track. You can't live with hatred in your heart. Sometimes you need to forgive."
For now, they'll celebrate. Not too hard -- Charles Sr. has work tomorrow -- but an intimate soiree at a nearby restaurant will feature Young's expanded family, including Simone Young, Charles Jr.'s daughter; Jennifer Walker, who would have been Charles Jr.'s wife; and even John Young, who is now spending weekends with his family, proving that while some losses should never be forgotten, they can be overcome.
"It's a great feeling to have so many people supporting me," says Young, who plans to move his family from Culver City to a safer neighborhood in Porter Ranch. "We all feel like family, so by me making it, I'm making it for everybody.
"It's like I'm living a dream."
Better leave some in the tank. The dream continues Thursday.
Sam Alipour is based in Los Angeles. His Media Blitz column appears in ESPN The Magazine and regularly on Page 2. You can reach him at sam.alipour@gmail.com.