Face it. You want Alyssa Milano. And you have for a very long time.
You began to feel this way back in the '80s, when your body was strange and your thoughts stranger and she first rocked your world as Samantha Micelli on "Who's the Boss?"
These feelings were later confirmed by her turns in "Poison Ivy II," "Melrose Place" and most recently "Charmed" -- and in "Charmed" she played a witch, for cryin' out loud. If you weren't down with witches before, you are now.
Then you nearly lost it. You found out she is a sports fan. A big one. The fact she's a Dodgers season-ticket holder didn't even deter you, sir from San Francisco. Not even you.
Milano's not just a fan -- this year she unveiled "Touch," her MLB-licensed clothing line for lady fans. And MLB.com is currently running a contest offering a chance to meet Milano at a Dodgers game. It's not quite a date -- but it's nothing to shake your head at, either.
Milano recently took some time to talk about her clothing line, her passion for sports, and the perks and pratfalls of dating athletes -- but not about how she's helping both India and Angola as an ambassador for UNICEF.
That would've put you over the edge. I know. I speak from experience.
---
SAM ALIPOUR: First things first: You and I go back a long way, you just didn't know it.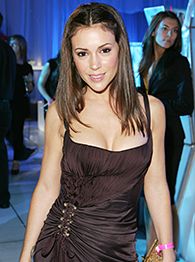 Alison Buck/WireImage.com
Yep ... she's still got it.
ALYSSA MILANO:
[Laughs] Well, that's a good thing! Right?
SAM ALIPOUR: I think so. What inspired you to design this clothing line?
ALYSSA MILANO: It was an idea that came out of necessity. I've been a Dodgers season-ticket holder for four years, and I had a hard time trying to find fashionable clothes that fit my body and let me fly my team colors. And if I'm having this problem, then there must be a market for this. So my agents got me a meeting with MLB Properties -- which, I'll add, was the most intimidating meeting of my life. Imagine little ol' me, an actress from L.A., telling baseball officials why they should make cute fan apparel. But it worked. It's three years in the making and one of the proudest accomplishments of my life, a seed that turned into a big, beautiful oak tree. [Laughs]
SAM ALIPOUR: Say it's game day and, because of a players' strike that will rage on for 100 years, it's the last game you'll ever attend. You're staring at your closet. Which item from the line do you choose?
ALYSSA MILANO: The satin jacket. About four years ago, I bought a Dodgers Little League jacket because I couldn't find anything cute. So the jacket I designed is a homage to that.
SAM ALIPOUR: That's cute. But it also concerns me. When my mom took me to buy my first piece of Raiders apparel and the clerk pointed to a silver-and-black T-shirt, she asked him if it came in "nicer colors, like yellow or red."
ALYSSA MILANO: Oh no!
SAM ALIPOUR: Yeah, it was awful for a 10-year-old. So, I'm wondering, does this line stay true to team colors, or will women be wearing pink Pittsburgh Pirates dresses?
ALYSSA MILANO: [Laughs] There's absolutely no pink. Pink offends me. It's the man's misguided answer: "If you make it pink, women will buy it." I'm a traditionalist. But I did have a great sample of a wrap dress that we weren't able to sell to teams. Stadiums don't have changing rooms, so people can't try dresses on. It's been an interesting learning curve. If it doesn't look good on a hanger, nobody will buy it.
SAM ALIPOUR: What sparked your passion for sports in the first place? And please tell me it wasn't Tony Danza.
ALYSSA MILANO: [Laughs] Well, Tony was a sports fan. That didn't hurt. But in this business, you look to your family for direction. I was raised in New York, and New Yorkers have a very distinct passion for sports. So for family fun, we'd watch and go to games. I grew up watching the Yankees on my daddy's lap.
SAM ALIPOUR: You've dated Barry Zito, Carl Pavano and Brad Penny. How did those relationships inform this line? For example, did you learn anything from how the other players' wives and girlfriends dress?
ALYSSA MILANO: I don't think so. I didn't really hang out with the wives and girlfriends. I had my own tickets, so I sat with the fans, not in the wives' section. Also, wives and girlfriends don't dress in team colors. Most of them aren't fans because they know their men can be shipped off at any moment. Me, I was always a fan.
SAM ALIPOUR: How did your relationships with jocks affect your love of the game?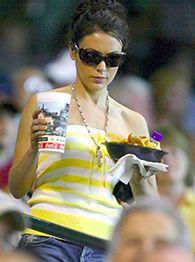 Bob Levey/WireImage.com
Nice to see Alyssa knows how to chow down like a real baseball fan.
ALYSSA MILANO:
During that period, it detracted from my passion for the game, if anything. I saw the inside workings and how hard it was for athletes, how much pressure there was. You want to be supportive of what they're going through, so it takes away from the fan in you. As an outsider, it seems very glamorous. And it is. But as an insider, I learned some of the not-so-great things about the game.
SAM ALIPOUR: Are there any perks to being a jock's girlfriend?
ALYSSA MILANO: I don't know if I experienced the typical perks. My life is so crazy, I didn't have time to do the scene. I did get to play catch with them, so that was cool. But I don't think that comes from dating an athlete. I think it comes from, you know, having some street cred as a celebrity and fan. And there are definitely no perks to being an ex-girlfriend.
SAM ALIPOUR: I can imagine. Are you still dating [Dodgers pitcher] Brad Penny?
ALYSSA MILANO: No! [Laughs] It's been almost two years. But it's OK. Bloggers and everyone on the Internet still think we're dating.
SAM ALIPOUR: Note to self: Don't trust the Internet. Except ESPN.com. So you wanna play some word association?
ALYSSA MILANO: OK, cool.
SAM ALIPOUR: I'll cheat. Two words: Hockey players.
ALYSSA MILANO: Strong.
SAM ALIPOUR: Baseball players?
ALYSSA MILANO: Heroes.
SAM ALIPOUR: Football players?
ALYSSA MILANO: I don't know many, but … well-protected.
SAM ALIPOUR: Interesting. I won't get into rumors, but there was one very public relationship: Carl Pavano's career went downhill after you two split. Coincidence?
ALYSSA MILANO: I don't know. I think he's had a hard run. I really do. I think the media made him seem like a guy who sits at home, counts his money and doesn't really care. But you have to realize, he's a guy who's been working towards this since he was a little boy. The last few years of his career have been really hard on him. It's weighed heavily on his heart. I have a lot of compassion for him and what he's going through. I also have no doubt he'll recover from Tommy John surgery and make a comeback.
SAM ALIPOUR: Wow, that's a really good answer. If someone asked me to talk about my ex-girlfriend, I'd fumble it.
ALYSSA MILANO: [Laughs] Well, we're still friends.
SAM ALIPOUR: One of your many awesome contributions to this world is "Teen Steam," a workout video you did when you were 16.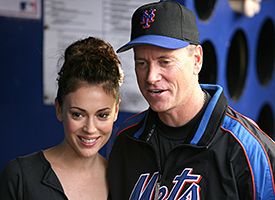 Jim Rogash/WireImage.com
Bet Tom Glavine told Alyssa that he was actually David Wright.
ALYSSA MILANO:
[Laughs] That's right. It was an important thing to do, ahead of its time, when schools were cutting back on physical education. Because I wasn't going to a regular school, I didn't get to do P.E. So I worked out with a trainer, and the idea sprang from that. Today, childhood obesity is a big problem. So I'm very proud of that. In general, I have no regrets. I've been in this industry for 27 years, and I still have a career. I'm on a short list of child actors who made the transition. I've actually heard that the video changed a lot of people's lives.
SAM ALIPOUR: Something that changed my life was your performance in "Who's The Boss?" in which Danza played a former Cardinals second baseman. You know the game. In real life, could Danza play?
ALYSSA MILANO: Well, most TV shows have teams that play league softball. I didn't play but my daddy did. And let's just say Tony was a good softball pitcher. But he's great. I still talk to him a couple of times a year. He checks in to see how I'm doing.
SAM ALIPOUR: Any plans for future lines?
ALYSSA MILANO: Yeah, this'll be an annual thing with MLB. I've already designed a line for spring '08, and this August we're going out with other sports: NHL, NCAA, NFL outerwear. G-III, my manufacturing company, is licensed for all of those. The response has been great, so we're getting out there.
SAM ALIPOUR: It's been awhile since "Charmed," so throw the fans a bone. What's your next acting project?
ALYSSA MILANO: I just finished a movie called "Pathology" that I think MGM is releasing on Nov. 30. Of course, I got that information from the Internet, so that could be completely wrong.
SAM ALIPOUR: Don't trust the Internet. We've learned that, right?
ALYSSA MILANO: [Laughs] That's right. We sure have.
Sam Alipour is based in Los Angeles. His Media Blitz column appears in ESPN The Magazine and regularly on Page 2. You can reach him at sam.alipour@gmail.com.