No matter how you feel about the current state of American tennis, there's a very good chance that you respect James Blake.
Chances are also high that you'd enjoy hanging out with him, too. Sure, Blake may want to bring along his childhood pal, musician John Mayer, and ATP tour buddy Andy Roddick. And yes, rolling with these men will fill your mind with feelings of inadequacy and set your game back by months, but you'll make do.
These are the odds, because the immensely likable No. 2-ranked American tennis player, known for his speed and potent forehand, is mostly known for his improbable comeback from a broken neck, a paralyzing bout with shingles, and the loss of his hero and father, Thomas, all in 2004. Now, in "Breaking Back: How I Lost Everything and Won Back My Life" (HarperCollins), Blake shares his tale of heartbreak and triumph, from 2004 through '06, including his epic fifth-set tiebreaker against Andre Agassi at the U.S. Open, a match that put American tennis fans on alert for a young star's second coming.
Blake recently took time to talk about the journey detailed in his book, his not-so-bloody rivalry with Roddick, and the little-known shortcomings of this Harvard grad.
Well, a mere two shortcomings. So yeah, chances are, you'll still want to hang out with him.
---
SAM ALIPOUR: You're one of the best-liked athletes around. Not that I'm looking, but I've yet to read a single negative thing about you, which got me to thinking: You must have some serious skeletons in your closet. What sucks about James Blake?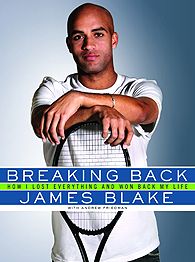 James Blake's new book tells of how he persevered through physical problems and the death of his father.
JAMES BLAKE:
(Laughs) I think my worst habit is I correct people too much. If you're writing an e-mail or even an instant message, you need to bring it. I get that from my mom. She was a newspaper editor, and even at church, she'll be editing the church bulletin.
SAM ALIPOUR:Typical Harvard guy.
JAMES BLAKE: I guess that's also from my Harvard side. Guys will always say, "Oh, sorry, I didn't go to Harvard like you."
SAM ALIPOUR: I guess I should put my editors on alert, huh?
JAMES BLAKE: I promise to lay off you, but watch out for my mom. If you have a grammatical error, you might get an e-mail from her. She's the one who gave me that sickness.
SAM ALIPOUR: Here's another knock on you: You used to have dreadlocks, and now you're bald. Does this pain you, as a formerly dreadlocked macho athlete, more than the typical man?
JAMES BLAKE: (Laughs) Well, not really. I don't really miss the dreads. I get out of the shower, dry my head with a towel, and I'm ready to go. Messing with my hair was fun when I was young, but it's easier now.
SAM ALIPOUR: Why write a book about the worst time in your life?
JAMES BLAKE: The original thought from my publisher was to do a whole autobiography. But my mom and I figured because most fans are only aware of my comeback, we wanted to let them know what inspired me to come back in the first place. I keep to myself a lot, so I'm glad I got a chance in the middle of my career to take stock. Most athletes go through their careers in their little fantasy world, not thinking about real life and how they can be affecting people. I got the chance to appreciate what I've been through.
SAM ALIPOUR: In the process of writing this, which topic proved to be the most painful to cull through?
JAMES BLAKE: The memories of my father were the toughest thing to write about. The times I spent with him toward the end of his life and dealing with life without him. It's still tough for me. He made me the person I am. He taught me how to be a good man, how to put your wife and family before yourself. He taught me the value of education, how important using your brain is in success. We never planned on tennis as my profession. Education was priority one in our household. He also taught me about perseverance: He never missed a day at work, even when he was battling cancer. He taught me about commitment to goals: As soon as he picked up golf, he became obsessed and wanted to get better. But he put his own interests down when we needed him, driving us to tournaments and practices, feeding us buckets of balls. And he was just about the friendliest guy you could ever meet. He knew more about my friends than I did. If someone was at the house, he'd ask them questions -- not to make conversation but because he was genuinely interested.
SAM ALIPOUR: In your mind, what will be the biggest surprise for readers?
Matthew Stockman/Getty Images
Who could forget the marathon quarterfinal match between Blake and Andre Agassi at the 2005 U.S. Open?
JAMES BLAKE:
I don't think they know how close I came to not playing tennis again because of shingles. My illness was much scarier and more painful than breaking my neck. I contracted it a week after my father passed. It comes about when you're stressed, and I hadn't been sleeping, staying up just thinking about my dad. Had I not gone to the emergency room and gotten the drugs to make sure the nerve calmed down and didn't actually die, my face would have been paralyzed forever. They didn't know if I would get back my normal vision or normal balance. It was definitely career threatening.
SAM ALIPOUR: Are you a better player now than you were before breaking your neck? Is that even possible?
JAMES BLAKE: Yeah, I definitely think I am. I had the time to work on some weaknesses. I'm a lot better defensively. And I'm in better shape. Otherwise, the biggest difference is in my perspective. I'm not as hard on myself. I'm able to accept wins and losses, the ups and downs of the tournaments, without letting it affect my confidence. Every match is not the end of the world. I've become much more successful because of my attitude on the court.
SAM ALIPOUR: Although you lost your instant classic U.S. Open match with Agassi, can you appreciate its significance?
JAMES BLAKE: Oh yeah. I wish I had won it, but it's still one of my most memorable matches. Fans always want to talk about it. They tell me they stayed up until 1 a.m. watching us, and that it made them want to watch and play tennis again. It helped put tennis back on the radar for a lot of people.
SAM ALIPOUR: Talk to me about your rivalry with Andy Roddick. I don't know if I can call it a rivalry. Can you get this thing going?
JAMES BLAKE: (Laughs) Sorry to say, we're never going to have a heated rivalry. Sure, there are times when we're at each other's throats on the court, but at night, we're having dinner. I won't speak for him, but I'm so proud of him and I think it's great to see the top two Americans so committed to the team thing, the Davis Cup thing. And I'm pretty happy I got the best of him the past two times, but he's got the No. 1 American player spot back from me. He's playing well. We spend so much time together on the court and off; I know I have a friend for life in him.
SAM ALIPOUR: If you weren't childhood pals with John Mayer, would you listen to his music?
JAMES BLAKE: Yeah, I really do enjoy it. When I first heard it, I didn't know it was him, actually. His "Room for Squares" CD is one of my favorite CDs of all time. It helps that I grew up with him, but it's mainly that he's an amazing guitar player and lyricist. He's going to be an icon for years to come.
SAM ALIPOUR: He did kick ass in his Live Earth show. You, John and Andy walk into a bar. Who gets the most attention?
JAMES BLAKE: John, for sure. He's a household name, and his music is such that my mom likes it, I like it, young kids like it and, of course, the screaming teenage girls love it. Just go to one of his shows and check out the screaming girls, and tell me he wouldn't get more attention than Andy and I would.
SAM ALIPOUR: You haven't won a Grand Slam title yet. Are you disappointed with your performance on that level?
JAMES BLAKE: The clay courts haven't been good to me, but they haven't been good to too many Americans. I just want to get better on that surface. At Wimbledon this year, I thought I did a good job until I ran into [Juan Carlos] Ferrero. For about two sets there, he played like a world-beater. Not much I could do except get ready for the hard-court season now.
SAM ALIPOUR: You and Roddick are carrying the torch passed from McEnroe and Connors to Agassi and Sampras. These days, fans are a bit down on the current state of American men's tennis. What are your thoughts on the American game?
JAMES BLAKE: It's getting a bad rap. The sport has become so much more diverse, with so many countries producing great talent. We still have two guys in the top 10, and we're still in the Davis Cup every year. We're doing as great as any other country, but people need to remember it's tough to rack up Grand Slam titles when they're all going to [Roger] Federer. He's becoming the most dominant athlete in the world.
SAM ALIPOUR: That's great, James, but the American sports fan wants blood. Tell me at least one thing you don't like about Andy. He seems like a frat boy to me.
JAMES BLAKE: Yeah, but I like frat boys. (Laughs) I was in a frat at Harvard. But here's one: He doesn't answer his phone, and he's pretty bad about calling back sometimes. Oh, and he's also a bit of a slob. I'm pretty bad, but he's worse than me.
Sam Alipour is based in Los Angeles. His Media Blitz column appears in ESPN The Magazine and regularly on Page 2. You can reach him at sam.alipour@gmail.com.