HOLLYWOOD -- Greg Oden really is 19 years old.
See, your typical old man won't come across problems like his.
"They're not looking good," said Oden, his darkened, cavernous mouth agape in a futile attempt to show this reporter his tonsils. "There's nothing you can do. They've got to come out."
Oden will have a tonsillectomy Saturday in Vancouver, Wash., a procedure that will end his stint with the Blazers' summer league squad prematurely and prevent him from joining the U.S. senior national team at its minicamp in Las Vegas later this month.
So, while his frontcourt partner, second-year man LaMarcus Aldridge, continues to wow pundits with his summer league play, Oden's Tonsil Problem, Sinus Infection Problem, and nearly implausible Fouling Problem (19 fouls in two games) have combined to make for a rough start to his professional career.
Of course, in a few years, Oden's Summer of Tonsils likely will be a distant memory on his journey to stardom. It's important to remember that despite a mature appearance, Oden is still a teenager.
And for those looking for additional proof of Oden's age, look no further than the Gatorade Athlete of the Year Awards presentation. The luncheon, held just hours before the ESPY Awards, was attended by former winners Vince Carter, Chris Paul and Lisa Leslie, but Oden elected to hang out at the kids' table, palling around with the likes of National Athlete of the Year winners Kevin Love and Maya Moore, prep hoop stars heading for UCLA and UConn, respectively.
"I'm still a kid myself, so I can connect with them," explains Oden, last year's Gatorade Athlete of the Year. "With Lisa and Vince and Chris, I'm more in awe, like a fan. But with these kids, I'm like, 'Can I hang out with y'all? I'm your age!'"
Afterward, Oden sat down to talk sore throats, slow starts and how being nice isn't always a good thing, before heading for the ESPYS to cavort with dozens of professional athletes -- even if they're not his peers.
---
Sam Alipour: Your pro career has begun with a zillion fouls in two summer league games and a surgery. A rough start, wouldn't you say?
Greg Oden: Man, I didn't think it'd start like this. With the fouls, I'm just trying to get more aggressive. Plus, the summer league referees are new, and they've been calling it tight. The tonsils, I think, are the main thing. I've always had this tonsil problem, but I didn't do anything about it until now.
Why didn't you get your tonsils out sooner?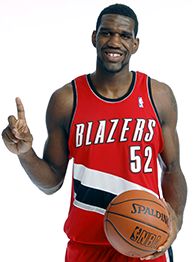 Jennifer Pottheiser/NBAE via Getty Images
Don't worry, Blazers fans, Oden will be ready to suit up by training camp.
I probably should have. I was planning on getting my tonsils out during my junior year in high school, but then the doctor I saw said, "We're not sure how your immune system will react. People have actually died from this." When me and my mom heard that, we just ran out of the building [laughs]. I need to get them out though. Most people get one sore throat a year, but I get five or six, and my tonsils turn white, get swollen and I can't even swallow water. So I'll get my tonsils out on Saturday, then I'll rest until mid-August, then I'll head back to Portland for training camp.
There's one potential positive to all of this: Have you looked into becoming the pitchman for Baskin-Robbins? Like Jared from Subway?
See, now that's a great idea. I should hire you. Maybe I can get an endorsement deal out of it for ice cream and Jell-O, maybe blue raspberry flavor. That would be nice.
Is there any way you can turn your Summer of Tonsils into a positive?
Yeah, actually, I think this will be a good thing for me. A lot of people have told me that when you get a chance to take time off, take it. An NBA season means a lot of basketball, so it's hard on you. I'm worn out. I need to relax my mind and get away from it all. So I'll use it to rest and get mentally prepared for an 82-game season. Rather than going from July until next July, I'll be going from September to next July. Plus, even though I'm not playing, I can still learn. I've talked to LaMarcus and Brandon [Roy] a lot, and they've been giving me advice. I also did a roundtable with David Robinson, Bob Lanier, Bill Russell, and Bill Walton. That was amazing. I didn't talk at all, just sat there and listened [laughs]. So I can continue to do stuff like that.
You're one of the most likeable guys in this business. That said, being nice doesn't always translate well to the game of basketball, especially for a big man who needs to be aggressive on defense and on the boards. Are you too nice? Does it hurt your game?
You gotta be nice. The way I look at it, why not be a nice guy to people? But you're right, on the court, you gotta play basketball and, you know, not be nice. That's something I'm working on. I've been told to be more aggressive, on the boards and in general. But I can't lie. I'm a nice guy.
Being nice doesn't always translate to marketability, either. There's the whole street cred issue, as one of my colleagues recently wrote. Will being nice hurt your marketability, or do you think there's room for a dude like you in the business of sports?
I would hope there's room for a guy like me. And I really hope it doesn't matter that I don't have street cred. But here's the thing: People always say I don't have street cred, but I do. I'm from the inner-city of Buffalo. My mom didn't have a lot of money. I guess I don't know what defines street cred. But that doesn't mean I can't be just like everybody else, and be nice. I'd like to do stuff, but I can't act, can't rap, and I don't have the face factor [laughs]. But maybe they can put me in a cartoon. I'd be down for that.
One way to change your image without changing who you are is by getting a solid nickname. The media has begun tossing around ideas. Do you have any suggestions?
I like "GO." Some people call me that, but it's not sticking for some reason.
Yeah, that doesn't work for me, either. David Robinson, another nice big man, went by "The Admiral," which sounds meaner. Got anything like that?
OK, good point. How about "OG"? That could work, too.
Original Gangster ... That's it!
[Laughs] Yeah, and that would give me some street cred right there.
Like the kids at this luncheon, you weren't given the opportunity to go straight to the pros from high school. Having gone through a year of college, is the NBA's new age limit rule a wise one, in your mind?
It's a very wise rule because you get to become a young man. See, what I'm going through right now is crazy, with the draft and moving to Portland and media. If I didn't have the college experience, I'd be crying on the phone to my mom every night. And I do plan to go back to school. I want an Ohio State degree, and not all of their classes are online, so it might have to be after I retire.
You're a part of a very strong draft class and while you sit out, your fellow rookies will be working hard this summer. If you had to put money on it- -- Monopoly money, of course, in case your commissioner reads this -- who will win the Rookie of the Year award?
I would like to say me, but Kevin will probably win it. He's a scorer and ROYs are usually scorers or point guards like Chris Paul, who have the ball in their hands and distribute and score. I'll probably help my team in ways other than stats, but media and fans don't see that stuff. They see stats. Kevin will have those. And he's a good guy.
See, there you go being nice again.
[Laughs] Always.
Sam Alipour is based in Los Angeles. His Media Blitz column appears in ESPN The Magazine and regularly on Page 2. You can reach him at sam.alipour@gmail.com.