I've never been to the ESPYS, but how crazy can it be? It's an awards show. You sit down for a few hours and stare at the stage. There's no secrets to it. Right?
-- Vince Carter, New Jersey Nets, 2 p.m. Wednesday, four hours before the show
HOLLYWOOD, Calif. -- While the 2007 ESPYS ceremony continues on stage, the party in the exclusive VIP green room back stage -- known as the Athlete Lounge -- rages on. And already, there are signs it is getting out of control.
"I'm thinking about sucker-punching Mike Tyson," Dane Cook tells me. "Have you seen him around?"
Yeah, Tyson is now bumming two cigarettes from a busboy, over by the open bar. That's also where Madden coverboy Vince Young is trying to convince Matt Leinart that "the Madden jinx ain't no thing," and where Macy Gray is giving Samuel L. Jackson a mammogram, and where Wayne Gretzky is drinking his own wine -- "No. 99," a 2005 Heritage red -- and selling his product to Amanda Beard.
"Wayne's a pain in my butt, always hassling me about his wine," Beard says. "I think he wants to get me drunk."
Only Vince Carter is missing. Earlier in the day, I instructed the eager ESPYS rookie how to get backstage, but he's yet to show. Dwyane Wade isn't surprised.
"This is the hot spot, and it's a secret only ESPY veterans know about," Wade shrugs. "It's strange to think about, but I guess I'm that veteran now."
We're interrupted by Tyson, who is now standing before me with an open palm, eyes to the floor. "Can I please have a cigarette?" Tyson asks.
Tyson mumbled something else, but I couldn't make it out because Serena Williams is yelling at Andy Roddick: "Andy, I need another drink!"
Serena, you and I alike. But not before I provide the play-by-play from behind the scenes of the 2007 ESPYS -- the circus behind The Circus.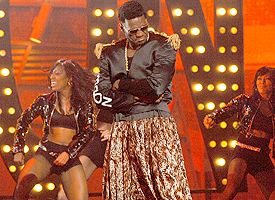 WireImage.com
While LeBron danced and sang onstage, the real action took place behind the scenes.
---
LeBron, don't let us down
Moments before tip-off, there's much talk about whether LeBron James can hold his own alongside co-host Jimmy Kimmel. "Jimmy's given me some good material," James tells me. "But it's not like I'm relying on him. It'll be 50 his side, 50 my side."
"So we'll definitely give it 110 percent."
Either James is extremely nervous or he skipped a few math lessons. His pal Chris Paul says it's not the former. "LeBron is very excited about it, but he's not freaking out," says the Hornets point guard. "You saw what he did on the playoffs stage, but the other side of him is his great personality."
"He'll do good as long as he doesn't rap," Paul adds. "If he raps, we may not be friends anymore."
Come tomorrow, James may no longer be in Paul's Fav Five ...
Snap shot: Peyton and Carmen
As Peyton Manning attacks the food table in a hallway backstage, Carmen Electra seizes the moment. She corrals a photographer for an impromptu photo session. Afterward, Manning looks like he just won the Super Bowl -- again.
"I want a copy of that photo," Manning informs the photographer, who laughs off the request. "No, seriously, how can I get a copy?"
Greg Oden, Dane Cook needs you
Presenter Cook may be the hottest stand-up comic around, but he emerges from the backstage make-up tent looking uneasy. "I feel my material is solid," Cook says, "but this is a different kind of audience."
This might be why Cook then cozies up to Greg Oden. "When I go out there and do my jokes, I need you to take the lead," Cook instructs Oden. "Just start clapping, no matter what."
"But what if I'm clapping, and I'm looking around, and I'm the only one?" Oden wonders aloud.
"Hopefully, that won't happen," Cook replies.
Ray Allen isn't celebrating
Some are congratulating Ray Allen for his recent trade to the Celtics. Should they be?
"It's interesting because most people who don't know me say, 'Congratulations,'" Allen explains. "Am I happy? Let's just say it's not a congratulatory thing for me. For me, I'm just moving to a new city and facing another challenge. That's how I'm looking at it. The people in Seattle have it toughest, and I know it's not a congratulatory thing for them either."
Sam Jackson is like Pat Summitt, except different
Unlike Cook, presenter Samuel L. Jackson is calmly sucking on a red vine. "Man, I used to host the show when it was live," Jackson says. "Presenting from a script is cake."
The only thing that gets Jackson riled up? "I'm really hyped that I get to sit by Pat Summitt," says the Tennessee native, before making a startling admission. "When I was doing 'Coach Carter,' I actually modeled my character after her."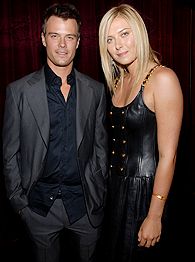 WireImage.com
Josh Duhamel and Maria Sharapova discuss Optimus Prime's return of serve.
There are some things you wish you could un-hear. This strange comparison is one.
Strange talk behind the curtains
While waiting behind the curtains, Carmen Electra, real name Tara Leigh Patrick, engages fellow presenter Danica Patrick in the following exchange:
Electra: "Oh, my God, I've got the same last name as you."
Patrick: "Really? Wow."
Electra: "We should totally talk later."
That should be a scintillating conversation.
Meanwhile, Maria Sharapova and Josh Duhamel are waiting to present an award when Kimmel delivers a well-received joke, mentioning Kobe Bryant in their on-stage banter about babies.
Problem is, Sharapova doesn't get the reference to Bryant's trade demand. A stagehand explains. "Oh!" Sharapova replies. "That's funny."
"I still don't think she got the joke," Duhamel says later.
Will "The Rock" suplex Big Ben?
Handlers are spreading the word to press members that Dwayne Johnson should not be referred to as "The Rock." Not getting the memo: Ben Roethlisberger, who greeted the former pro wrestler backstage.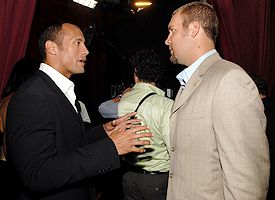 WireImage.com
"Hey, what's up Rock ... err, I mean Dwayne."
"I never wanted to say, from this day forward, I will be 'Dwayne Johnson, The Actor,'" Johnson said earlier. "If there's some action movie with guns and ass-kicking, and they want to call me 'The Rock,' that's cool."
"Whatever doesn't get me beat up," Roethlisberger said later.
Shaq wants LeBron's wig, and now
While a wig-donning, Hammer-pants wearing LeBron James performs "My LeBrongative," a send-up of Bobby Brown's '80s hit "My Prerogative," Shaquille O'Neal has an idea for his upcoming presentation.
"I want LeBron's wig," Shaq says to Sam Jackson, before turning to me. "You work here, right? Can you get me that wig?"
Yeah, Shaq, I work here, and I'd love to. But ...
Luckily, a stagehand relieves me of my burden, and snatches the wig from LeBron, giving it to Shaq, who puts it on his head. Just before Shaq takes the stage, however, a producer nixes the idea. "Come on," Shaq is told, "the award is for Best Moment!"
Meanwhile, Danica Patrick gives James rave reviews -- sort of. "LeBron's singing debut was, um, interesting," Patrick says. "He might want to keep playing basketball. Just a thought."
"That takes guts," Vince Young says. "I couldn't do it. My music talent is terrible."
Funny isn't easy, but at least Oden clapped
Kelly Clarkson is scampering through the hallway in high heels -- and praying. "Oh, my God," she says. "I know I'm totally going to be the only one to fall on my face."
Well, not the only one. Dane Cook is now on stage, laying a turkey about Paris Hilton that can't be repeated here.
The audience groans. "Hey, I still clapped," Oden admitted later.
Manning, who recalls his "Saturday Night Live" hosting gig, might sympathize with Cook. "Being funny isn't easy," he says. "It's a much-used expression, but I'm a football player who really needs to stick to my day job."
Hitting on Gretzky's wife
The green room is getting loony, and this is due, in no small part, to Gretzky's wine. The tender at the open bar is pushing The Great One's wine hard, and his web has apparently ensnared Gretzky himself.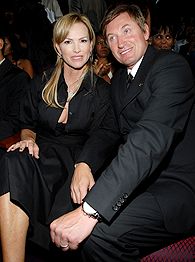 WireImage.com
The Great One and his wine ... err, wife.
Exhibit A: Gretzky tells me that Terrell Owens is "my very good friend."
Exhibit B: The following exchange:
Page 2 reporter: "I gotta say, I'm really digging your wine."
Gretzky (looking confused): "Well, um, yeah. She's great. She's my best friend, she's the mother of my five kids, she looks beautiful ..."
Page 2 reporter: "I actually meant your 'wine,' not your 'wife.'"
Gretzky: "Oh, man. [Laughs.] That's a relief. I thought you were hitting on my wife."
A stagehand then beckons Gretzky to rehearse his upcoming presentation before a teleprompter. Says Gretzky: "Man, I don't need to."
Yes, Great One, you do.
Roddick and Blake: Awesome and shameless
Unlike James Blake, Andy Roddick isn't playing in the Countrywide Classic at UCLA this week. "So unlike James," he says. "I can have all of the fun I want tonight."
A stagehand asks Roddick and Blake to do some interviews in the press room. "Not me," says Roddick, before selling out his pal. "But James, you should totally go."
Blake isn't listening, because he's currently pushing his new memoir, "Breaking Back," on Justin Long and Maggie Q of "Live Free or Die Hard."
"He's always selling his book," Roddick says, laughing. "James is awesome. And shameless." Ashley Judd and ... D-Wade?
As IndyCar driver Dario Franchitti looks on, his wife, Ashley Judd, is walking arm-in-arm with Dwyane Wade. Clearly, Wade is no dummy. Explains Judd: "Dwyane knows I'm a big Kentucky fan, and he's learned to be very gracious because he humiliated my team in the NCAA Tournament."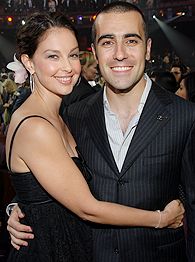 WireImage.com
Ashley Judd with hubby, Indy 500 champ Dario Franchitti.
Judd says she spent much of her night swapping tales with other sports wives. "We're competing about who is the biggest sports wife martyr," she explains. "It's the baseball wives, hands down, because the stoic baseball wives sit there and talk s--- about the wives who read books during games."
"I'd be in trouble," she adds. "I read the Sunday paper at the pit wall."
Manning and T.O.: Different priorities?
For some, the ESPYS give birth to true friendship. According to Manning, he fostered his kinship with Danica Patrick backstage over the course of several ESPYS ceremonies, adding: "For me, the ESPYS are a chance to get to know people like Shaq, LeBron and Danica as human beings."
For others, the ESPYS simply make for a strong night on the town. After he participates in a massive, four-way phone number swap with Roddick, Leinart and Blake, T.O. is inundated with pitches for parties at the Mondrian, the Beverly Hills Hotel and a nearby restaurant. The unscrupulous party promoters all request Owens' phone number. "Everybody has a party to pitch," Owens says. "It's cool, but it's like, 'Man, I don't wanna give y'all my number!'"
We're here for the women, dummy
Why do so many athletes come to an awards ceremony if they're not nominated for an award? "It's always great to see what these actresses look like in person," explains Shawn Marion. "That's why."
Chris Paul clearly feels Marion, because he's been fruitlessly searching for Halle Berry. "Oh man, they don't want me to meet Halle," Paul admits. "I'd drop down on a knee and propose right here."
Braylon Edwards isn't quite there yet, but the wide receiver is smoothly working on Candace Parker.
"This season will be my breakout year," he tells Parker.
"Then I better watch out for you," she responds gamely.
"Do you want my number?" he offers.
There are times when you just sit back and take mental notes. This was one.
The party is dead, but Vince Carter is born
A haggard-looking Kimmel has finally arrived, and he's eager to praise his co-host. "LeBron cracked jokes, he sang, he danced," Kimmel says. "He was a regular Sammy Davis Jr. out there, if Sammy could jump really high."
Luckily, Vince Carter is here too, and just in time. A voice bellows through the loudspeakers, informing the revelers that the party will conclude in a few minutes. Carter might look like a deer in headlights, but at least the ESPYS rookie got his first taste of the backstage party.
"You were right," Carter tells me. "This is where the party's at.
"Drinks on me."
Silly rookie. The drinks are free.
Sam Alipour is based in Los Angeles. His Media Blitz column appears in ESPN The Magazine and regularly on Page 2. You can reach him at sam.alipour@gmail.com.