LOS ANGELES -- It was somewhere above my right ear that I recently found my first silver hair, standing alone on my dark black mane.
Make no mistake, this wiry strand is quite powerful.
After all, its discovery means that right now, as I sit witness to the sound and fury directed at Barry Bonds in his first at-bat during Tuesday night's Giants-Dodgers game at Chavez Ravine, I hesitate to boo the man. Despite my East Bay roots, history as an A's fan and disdain for all cheaters, I will not boo Bonds because there's a good chance that in time I will call upon advancements in science to nuke this lone gray hair, and others like it, with a potent dye.
So, you see, I am not unlike Barry Bonds.
And that's why many of the 50,000 Angelenos who are currently yelping and spitting in the direction of the Giants' left fielder are hypocrites. Because even as these fans righteously hiss the allegedly medically enhanced slugger, more than a few unnaturally unwrinkled brows furrow. The skin over many artificially high cheekbones flushes with color. Newly plumped lips widen and narrow, revealing whitened teeth, which now glisten under the almost full moon. So even as they gyrate, sending disturbingly large breasts into motion, these people are not what they seem.
These Dodgers fans, these Boys and Girls of Botox, are Barry's Boys and Girls.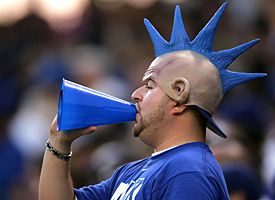 Lisa Blumenfeld/Getty Images
Dodger fans have been booing Bonds long before he closed in on Aaron.
Or at least they should be. The reality of our imperfect game means that as Bonds continues his pursuit of the all-time home run record, fans will boo him -- and none with more venom than those at Dodger Stadium. The irony is, these fans are the most likely in baseball to be embracing the human bobblehead. Because when 754 becomes 756, it will validate their own pursuit for unnatural perfection.
Take Frank Reese, a self-described Bonds hater. The middle-aged man hit up a scalper to land seats near the Giants dugout and admits to frequenting a tanning salon and cosmetic dentist's office on occasion. "What we do in Los Angeles isn't what he's doing," says Reese, a film producer with "a bunch of projects" in the pipeline. "He cheated the game. Who did I cheat?"
Like Bonds, Reese turned to science to help him score (an attractive, much younger woman is sitting next to him). If this is a crime, then count Amanda Ruckle among the guilty. Hair coloring, one of the oldest tricks in the science of physical deception, is her tactic -- one that landed the blonde (with dark eyebrows) a date with John McKinnis, a restaurateur nine years her senior, in his corporate seats near the right-field foul pole.
"We grew up hating the Giants. Now that he's a cheater, we really hate the guy," she says, before defending her altered locks to McKinnis. "I didn't dye it to get ahead. It's just fun. It's normal."
Along the left-field foul line, John Kellison, a man with skin like fresh-off-the-rack biker's boots and eyebrows that might've been axed by Paul Bunyan himself says, "I made sure my ticket would put me somewhere where that jerk could hear me." He has spent the past several minutes addressing Bonds by a nickname common to these parts (it rhymes with "smother tucker"). "He's a dirty player. It's nothing like a chick with breast implants. He cheated the game."
The argument is, of course, that Bonds has tipped a fair playing field, which will result in the passing of Hank Aaron's record. But in the game of life, fair has long been history. Like the corked bats and red juice that set the stage for the steroid era, we can all use all types of gobbledygook to reshape our chests, cheeks and chins, Lasik and Viagra to improve our vision and performance, Propecia to rejuvenate our hair.
Celebrities who use the tactic to land gigs are as guilty as anyone. This might be why Matthew Perry, who is present at this game and dodged rumors of facial tweaks during his "Friends" heyday, is the lone mute in a chorus of boos emanating from the Dugout Club, the stadium's VIP section, as Bonds takes the field.
If Dr. Marc Mani had witnessed Perry's dissent, he might have approved. The plastic surgeon to the stars and subject of Discovery Channel's reality series "Plastic Surgery Beverly Hills" believes his patients should be tried in the court of hypocrisy if they are critical of Bonds.
"Anyone who uses modern medicine to enhance their career, as many people do in L.A., can't really blame someone in sports for doing it," Mani told me during a recent phone chat. "I mean, in sports, there are certain ethical and legal prohibitions against it. So while it's not illegal to get a breast enhancement, is it unethical? In a way, an actor with a chin job is cheating his peers, too.
"My patients may not openly say that what these players are accused of doing is OK," continues Mani, who specializes in breast and facial enhancement. "But I think deep down they know they're not that different from a guy like Bonds."
Debrah Moon is an exception to the Bonds-booing masses. First, there's the matter of the potential million-dollar ball, for which her husband brought a glove. Furthermore, this voluptuous, artificially blonde woman empathizes with Bonds. "Enhancements are fine," she says. "If we let plastic surgery fly, steroids should too. As an actress, you're allowed to enhance yourself. It's not like implants make your career."
No, but they do give wannabe Playboy Playmates an advantage over their less-endowed competition. In 2001, former Playmate Julia Schultz, wife of Dodgers pitcher Brett Tomko, went on "The Howard Stern Show" to thank her mother for her natural attributes. That may be why she won't feel the pangs of hypocrisy when she yells her throat hoarse during the Giants series.
"If he breaks the record against Brett [on Thursday], I might even have words with Barry's wife," says Schultz, who is friends with Liz Watson, aka Mrs. Bonds, from Tomko's days with the Giants. "If it was OK to boo fake models, I'd boo them too. Unfortunately, we live in such a superficial society, it's everywhere. It's not as much of a shock. But why shouldn't plastic surgery be considered cheating?"
Tomko, for his part, says reasoning with medically enhanced Dodgers faithful is a futile effort: "The circumstances with Barry being what they are, everything goes out the window. Expecting the fans to be respectful is a little too much to ask."
But respect, oddly enough, is what Bonds eventually receives. During Bonds' third at-bat the fans in right field are buzzing with anticipation. Some are even swapping their familiar chant, "Barry Sucks," with "Barry Rocks."
"I never thought I'd see the day where Barry Bonds gets a standing ovation in L.A.," Dion Rottman says. "We're big Dodgers fans, but I'm not going to lie to you, we're here for the history in the making."
Rottman's pal, Scott Collins, who is all but legally blind, is equally exuberant. "Cheating is a gray area anyway," the TV producer says. "When I get Lasiks, what will that make me? Plus, whether he cheated or not, that ball is going to be worth a lot of money."
It's enough to make your head spin. When Bonds is finally pulled for a pinch runner in the seventh, I join nearly half the stadium in heading for the exit -- and preserving what's left of my sanity. At the elevators near the Dodgers clubhouse, I run into director Rob Reiner ("When Harry Met Sally"). "You guys are all here for Bonds?" he wonders rhetorically, barely hiding his disgust. "Unbelievable."
It is indeed, says Alyssa Milano. "Welcome to 'The Steroid and Botox Era,'" Milano tells me. "We're a pharmaceutical nation. Actresses don't have rules in place like athletes do, but we're all in this together. The only thing positive I take from this is how we're now recognizing what a great man Hank Aaron was. But I still can't wait for this whole thing to go away."
It will go away -- farther south, anyway. Bonds and his teammates will head to San Diego for a series with the Padres at the equally unfriendly confines of Petco Park. I will be safely seated on my couch, watching on TV. And no, I won't be booing because while my eyes see fine and my nose and chin aren't cause for worry, there is still the matter of that lone silver hair.
Booing? Don't think so. I'll be too busy Googling "hair coloring for men."
Sam Alipour is based in Los Angeles. His Media Blitz column appears in ESPN The Magazine and regularly on Page 2. You can reach him at sam.alipour@gmail.com.