Straight from the pages of Hill Valley, a slew of retired ballers are rumored to be swapping couches, analyst chairs and seats at the poker table for one more squat at the scorer's table.
Sure, the league is younger and more perimeter-challenged than ever, but if graybeards like Penny Hardaway, Reggie Miller, Allan Houston and Charles Oakley make waves next season, John Travolta's comeback in "Pulp Fiction" will seem like a turn in an auto parts commercial. And if they fail? Think Chevy Chase in "Man of the House."
"I think it's mostly a product of the advancement in the science of training and therapy," explains Doug Christie, who is attempting a comeback for the second consecutive summer and claims to have benefited from his exile. "It allowed me to hone my skills and explore new parts of my game that when you're out there playing all the time, you never take the time to learn. I can't wait to get back to the NBA and show people what I've discovered."
Pal, take a number, because the wait list is growing. To test the legs on this trend, I put on my GM cap and played the role of a fictional front-office executive -- one with deep pockets and magical powers (say, George Steinbrenner meets Lord Voldermort) -- in making overtures to a number of retired players. And in some cases, really retired players.
What would it take for them to lace 'em up one more time? Check out the following excerpts from actual phone conversations.
---
KAREEM ABDUL-JABBAR (Bucks 1969-75, Lakers '75-89)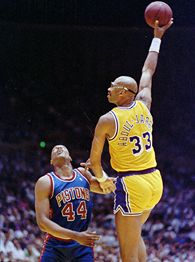 AP Photo/Doug Pizac
Kareem Abdul-Jabbar can still knock down the sky hook, which is more than we can say about some of today's players.
Occupation:
Assistant coach, Lakers
Initial Reaction:
Three seconds of stunned silence
Interest Level:
Low (Medium for a one-game contract)
Reporter/GM: Kareem, Sam Alipour, GM of the Hill Valley Hyperdrives. We've got deep pockets and magic tricks. What would it take to get you to suit up for me next season?
Abdul-Jabbar: I think you should get your pulse checked. I'm 60 years old. Last time I played was in '95 during a tour with the Globetrotters.
Reporter/GM: But you've still got your hook shot, right?
Abdul-Jabbar: I can still get my hook to fall on a regular basis, but that's it. I suppose if the Lakers really wanted me to suit up for one game, I could do that. At least it would be good for some laughs.



MARK EATON (Jazz 1982-93)
Occupation: Restaurateur
Initial Reaction: "Charles Oakley? (Laughs) I'm in."
Interest Level: Low (High if demands are met)
Demands: Bionic body parts and steroids.
Eaton: It's not an issue of money. Get me bionic parts. Specifically, I'd need a right knee, a couple of lower back vertebrae and, oh yeah, a year's supply of steroids.
Reporter/GM: Deal, as long as you bring your beard back. The Warriors are in our division, and so is Baron Davis' stubble.
Eaton: Baron Davis' beard doesn't have anything on mine. It's more of a goatee now, but I'll grow it out. Nobody would recognize me without it.



NATE MCMILLAN (Sonics 1986-98)
Occupation: Head coach, Trail Blazers
Initial Reaction: "No way."
Interest Level: Low
McMillan: There isn't enough money in the world. But tell you what, I'll play H.O.R.S.E. until I go into my grave. I'm not a great shooter, but let's just say I've taken a few of our guys' money. If there's a pro H.O.R.S.E. league somewhere, I'd play.
Reporter/GM: Nate, I need you. Come on, you don't look much older than Greg Oden.
McMillan: Let's hope he plays that way.



MYCHAL THOMPSON (Trail Blazers 1978-86, Spurs '86-87, Lakers '87-91)
Occupation: Sports radio personality
Interest Level: Low (High if demand is met)
Thompson: I'd need a time machine.
Reporter/GM: I've got a DeLoreon. Will that do?
Thompson: No, I want a spinning metallic tunnel like the one from that '60s TV show. The DeLoreon requires a road and shoots flames, so it's a fire hazard. But if you don't have a time machine, then I'd need Pat Riley. When I played for him, I had no choice but to give him 40 minutes. He ran us hard and I'm sure he could get that out of me.



DANNY MANNING (Clippers 1988-94, six other teams, retired in '03)
Occupation: Assistant coach, Kansas


No diss on Reggie or Penny, but my question (to them) is, do you know how to win an NBA championship? At the end of the season, who will be standing?
Craig Hodges
Initial Reaction:
A strange grunt that sounds like "hurngh"
Interest Level:
Low
Demands:
A contender in a warm climate, plus various perks
Manning: Seeing the game from a coaching (standpoint), I can really help lead a team. But how good is your team? And how do you take care of your players? What type of travel accommodations do you have? What type of comp'd seats do you give?
Reporter/GM: Sorry?
Manning: You know, tickets for families. And what are the rules with regard to family traveling? I've got two kids in high school. Can I bring my son with me? Those intangibles matter to me. I mean, the desire for a ring is always there, but I was blessed to be a part of a championship at Kansas and to play 15 years in the NBA. I feel good about my career --
(NOTE: Here, my cell phone battery dies. Seriously. Sorry, Danny)



PAUL SILAS (St. Louis 1964-68, Suns '69-72, Celtics '72-76, Sonicsretired in '80)
Occupation: TV analyst
Initial Reaction: "(Laughter) No. Way."
Demands: A fountain of youth
Interest Level: Low
Silas: The last time I touched a ball was 15 years ago at an NBA Legends tournament in New York. I was 50 years old and I played three games, and for two weeks after, I literally couldn't move. My knees gave out. I was gasping for air. It was just a horrible experience.
Reporter/GM: Coach, you're in luck: I've found a fountain of youth! It's in our weight room.
Silas: If you found the fountain of youth, I've always been partial to the Celtics. I'm sure I can still rebound the basketball. That's something I haven't lost.


CRAIG HODGES (Clippers 1982-84, Bucks '84-88, Bulls '89-92)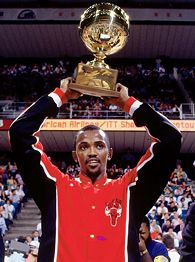 Nathaniel S. Butler/ Getty Images
Not only has Craig Hodges won the 3-point contest, but he's got two championship rings. Hear that, Reggie?
Occupation:
Lakers assistant coach
Interest Level:
High
Hodges: I'd consider it in a heartbeat. From '92 until now, nobody shoots the ball better than I did. I still shoot my 150 3s a day. There are a lot of teams I can still help.

Reporter/GM: I like you Craig, but why should I take you over Reggie Miller or Allan Houston?
Hodges: No diss on Reggie or Penny, but my question (to them) is, do you know how to win an NBA championship? At the end of the season, who will be standing? I challenge these cats who are coming back to check my stats in terms of winning. Whether it's 3-point contests or championships, I know how to win. Reggie, on the real, last time I saw you hoopin' on the NBA level, you got your motherf----- shot blocked on a breakaway layup that you (didn't) dunk. Last time you saw Craig Hodges, I won a championship. Reggie can come back and be successful, but will he win? What's going on down the stretch, brother? We can all come back because we can see how watered-down (the league) is. It's so sickening to watch this s---.
Reporter/GM: Will it be a problem for you if we don't run the triangle?
Hodges: I'm going to tell you something: When MJ came back, how ugly did his game look outside the triangle? Outside the triangle, Scottie looked ugly. B.J. Armstrong? Ugly. The only one who didn't look ugly? Steve Kerr. Why? He's a shooter. I can knock down Js. Forget the system.



EDDIE JOHNSON (six teams, 1987-99)
Occupation: Radio/TV analyst for Phoenix Suns
Initial Reaction: "Oh, OK, hold on … that's interesting."
Interest Level: Medium (High if demands are met)
Demands: A contender, a spot in rotation, and "a couple million" dollars
Johnson: I think I can still outshoot anybody in the NBA. And if I play better than you expected, give me a little bonus at the end of the year.
Reporter/GM: That's something we can discuss later. But here's a bonus for you: If you come back, maybe it'll remind people that you're not the Eddie Johnson who was arrested (on suspicion of assault in '06).
Johnson: You've got that right! I'm still correcting people to this day.



JUD BUECHLER (Nets 1991-92, Spurs '92, Warriors '92-94, Bulls '95-98, retired in '02)
Occupation: Surfing, yoga, and coaching daughter's club volleyball team in San Diego
Initial Reaction: Extended laughter
Interest Level: Low (High if demands are met)
Demands: A west coast team and $2-5 million per year.
Buechler: My legs are terrible, so I can hardly get the ball to the rim, but I can still play defense.
Reporter/GM: When was the last time you played?
Buechler: Two years ago at a summer league game against the Tijuana Dragons. This one guy tried to go at me every time down the floor. Little did he know I made a living guarding All-Stars like Jordan and Pippen; some guy out of Tijuana isn't going to get by me. So the guy actually wanted to fight me during the game. I was like, 'You know what? I don't need this in my life.' The only things I miss about the NBA are per diem and naps.



KENNY ANDERSON (Nets 1991-96, Blazers '96-98, six other teams)
Occupation: Head coach, CBA's Atlanta Krunk
Initial Reaction: "That's crazy."
Interest Level: Low (High if demands are met)
Demands: A "Roger Clemens deal," 30 minutes per game, and playing for San Antonio, Phoenix or Dallas
Anderson: My dream is to get into the other side and start coaching (in the NBA.) But if you pull one of those Roger Clemens deals out, so I can skip training camp and just show up for games, then I'm in.
Reporter/GM: We've already got a coach: Master P. We'll be a contender, but what if I can't get you the minutes you're looking for?
Anderson: I would love to get a ring, but I also want to be a part of it. I'd only take less minutes to play for the Suns. I respect Steve Nash a lot, so I'd settle for 15 (minutes).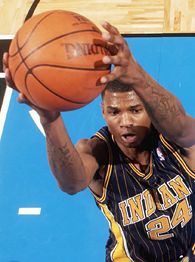 Fernando Medina/Getty Images
We wish we could have the type of fun you have when you're 25 and retired.
JONATHAN BENDER (Pacers 1999-2005)
Occupation:
Real estate entrepreneur and TV/music producer
Initial Reaction:
"(Sigh) Man, I haven't thought about that yet."
Demands:
A warm weather city (easier for rehabbing his knees)
Interest Level:
Low
Bender: Right now, I'm just thinking about rehabbing. Maybe in a few years I'd consider it.
Reporter/GM: But you're 25 years old and retired. I can throw a lot of money at you.
Bender: A lot of guys come back because they're having money issues. I'm a young guy, but I have real estate projects, I'm helping to rebuild New Orleans, but I'm also having the type of fun you have when you're 25 and retired.



MARK PRICE (Cavs 1986-95, Bullets '95-96, Warriors '96-97, Magic '97-98)
Occupation: Teaching shooting fundamentals to NBA players at Suwanee Sports Academy in Atlanta.
Initial Reaction: "Um … (laughs) … well … (laughs) … thanks for fluffing up the ego."
Interest Level: Medium (High if demand is met)
Price: What's the veteran minimum, now? $1.2 million? That's a lot of money. Is your team a contender?
Reporter/GM: Sure, we've got some Hall of Famers. What type of minutes can you give me?
Price: I like what Reggie (Miller) said about 18-20 minutes a game. That'd be it for me. Shooting is like riding a bike. A lot of guys in the league are struggling shooting the ball. Players are coming into the league earlier and we're not getting the teaching along the way. So there's a need for guys who are fundamentally sound. While we're at it, a guy who I was teammates with, Kevin Johnson, probably has some game left in him. Try him, too.
Reporter/GM: Not interested.



DENNIS RODMAN (Pistons 1986-93, Spurs '93-95, Bulls '95-98, Lakers '99, Mavs 2000)
Occupation: Celebrity
Interest Level: Low
Reporter/GM: Any chance you'll come back, or is it over?
Rodman: I wish it wasn't over, but I'm done with the NBA. That situation with the Lakers when they made a bogus excuse and said I left my shoes at the hotel, I was like, 'Really? OK, whatever.' Me and David Stern never saw eye to eye anyway. I don't think he or the NBA respected what I was. They let everybody come back, but when I wanted to come back, it was impossible. I thought, 'Wow, I thought I was one of the best players to ever play the game.' But I don't get that respect. So I thought, great, basketball hasn't made me famous anyway. It made me visible, but everything I've done outside of basketball, that made me famous. I don't give a ****. I'm still playing around the world, having a good time."
For more from these retired players, check out Page 2 in the current issue of ESPN The Magazine.
Sam Alipour is based in Los Angeles. His Media Blitz column appears in ESPN The Magazine and regularly on Page 2. You can reach him at sam.alipour@gmail.com.