BEVERLY HILLS, Calif. -- I'm standing on David Beckham's driveway nursing what I believe to be a busted kneecap after a member of the paparazzi ran me over with his car.
But I had been warned about joining this pursuit of the Los Angeles Galaxy's prized English import.
"Do you realize how much danger you're in?" urged Morgan, a shooter for the INF photography agency. "These guys are competitive and very tight-knit. If they don't know you, they'll f--- with you."
I blame my editors (and myself, but mostly my editors). I had acquired my "Map to Movie Stars' Homes" on the Sunset Strip, paying an extra $5 to the enterprising curbside dealer for the Beckhams' address (she had it written on her palm). "Follow the paparazzi," they said. "Go chase Beckham. See what it's like."
That's how I found myself in the moneyed Benedict Canyon neighborhood of the Hills outside Casa Del Beckham, the epicenter of soccer's American invasion. My fellow paparazzi -- three dozen photographers in all -- are waiting on the Beckhams to exit their spaceship, and by the looks of their stone-cold stares, they clearly don't want me here.
Suddenly, the metal gate at the bottom of Beckham's driveway was open, and a dozen cars mobilized to chase the fast-departing Beckham fleet of two jet-black Lexus 470 SUVs. "Get the hell out of the way!" barked one paparazzo, shortly before backing into my legs.
Perry, the owner of the home across the street, empathizes. "I certainly don't blame the Beckhams, but it's been a rough summer," he tells me. "Just stay away from my windows, and we'll be fine."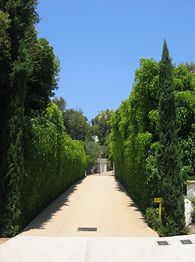 Sam Alipour for ESPN.com
Somewhere ... past the driveway ... past the gate ... is David Beckham. Hopefully in underwear.
Speak for yourself, pal. If this is the dawn of a new age in American soccer, then the revolution will be photographed, and it'll hurt, too. In a rookie move, I parked my car too far away and, given my gimpy leg, there's no chance I'll catch up to the chain of fast-moving vehicles. I cut my losses and limp to shoot another day.
---
SATURDAY, 8 A.M.: We adapt because we have to
It's been several weeks since training day, and I'm back in front of Beckham's compound armed with my camera, two sturdy kneecaps and a month's supply of Neosporin for my first official day on the job. But where are the rest of us?
Beckham's street is a ghost town. The cacophony of screeching tires has been replaced by silence. Could it be that the paparazzi have wised up and moved on? After all, Beckham's knee injury has sidelined his publicized return (he played Thursday night against New York). Maybe it's the sport that drives his celebrity, and not the reverse. Maybe Beckham's star has imploded.
Or, maybe not. I notice the shiny plastic signs that now adorn the empty street: No stopping anytime. The paparazzi haven't left. They've merely moved down Benedict Canyon Road, and up it, too. They've cast a net around Beckham's home. They've adapted.
I park my Nissan Xterra in front of the white picket fences along Angelo Road, a block south of Beckham's pad, at the back of a line of six vehicles facing Benedict Canyon. Then I introduce myself to my fellow paparazzi, who are huddled at the intersection. "Reporters can't do this job," says one. "Punk ass," says another. "Give me a cigarette," orders a third.
But my colleagues would chill after examining my gear. Compared to their bazooka-like cameras, my fits-in-your-palm Canon PowerShot S400 is a joke. They let their guard down. They let me in.
There are seven of us in all, representing six different photo agencies, three Hispanic men plus a Brit, a Frenchman and a dude from Eastern Europe, all dressed in fresh-off-the-Venice Beach-discount rack attire. Beyond that, personal details aren't important. We ask that you respect our privacy and, to ensure this, we tend to use fake names.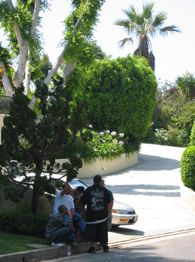 Sam Alipour for ESPN.com
You can make $100,000 per year on this job and you get to hang out in nice neighborhoods.
Most of us have been on this beat from the start. We are a few of the Beckham regulars, or "Team Beckham," as we often refer to ourselves -- though mostly we go by "paps" -- and, no, we don't take kindly to newcomers. Rookie hazing ranges from vandalizing your car to running you off the road.
"You need to realize, there isn't a magazine in the world who doesn't want these photos," says one. "We're here every day, morning to night, so we don't like new guys getting in the way." Bold latecomers who attempt to shoot often receive extra-special treatment. "They'll throw an open backpack over your head and beat you down," I'm told. "The arm straps make for a great steering tool."
We're equally interested in Victoria, the pop star wife who sells quite well in Europe and Japan. This year, each of us can make over $100,000, 20 percent of it coming from commission, all thanks to Beckham. It's not quite Suri money, but there's potential. In '04, an image of Beckham in his underwear on a hotel room balcony in Portugal sold for $250,000.
So yeah, for the first time in my life, I'm hoping I'll see a man in his skivvies.
SATURDAY, NOON: The call of duty trumps all
I need to pee. Gaston (not his real name), a portly man with a ball cap, hands me an empty Gatorade bottle. "Make sure to tighten the cap when you're done," he adds.
Though everyone is trying to get the exclusive shot, familiarity breeds friendship. "This job is 5 percent going 300 mph, and 95 percent waiting," says Stephano (not his real name). "The only thing that keeps us awake is each other."
Mostly, our gig is a prolonged smoke break. Between drags, we converse on topics like the suckiness of the Raiders. Darren, a native of Cambridge, England, is a Galaxy season-ticket holder, so yes, we're soccer fans, too. It was an impromptu match in early August that brought the "no parking" edict to Beckham's street.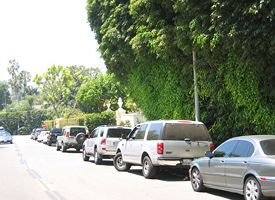 Sam Alipour for ESPN.com
Why the neighbors are having a bad summer: The cars of the paparazzi lined up on their streets.
Our eyes must always be trained on Benedict Canyon for Beckham's five luxury SUVs and Bentley. We clock in each morning around 7 a.m., just in time to tail the couple on their daily trip to The Coffee Bean on Santa Monica Blvd. We know where they like to shop (Melrose Ave.), whom they kick it with (BFFs Tom Cruise and Katie Holmes live nearby) and that it's safe to clock out by nightfall.
The Beckhams aren't your typical party-going celebrity couple. They're not the Cleavers, but the parents of three tend to keep close to home. "Their lifestyle is a pain, professionally speaking," one pap says. "But it's hard not to respect them for at least trying to be normal."
Even when the Beckhams break from routine, we're usually one step ahead. Our payroll of informants includes hotel concierges, valet parkers, bodyguards, airline employees and even TSA agents. That's how we know that the Beckhams will depart for New York tomorrow. So we know that the pressure is on to deliver today.
SATURDAY, 2 P.M.: It's not hard to make nice
There's still no sign of our subject, but the locals keep us entertained. One brings his dog by for a meet-and-greet ("Say hi to the paparazzi," he goads his dog) and another, Sly Stallone, waves at us from his hard-charging yellow Corvette. On occasion, Ben Affleck even stops to say hello. He's a much nicer guy after breaking up with Jennifer Lopez, my friends say.
To help foster peace with the locals, we self-govern. Among our strictly enforced rules: No honking, infringing on private property or littering of any kind. In an effort to disband our curbside huddle, one homeowner activates his sprinklers on five different occasions. We seize the opportunity to wash our cars, which only angers the man further.
Some locals are more direct in conveying their disdain. Earlier this week, a woman jogger stopped to relay a brief message: "You killed Lady Diana." Explains Paul, the Frenchman: "The driver killed Lady Di. From what I've heard, the paparazzi were following all the rules. But it's easier to believe the stereotypes from the movies."
We hate the Mel Gibson-produced "Paparazzi," the thriller about a movie star who plots revenge on an evil-doing paparazzo. "We're always portrayed as crazy, bloodthirsty drug addicts," says Paul, who moonlights as a documentary filmmaker. "There are people who give us a bad name, but there are bad cops, politicians, doctors, journalists. Of course, they're all forgiven. But paps? Forget it."
Sure, we'll occasionally sneak into a Galaxy practice, or hitch a ride with a helicopter to shoot you lounging poolside, but we're a far tamer bunch than the overseas paps. And we applaud Cruise's recent efforts to organize his fellow L.A.-based celebrities. "He's trying to get the others to drive slow," Paul explains. "It's safer, and it's strategically smart. You'll lose us at traffic lights."
So, no, we're not adrenaline junkies. We're mostly husbands and fathers with mortgages to pay. Why not get a real job? "Why don't the celebs get a real job?" Paul counters. "We hate the office, the 9-to-5. We get to travel, meet different people, experience new things."
Here, from our perch among the filthy rich, there are constant reminders of what our careers would be like if we weren't paparazzi. "I'd be the guy gardening, remodeling their homes or whatever," says Jose (not his real name), a resident of East L.A.. "These are jobs that Mexicans would fill. I've my kids to worry about."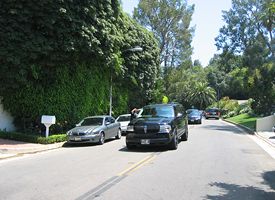 Sam Alipour for ESPN.com
It's Beckham's SUV! But is Beckham or the lovely Mrs. Beckham in the car?
We're interrupted by the driver of a Prius. "Please," the Flanders type pleads, "Park somewhere else."
"Don't mess with our money," I bark back. This seems to make my colleagues proud.
SATURDAY, 3 P.M.: Boring Beckham and his blackout
Finally, we spot one of Beckham's Lexus SUVs. The driver, a bodyguard, waves at us from what appears to be an empty car, so I find it strange that one of my colleagues, Jose, leaves the pack to give chase.
"Beckham could be crouched down in the back," Paul explains. "It's one of his tricks." These misdirection tactics are common. We were the photographers fooled by Victoria's blow-up-doll decoy, a gag documented in her "Coming to America" reality TV special. "That was a stupid move by her," Morgan said. "We're zooming around L.A. chasing a doll. She endangered a lot of innocent people with that gag."
And it's only gotten worse since Beckham's knee injury. "They've gone into what's called a 'blackout,'" Paul explains. "When they first got here, they wanted a lot of coverage. They were asking us to follow them, giving us great shots, signing autographs [for us]. Then her show went away, and the injury happened. The exposure was no longer justified. They haven't given us s--- in weeks."
The irony is, the Beckhams' disinterest in us is matched by our disinterest in them. Since Beckham's Galaxy debut, the market for his images has gone cold and the number of paps assigned to the Beckhams continues to dwindle. The rest of us have been lobbying our bosses for a new beat. "Right now, we're pushing Beckham too much," Paul says. "We're just as sick of him as everyone else. They're boring. We need a catalyst, something to generate interest."
We'd rather be covering Owen Wilson, or even Kate Hudson or Heidi Klum. We cringed when we heard one of our colleagues had nabbed an exclusive of a bikini-clad, three-months-pregnant Halle Berry on a local beach. Halle's belly? "That's the buy-yourself-a-new-car shot," Gaston says.
Yet, even as our interest and numbers wane, Beckham's bodyguards are turning up the heat. "They're British, they're angry, and there's a lot of them, more than even Tom and Katie's," Paul says, adding that the Beckhams' security often tails us, photographing our cars and license plates. "Beckham's stressing out, and their security use their fear of us to justify their presence. If we weren't here, they wouldn't have a job."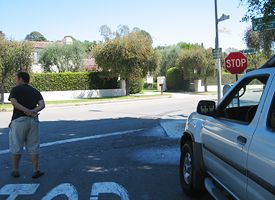 Sam Alipour for ESPN.com
A lookout is stationed just in case Beckham happens to run by with his dog. (Don't count on it.)
Ours is a symbiotic relationship unlike any other. MLS needs the Beckhams, the Beckhams need us, we need them, they need bodyguards, the bodyguards needs us, and the star-seeking tour buses will take anything they can get. The driver of a vanload of tourists regularly stops by for Beckham updates.
"We're all a part of the same system," Paul explains. "We're all dream makers."
---
SATURDAY, 5 P.M.: The race is on
Bored of one another, we head to our cars for a brief reprieve. Luckily, I remembered to pack a copy of ESPN The Magazine. I'm perusing its photos and colorful charts when …
Whoop, there they go!
I fumble with my keys, but my colleagues are already hurtling down Benedict Canyon in hot pursuit of Beckham's Cadillac and Lexus SUVs. I catch up to them at Sunset Blvd., where I merge into our single-file line, cutting off Jose in the process. He honks at me, I honk back, and all of our goodwill is out the window by the time we hit a left-hand turn lane, waiting for a light that will send us onto Santa Monica Blvd. heading east.
That was the plan, anyway. When the light turns green, Beckham's Cadillac hammers across two lanes to make a highly illegal right turn, heading west on Santa Monica and shaking all but one of our cars.
No time to ponder. The rest of us pursue Beckham's Lexus, eventually heading east down Beverly Blvd., rushing past palm trees and power walkers, merging wherever and whenever we please, waving at the pretty yellow traffic lights and barely slowing past stop signs. It's a wonder I can hear my cell phone over the snarling engine. My mom wants to know how I'm spending my Saturday.
Trust me, you don't wanna know.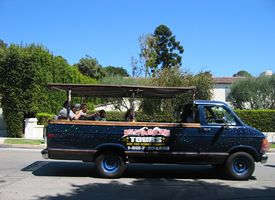 Sam Alipour for ESPN.com
Don't like the life of chasin Beckham? You can take a tour bus past his home.
Now, I'm faced with what is quite possibly the hardest decision of my life: In a flex of their mighty oval ones, the chain of hunters and prey before me successfully squeaks through a two-seconds-old red light near the Beverly Center shopping mall and, in a split second, I must decide whether to join them.
All sweat and white knuckles, relying mostly on the Force, I lean on the pedal.
Hazardous.
Horrifying.
And boatloads of fun.
Forget the money. Screw the travel. For this paparazzo, the rush is the thing, and press boxes and locker rooms will never feel the same.
We arrive at what appears to be our final destination: a crowded parking lot at The Grove, a trendy outdoor mall in West Hollywood. We abandon our cars with motors running to shove through the crowd, forming a motley dragnet around the still-moving Lexus. And we're not alone. Unfamiliar paparazzi are everywhere. These are the latecomers we loathe. One extremely large newbie with a backwards ball cap is using my head as a camera mount. If only I had an open backpack. Or a harpoon.
Finally, the doors to the Lexus fling open. I wish I could say the Beckhams popped out, that the TomKats were with them, and after a game of parking lot soccer in which Beckham's knee looked sturdy and a Suri header was the deciding goal, we celebrated with a dip in the Grove's water fountain and shared popsicle sticks. But that's not how it went down.
The passengers of the Lexus were a couple of nanny types and two toddlers with caramel-colored skin. I'd find out later that we'd been driving around L.A. like madmen in pursuit of the offspring of Mel B, aka Melanie Brown, aka Scary Spice, friend to the Beckhams. My colleagues are more than a little embarrassed, but I'm a team player. One man's miscue is another's exclusive. I dial up the only paps who smartly tailed the Cadillac.
"Tell me you got 'em!"
"Yeah," Darren says. "We're on the 405 heading south, on the way to the Home Depot Center."
The what-what-what?
"I guess the Galaxy have a game tonight."
Oh, right.
Good luck, and wish me the same. My gas gauge is showing empty.
Sam Alipour is based in Los Angeles. His Media Blitz column appears in ESPN The Magazine and regularly on Page 2. You can reach him at sam.alipour@gmail.com.