PARK CITY, Utah -- I'm driving down snow-packed Main Street with Reggie Bush and his girlfriend, Kim Kardashian, who are in the backseat fighting for space like furry sardines with bags of designer swag. The soft-spoken gridder is about the last person you'd expect to find in this no-longer-sleepy Utah ski town. Sure, he'd like to add a film career to his impressive marketing résumé -- he's considering an offer to serve as a producer on the post-Katrina high school football documentary "Walking on Dead Fish" -- but Bush hasn't come here to network or raise his Q rating. He'd rather leave the acting to former teammate Matt Leinart. ("Matt's all about that," he says.)
Bush came simply "because in the offseason, I'm all about traveling and charity," he says, adding that his one commitment -- a gig as host of ESPN's Championship Sunday viewing party to benefit his 619 Foundation -- isn't exactly labor-intensive. "All I have to do is watch football." Plus "show his gorgeous face," Kardashian adds.
Kardashian, of course, is among the first people you'd expect to find here. And she doesn't quite know what she's in for. Beyond the paparazzi who typically hound her and the unusually aggressive star-seekers -- one would later ask Kardashian to autograph photos from her Playboy spread -- many do-gooders are here to give celebrities a piece of their mind. And one such group is currently shouting and wagging posters of maimed animals at our ride. They are protesters for PETA.
"Roll up the window!" yelps Kardashian, who is wearing a fur coat.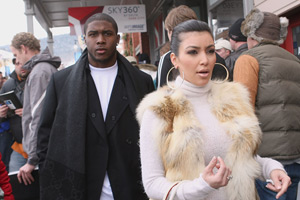 Scott Halleran/Getty Images
Reggie Bush let his girlfriend lead the way at Sundance.
"Just tell them it's fake," Bush responds, sticking his head out the window for a closer look.
"Trust me, they know the difference," she says.
"I want to hear what they're chanting," he pleads, bemused.
"Probably something about being mean to dogs."
(For the record, they're chanting: "Burn these places to the ground. What goes around, comes around.")
Bush shrugs, then mercifully shuts the window. By now he's accustomed to the pratfalls associated with his hot-button romance. Kardashian, the exotic SoCal beauty from a wealthy Armenian family (her father, Robert, was one of O.J. Simpson's lawyers), has become something of a pop-culture icon. She's known as much for her blog-worthy social life and leaked horizontal-mambo tape as she is for her gigs as a model, aspiring actress and subject of "Keeping up with the Kardashians" -- the E! reality series in which, oddly, Bush has yet to appear.
"The show's about me and my family," Kardashian explains. "Yeah, it's personal, but there are some things you still want to keep private."
Good luck with that. Right now Bush and Kardashian are one of America's most buzzed-about couples -- on par with Tony Romo and Jessica Simpson, and Tom Brady and Gisele Bundchen. Already, photos of the couple at Sundance are turning up in gossip rags, which now provide up-to-the-minute reports on their whereabouts. "I hate it. I'm not a flashy guy who likes a lot of attention," says Bush, a product of a working-class family, adding that while the media coverage is to be expected by those toeing the line between sports and celebrity, "It's not at all who we are."
The media has declared that the Sundancing couple has reached the romantic tipping point known as "gone public." If Bush didn't know this, he does now, because I made the mistake of relaying as much. "I hate that term, 'Going public,'" he chortles. "We ain't going public. I don't even know what that means."
Kardashian breaks it down: "We don't measure our relationship by the extent of media coverage."
"I've never been here before, so I didn't know how intense the media coverage was," Bush admits. "But I can handle the spotlight. I went to USC. And now I have my own reality show. It airs every Sunday, and it doesn't get any juicier.
"It's called the NFL."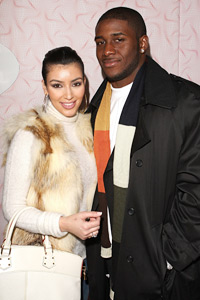 Jason Merritt/WireImage
Here's the happy couple, looking a little more relaxed.
Not that Bush is entirely unappreciative of the ongoing gridiron reality series. Among the perks: entry into the Kari Feinstein Style Lounge, a Main Street swag-a-thon hosting celebs like Winona Ryder, Jessica Alba and Paris Hilton. As Kardashian confidently struts through booths by MAC and Reebok, Bush quietly follows on her tail. He appears a little unsure, tugging at a black scarf over his casual black overcoat and looking like a deer in stadium lights when a flak from Axis Shavers offers him a shaving set.
"I only let the barber cut this down," Bush says politely, rubbing his chinstrap scruff and staring at the lady like he'd just been offered a Botox-dipped syringe. He then retreats to the doorway, later joined by Kardashian and comforted with some PDA.
Before long, we're back in the car, continuing down a glittery swag trail because the key to navigating what insiders call Brand-dance, according to Kardashian, is "to plan it out and maximize time so you can hit every spot." That means time will not allow for a film screening.
We ponder a stop at a chocolate store, but nix the idea because Kardashian remembers her new year's resolution: no sugar. Instead, we drop her off for an appointment at another giveaway lounge. "Reggie's fashion sense is great," Kardashian says, looking her man over, then adjusting his collar until it's just right. "But it's probably best if I do the shopping."
With that, she vanishes into a throng of people. Now we're heading back to Bush's hotel so he can prepare for that night's main event: a private performance by 50 Cent.
"It is what it is," he says out of nowhere, peering aimlessly through the window. "I guess we can't hide from it much longer."
****************************************
Elsewhere at the nexus of sports, snow and free leopard-print panties …
• Sports documentaries were hot at the snowed-in festival. Buyers are currently circling "Bigger, Stronger, Faster*" from director Christopher Bell, which details his bodybuilder brothers' steroid use -- and his own. Partly to blame for the PED rage, he argues: '80s icons like Rambo and Conan. Meanwhile, audience favorite "Kicking It," narrated by Colin Farrell and preemptively snatched by ESPN, follows six men as they travel to South Africa to compete in the Homeless World Cup. (More on that later this week.)
• Among the scripted sports flicks: "Diminished Capacity," in which an editor (Matthew Broderick) and his senile uncle (Alan Alda) bond while navigating the wacky world of sports memorabilia with their priceless Frank "Wildfire" Schulte card. And arguably the festival's biggest breakout hit: "Sugar," from filmmaking duo Anna Boden and Ryan Fleck (of the critically acclaimed "Half-Nelson"). According to Boden, the tale of a Dominican minor leaguer struggling to adapt to small-town Iowa "isn't the Pedro Martinez story. It's the more common experience of players who don't make it to the big leagues and you never hear from again."
• Perhaps the most talked-about sports flick didn't screen at the festival. Director/producer Kirk Fraser hit the streets to spread the word about his almost-completed documentary about deceased Celtics draft pick Len Bias. Fraser, who received the Bias family's blessing, conducted on-camera gabs with John Thompson, John Lucas, D.C. mayor (and cocaine user) Marion Berry and, in their first interview since the tragedy, the three witnesses to Bias' drug overdose: Terry Long, David Gregg and Brian Tribble. With Boston flying high and steroids all the rage, Fraser says it's time drop some knowledge. "It's not for the money, but to prevent the cycle and the production of another Len Bias."
• For most dancers, the parties are the best thing about Sundance. The best bash: MySpace at Tao's 50 Cent performance, held at Harry O's. Highlights included: running into Rachel Hunter (literally … with a loving shoulder-check) and injured Los Angeles Clipper Shaun Livingston, and standing on a couch at the foot of the stage with Paris and Nicky Hilton, and Nicky's boyfriend David Katzenberg, and fake-mouthing along to 50 with Paris while repeatedly getting elbowed in the head by one of the Hiltons' hot blonde friends. After graduating to eating Hot Blonde's armpit, I was sure I was being punk'd, and my suspicions were all but confirmed when I spotted Ashton Kutcher. "That's getting pretty old," said Kutcher look-alike Kyle Korver, who made the one-night-only trip with Jazz teammates Andrei Kirilenko, Deron Willams and Jarron Collins. Korver added: "You know it's a good party when Andrei is dancing."
• For fatigued dancers like ex-Falcon Jamal Anderson, Alba, Hilton and Dennis Quiad, the festival wrapped with ESPN's Championship Sunday viewing party. Held at The Lift and hosted by Bush, it featured much trash talk by Pats fans Eliza Dushku and Matthew Perry. "The Pats didn't get to 18-0 by cheating," insisted Perry, a Sundance rookie. "I know nothing about Sundance other than you can watch football on 20 screens at a great party hosted by Reggie Bush.
"Plus, there's Red Bull. So, yeah, I like Sundance."
Sam Alipour is based in Los Angeles. His Media Blitz column appears in ESPN The Magazine and regularly on Page 2. You can reach him at sam.alipour@gmail.com.