LOS ANGELES -- "Patterson!" coach Mark Ellis hollers at me. "Get in the game!" I'm not remotely Irish, Ellis isn't a coach, and said game is about to take place on a movie set, but frankly, I'm thrilled.
Before arriving at L.A. Sports Arena to film a hoops scene in "Semi-Pro," Will Ferrell's love letter to the '70s era ABA, the flacks at New Line Cinema warned that my on-camera gig was dependent upon my performance in warm-ups. Was I worried? A little. But clearly director Kent Alterman and sports coordinator Ellis, the president of ReelSports Solutions ("We Are Marshall," "Coach Carter"), reviewed the tape of this former star backup freshman squad point guard. Why else would they invite me to help replicate the freewheeling, high-flying action of the defunct outlaw league alongside no-nonsense ballers like And 1's Grayson "The Professor" Boucher and ex-NBAer Pooh Richardson?
Besides, if my game didn't win them over, I was fully prepared to check into a rehab facility. Thankfully, this ad hoc attempt to up my star quotient won't be necessary. A decade after a minor spat over playing time squashed my hoop dream -- OK, I quit when my JV coach cut me -- I'm finally getting the call to play with the big boys. Or at least a rapper, a stoner and a flabby comedian.
THE ABA REVISITED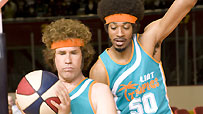 • Lukas:
Remember the ABA
• Alipour:
Being "Semi-Pro"
• Neel:
The ABA spirit lives on
• H-O-R-S-E!:
Bill Walton faces Will Ferrell

To be fair, this is Ferrell's show. He plays Jackie Moon, an R&B crooner turned owner/coach/power forward/halftime performer for the Flint Tropics, a team of rejects -- Moon traded a washing machine for Woody Harrelson's Ed Monix, a former Celtics benchwarmer -- hoping to become one of four teams to graduate to the NBA in the 1976 merger. Standing in the Tropics' way in today's shoot: the home team Virginia Squires -- my squad (apparently some physician named "Jay," is on the team, too).
Sure, sounds like a sweet deal. But cinematic playing careers, like ABA life, are rife with disses.
---
Upon arrival, a PA leads me to my very own star trailer, which he says is "just like Will's." (Weird, they stock Ferrell's trailer with mops, a bucket of goo and four urinals.) There, I find my wardrobe: flatfooted adidas and an authentic Squires leotard, er, uniform, with requisite tight shorts. Clearly, costume designer Susan Matheson hates healthy feet, and my ability to produce offspring.
I don't have a first name, or any lines for that matter -- they might've missed my scintillating performance in "Little Red Riding Hood: A 3rd Grade Play" (I rocked as The Tree) -- but according to my jersey back, I'd be playing "Patterson." Who, I'm guessing, is not a one-name hard-court legend.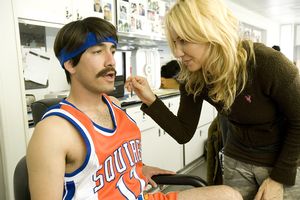 Jeff Gros
A little makeup, some chops and a 'stache and Sam Alipour is tailor made for the 70s.
Next, I'm ushered to the makeup trailer for a visit with hair stylist Susan Frank, who's done work for hundreds of celebs, including the desperate housewives, and "all of them," she stressed, "have better hair than you." Her idea of an improvement: a $29.95 shaggy dirt brown wig made of real hair from Indonesia. (For those keeping score: Harrelson's wig is a $5,000 hand-tied designer hairpiece by Victoria Wood. Mine itches like hell.) Then, makeup artist Marianna Elias superglues man-size 'burns and a hideous 'stache to my mug. Apparently ABAers looked like Chris Kaman, in boxer briefs.
After a lunch break -- when I dined on tacos, but mostly my 'stache (Yummy!) -- I finally take the court, joining 100 bored fans, referee/clergyman Father Pat (Matt Walsh), cig-smoking, liquor-sapping radio men (Will Arnett and Andrew Daly), and dozens of red-white-and-blue orbs -- specially designed by Spalding. These are details Alterman gleaned from a childhood spent at ABA-era Spurs games, loads of tape review and consults with league historian Arthur Hundhausen and ABAers Artis Gilmore, James Silas and George Gervin, who cameo. "We're celebrating that time and place, not just poking fun at it," the director says. "It's a comedy, but the game should feel authentic." This might explain why I was cast to play for Dr. J's old squad. "No," he quickly clarifies, "that was a mistake on our part."
Also a mistake: all of this silly stretching. Harrelson feels me. The White Man Who Once Jumped, who says he signed because "I wanted to be a part of the top two basketball comedies of all time," is tossing trick shots from behind the backboard -- and drilling them. "Woody is better than all of us combined," notes Outkast's Andre Benjamin (he plays cocky 2-guard Clarence Withers).
Benjamin never played organized hoops growing up in Atlanta, so the Grammy winner is leaning on his unwieldy afro: "It makes me look like I can play. And ladies dig the hair, man." Interesting. Of all the things I could've done to score chicks, I didn't realize looking like a hungover porn star was one. As a professional of the highest standards, I test this theory with my Squires cheerleaders, who seem eager.
"Ladies, looking dynamite!"
"What other movies have you been in?" inquires one.
"Um, none. I'm a reporter."
She rolls her eyes. A few others turn away. Damn this hair!
My mop failed me, but surely my solid jumper will not. Unfortunately, I spent most of the 30-minute shootaround doling out change to Ferrell -- who lettered in hoops at University High (Irvine, Calif.), and has a sweet hook shot -- and actual semipros like Tyler Murphy (USC), Mike Westphal (Pepperdine) and Peter Cornell (Loyola Marymount). They're among the film's two-dozen special ability extras, chosen from 5,000 applicants with serious skills, and "they've been in the trenches with us for months," Ellis says, "so you shouldn't expect any breaks, reporter guy."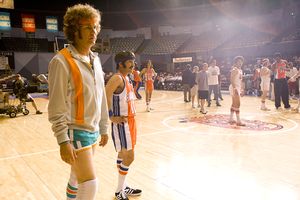 Jeff Gros
Sam Alipour may be ready for his closeup, but make no mistake this is Jackie Moon's show.
Chris Knight, a center at Loyola Marymount during the Hank Gathers-Bo Kimble years, was a tad more supportive: "If I dunked on your face, would that help your story?" (No, but if I head-butted your kneecap, that might.)
Next, up: layup lines, where I learn that (A) they do in fact call traveling during pregame drills and (B) 5-foot-9 reporters should not line up with tall people. "That's funny," Ellis tells Alterman. "Look at Will at 6-foot-3, and Sam at … you know, his height." At this point, I'd much prefer he call me "Patterson."
So far, not good. I need to strategize. During a break at our directors chairs, each emblazoned with our names -- though mine was misspelled ("Woody," I think it read) -- Ferrell sets me straight: "It's not about whether your shot goes in. It's about looking athletic and being flamboyant like those ABA guys." He looks me over. "At least you have the shorts."
But he's right. Playing in the NBA's shadow, the upstart league had to be loud and colorful. (Jackie Moon's promotions include corn dog night -- though he had no corn dogs -- and a wrestling match with a bear, based on a Pacers halftime event in April 1975.)
So in the final drill, the three-man weave, I too resolve to self-promote: I take the midcourt position, toss a behind-the-back to Ferrell, then weave behind him like an angry floating fig leaf, ready to receive the rock from Murphy for -- dunno, I'm feeling risqué -- a reverse layup. Instead, Ferrell cuts me out of the equation: He nods to Murphy, then tosses a moon ball that Murphy flushes with one-hand. Ouch.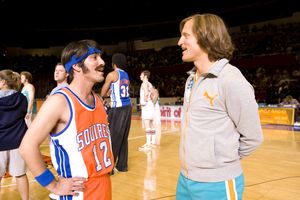 Jeff Gros
From "White Men Can't Jump" to "Kingpin", Woody brings a serious sports movie resume to the set.
Ferrell says the bastardized weave wasn't some rookie hazing ritual -- which is a relief, because a wedgie could be fatal. Rather, it's practice (in the film, Moon invents the alley-oop). It's also a sign of the ballers' Spurs-like chemistry, forged over two weeks of preproduction training in Southland gyms, 13 game shoots and one half-naked pickup game -- when Harrelson forgot his shorts. "I was like, 'Lets go down to our underwear,'" Ferrell says. "Naked basketball is a great bonding tool."
After a few more weaves, I still don't know if I made the cut. Ferrell offers encouragement: "I wouldn't worry about it. You're an excellent dribbler." And then: ecstasy! Literally, I think. An extra in the stands offers me a strange pill (God, I love Hollywood). I'm guessing it's not Nuprin.
Finally, Coach Ellis calls my number! First, I'll rehearse the Squires/Tropics scene. His assistant, Brendan Kirsch (Ball State), who designs the plays, instructs to me to dish to the right wing before setting a pick on Benjamin in the left block. Simple enough. When Ellis yells "Action!" I pound, pass, then set the hardest pick the ABA had ever seen … on absolutely no one. Benjamin skates by.
Take two: This time, I speed it up and we graduate to the next stage. A Ferrell swat leads to a fast break that goes awry when Harrelson's bounce pass drills Benjamin in the gonads. (Yes, the gonads were treated roughly in the ABA, and Will Ferrell movies.) My responsibility is to disregard the first rule of defense -- stop the ball -- which shouldn't be a problem for me, then gather the loose rock and toss it ahead for a layup on the other end. The result: Flawless execution by all, including Patterson. Though Coach Ellis did have one minor note: Sam! Backpedal! Stay low! Palms out! Blah, blah!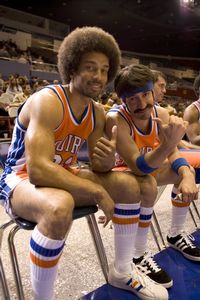 Jeff Gros
At the end of the day, Sam found his niche -- on the bench.
On the real, who is this Sam dude? What a loser.
This much is clear: compared to Ellis, Jazz taskmaster Jerry Sloan is a drunken circus clown. "White Men had more spontaneity," Harrelson said. "Here the game play is more choreographed, which is understandable. There's 10 guys. But a little chaos is pretty cool. There's energy in chaos." Woody tends to talk about abstract things like energy, but he's messing with my energy because he talks very sloooowly. (On a totally unrelated note: Woody once toured America in a hemp oil-fueled bus. Just sayin'.)
In subsequent runs, I pass, pick and defend with textbook technique -- and learn that it is indeed possible to airball a pass -- but moments away from shooting, Ellis and Alterman huddle. Then: "Patterson, take a seat." Ellis, the man who once turned Freddie Prinze Jr. into an MLB prospect for "Summer Catch," gives me the hook. Twelve hours in, I head to the Squires' bench to become a blink-and-you'll-miss-me extra. My replacement, former Texas Tech point guard Jason Martin, graciously pats my head. "I hear 'One Tree Hill' is looking for extras," he says. "They always have high school hoops scenes." Jerk.
Around midnight, I'm "acting" on the bench, miserable, praying sweat won't shrink my shorts into a thong, listening to my scrub teammates blab about the pros and cons of playing in Europe, when … Far out! I have a first name! I'd been so consumed with being a baller, I hadn't noticed the roster on a rickety scoreboard above the stands: "Nat Paterson," it reads. Sure, they misspelled my last name, but the Squires once butchered Larry Brown's too (Broun, his jersey once read). Shoot, I'd do a somersault if I weren't concerned it would rupture my testes.
Back on the bench, but a star, finally.
Sam Alipour is based in Los Angeles. His Media Blitz column appears in ESPN The Magazine and regularly on Page 2. You can reach him at sam.alipour@gmail.com.