Last month, Random House sent over an advance copy of "The 33-Year-Old Rookie," by Phillies catcher Chris Coste. It's an intimate account of his 11-year minor league odyssey that culminated in May 2006, when the pride of Division III Concordia College in Moorhead, Minn., was finally called up to the big leagues. His book is the latest in a long line of media ventures by underdog athletes who never gave up -- such as Vince Papale ("Invincible"), Rudy Ruettiger ("Rudy") and Jim Morris ("The Rookie").
Page 2 recently tracked down the back-up catcher with a career .309 average to talk about the book and his journey.
Page 2: Philadelphians still love Sly Stallone. And that's saying something because he's just an actor. Also, because he's Sly Stallone. Philly has rallied around you too, and for the same reason, right?
Chris Coste: Absolutely, that underdog mentality. They view me differently than they do Chase Utley, Jimmy Rollins or Ryan Howard because I'm not the same kind of player. They're idols. I'm an ordinary person who happened to make it. They don't go crazy for me like they do those guys, but they feel they can talk to me like a school buddy. So when a fan sees me at Target or Wal-Mart, it's always interesting.
Target? You're a big leaguer now. Are you still penny-pinching?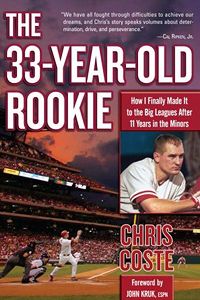 Buy the book
Click here to purchase "The 33-Year-Old Rookie" by Chris Coste.

Click here to read an excerpt.
(Laughs) Not really. I've learned to accept paying for a $35 club sandwich at the Ritz-Carlton, stuff like that. I bought a brand-new Expedition at the end of last season. I'd like to become more of a crazy spender, because that'd mean I'm making more money. (Laughs)
So, at Target, do fans hit you up for advice on, like, which vacuum to buy?
No, thankfully. (Laughs) I'm not good with hardware. They say things like, "What a great story. We've been following you. My son is your biggest fan." I remember in 2006 -- what got me on the team was that incredible spring training -- [manager] Charlie Manuel said, "The fans in Philly will love this guy. He's the kind of guy they'd cheer for." I'd never been to Philly. I knew the whole "Rocky" thing, and that was it.
Your publicity materials call this a real-life "Rocky" story. But he beat Apollo Creed, Mr. T and that crazy Russian. Who's your crazy Russian, the opponent you can hang your hat on?
Wow, tough one. Well, I've had decent success against Tom Glavine. But I don't own him by any means -- let me say that right away. As a team, it'd be the Pirates. (Laughs) Every time we play them, a few guys make a comment about my success against them. They actually signed me to my first pro contract, then released me. They're my Apollo Creed. I wouldn't call it payback, but maybe somewhere deep down, that's part of it.
Your story also falls in line with recent real-life inspirational stories such as "The Rookie," "Miracle," "Invincible" and even "Rudy" -- guys who were told they sucked, but stuck it out. These movies always have an antagonist in sheep's clothing, like the brother in "Rudy," the dad in "The Rookie." Who's the person who doubted you and indirectly inspired you to keep going?
It's not one person. I was always denied by the same people: scouts and front-office decision-makers. The problem was, if scouts come to watch me for three games, they're not going to be impressed. I'm not a sexy ballplayer, with that one skill that stands out. I don't hit the ball 500 feet. I don't run like the wind, or have an Ichiro-type arm. But if they saw 30 games, they'd realize I am a major league ballplayer. But they don't stick around.
These stories also have love interests. You must have the most understanding wife on the planet.
No question. And she's proud of that, too. We've been together since we were 16, so it's been just as much her dream as it was mine. As tough as it was being away, on the road … my wife was understanding, and so was my 9-year-old daughter as well. When I got called up for the first time, they were more excited than I was.
What drove you through all of those years in the minors?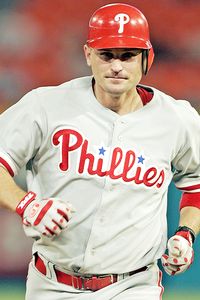 AP Photo/Alan Diaz
It took 11 seasons, but Chris Coste made it from the independent minor leagues to the bigs.
No Plan B. Simple. Baseball is all I wanted to do. After college, I had no plans to get a real job. Once you make it to Triple-A, you can make enough money to legitimize making a good career out of it because you can make anywhere from $10K to $20K per month for five months. So, even though that's a finite period of time, it was enough to keep doing it. Secondly, I always pictured myself as a manager one day, and I figured the longer I played, the more people I'd meet and networking I could do. So I kept playing not only to make a paycheck, but to help my future as a manager.
What clicked for you at that 2006 spring training, your coming-out party?
It was timing. Because of the World Baseball Classic, they were missing a catcher and a few infielders, so I was able to get at-bats. It all started with an intersquad game, when Ryan Howard got sick, and I took his place and had a huge day. Because of that, Charlie Manuel found ways to get me in. And it seemed like I always came up late in the game in clutch situations, and more often than not, I got a big hit, so Charlie kept playing me more and more.
Why do you think you've been successful in the big leagues?
It's a mental situation. There were better minor leaguers than me who didn't have success in the big leagues. Maybe I had a mental edge. If you're physically good enough to succeed in Triple-A, you can succeed in the bigs. I think a lot of young guys perceive it as a whole different world. That's a mental hurdle. Being a 33-year-old rookie helped because I played against those guys for many years, in spring training, all over different countries. I had more experience than most major leaguers. And when I got out there, I realized the lights are brighter, and there are more people watching, but that's the only difference.
What are the biggest off-the-field differences between the minor and major leagues?
Triple-A is a peanut butter sandwich and a bag of peanuts on a commercial flight in a middle seat between two random passengers. The big leagues is steak and lobster and shrimp cocktails on a charter flight with your own row. It's a lifestyle of efficiency. Airport security comes to the stadium, so you can skip security and take the bus right to the airplane. And when you land, you taxi right to the bus and go to the hotel. And the big leagues treat you like a man. The minors have so many guys to deal with, they treat you like a boy. Minor league spring training is a boot camp. Major league spring training is a lot easier -- the pressure isn't there. And in the minor leagues you don't have any off days. In the majors, you have one every week. I could go on and on.
No, that's good. I hear Hollywood is already digging into your life story rights. What's the latest?
I'm honestly not actively seeking a deal. If it came along, I'd be open-minded. Morris and Papale … their careers were over, so they could deal with it. I can't imagine a movie about me while I'm playing. My literary agent did get some feedback from various producers. Nothing in stone. Of course, if Matthew McConaughey called and said, "Hey, I want to play you," I'd consider it.
Wow, McConaughey is a stretch, no? Is success getting to your head?
(Laughs) I was once younger, better-looking and my hair wasn't falling out. When "U-571" came out, and he'd shaved his head, my teammates were like, "Coste, it's unbelievable, you look just like him." I guess a lot has changed: He got better-looking, and I regressed.
Do you have any goals for your playing career? Or at this point, given all you've accomplished, are you just happy to be here?
My goal for this year is to stay healthy … A pulled muscle could end my career at this stage. My long-term goal is to stay in the big leagues as long as possible, so I'll have enough money set aside to become a manager in the minor leagues, because my biggest goal is to become the manager of the Phillies. Philly is a tough place for any player or manager, but if there's one guy who can handle the pressure, it's me, because of my background. But for now, like any player, I want to be the best guy on that field. I don't want to be the 25th man. I want to help my team win, first. And second, I want to be the player of the game. It's great that I was a good story for baseball, but in the long run, I want to get away from being just a good story, and become known as a good major league ballplayer. I hope I've accomplished that to a certain level.
Sam Alipour is based in Los Angeles. His Media Blitz column appears in ESPN The Magazine and regularly on Page 2. You can reach him at sam.alipour@gmail.com.