On Friday, actor/director George Clooney delivers a shot to the chops of sports flicks everywhere with "Leatherheads," a romantic screwball comedy set in the rough and tumble world of 1920s pro football. Starring Clooney as Duluth Bulldogs hard-living veteran Dodge Connolly, John Krasinski ("The Office") as an imported college gridder who helps transform the game into a big-money enterprise and Renee Zellweger as a tough-as-nails reporter and love-triangle interest, the Preston Sturges-esque genre-buster is a gamble -- and to be expected. The movie star from Kentucky is anything but typical.
PAGE 2 ON "LEATHERHEADS"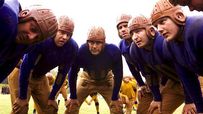 •
History of football films
•
Top 11 football movie scenes
•
Players who also acted
•
Q&A with George Clooney
As his previous directorial efforts -- the quirky Chuck Barris-as-hit man bio "Confessions of a Dangerous Mind" and the black-and-white McCarthy-era newsroom drama "Good Night, and Good Luck" -- would suggest, Clooney the director is as eclectic in his taste as he is off-beat in his execution, wielding the same fearlessness that informs his choices as an actor. (See his singing escaped convict in "O Brother, Where Art Thou?" or his Oscar-winning performance as a pudgy, over-the-hill CIA henchman in "Syriana.")
Off the set, Clooney has navigated the tabloids with grace. He's probably the least likely celebrity to be caught with a beer bong, coeds or a second-tier pop star, and the most likely to buy you a beer at an airport -- or champion hot-button social and political causes. He is, after all, a United Nations peace envoy and the recipient of the Summit Peace Award, awarded by the Nobel Peace Prize Laureates in Rome in '07.
So let's just say it: If reports are to be believed, Clooney may be the greatest friggin' guy on the planet. Except, he's not. Any young intern who played hoops with him on the "ER" set at Warner Bros knows this.
I recently caught up with the man to talk about his movie, his game, and why he's a dirty rotten cheater. Though, I'll give him this: The dude has impeccable phone manners.
---
Page 2: You're the first subject, athlete or celebrity to call me precisely at the scheduled time.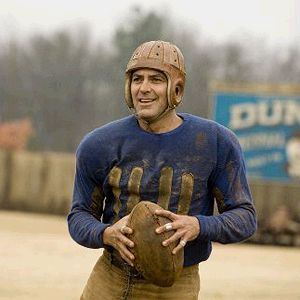 Universal Studios
George Clooney says "Leatherheads" is an homage to Preston Sturges and Howard Hawks.
Clooney: Hey, you know I don't f--- around.
No kidding. Hey, remember when I was a college intern at Warner Brothers, and you were a big TV star, and I dunked on your head on the "ER" hoop? That was awesome.
Actually, I don't think that happened. Weird, I can't remember that. [Laughs.] All you had to do was get a running leap and slam your foot in the wall. It would've jacked you up two feet higher. That hoop was fun because anyone could dunk. Well, almost anyone.
Whatever. I tell my friends and family the version of the story that had me dunking on George Clooney's head. In reality, I think I lost every time out because you cheated. You kept pairing me with some really old guy.
Yeah, Dave, the transpo guy. But you know he's a monster shooter. He just couldn't move anymore. But believe me, there was a plan to that. Hey man, that's how you win. You gotta stack your team. Look at the Yankees.
Smart man. So, I would have figured you'd be doing a hoops flick, not football. What gives?
What happened was you actually scarred me from basketball so much, I initially went into curling. Then I found my way back to football. But no, to me, the '20s were a really fun era. Also, when you think about sports films, you really haven't seen that era. Maybe in "Jim Thorpe: All-American," or maybe a piece of it in "Horse Feathers." But certainly recently, you haven't seen that world.
The sports flick marketplace is littered with inspirational real-life dramas. Yet -- and not to put a label on it -- you've created a screwball romantic sports comedy, a film we might expect from the Coen brothers and pretty much no one else. Explain your game plan.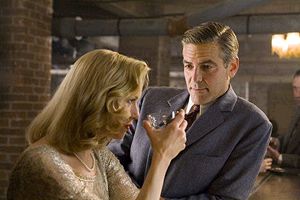 Universal Studios
If there was a Sports Flick Hall of Fame, Renee Zellweger would be voted in on the first ballot.
When you're trying to do a sports film, and even a comedy for that matter, you're trying to do something that doesn't resemble anything you've seen before. And I thought there was a funny version to be had, sort of a "Slapshot" meets football. Since early pro football had very few rules -- or, they were changing constantly -- I figured this would be a great world to play around with. And, you're right: I ripped off every screwball comedy I could think of. I'll take the heat for that. And, of course, I was influenced by the Coen brothers, and [Steven] Soderbergh because they're the guys I've worked with the most and who I've learned a lot from. But who I was really stealing from -- and, you know, we like to call it an "homage," but I was overtly stealing from the them -- was Preston Sturges and Howard Hawks. If you watch "Philadelphia Story," that's kind of our storyline in a lot of ways. And there was some "Hail the Conquering Hero." I was just kind of ripping off everything I could find from all of those great screwball comedies.
What surprised you as you researched this era of football?
Well, the more that we looked at the original football footage, the funnier that got for me. In the same year, every game would have a different football grid. Sometimes there'd be big, square boxes. The next time there would be lines every 20 yards. Different size fields. I mean, insane things, like guys playing with hoods on to cover their faces because they were playing for two or three teams at the same time. Just insane things that were going on that I didn't really understand until we looked at the footage. That was a really fun process.
What did you do to replicate that era in terms of game play?
Well, we had a guy come in [football historian T.J. Troup] to teach all of the actors and actual college football players, from Clemson and places near North and South Carolina where we were shooting. We had a three-week training camp where we learned plays, stances and rules, although some of the rules we made up as we went along -- which we thought was fair because that's what they were doing.
Are you more of a Sexiest Man Alive, or a leather-helmet, mud-footballer type?
[Laughs.] Well, I'm probably the Sexiest Mud Footballer Alive. But man, we were having fun. You get to be a 12-year-old, stomping around in the mud, not having to worry about getting yourself a little dirty.
How did you hold up, old man? Any injuries?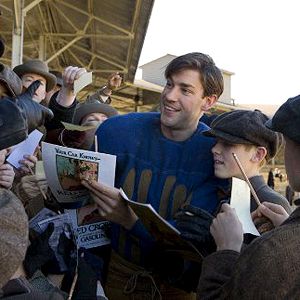 Universal Studios
John Kracinski played college hoops, but apparently he couldn't get the best of Clooney on the court.
Yeah, it hurt, man! It's funny, I spent the summer re-writing the script, and sort of got it greenlit the day I came home from Italy with the script in my hand, and it went right into pre-production, so I never really once thought about the fact that I was putting myself on a football field for 4½ months. [Laughs.] Then, on the very first day of shooting, it's 25 degrees, and I get dropped by this 21-year-old. Really, he just floored me. And it wasn't even a hard hit for him -- you know, he just sort of knocked me over. But I haven't been hit that hard in 30 years. I thought he was going to kill me. So, of course, I quickly instituted a new rule: Don't hit the director.
Cheater. So, which was more painful: That hit, or starring in "Batman and Robin"?
Well, "Batman and Robin" is still the hardest hit of all. For the audience as well, I think.
I know you're athletic, but do you have any football experience?
We didn't have a football team at Augusta High in Kentucky, where I went. Too small a school. So I played varsity baseball and basketball. Those were my sports. Actually, we only had two sports. I think we had a track team one year, but that was it. No tennis team, no nothing.
So who's your NFL team?
I had it rough. I grew up across the river from Cincinnati, so I'm a Bengals fan. I've learned to live with frustration. I think Carson Palmer's the best quarterback in the NFL, and he's got great receivers. I love watching Houshmandzadeh and those guys. But we can't stop 'em on the other end, so it's been really frustrating.
Which current NFL team could blend in well with the "Leatherheads" era?
Oh, man. Well, sorry to say, it's the Bengals. They'd probably fit in well in that era of rough-and-rowdy '20s football. Apparently they've had a few problems with the law. They'd probably do well in a bar-room brawl, too.
I met your co-star, John Krasinski, on the set of "The Office." He's smart and funny as hell, but he seems kind of dorky -- not exactly a leatherhead, which I guess was the point.
He played a little college basketball, though. He's about 6-3. He's actually a good athlete. In fact, if you ever talk to him, bring up the fact that on his first day on the set, he talked a lot of smack about his basketball skills. And when I said I played a little myself, he immediately challenged me to a game of one-on-one for a $1,000. And he said he'd even spot me six points. I was like, "Um, OK." I felt bad for John. I was like, sure, he's 27, 6-3, played college ball, but if he spots me six, there's no way he'll beat me. So I was like, "Let's also play a second game, straight up, for another $1,000. That way, you'll get your money back." So for four months, we talked crap to each other, and on the very last day of shooting, we went to the Y and I beat him. [Laughs]
Renee Zellweger is in the Sports Flick Hall of Fame -- "Cinderella Man," "Jerry Maguire" and now this. I think she's great in these types of films because she can do tough-as-nails and sophisticated, but she also plays vulnerable really well. What is it about her that screams "sports flick love interest"?
She's a jock, man. And she can dribble a basketball, I'll tell you that. She's actually really athletic. But she's been a really dear friend of mine for 12 years. When I spent the summer working on the script, I had her in mind the whole time. Honestly, she can do anything. She's an Oscar-winning actress, and she can do comedy with the best of 'em, and that isn't easy to do. The other gift that Renee has is, for most actors, in general, it's very hard to do period pieces because they always seem contemporary. And she, for whatever reason, and you can't act this, and you can't explain it, she fits right in in 1925.
How do you stack up athletically against her other sports flick leading men, Tom Cruise and Russell Crowe? Crowe is a rugby-er. But Cruise seems like a sissy.
Well, we'll let the audience decide that. But actually, no, Tom can play. I played basketball with him, and he's very athletic. I was in Slovakia doing ["Peacemaker"] with his then-wife, Nicole [Kidman], for four months, and he played basketball with us a couple of times a week. He's fast and strong. He's actually a very good athlete.
Anything else you want to add about "Leatherheads"?
Actually, yeah. I think I made the right call by not shooting this movie in HD because of how bad John Krasinski's skin is. Make sure you write that. It's important that everyone knows.
Sam Alipour is based in Los Angeles. His Media Blitz column appears in ESPN The Magazine and regularly on Page 2. You can reach him at sam.alipour@gmail.com.