Mike Myers. Sports movie. Jessica Alba. Throw in one more Jessica -- say, Biel -- and I might watch "The Love Guru" twice.
I'm down with "The Love Guru." The comedy stars Myers as Guru Pitka, a publicity-craving spiritual guru aiming to resolve a marital conflict between Toronto Maple Leafs star Darren Roanoke (Romany Malco of "The 40 Year Old Virgin" fame) and his wife (Meagan Good), who's begun dating a goalie from the Los Angeles Kings (Justin Timberlake). In the process, Guru Pitka learns a few things himself -- and gets fresh with the Leafs' owner (Alba) -- and the sports fan comes away the richer.
But to hear Blitz readers and industry insiders tell it, there are many reasons why you, the ticket buyer, might not see this flick, which opens nationwide Friday. Among them: (A) you're not hot about the trailer, a complaint I've heard from many readers and more than a few editors; (B) you'd rather see the other big summer comedy, "Get Smart," which also opens Friday; (C) you're too young to remember "Austin Powers;" (D) you're too old to either laugh or punch someone when you hear a fart sound; (E) you've heard the press about the Hindu community's so-called boycott of the film; or (F) you're Tiger Woods, and it's about hockey, and that's that.
ROB BLAKE'S BIG DAY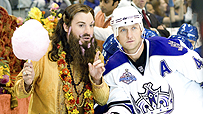 Maybe Rob Blake should chime in here, because the Kings defenseman has a cameo as a defenseman for the Kings (not a stretch), who are the Leafs' top competition for the Cup (huge stretch). Here are more things you should know about "The Love Guru," courtesy of the rookie actor and former Norris Trophy winner:
The movie: great. Me: not so much.
"It's similar to 'Austin Powers,' very funny. But I'm not very good. Never done anything like that. But it was fun and pretty neat for the kids."
Long day, little pay
"We shot all my scenes in one day at the Air Canada Centre. It takes so long for each scene. They shoot it one way, then they switch the cameras and do it again. And I got paid like an extra, so not a lot."
Alba ain't bad lookin'
"Unfortunately, Alba didn't have any scenes that day, but I saw her at the premiere, and she's far from ugly."
Neither is Timberlake
"My wife was a little jealous. I think she wanted a part in the movie, too. He can sing, dance, act. I was mildly attracted to him, too."
Plus, JT can play
"As a goalie, he was unbelievable. I think he'd only skated once before, but he knew what he was doing. Based on our goalies the last two years, maybe the Kings should sign him. And with his character's big trait, you can't beat that goalie five-hole."
The Kings are good, finally
"We're playing in the finals, so based on our playoff history, Kings fans may want to check this out. Hopefully, we'll be in that situation at some point in real life."
-- Sam Alipour
So, OK, the box-office prospects of "The Love Guru" are iffy -- one studio honcho tells me it will be lucky to hit $20 million on opening weekend, while boxofficeguru.com estimates a $23 million take for second place -- but forget all that. Because we at Page 2 like nice round numbers, here are 15½ reasons why "The Love Guru" doesn't suck, as told to a dude who has no vested interest in promoting this movie and explained by a dude who knows comedy, hockey and Jessica Alba's tonsils (um, that would be Myers).
---
1) LIKE THE SHAGADELIC SPY, GURU PITKA IS BATTLE TESTED: "In 1994, I debuted two characters at a stage show. One was Austin Powers. The other was the Guru Pitka. Then, about four years ago, I started doing stage shows in New York City as the character, developing his philosophy, with 50 percent of the audience not knowing who I was. I did the same thing with Austin Powers and throughout my entire career. Movies go through a testing process, and the response has been the best response of any movie I've ever worked on."
2) THERE'S A JOKE A MINUTE, AND MANY OF THEM SOUND FUNNY: "What can I say? I'm English [by heritage], and we like silly comedies. I like super, super intellectual jokes, and I like super, super dumb jokes. Like farting in a cup."
3) HEY, REMEMBER SIR BEN KINGSLEY? YEAH, HE FARTS IN THIS, TOO: "Yes, that's right. Sir Ben Kingsley. He plays the Guru Tugginmypuddha. Like Master Po in 'Kung Fu,' he's Guru Pitka's guru. He totally understood that we're making a fun movie with a good message. He was hilarious."
4) ALBA ISN'T JUST GREAT TO LOOK AT … "We had mutual friends, and I heard only the loveliest things about her. This is how we came to have a meeting of the minds about this movie. As it turns out, Jessica is a great comedian, a great actress and a lovely, lovely person."
5) … BUT, BOY, SHE'S GREAT TO LOOK AT! "When Jessica came on set, there were audible gasps. Honestly, when you see her, you can't believe how beautiful she is. And yes, she's a very good kisser. It was entirely professional, though."
6) TIMBERLAKE, BABY! "Justin plays Jacques 'Le Coq' Grande, a French-Canadian goalie for the L.A. Kings and the, uh, most well-endowed player in the NHL. I first met Justin at a 'Shrek the Third' party. He was so hilarious. He and I did comedy bits for two hours, even after everyone had gone home. Ever since, I had in the back of my mind that someday I'd write something for him. Justin came to play. His French-Canadian accent is spot on, and his Tony Esposito butterfly stance is completely authentic. The man is made of talent. But is Justin well endowed? I wouldn't have any firsthand knowledge of that."
7) MINI-ME SPEAKS … "I met Verne Troyer, who played Mini-Me, on the set of 'Austin Powers 2.' Immediately, I wished I'd written Mini-Me to speak because he's so hilarious. So it's been my goal since to write a speaking part for Verne. He's awesome."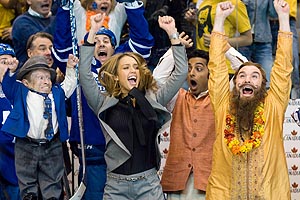 Paramount Pictures
Mike Myers wonders if "The Love Guru" is the closest his Leafs might get to winning the Stanley Cup again.
7½) … WHICH IS NICE, 'CAUSE WE SET THE RECORD FOR MIDGET JOKES:
"Hey, Guru Pitka had to put Coach Cherkov in his place! Verne plays a very mean and caustic coach. He's the main source of resistance to Darren learning his lesson, offensive in every way, but he's ultimately won over by the Guru Pitka."
8) THE GUY FROM "THE DAILY SHOW" PLAYS A PEYOTE-LOVIN' BROADCASTER: "Every sports comedy has to have good announcers, and by having Stephen Colbert and Jim Gaffigan play ours, I feel like the luckiest filmmaker in the world. Fifty percent of what they said, they made up. They're brilliant improvisers and really hilarious in this movie. I'm in awe of their genius."
9) IF YOU'RE A LEAFS FAN, THIS WILL HOLD YOU OVER: "I was born in '63, and '67 is the last time the Maple Leafs won the Cup. We Toronto fans, we're long suffering. I want my Cup now, so this movie is a fantasy come true. And it's starting to feel like it's my only chance to see the Leafs win it all."
ON ESPN RADIO
Mike Myers dropped in on Mike and Mike to chat about "The Love Guru."
Podcast

10) IF YOU'RE A HOCKEY FAN, YOU'RE STUPID. (KIDDING. WATCH THIS.):
"I don't know the context of Tiger's quote, but I think many people watch the NHL. All I know is I'm Canadian, I love hockey and I had to get the game right. The first great thing our director, Marco Schnabel, did was hiring Mark Ellis [sports coordinator on 'We Are Marshall,' 'Semi-Pro' and 'The Rookie'] to choreograph the hockey and put the actors through a boot camp. Romany Malco actually learned to skate for this. He has an awesome stride; he learned to take slapshots. He was constantly injured -- pulled hamstrings. He really blew me away. I'm super happy with how the hockey turned out. It's exciting, authentic and funny when it had to be."
11) SUPPORT DIVERSITY, PEOPLE: "'Tiger Woods of Hockey' was the movie's shorthand for Darren Roanoke. When I was growing up, you couldn't find anyone from Czechoslovakia in the league, except for Stan Mikita. He was considered ethnically diverse. Now, it's a growing and very diverse sport. I wanted inclusion. I wanted to say, 'Everybody, come on in! This sport is wonderful.'"
12) THE BACKLASH FROM THE HINDU COMMUNITY? "It's one dude. And he hadn't seen the film. When he sees it, he'll see that the philosophies in this film are completely made up, like the Force in 'Star Wars.'"
[Editor's note: Hindu groups have, in fact, protested how the movie portrays their religion.]
13) BESIDES, DEEPAK DIGS IT: "Deepak Chopra's in this. He was very inspirational to me when my father passed away in '91 and I first started thinking about this character. He inspired me to broaden my horizons and read all philosophy. He's just a brainiac, and he has a great sense of humor about the world and himself. As Guru Pitka says in the film, 'To be enlightened is to lighten up.' And that lesson I've learned from Deepak Chopra."
14) BRING A DATE: "The teachings are made up but not irrelevant. I wanted to deliver, in a silly, fun way, something I actually believe, and that is: Everybody is responsible for their own health and happiness. Everybody is responsible for themselves, and in love, you have to love yourself first before you love another. And that's the message of the film, a message that means a lot to me."
15) BUT BOY, THOSE FART JOKES: "I profess. Guilty."
Sam Alipour is based in Los Angeles. His Media Blitz column appears in ESPN The Magazine and regularly on Page 2. You can reach him at sam.alipour@gmail.com.