LOS ANGELES -- It was just after 2 a.m. Thursday when I exited an ESPYS after-party somewhere in some uncharted section of downtown L.A., hailed a cab and stepped off the curb. After that, things got fuzzy.
I remember a shout, screeching tires and the glare of fast approaching headlights. I got just enough warning to leap over the hard-charging Honda Civic's front fender and into the windshield, shoulder first.
So, this is what getting hit by a car feels like.
When I came to, I was on the sidewalk, my shoulder hurting like crazy, shards of glass in my forearm and blood dripping from my fingers, while limo drivers and other witnesses screamed this way and that. The paramedics told me I was lucky to be alive ("Last time I saw a windshield like that," said one, "guy lost both his legs"), and all I could think was, "Damn! I just bought this Banana Republic tie-and-shirt ensemble!"
That, and "Holy crap, that's T.O.!"
Terrell Owens was standing over me. I'm told he was the first do-gooder on the scene of the accident. That he helped me to my feet and off the street to safe ground. That he didn't leave my side. It seems the mercurial Dallas Cowboys receiver is my hero. But my hero looks scared, and this scares me.
"Wow, you all right, man?" Owens kept asking me, but in a manner that would suggest there is no possible way that I, in fact, could be all right. "Don't move. Just sit there. Breathe. Don't move."
It's now that I noticed the car's jacked windshield, which sports a hole the size of, well, my upper torso.
Yikes, I did that?
"That was crazy. Crazy," Owens confirmed. "You all right, man?
I'm fine, nothing to worry about, but Owens is so concerned, so kind, and I'm so touched by this -- we hardly know each other -- that I think my lip is quivering. There's a good chance I could break down like T.O. at that news conference. (It's just not fair. That's my receiver, man.)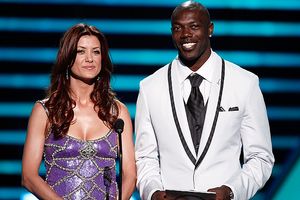 Kevin Winter/Getty Images
After presenting with Kate Walsh, Terrell Owens came to our reporter's rescue on the streets of Los Angeles.
This is embarrassing. The crowd grew to include friends, like Page 2 columnist LZ Granderson, and strangers (one vagrant offered to wipe the blood from my arms with his shirt; another asked me for change). I mean, it was ESPYS night, people! A hot party was raging in a building not 20 feet away, and another one, Justin Timberlake's late-nighter, would soon kick off at a hotel nearby, and yet one of the biggest names in sports was spending his night curbside with me?
"So, T.O. was nice, huh?" says the medic who took my blood pressure inside the ambulance. "Boy, you think you know somebody, but the media doesn't tell you the whole story. You never know how they really are."
Guilty as charged.
ON ESPN RADIO
Sam Alipour talks about being hit by a car and tended to by Terrell Owens after the ESPYS.
Podcast

When the medics were done with the paperwork (note: patient has lacerations, bruised knee, stained shorts, etc.) I headed back to the street to deal with the police, meet the driver and thank my hero … but T.O. was gone. He didn't care to wait for the cameras, the spotlight, the attention. Didn't need to hear my thanks. He simply vanished into the dark night, alone (well, with his bodyguard, also a nice man) like a samurai, his work complete.
Here are more highlights from behind the scenes of ESPYS week … what I remember of it anyway.
Monday night: ESPYS kick off at Playboy Mansion
Let the fun begin …

It starts, as always, with Hugh Hefner's pre-ESPYS bash, where wide-eyed Mansion rookies such as Raiders linebacker Kirk Morrison ("I'm like a kid in a candy store") jockey for position with regulars such as Shawne Merriman, who gave Media Blitz this handy bit of advice: "Keep your eyes open, and be very observant."
"I'm talking about the food, of course," the Chargers linebacker added. "Only the food." Right. Observe the food.
And that flock of Bunnies wearing, well, nothing, except for painted-on lingerie. "Can't wait to spray some on," Jaguars receiver Reggie Williams offered.
… and the fun is in the pool
A half-dozen ladies were swimming (not really), playing volleyball (sort of), and spanking each other (literally) in the pool. "I'd jump in myself, but there's too many camera phones," explains Greg Oden, who might not be old enough to drink, but "I'm definitely old enough to talk to people wearing bunny ears with a Red Bull in my hand. Definitely."
Canseco licks his wounds
The celebrity poker tourney was being dominated by a nonceleb: Jose Canseco's girlfriend, Heidi. Says Canseco, who's standing alone at the bar, "I'm just waiting till she's done so I can get the hell out of here." Dude isn't having a great week, which began with that first-round knockout at the hands of Vai Sikahema. "Lemme tell me you what happened with Vai: F------ guy set me up," he explained. "I didn't train, no cardio, it's supposed to be a fun match, and the f------ guy comes right out and drills me here [pointing to cheekbone]. I want a rematch in L.A., something bigger. I want him again."
Look out, Hef: Jocks score at the Mansion
Over by the grotto, a certain NFL star was having mouth-to-mouth relations with a blonde. Still, Hefner, flanked by his girls Kendra, Bridgett and Holly, wasn't worried about losing his lady friends to the jocks. "If that was going to happen," he explained, "it would've happened a long time ago." Besides, the ESPYS bash is his favorite party of the year, and athlete house guests are far tamer than rockers such as The Rolling Stones. "We had to redo the plumbing after they left. And the drapes."
A new category
Rocker Ryan Cabrera was busy making up ESPY categories: "If there was a 'Smallest Man to Consume the Largest Amount of Alcohol' award, I'd win it for sure." Cabrera, though, is treading carefully: "I was here once when one of my songs came on, so I cannonballed into the grotto. I got kicked out right after that. They don't like cannonballing into the grotto." Maybe it was the music?
For the record, Blitz strikes out
What does a reporter have to do to find love at the Mansion? Hefner wasn't much help when I asked him for his strongest pickup line. "It's 'Hi, my name is Hugh Hefner,'" Hef offered. Texans lineman Chester Pitts' tip was only a tad more useful: "Grow another foot, put on a hundred pounds of lean muscle mass, develop some athletic ability. Then you'll have a shot." Sweet, is that all?
Tuesday night: ESPYS party hosted by Eli Manning at J-Bar
Eli looks like a champion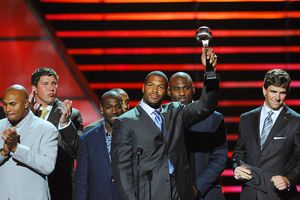 Scott Clarke/ESPN
Like Super Bowl XLII, the Giants owned ESPY week.
Giants QB Eli Manning, host of Tuesday's event, was looking less like, well, a dork, and more like a swaggering Super Bowl MVP, and I told him as much. "We've been to the White House, a ring ceremony, a parade in our city and now the ESPYS, which is a heckuva finale," Manning explains, adding that the celebration was approved by coach Tom Coughlin "as long as we make our conditioning run at camp." (Of course, Manning's cool would quickly melt away at the sight of a "Saved By The Bell" cast member. "Wow, Mr. Belding is here?")
Who let the soccer player in?
Freddy Adu looked like he might do back-flips down the red carpet, which was understandable. "They finally invited a soccer player," he joked. Less than honored: Colts safety Bob Sanders. His first interview, with a celebrity news show host, began like this: "I'm here with Bob Sanders, the greatest QB in the NFL."
Never too rich to enjoy free stuff
"I have to charter a plane to take everything home," Annika Sorenstam said of her official ESPYS gift bag, which was unveiled by Owens and Michelle Kwan. Kwan said the bags include "Chipotle for a year, yoga membership," and other "slightly more expensive things." Offered Owens: "We have to sign W9 forms, so that lets you know what we're dealing with."
Bengals rookie Corey Lynch, a nominee for Biggest Upset with Appalachian State, said he was mighty glad he's a pro: "Underclassmen can't get gift bags. I'm rubbing it in my teammates' faces."
The ladies have arrived

Female athletes were out in full force: Joining Sorenstam were Best Fighter nominee Holly Holm, here with boyfriend/sparring partner/MMAer Joey Villasenor ("We have a healthy relationship because we punch each other in the face," she said) and snow-lovers Lindsey Jacobellis and Gretchen Bleiler, who smartly staked out a spot by the stage for a performance by The Roots.
The Dance: Fans vs. ballers
Athletes deal with nonfamous partygoers in different ways. Dallas teammates Owens and Ken Hamlin sequestered themselves on couches behind a velvet rope. Giants cornerback Sam Madison was happily taking photos with everyone. Manning (with help from security personnel) denied all camera-totting fans, including the Pussycat Dolls.
Brady Quinn was more accommodating. "It makes it more comfortable to have a few drinks," he said. But maybe Quinn should've asked for a rope. Inexplicably joining Quinn and Browns teammates Braylon Edwards and Kellen Winslow Jr. at their reserved table: one of the "Home Improvement" kids. A thrill for them, no doubt. (Update: It seems Zachary Ty Bryan is Quinn's second cousin. So, yeah, the ESPYs reunites families!)
The Giants were the toast of the party
Over at the Giants table, even the linemen were getting love. "Everybody wants to shake your hand," center Shaun O'Hara said. "It's like, come on man, you can only wash your hands so many times."
Added guard David Diehl: "I've had a few fans ask me to punch them in the forehead real quick so they can get the imprint from my Super Bowl ring. I'm like, 'Um, OK.'"
Meanwhile, linebacker Antonio Pierce has decided to wear his ring on his middle finger. "It's my strongest finger, means the most to me and the fans," he explains. "I want a second one, get it on both fingers so I can salute everybody in America, and all the media that doubted us." So, yeah, Pierce flipped me the bird. (Said one player from a divisional rival of all the love for the Giants: "I mean, yeah, they won the Super Bowl, but they're not the only team in the world.")
Wednesday: The ESPYS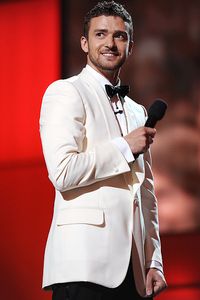 Kevin Mazur/WireImage
Host Justin Timberlake was a big hit, especially with the female members of the audience.
Welcome to L.A., champs!
This year, the ESPYS were held at the Nokia Theater, just across the street from the Staples Center, home to the Lakers … and this explains why fans along the red carpet were booing the Celtics. "Haters," Ray Allen said. "They exist everywhere. You gotta shake 'em off." Regardless, Allen said he has nothing but love for the Lakers -- or, more to the point, their venue. "I like the new location," he said, pointing to Staples. "That building is good luck for us."
Rodgers can't shake Favre

The surprise announcement that Brett Favre was in the house drew audible gasps from the fans in the bleachers. It also inspired reporters to shank Packers QB Aaron Rodgers with their mikes. "By the end of those three years [together], I just wanted him to go out on his own terms and on a high note," Rodgers said. "We all wanted him to get to the Super Bowl last year. We came close. At the time he retired, he retired at the top of his game. I just want him to be happy, whatever he does. If he comes back and plays, stays retired and does charity work, I just want him to be happy. I care about him a lot. He has been good to me. If that means coming back and playing another year or two, as long as he's happy, that's what I want."
And if Favre does come back as a backup? "He'd be the best backup ever," Rodgers kidded.
It's rough backstage

Nominees and presenters were dealing with anxiety in different ways. Kiefer Sutherland sat alone in the corner of the green room, looking rather nervous and denying interview requests (though he was perfectly nice off the record). Nominee Candace Parker was praying, but about her heels, not her nomination for Best Female Athlete: "I keep telling myself, 'Don't fall. Please don't fall.'" In between trips to the stage, Giants players made good use of the open bar ("We're hydrating for camp," Pierce explained) and game planned for their speeches. Michael Strahan broke it down: "Eli desperately does not want to give a speech. I'll probably have to do it." If anyone needed speech tips, they could have hit up Tim Tebow. "I've given a few speeches in the past few months, if you know what I mean," the Heisman winner said.
Melo seems oddly mellow

Carmelo Anthony, usually a gregarious fellow, seemed a bit anxious about his future after the Nuggets traded Marcus Camby, "one of my closest friends on the team," for a bag of beans (and a second-round pick). "Man, that's a tough loss for us. It's tough to lose a two-time Defensive Player of the Year," he said. "But I guess the front office, the management, they had to do what they had to do. At the end of the day, it's a business." Asked if he fears that the Nuggets are looking to start over, he said, "We'll see what they do in the next couple of weeks." Rex Chapman, Melo is watching you.
You were great, Justin. Now, stay away from my girl
After the show, the reviews filtered in: A. David Beckham is liked. "I'm the envy of a lot of women right now," Parker said of meeting Becks. "It was strictly professional, Victoria!" she added. "I was a Spice Girl fan, too." B. Justin Timberlake rocked. "He's got swagger, man, and he's a great entertainer," Bob Sanders said. "LeBron [James] did a pretty good job last year," Melo added, "but Timberlake topped it. And he sure gets our girls excited." Indeed, said Adu: "I'm definitely not bringing any girls around that man." (It's cool, Fred, Justin has his own, Jessica Biel. And after spotting Biel backstage, Oden was clearly impressed.)
The after-parties
A few final notes from the night:
At the official ESPYS after-party, held on the upper deck of the Nokia parking lot: X Games demonstrations, two In-N-Out Burger trucks and many athletes who hide their drinks in their palms when taking photos with fans.
Around 1 a.m., Adu kindly invited Page 2 to catch a ride to the exclusive after-after-party in his limo. It was a strange ride filled with Fred's pals, a nice married couple that nobody knew, and a few young ladies. There was hot air blowing through the vents (there was much confusion about the A/C), a liquor bar stacked with bottles of what smells like rubbing alcohol and chatter revolving almost entirely around Facebook. Like I said, a strange scene.
Upon arriving at the after-after-party, which appeared to be held in a converted church, we slapped hands with Nick Lachey ("It's amazing that these people know who I am," Adu whispered) and then haggled with the door guy. It seems a few of Fred's friends didn't have tickets, but the soccer phenom waited it out, and they all got in.
And soon, they were all gone. Freddy left just minutes later for the Timberlake after-after-after-party, so I was rolling solo, and sharing in heavy gossip. One under-contract Pro Bowler says his days with his team are numbered. "It seems whoever leaves us gets a Super Bowl ring," he told me. "We're a mess."
There were women in glittery costumes dancing on platforms through what seemed like paper flames of fire. It was like hell, but with music and more tall people. Too heavy for my taste, so I took off.
Ten minutes later, I was picking glass out of my arm.
Thanks, Terrell.

Sam Alipour is based in Los Angeles. His Media Blitz column appears in ESPN The Magazine and regularly on Page 2. You can reach him at sam.alipour@gmail.com.