Half a continent away from home, the shy quarterback dressed quietly in a bathroom, away from the rest of the team.
When the signal-caller emerged for the big game, all eyes followed. The Pop Warner Super Bowl at Disney's Wide World of Sports Complex in Florida was a big-enough deal for an 11-year-old from small-town Harvey, Ill. The added attention just made the quarterback nervous. But as was often the case, something happened when the quarterback took the field -- the whispers became a roar, and the quarterback turned ferocious, demanding and in control, a consummate leader. The game later became a defensive battle marred by turnovers and a mostly stalled running game, but it didn't matter. With the first whistle, the ferocious quarterback had made history.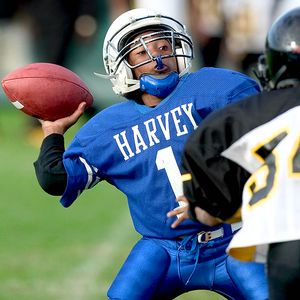 AP Photo/Scott Audette
Back in 2003, 11-year-old Jasmine Plummer led the Harvey Colts into the Pop Warner Super Bowl.
Almost five years later, that quarterback is again far away from home, standing in the lobby of a Westwood, Calif., movie theater swarmed by flashing bulbs, Hollywood backslappers and stars like Ice Cube and Tyler Perry. But this time, the quarterback is unmoved by the craziness.
Big-game experience will do that to a girl.
"I just want to get out of this dress," says Jasmine Plummer, 15, tugging on her turquoise gown. "I have some jeans in the limo. Can't wait to get back there."
Jasmine doesn't understand the hubbub. As far as the high school sophomore is concerned, she was just your typical jock. True enough, except this quarterback wore her hair in pigtails and, at age 11, led her Harvey Colts to the Pop Warner Super Bowl, becoming the first female QB to helm a team in the national tournament's 61-year history.
That's how Jasmine finds herself in Los Angeles on the get-out-of-school pass that is the world premiere of "The Longshots," the cinematic retelling of her story. Directed by Limp Bizkit frontman Fred Durst, whose indie debut "The Education of Charlie Banks" received solid notices, the new flick (which opened last weekend) from MGM and Dimension Films stars 15-year-old Keke Palmer ("Akeelah and the Bee") as Jasmine and Ice Cube as her uncle and coach Curtis Plummer, a character based on Jasmine's real uncle and coach, Fred Johnson.
It all started with a game at the park and 23 stitches.
In the spring of 2001, Cassandra Johnson answered her door to find a stranger, a rather large teenage boy, holding her daughter in his arms. Jasmine, only 8 at the time, was bleeding severely from a cut on her knee. She wasn't crying. Naturally, Mom freaked anyway.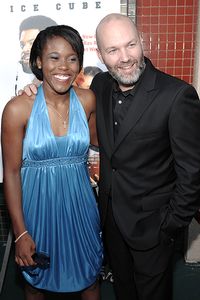 AP Photo/Chris Pizzello
Jasmine, with director Fred Durst at the premiere of "The Longshots," couldn't wait to change back into a pair of jeans.
"What happened to my baby? Cassandra shrieked.
"She hurt her leg tackling somebody," the frightened boy responded.
"Tackling who?"
"Me," the boy said.
The boy stood nearly 6 feet tall. Unbeknownst to her mother, Jasmine had taken up tackle football with the neighborhood kids -- big ones, too. "I used to play with Barbies and stuff, but that just got too boring," Jasmine says. "The boys looked like they were having more fun."
Just one week after receiving those 23 stitches on her knee, Jasmine was back playing football at the park -- and, her uncle noticed, tossing the pigskin with a tight spiral and quite a bit of velocity. After delicate negotiations with Mom, Fred Johnson signed his niece up for Pop Warner, the national nonprofit youth football program with roughly 250,000 participants whose ages range from 5 to 16.
After Jasmine spent her first year toiling on the bench ("The coach was scared I'd get hurt," she explains), uncle Fred snagged her for his Harvey Colts, of the Mighty Mite division (7-to-9-year-olds), and named her the starting quarterback. It was a demanding leadership role for any young athlete, particularly a gridiron novice who largely kept to herself. "I was really quiet, mostly liked to draw and maybe go to the mall," she says now in a voice so soft you have to lean in close to hear her. "But when I got on that field, it changed me. I was very controlling and loud. Maybe too loud."
Her teammates initially were reluctant to embrace her, she says, "but when I started playing and we started winning, they liked me." Soon after, they were playing basketball at the park in their free time. Cassandra, too, came around. "At one of her first games, she hit one of the other boys, and I mean hit him. Broke his arm, actually. After that, I knew she could handle herself."
See, besides having a cannon for an arm, Jasmine was fast and strong for her size, so her uncle tried her at linebacker, too. "And, boy, was she a beast," Fred Johnson recalls. "Just as good a linebacker as she was a QB." Jasmine, who was only 4-foot-9 and 90 pounds at the time, laughs as she recalls one of her first games as a two-way player, when she'd decleated several ball carriers, then, after the final whistle, added insult to injury by removing her helmet and unleashing her locks. "I still remember the other coach shouting at his players, "Wait, she's a girl? You guys got beat up by a girl?' I thought that was funny."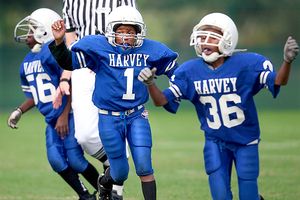 AP Photo/Scott Audette
Jasmine (No. 1) and her teammates celebrated a big completion in the Pop Warner playoffs.
The Colts romped through the regular season with a perfect record before losing in the regionals. The next year, Jasmine was bumped up to the Harvey Colts of the Junior Pee Wee division. "She's the best all-around player I've coached, next to [Washington Redskins wide receiver] Antwaan Randle El," her coach, Jim Stovall, said at the time. "She does it all -- scramble, throw, and she's a true leader."
With Jasmine at the helm, the Colts ran up an 8-1 record, then sailed through the regional playoffs to earn a trip to the Pop Warner Super Bowl in December 2003.
Jasmine's tale would become a "Rocky" story -- the original "Rocky," in which the Stallion fell to Apollo Creed -- because the Colts lost 13-2 to powerhouse Southeast Apaches (Texas). But in the consolation game, a matchup with Hawaii's Kailua Mustangs, Jasmine threw for a touchdown and ran in another as the Colts won 14-0. "I was feeling it," Jasmine recalls. "Couldn't do anything wrong. The closest I come to feeling like that is when I get straight A's."
Jasmine's mere presence in the tourney brought scores of national media to Orlando. Screenwriter Nick Santoro ("Prison Break" writer/producer) quickly snapped up the film rights, wrote the script and took the project to Ice Cube and his Cube Vision partner Matt Alvarez, who then brought MGM and Dimension on board.
Crazy, right?
"Crazy," Jasmine says. "At first, I didn't believe it. Who wants to make a movie about me? I was just a girl who loves sports. What's the big deal?"
Ice Cube, of course, begs to differ.
"Playing quarterback, in any league and no matter what age, is the hardest position in sports," he says. "For Jasmine to do it, and to take her team to the championship despite all of the obstacles, everyone telling, 'You can't do it,' to me is incredible. She's a very brave and very strong girl."
And, it seems, she's not the only one. Pop Warner media relations director Josh Pruce says the number of girls participating in the football program has more than doubled the past five years from 5,000 to an estimated 12,500. According to the National Federation of State High School Associations, that boost is reflected at the prep level, too, where nearly 2,000 girls play football, compared with 658 in 2000.
"Girls don't want to be excluded, and this is the last big sport they've been prevented from playing," says Catherine Masters, CEO of the National Women's Football Association, a full-contact league with 40 teams nationwide. "We get countless e-mails yearly from young girls who've played backyard football with their brothers all their lives, or football in boys' leagues," says Masters, "and they're simply tired of sitting on the sidelines."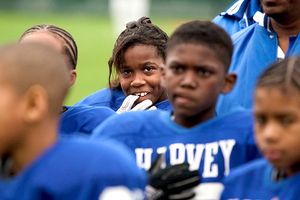 AP Photo/Scott Audette
The 11-year-old with pigtails is now a sophomore in high school, playing varsity basketball.
No fewer than three women's pro leagues now exist. "Men are actually very supportive," Jody Taylor, director of media relations for the Women's Professional Football League, said recently. "The real obstacle is the older generation of women who think their daughters should stay at home and cook dinner."
Jasmine, in her typical low-key way, won't take any credit for the trend, but "she was an inspiration to a lot of girls who didn't know that football was even an option," says Pop Warner's Pruce. "She also changed the way coaches and old-school people who've been around football all their lives approach this. The thinking was, 'What can a girl possibly add?' Jasmine provided the answer."
After five years in Pop Warner, Jasmine quit football ("The boys got too big," says the 5-3, 115-pounder), but she hasn't stopped dreaming big. She now runs track and plays point guard for the girls' varsity basketball squad at Joliet West High School with the goal of one day playing in the WNBA. If that doesn't work out, she wouldn't mind tossing the pigskin for the local Chicago Force of the WPFL.
Right now, though, she just wants to find that limo. Immediately following the screening, she fields hugs from cast and crew, poses for photos with new fans -- including boys from a local Pop team -- and then makes a beeline for her ride. She has class tomorrow. Plus, she can't wait to get into some jeans.
"The movie was great, and hopefully it gets me some attention from college basketball programs," she says. "Mostly, I just hope the movie gets more girls playing football and helps show the boys that we're equal. That would be really good.
"We can do anything you can do," she adds with a shy smile, "but we can do it better."
Ah, the sweet trash-talk of a jock -- whatever the gender.
Sam Alipour is based in Los Angeles. His Media Blitz column appears in ESPN The Magazine and regularly on Page 2. You can reach him at sam.alipour@gmail.com.