Commentary
Get your popcorn ready for T.O.
Originally Published:
July 16, 2009
By
Sam Alipour
| Page 2
LOS ANGELES -- There are a great many reasons for athletes to make the rounds during ESPYS week. Gift bags, roughly 607 open bars, making kissy-faces with attractive people -- heck, rumor has it there's even some sort of awards show.
For business-minded veterans, though, the ESPY Awards can serve as a week-long sales pitch. The savvy and always controversial Terrell Owens knows this, so he's getting with the likes of Ryan Seacrest and Mario Lopez -- as well as hordes of red-carpet parasites, including those nesting at Tuesday's official ESPYS pre-party, hosted by Carmelo Anthony and LaLa Vazquez -- to, in part, serve notice.
Get your popcorn ready -- and forget what you've heard about the man you know as T.O. -- because "The T.O. Show" premieres Monday, July 20, on VH1 with a special one-hour episode. And it'll set the record straight.
From what we hear, the reality show about the Bills' big-time acquisition hits the key notes. Owens' fish-out-of-water act in Buffalo delivers the comedy. Want drama? Cameras followed as he learned of his release by the Cowboys and reconnected with his estranged father. Where's the romance? Mr. Owens is shopping for a lady.
Earlier in the day, Media Blitz caught up with Owens to talk about the show, his time with the Cowboys, his new home and what he'd say if he were to run into Tony Romo at the ESPYS. (The 2009 ESPY Awards: Where bridges can't be rebuilt.)
Blitz: You're an ESPYS veteran, so you know ESPYS week is tailor-made for self-promotion. Great timing for your project, no?
Owens: This is the first time they've done a [reality] show about a player who's active in his sport. Doing ESPYS week is no different than all the billboards and ads that are out there in the cities. I'm creating a buzz, and what better way to promote it?
How did "The T.O. Show" come about?
[+] Enlarge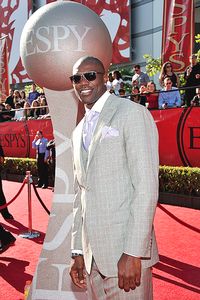 Kevin Mazur/WireImageT.O. is ready for his prime-time close up.
This is something I've had in the works for years now. I pitched it five years ago. What's interesting is, originally this was supposed to be a dating show. I have two girls who are my publicists, and most importantly, my longtime friends, and they've been trying to find the right girl for me. So it was originally a "Bachelor" type of show: T.O. trying to find love. The title was going to be "Playing the Field." But once we started shooting for the pilot, they saw that what I had to offer, my life, is a lot more interesting. So they named it "The T.O. Show." It's now a project that lets people get a feel for who I am versus the perception and what the media has portrayed me to be.
So you're saying viewers will be getting "Terrell Owens" and not that "T.O." fella?
Exactly. You know, I've always been in situations where I have to defend myself. And even when I defend myself in a justifiable way, the media takes it and edits it, turning a positive into a negative. To give you an example of that: When I returned to Dallas for my kids' camp, they asked me about Dallas and Romo, and I when I answered the question about being a scapegoat [for the Cowboys' problems], basically I said everybody on our team knew that Tony was our quarterback and our leader. Whether or not he carried it out, well, they wanted to use me as a scapegoat for that. A few days later, I'm back in L.A. and the lead-in on ESPN is "T.O. Rips Romo." Know what I mean? It's so trippy because when people see these networks talk so negatively about me, they think T.O. is who I am as a human being. When really that's not who I am. These guys don't know what's going on in the locker room. I've had a number of teammates in Dallas support me no matter what. But they're not reporting the positive comments coming out my teammates' mouths. They want to paint me as a bad guy. I want people to see this and say, "Wow, that's who he is," and not listen to only the detractors.
So did you score on the show? Did you find a lady?
Well, we'll have to wait and see. You know, I can't let the cat out of the bag, but it's going to be interesting …
Dude, you're one of the biggest stars in America. You telling me you can't get a lady?
It's not so easy dating a girl. Everybody thinks athletes have all these girls throwing themselves at us. In a sense, that's true, but you can't just gravitate towards everybody who throws themselves at you. You have to be selective. It's hard to get out there and find the right one.
The show also covers your move to Buffalo. There, you're a big fish in a small pond, which can lead to more trouble. I mean, even your house search became news --
(Laughs) Man, I am who I am. I'm more than a football player. If I wasn't, they wouldn't talk about me as much as they do. I'm a celebrity. I'm treated as a celebrity.
Americans love or hate you. So far, where does the reaction from fans in Buffalo fall along that line?
I mean, the hate, if there's any, is very, very minimal. The fan support has been great. I'm sure there's always people sitting back waiting for something bad to happen. But they don't know me, and that's understandable.
And how about your Bills teammates? Are they giving you a blank slate?
For everybody, it's different. There is going to be apprehension on some people's parts. I went through the same things in Philly and Dallas. But I've already had teammates come to me in private and say, "Man, you're nothing like I thought you'd be." I'm very secure about where I am in the locker room.
This show isn't just T.O. doing crazy things. There's also some heavy stuff. One thing you did was reconnect with your dad, who'd been absent in your life.
It's something I never envisioned or scripted. I never knew this could happen. As the show started to develop, what was discussed with [my dad] was very authentic. The relationship has gotten better. There was a time that I really resented the fact that he wasn't in my life. But as I've grown and matured to become a man and father, the process took a different avenue.
Another heavy matter that's captured is your release from the Cowboys. Cameras met up with you shortly after. What did they see?
Oh man, it's hard to recapture that moment now. But all I can say is it was very disappointing, very disheartening. I went through a range of emotions, for a number of reasons. Pretty much all my life I've been without a dad. And I had a new dad [in Jerry Jones] that told me certain things that didn't come to pass. Know what I mean? So this was down that same path, where I had an owner who told me "You ain't going anywhere. Don't worry about the reports. None of that." This is somebody I confided in for the last few years and trusted myself with. But obviously, that didn't hold to be true. You don't understand how that can be. Imagine if ESPN told you "Sam, don't worry about anything. Your job is secure for the next X amount of years, blah blah blah." OK, so you're going to go around with your head held up high, going about your business, and then they say, "Actually, you're fired." How would you feel?
Did they ever give you a reason?
I still don't have a reason. I did get a letter, which was kind of interesting, probably protocol when they're releasing somebody with a termination later. I found it interesting that they remarked that my release was due to my production on the football field. That's probably just a legal process. But that clearly wasn't the case about my production.
Do you think Roy Williams and Tony Romo can carry the load?
Roy is a very talented receiver, and he has a number of other guys that can learn. Clearly, those guys are my friends: Roy, Patrick [Crayton], Sam [Hurd], Miles [Austin], Isaiah Stanback; they know what it takes to win. That's the saddest part of leaving the team, all those friends that I had while I was there.
If you run into Tony Romo at the ESPYS, what's that conversation like?
We don't have a conversation. I think I'm pretty much an open book. There isn't a conversation. There wasn't one when I was released, so why now? Those lines of communication have been there all along. So there's no need for a conversation now.
Your prediction for the Cowboys sans Terrell Owens?
All I can, Sam, is go back and look at the teams I played for, how they did with me and how they did after me, and draw your own conclusion.
Let's be honest: You've been with three teams and all three stints ended on sour notes. Do you acknowledge the pattern there?
There's a pattern there, yeah, on how it's reported. Obviously I've left those teams on a sour note, but I can't say I'm totally to blame. I feel I did everything I can to help my teams. I'm not worried about it. My performance speaks for itself. Other than that, I've never been in any legal trouble off the field. Instead of people focusing on that, they want to put me with those guys. But they have ratings to meet. God has a hand in my life and led me to Buffalo, and I'm going to make the best of it. Every place I've been, there's been questions on how I'll fit in. And I've delivered, so why stop now?
How's the Bills' offense going to look?
Oh, I'm really excited. We have threats on both sides of the field. If you're a defensive coordinator, who do you stop? Me? Lee [Evans]? Marshawn Lynch, our running back? Freddy Jackson? Who do you stop? But success really depends on the guys up front. If they can protect our quarterback, we'll be successful.
Almost forget, breaking news: People magazine is reporting Tony and Jessica Simpson broke up.
Oh, the breakup. Typical of any type of relationship: sometimes they last, sometimes they don't. I think it sucks for Jessica, right before her 29th birthday, and birthdays are a big deal. I'm pretty sure it wasn't a happy birthday for her. But she's a great girl, and she has great family support.
As your viewers will see, it's not easy to hold down a relationship as an athlete. So you and Tony see eye-to-eye on that, right?
Oh yeah, definitely.
Sam Alipour is based in Los Angeles. His Media Blitz column appears regularly in ESPN The Magazine. You can reach him at sam.alipour@gmail.com.
ESPN The Magazine
Sam Alipour (
@SamAlipour
) is a senior writer for ESPN The Magazine, ESPN.com and the host of Hang Time.