Loving the Midsummer Classic
We've all heard the arguments about how every sport fails to deliver during its respective all-star game.
We know … the idea looks great on paper, but bores you to tears when you watch it on TV.
Well, maybe you just aren't watching closely enough.
Just off the top of our heads, we came up with 78 reasons to love the 78th MLB All-Star Game.
1. We're contractually obligated.
2. It's the only time one can positively verify that the Royals and Pirates still exist.
3. The joy of watching an All-Star Game without the Yankees in playoff contention.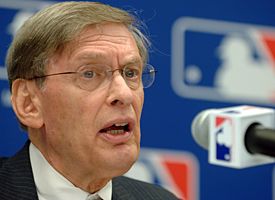 Bryan Bedder/Getty Images
We'd really like to see Bud's expression when Bonds goes yard.
4. The camera shot of Bud Selig after Barry Bonds homers.
5. Any post-fifth inning moment when the game is tied … and all cameras zoom in on Selig.
6. Realizing it's like "America's Got Talent," "Puerto Rico's Got Talent" and "The Dominican Republic's Got Talent" all rolled into one.
7. We can officially find out what the Giants' stadium is named these days.
8. It provides a rare chance to see Barry Bonds cheered.
9. Watching Derek Jeter and Alex Rodriguez bolster their "Who's Now" qualifications.
10. Going outside and actually doing things is so last century.
11. We hold out hope that they'll run highlights of Dave Parker's throws to third and home in 1979.
12. To see if C.C. Sabathia gets blown off the mound, a la Stu Miller in 1961.
13. To watch Tony La Russa use all his pitchers by the sixth inning.
14. Staying up until 12:45 a.m. on a Tuesday night … for an exhibition game.
15. You can always TiVo "Dog The Bounty Hunter" for later -- this is live TV!
16. Because Greg Oden is no longer playing in the Vegas Summer League.
17. At any moment, someone could hit one into McCovey Cove.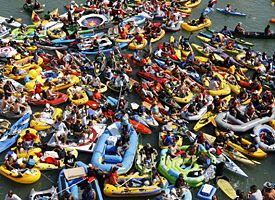 AP Photo/ Kevork Djansezian
It might not be as comfortable as your couch … but it's a lot more memorable.
18. To see someone acting like an idiot in McCovey Cove, and your subsequent jealousy that you aren't right next to them.
19. Anytime anyone steps in the batter's box (well, except the pitchers).
20. This time it counts (probably against the National League).
21. To see Alex Rodriguez finally play in a game "that counts."
22. The National League's starting outfield bringing 1,556 career home runs to the table.
23. It's a chance to see all of the up-and-coming players who will one day make it big on the Yankees or Red Sox.
24. That one guy in the stands who actually bought the All-Star jersey.
25. That one guy in the stands who bought the jacket with every team logo on it.
26. That one guy in the stands with the Royals jersey on.
27. Being told what Fox is offering in its fall lineup by watching Jeff Foxworthy and Brad Garrett eat hot dogs.
28. Any highlights of Willie Mays.
29. Any highlights of Willie McCovey.
30. Any highlights of Barry Bonds in a Pirates uniform (complete with sweet 'stache and umm, a slighter build).
31. Any highlights of Pete Rose knocking Ray Fosse on his ass.
32. To see if Prince Fielder bowls over Pudge Rodriguez, a la Rose over Fosse.
33. Homefield advantage in the World Series settled by: Dmitri Young vs. Gil Meche.
34. To see whether Jim Leyland tops the over/under of 25½ cigarettes.
35. To see if Leyland has J.J. Putz throw five innings -- just prior to the Tigers' series in Seattle.
36. The potential for Alex Rodriguez to hit one to Alcatraz.
37. Manny being Manny … with the game (and we remind you again, homefield advantage) on the line.
38. Torii Hunter stealing another home run from Bonds.
39. Trying not to laugh at the NL batters when you realize the first few pitchers they'll face will probably be Dan Haren, Josh Beckett and Johan Santana.
40. Counting the number of times the announcers use "Cecil" and "estranged" in any story about Prince Fielder.
41. Counting how many times the words "Matsuzaka" and "someone to talk to" are in any story about Hideki Okajima.
42. First pitch … Jake Peavy (9-3, 2.19 ERA) vs. Ichiro (.358 BA, .410 OBP).
43. To see if the National League still gives a damn.
44. To hear the reception that San Franciscans give to Bud Selig.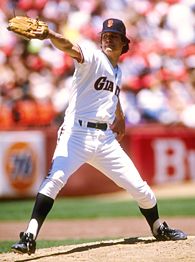 Otto Greule/Getty Images
Atlee Hammaker allowed the only grand slam in All-Star history -- to Fred Lynn in 1983.
45. Three words: Atlee Hammaker cameo.
46. Laughing at the Mariners for having a pitcher named Putz … then seeing on the screen that he has an ERA of 0.88 and 24 saves.
47. The potential for jokes if A-Rod rounds second on an infield popup.
48. Taking your hat off and standing up (even though you're on your couch) during "The Star-Spangled Banner."
49. The F-16 flyover.
50. To see if Derrek Lee and Chris Young exchange pleasantries at the watercooler.
51. Hearing Joe Buck remind you "It's game time, so grab an ice-cold Budweiser."
52. To see Barry Bonds hit second.
53. Johan Santana's changeup.
54. Jonathan Papelbon's fastball.
55. How after 18 years and a million injuries, it's still great to watch Ken Griffey Jr. swing a bat.
56. Seeing how many new handshakes David Ortiz was able to come up with since Sunday.
57. To dispel the rumor that Jerome Bettis is in fact from San Francisco, not Detroit.
58. Trying, from memory, to calculate the salary of the AL starting lineup.
59. Trying, from memory, to calculate the salary of the NL starting lineup.
60. Not telling anyone you read this today, then looking like the Schwab when you tell everyone that it's $52,015,260 total, $5,779,473.33 average for the NL and $120,207,164 total and $13,356,351.55 average for the AL.
61. Having a more than legitimate excuse to buy peanuts and/or Cracker Jack.
62. Knowing that you won't have to see Ronan Tynan sing "God Bless America."
63. The potential for A-Rod opting out of his contract during the seventh-inning stretch.
64. Wondering who it is on StubHub.com that's selling 10 tickets at $8,999 apiece.
65. Being informed that despite what you've heard about the AL, it's still seven games under .500 all time in All-Star Game play.
66. Mike Piazza making a return to the All-Star Game … only when it's mentioned he was the last National Leaguer to win the MVP (in 1996).
67. Seeing if La Russa changes his mind and bats the pitcher eighth -- and Bonds ninth.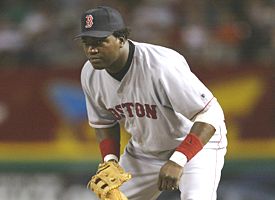 Brian Bahr/Getty Images
Prediction: We won't hear the words "David Ortiz" and "catlike" in the same sentence.
68. The defensive prowess of Big Papi at first base.
69. To see if Barry Zito crashes the festivities with satin pillows and scented candles.
70. Just for the possibility of seeing the replay of Tommy Lasorda getting thwacked by Vlad Guerrero's bat barrel in 2001.
71. Using the game to officially kick off the hype machine that is the MLB trading deadline and deciding who is "buying" and who is "selling."
72. … and then calling your friends with trade suggestions that would get even Ken Williams fired.
73. Checking to see if you read the TV graphics correctly … Pudge Rodriguez is a 14-time All-Star? (Yeah, he is.)
74. Hating the "every team is included rule" -- then remembering how crushed you would have been as a kid if your team wasn't there.
75. The possibility of Manny Ramirez's recent "intestinal turmoil" rearing its ugly head … in left field.
76. Watching Giants mascot Lou Seal and his "suggestive" dance moves (and seeing if Fox shows it all).
77. The possibility of someone saying "it's gut-check time" during a close game … with the camera on C.C. Sabathia or Prince Fielder.
78. Check your local listings … there's nothing else on.