Commentary
He's getting paid to eat ballpark food
Originally Published:
September 30, 2009
By
Eric Angevine
| Special to Page 2
Adam Richman, host of the Travel Channel series "Man v. Food," grew up in Brooklyn idolizing athletes. In the first two seasons of his show, he has participated in eating challenges across the United States, including in college football hotbeds such as Austin, Texas, and Columbus, Ohio. He has run the food triathlon in Durham, N.C., with NFL star Dhani Jones as a teammate. And, in an episode that will air Wednesday, Richman indulges his passion for baseball by visiting three minor league ballparks that dole out bizarre variations on classic ballpark food, in true "Man v. Food" style.
Page 2 talked to Richman about how to eat like a man but still meet women, what a bacon cheeseburger inside a doughnut tastes like and how he differs from Paul Newman.
Page 2: The concept of your show is something that every guy recognizes. It's basically, "I double-dog dare you to eat that giant hamburger." How did you end up accepting dares for a living?
Adam Richman: I'm glad you picked up on that because that's exactly the vibe. It's not like, "Let's roll out the giant eating machine!" The aplomb with which I approach these challenges is just like you and your boys on a road trip -- you see this cool place to eat, you pull over and suddenly you see a sign that says, "Finish the ______ and everyone in your party gets a T-shirt." Then your boys start punching you in the arm and saying, "C'mon! You can totally do it!" And then it becomes this shared story.
I always wanted to say this if I got interviewed by ESPN: You just have to play them one game at a time. Sometimes you win, sometimes you lose and sometimes it rains. I'm just happy to be here, and hope I can help the ballclub.
It's weird; I never did an eating challenge before the show started. I had a food background and an acting background, and I found out about the opportunity to host the show through my agent. I auditioned and ended up with this great job. I didn't know I could do it; they didn't know I could do it; and, quite frankly, I still sometimes wonder if I can live through it.
You make it clear at the beginning of the show that you are not a professional competitive eater. How does an ordinary guy prepare for one of these challenges?
Prayer. Have Zantac, will travel.
Truth is, I eat extraordinarily healthfully when I'm not doing a challenge -- which I think is the biggest component to any success I've had, in terms of staying alive and staying somewhat appealing to the fairer sex through Seasons 1 and 2 of "Man v. Food."
Hydration is really big, and, for the big-quantity challenges -- people think I'm full of it -- exercise. I do a very heavy leg and back workout, which gets my metabolism just screaming. It really helps.
Competitive eaters are often pretty lean.
Generally speaking. That's because adipose tissue [body fat] restricts the expansion of your stomach. That's something I've learned while doing the show. So you want as little fat on your stomach as possible.
How long does it take to recover?
Depends upon the challenge. It's a different recovery from quantity than it is for spice.
Aside from the eating, you also get to tour American towns large and small. How do you choose your destinations each season?
Generally speaking, the challenges are our point of departure. There's no episode without a challenge. Once we find a good challenge, we contextualize it with the other episodes to find out what will make a great season. From there, these cities have varied options of where else to go, a nice culinary panoply of things to try. The other stuff comes through due diligence and research.
I see Springfield, Ill., on your list of upcoming episodes. How'd that town get slotted in with the likes of Austin, New York and Honolulu?
The food challenge in Springfield is one of the oldest in America. I always say it doesn't matter whether I win or lose, it's all about being part of the culinary folklore of a city -- and since this is one of the oldest, it was something I couldn't really pass up. It's also a place that people don't usually go on vacation, but it's an important part of our country. It's the boyhood home of one of our most iconic presidents [Abraham Lincoln]. It has an identity. For better or for worse, to shine a candle on a place we can take pride in is something we can cherish.
The sandwich in Springfield is called "The Horseshoe," which is just found in south-central Illinois, and I don't think it's ever been shown on TV before. So the opportunity to showcase a new food is really cool.
If you're on a real cross-country road trip, you're going to stop in places like that to eat.
That's the thing! It's just on Route 66. The original corndog is from Springfield, and the birthplace is still standing.
Most of the challenges boil down to a "Cool Hand Luke"-style "eat a lot of something very fast" or "eat something very hot and somehow manage to finish it." Which is tougher?
Let me make a distinction. The "Cool Hand Luke" comparison kind of works, but that was about eating multiples of something, which is more like competitive eating. I think "Man v. Food's" sine qua non is one big burger or one big pizza, one big sandwich. So it's not 50 eggs. I'd have to eat an ostrich egg.
I'm telling you right here, they're all tough. I love my job -- the challenges, the actual experience. But the actual doing is very difficult. If it were easy, it wouldn't be a challenge, right?
[+] Enlarge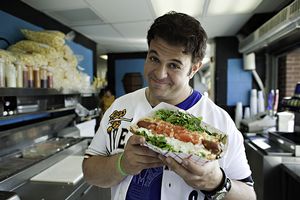 Travel ChannelRichman prepares to bite into the 1/2-pound Homewrecker Dog, which is just one of the unusual food choices offered at a Charleston RiverDogs game.
Do you ever get a chance to enjoy the way something tastes?
Oh, absolutely I do. Most of these challenges are freakin' ridiculous because they taste so good. Half of the time when I win on these big-quantity ones, I'm coasting solely on taste. Even with some of the spicy ones, it's the taste that actually propels me onward. It's not like I'm a rapacious eating machine; it's more like, "Damn! I want to keep eating this cheesesteak! I want another bite!"
You're headed out to the ballparks in an upcoming episode. You can get the standard hot dogs and peanuts just about anywhere, so what types of unique foods are you focusing on?
Definitely, there were lots of variations on a theme. I love minor league ball. My favorite sports are probably college hoops, college football and minor league baseball. There are some major league teams I root for -- I'm a Yankees fan, I'm a Dolphins fan -- but I love minor league baseball. I always have, I always will. I find it to be truly the love of the game made manifest. It's very much about the fan, very much about the experience. Regardless of whether it's a franchise team -- like the West Michigan Whitecaps or the Charleston RiverDogs -- or whether it's an independent Frontier League team like the Gateway Grizzlies. It's athletes who play with all heart.
So I find that the food in minor league ballparks is all about personality, rather than price point, which is so endemic to the major leagues. I'm a New Yorker, and we have these two teams that tank in the postseason but just got new stadiums with top restaurateurs. Then you go to someplace like Charleston, S.C., where they've done something so brilliant as to give each hot dog stand its own personality and its own signature dog. It makes each snack bar a destination instead of just another place to plunk down your credit card and get a beer or a hot dog in that little foil thing. DayGlo cheese sauce -- hell no!
It's like, "You can get the Homewrecker dog over here! The Hickory dog over here! The Carolina dog!" When was the last time you were at a ballpark and got a hot dog with wasabi, pickled okra and sweet potato mustard? Or Philly cheesesteak nachos, or a hamburger between two halves of a Krispy Kreme doughnut? They can do that at a minor league park, because it's about the experience.
I've heard of celebrities getting body parts insured. Have you considered taking out a policy on your stomach or taste buds?
I have health insurance, but nothing crazy like Barbra Streisand insuring her nose. If anything, I would assume it would be my teeth or my mouth rather than my gut.
The bottom line is I'm still going to eat even if I'm not doing "Man v. Food," but not those kinds of portions. That's the great thing -- because we generally shoot a challenge a week, we don't do a bunch in a row, so I have time to recover. It's actually helped me adhere to my diet more than I did before. My cheat days are built in, so I'm less likely to be stupid. Sure, it sucks walking past the pizzeria in summer, when I'd love to grab a slice. But I know before long I'll be back on the road with chili, burgers, hot dogs and fries; it's like I'm perpetually at a sixth-grader's birthday party.
Then I know when I go home I can have vegetables and stuff. And when I'm at my breaking point and I want to do something naughty, along comes "Man v. Food" and I can indulge.
[+] Enlarge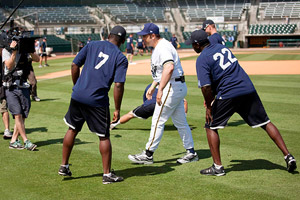 Travel ChannelRichman attempts to stretch, trying to stay healthy despite all that food.
It's important for me to stay in shape. If I start looking really, really bad, folks will start to worry, and they won't enjoy the show. Plus, I want to have sex! So that motivates me.
Any plans to take the show outside of the U.S. in the future, or is sport eating more of an American phenomenon?
Absolutely not just an American thing. There are no concrete plans to do that yet, but we've uncovered a plethora of international eating challenges. You've got Australia, Japan, Germany, Polynesia, China -- there's quite a lot of them! There are cultures that extol these competitions. There's been ample talk and investigation, but we're still trying to figure out how it will work within the context of a season. I feel the sheer expense and effort of putting together an international episode is so huge that, for a half-hour show, we'd have to film multiple episodes on one trip. Hope springs eternal for Season 3! My passport's valid. I'm ready to go.
Given that we're in a recession, your show seems perfect for someone who wants to discover America on a budget. Is this a really affordable way to have a good time?
Absolutely, and I'm proud that on my show we're not going to Guam or the French Riviera or Monaco or Trieste [Italy]. We're going to Pittsburgh or Springfield. These are the destinations that don't require a travel agent or a reservation. They require putting the car in drive and stepping on the accelerator. A family of four can go to a place that's in their own backyard, and have meals that are unique and special and made with love and tradition. They can read the menu and speak to the waitress but still be in a place that's different from home. It's too great of a gift to look away. As someone who has worked in these types of restaurants and comes from working-class roots in Brooklyn, I love that we're bringing an audience to these mom-and-pop places and building a sense of national pride at a time when that pride may be wanting. It's the best feeling in the world.