Commentary
Ernie Harwell inspires Dan Dickerson
Originally Published:
May 25, 2010
By
Jeff Arnold
| Special to Page 2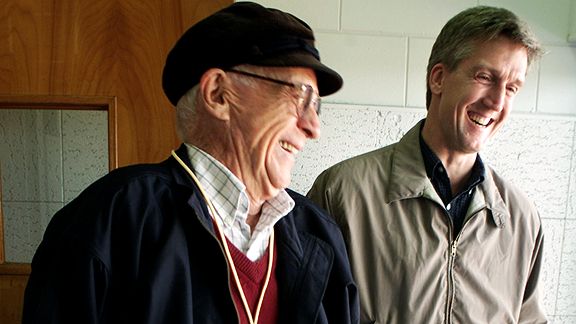 AP Phioto/Duane BurlesonErnie Harwell and Dan Dickerson share a laugh prior to Harwell's final season with the Tigers in 2002.
DETROIT -- The question comes up occasionally, lending credence to Dan Dickerson's call-it-like-I-see it approach.
The guy has been the radio voice of the Detroit Tigers for only seven years, but people approach the mild-mannered Dickerson and ask when he'll deliver something he can truly call his own. Something that will stick to Dickerson the way phrases did to his predecessor, the late Hall of Fame broadcaster Ernie Harwell.
Even after Dickerson became the Tigers' lead broadcaster in 2003, he resisted the urge to describe regular occurrences the way Harwell did by mentioning houses on the side of the road or pegging a hometown on fans who snared foul balls.
"I just thought when you force it, it sounds forced," Dickerson says.
It took Harwell -- who died May 4 at age 92 -- some 40 years to come up with his familiar "loooonnnngggg goonnnne" home run call that became part of Michigan's summer soundtrack.
Dickerson chooses to keep things simple, occasionally peppering his broadcasts with his subtle, nuanced stylings rather than a forced shtick.
This was the case even when he had to suddenly inject the news of Harwell's passing into a Tigers game broadcast against Minnesota. Reliving the moment two weeks later was still difficult. On the day of Harwell's death, Dickerson was fighting back tears.
"We have some sad news," Dickerson said that night. "Ernie Harwell has passed."
The remaining 8½ innings became a Harwell tribute blended with routine play-by-play.
[+] Enlarge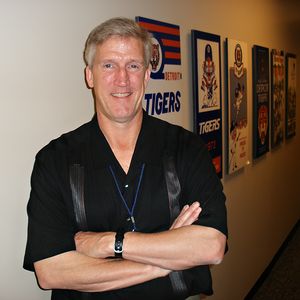 Jeff ArnoldDickerson carries Harwell's words of advice with him regardless of whether the Tigers are winning the AL pennant or losing a franchise-worst 119 games.
Dickerson has worked in news, often covering tragedies and other realities of life. Even in his toughest assignment, Dickerson relied on a piece of Harwell wisdom -- making sure he got what was in front of him correct.
"I've never had a tough time on the air like that," Dickerson said, his eyes welling up with tears. "I couldn't get the words out."
Dickerson grew up listening to Harwell call Tigers games, soothed into a late-night trance by Harwell's slow, Georgian cadence. He embraced every sound -- both in the broadcaster's voice and in the ballpark's natural surroundings -- never realizing he would be the one to pick up the tradition once Harwell retired in 2002.
But Dickerson quickly learned that his job would entail more challenges than just being Harwell's follow-up act. In Dickerson's first season, Detroit lost 119 games.
Suddenly, the identity of the person calling the game became secondary to the struggles the Tigers were experiencing on the field. "I was under the radar -- no question about it," Dickerson said.
"But that allowed me to find my voice and figure out how this whole lead [announcing] thing worked."
Between 2000 and 2003, when the Tigers lost 404 games and Dickerson would work the middle three innings with Harwell in the booth, the mentor shared important knowledge with his pupil.
"Someone's always tuning in, and they know what the record is," Harwell said. "Give them a reason to listen because you may see something you've never seen before. You may see a great game between two bad teams, or you may see a great individual performance."
But Dickerson is about calling 'em as he sees 'em.
Whether he's describing a home run or a strikeout, the only difference in Dickerson's voice is a noticeable rise in pitch when the situation calls for it. Like Harwell, Dickerson is always quick to praise a memorable play -- even if it was made by Detroit's opponent.
If a moment of stylistic genius comes, Dickerson makes a mental note of it, storing it away to possibly use again.
Although the Tigers recognize him as their official radio voice, Dickerson isn't as quick to accept the title, leaving it instead with Harwell, whose just-the-facts approach has rubbed off on his successor.
"I always take a piece of Ernie into the booth with me every day," Dickerson said. "But I always say I'm the guy who followed Ernie -- not the guy who replaced Ernie."
Jeff Arnold is a freelance writer for Sports Media Exchange, a national freelance writing network.