Commentary
KISS does a high school Homecoming
Originally Published:
March 1, 2010
By
Danny Arruda
| Special to Page 2
It was 1974 -- the straitlaced football heyday of Woody Hayes and Bo Schembechler -- and in northern Michigan, you could hear a pin drop in the way-too-tight Cadillac High School football locker room before games.
That's when an enterprising assistant coach named Jim Neff had a brainstorm. Why not rev up the Cadillac defense by playing a little pregame rock and roll? Like, for example, KISS?
When the bold plan led to a big winning streak -- and a conference title -- Jim Neff and the band he loved hatched a daring plan … to make Homecoming the following year an event the town of Cadillac would never forget.
Nearly 35 years later, no one has.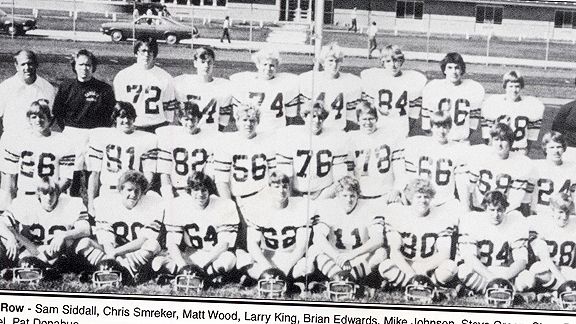 In the fall of 1975, the Vikings of Cadillac High School in Cadillac, Mich., were coming off an undefeated season and a third-place finish in the state of Michigan. With aspirations of having another great season, the team stumbled out of the gate with a 0-2 start. Head coach Dave Brines believed his team needed a jolt. "I've always felt that emotion, desire and those things are more important than athletic ability. It's what a kid thinks in his mind, and we always taught if you think you can do it, then you can." (Photo from Cadillac Yearbook, courtesy of Jim Neff)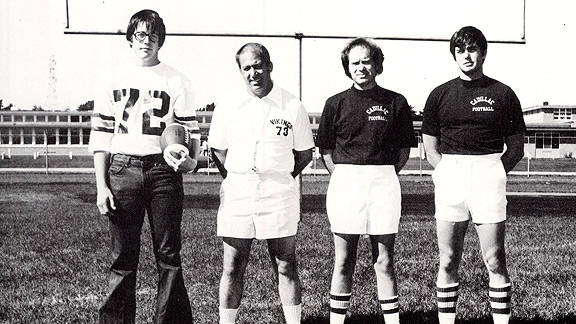 Brines and assistant coach Jim Neff had a revolutionary idea about motivating the team. Neff recalled the conversation: "Brines said, 'We need to loosen these people up,' which was a startling statement to me because as an old Marine he was pretty straightforward and straitlaced. And I said, 'Well, let's play some rock and roll in the locker room, and that will loosen the kids up." (Photo from Cadillac Yearbook, courtesy of Jim Neff)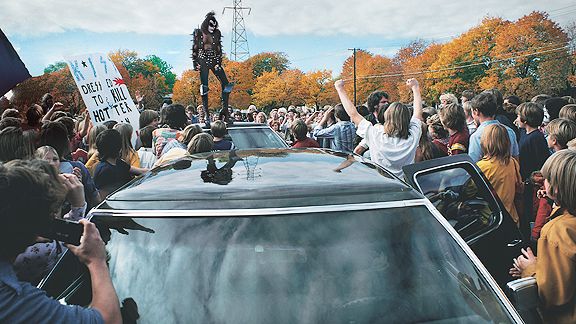 The plan worked. Cadillac went on to win the rest of its games that season. When KISS heard about the Vikings' use of its music as inspiration, the band made plans to visit the school during Homecoming the following year. On the afternoon of Thursday, Oct. 4, 1975, KISS arrived at Cadillac High School. And the party was on. (Photo courtesy of Waring Abbott)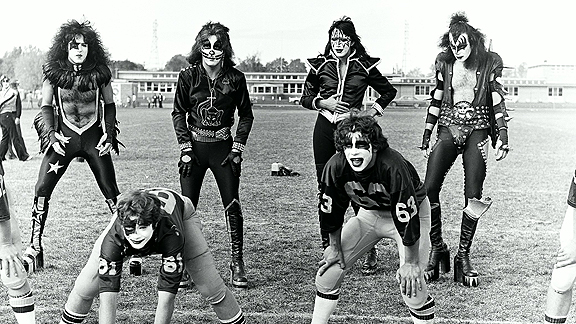 The band was brought out to the football field. Harry Hagstrom, a member of the 1976 team, was one of the players on the field that day. "The football team, the cheerleaders and some of the band people, we met them on the football field. The football team were all in our uniforms, and everybody had their face painted and they took a bunch of photos." (Photo courtesy of Cadillac News)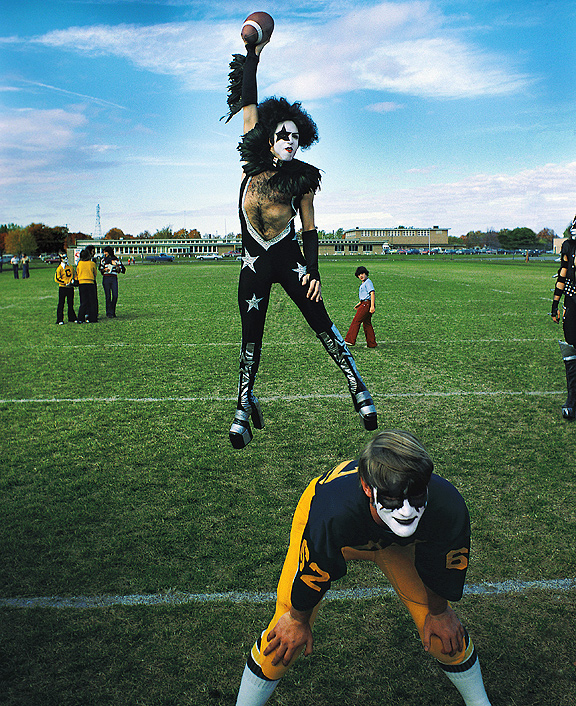 Neff remembered that the members of KISS wanted to do something "footbally" with the team. "Brines and I looked at each other and said, 'Footbally?' Well, Paul [Stanley] turned out to be a pretty good athlete. He could jump and run even in the big shoes, [and] throw the ball pretty well." (Photo courtesy of Waring Abbott)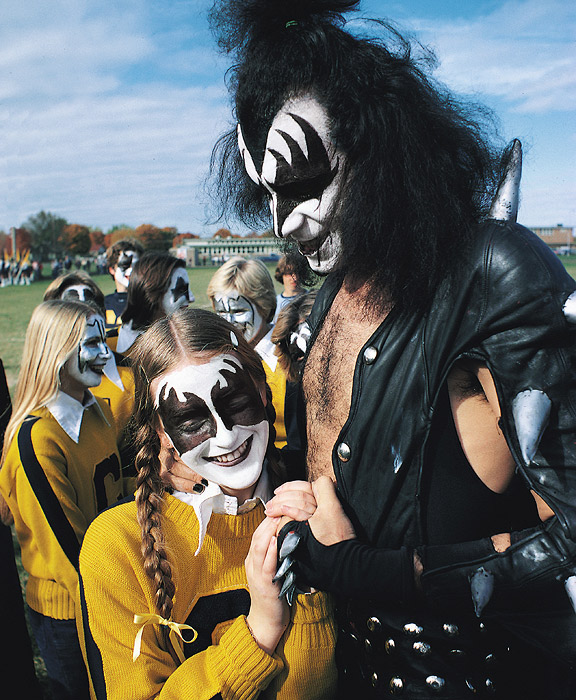 While Stanley was busy throwing the ball around, Gene Simmons was making friends with head cheerleader Melissa Codden. "[Simmons] was interesting because he was interested in what I had to say and when you're 16 not many people are interested in what you have to say." (Photo courtesy of Waring Abbott)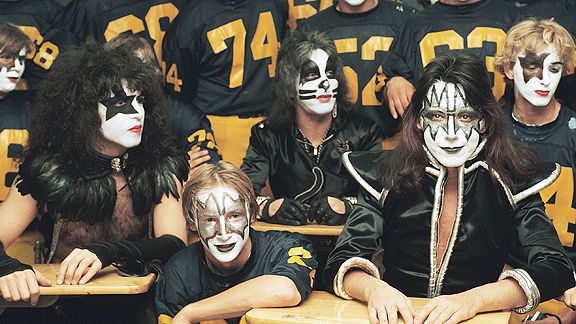 The band then went indoors to answer questions and pose for photos with the students of Cadillac High School. Bill Barnett, a sophomore wide receiver on the team, recalled: "They gave us a fire-up talk, they talked about their music, they talked about New York and where they came from and they were just so happy to be part of our football team. Here was a national band, a touring act, they're just at their peak, they're coming up, it's the biggest time in their careers, and to be spending time with small-town America, it was just amazing." (Photo courtesy of Waring Abbott)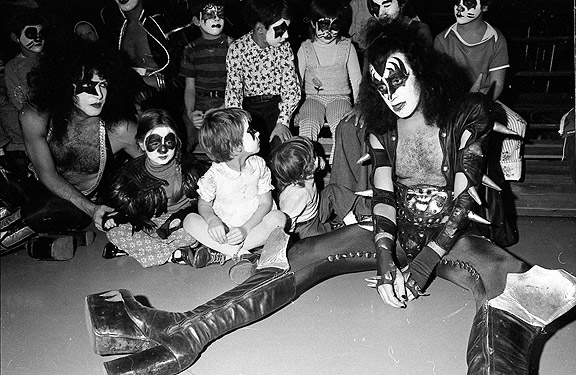 After spending time with the team, some younger siblings and teachers' kids also got time with the band. Simmons remembered one particular conversation: "There was a 5-year-old boy who I was having an argument with, and he was criticizing me for putting on the makeup wrong. And I'm arguing with him: 'Look, you're not qualified to say that, you just learned how to wipe your butt -- I know how to, I'm Gene Simmons.' He goes, 'Yeah, but the corner doesn't have the downward swoop, you went up.' Sure enough, the little putz was right." (Photo courtesy of vintageKISSphotos.com)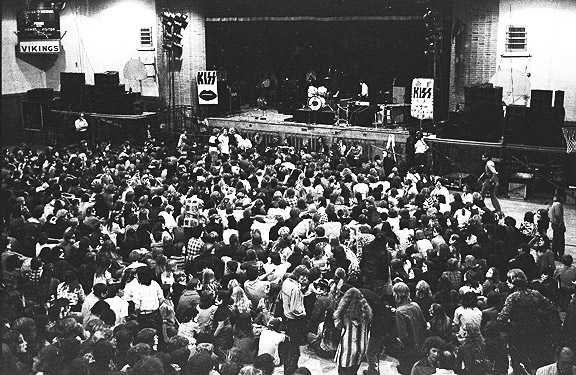 Later that evening, KISS took to the stage in the school's gymnasium for a concert that was never forgotten. Neff recalled the show: "It was incredibly loud -- I'm talking standing-near-an-airplane-engine, make-your-ears-bleed, drive-you-back-into-the-back-wall loud. The gym had windows along the upper levels and we opened those windows, and there are stories about people who sat in their backyards a mile and a half to two miles away and listened to the concert." (Photo courtesy of Cadillac News)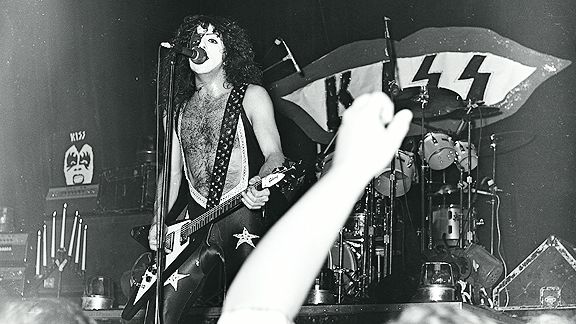 Simmons recalled the concert: "We were aware that there was a special thing that was going on, between fan and band. There was none of that 'We're the rock stars, you're not, pay homage to us' [stuff] -- it was a celebration for everybody. You won, we won, we're here to pay you homage." (Photo courtesy of Waring Abbott)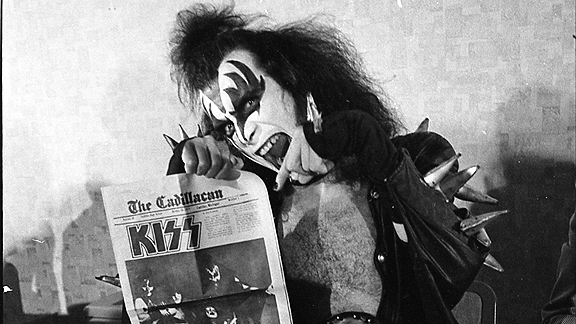 The next morning, the members of KISS were invited to a civic breakfast with the mayor and city council. Simmons posed with a copy of the local newspaper celebrating the band's visit. (Photo courtesy of vintageKISSphotos.com)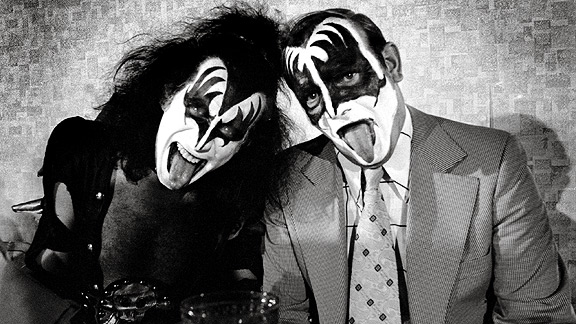 To everyone's surprise, the mayor got into KISS makeup, which was applied by Simmons himself. Stanley was amazed at the way the band was received. "In 'Superman,' is it Bizarro World? It's kind of like that. You suddenly see the mayor and all these politicians in KISS makeup, and I'm thinking, 'Is he going to get re-elected like that?'" (Photo courtesy of Waring Abbott)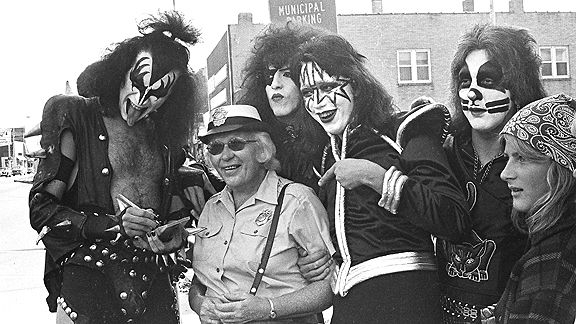 Throughout the visit to Cadillac, KISS went out of its way to pose for photos and sign autographs. Hagstrom recalled the band's kindness: "They were the absolute nicest, polite young guys that you'd want to talk to. We'd ask them questions and they'd tell us their backgrounds. … You couldn't ask for nicer guys." (Photo courtesy of Cadillac News)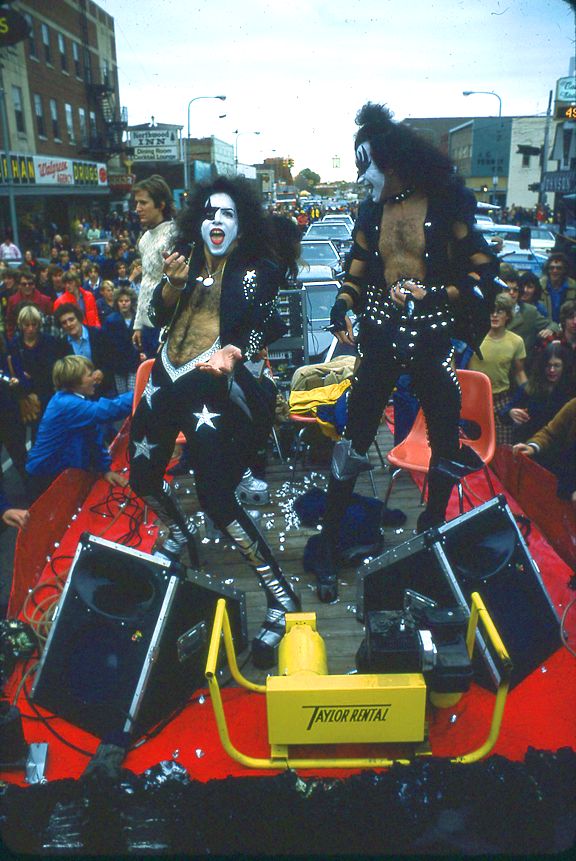 After the civic breakfast, the band members were guests of honor in the Cadillac High School Homecoming parade. Stanley remembered: "To have a ticker-tape parade and everything through Cadillac, Michigan … you couldn't beat it. It was something that elevated the spirit of that city to a whole other level, and to have a part in that, how great is that?" (Photo courtesy of vintageKISSphotos.com)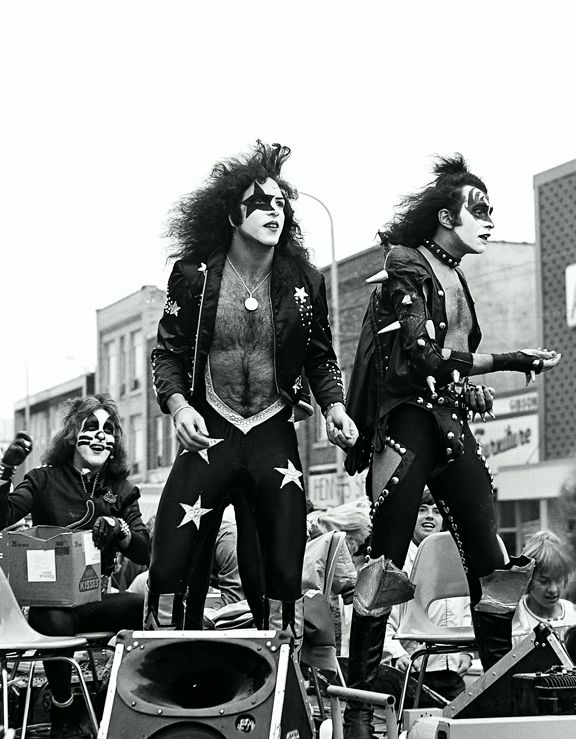 John Coffell was one of the students at the parade. "Everyone was around the float … they were throwing out KISS candy, those little chocolate kisses, and I don't think they were throwing them too far because the float was just surrounded. … It was just unbelievable." (Photo courtesy of Cadillac News)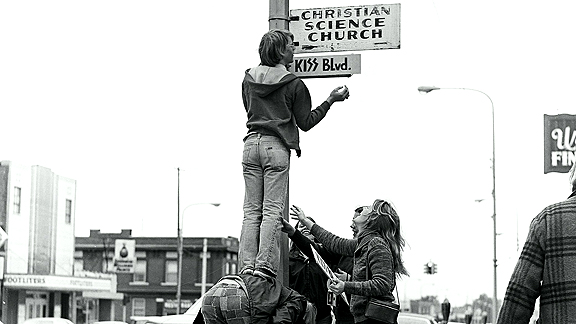 The students turned Main Street into KISS Boulevard for the day. Hagstrom recalled: "That was something … they named downtown Cadillac KISS Boulevard and it was amazing the number of people that came out to see -- it was very well-received." (Photo courtesy of Cadillac News)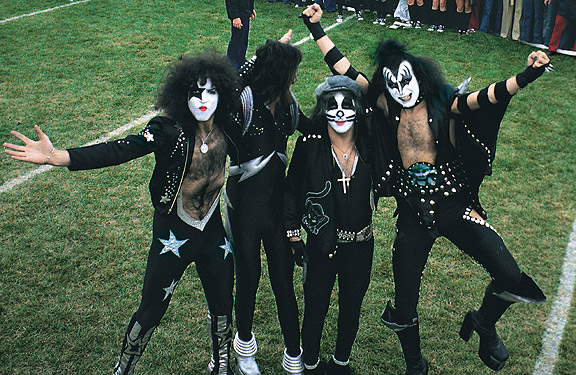 The Homecoming parade ended at the football field, where the band members began their goodbyes. (Photo courtesy of Waring Abbott)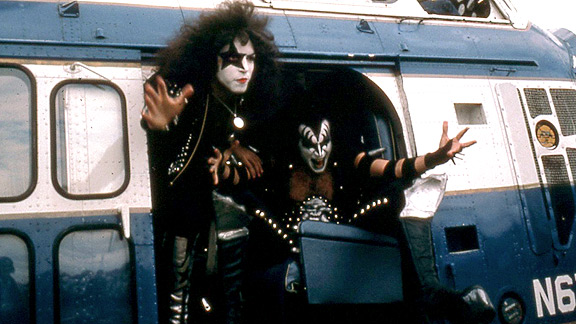 Neff on what happened next: "We assumed they were all going to get into limos and drive away, and out over Lake Cadillac came a gigantic helicopter -- landed dead-center on the football field. They jumped into the helicopter, flew out of town, throwing leaflets out that said, "Cadillac, KISS loves you." (Photo courtesy of vintageKISSphotos.com)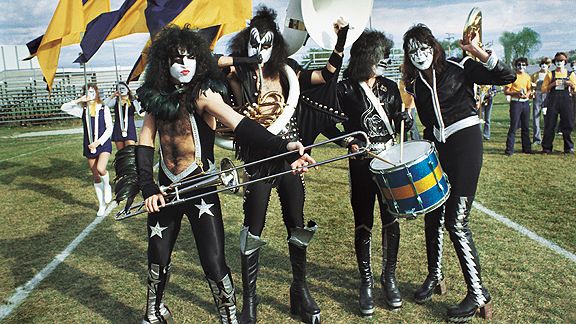 Some 35 years later Paul Stanley says those two days in Cadillac left a special imprint on the band. "To this day I still look back and go, 'That's something that most people never, ever get to experience ... on either side, either the ones who were there or a band.'" (Photo courtesy of Waring Abbott)
Danny Arruda is a feature producer for ESPN's Enterprise Unit.