Episode two full of disastrous antics
Bachelor Blog Breakdown: Episode I | Episode II | Episode III | Episode IV
Episode II
This season's second "Bachelor" episode was like a bad sequel to a good movie. It reminded me of sitting through "Legally Blonde 2" -- everything felt the same as the first movie, but I was bored most of the time. I'm still upset they screwed up "Legally Blonde 2" because it ruined any chance for "Legally Blonde 3," which could have been Reese's character divorcing her husband and getting madder and madder as he sleeps with every young slut in Hollywood, then castrating him at the end with a judge's gavel and ending up with Jake Gyllenhaal. Actually, I'd probably go see this movie, so I guess I don't have a point there. But I don't like "The Bachelor" as much as I like Reese.
Here's what happened in the second show: Andy (the bachelor) dated two groups of seven women, then had a date with the girl who received his "first impression rose" (from Episode 1). She didn't look like a "Stephanie," so Bill (my husband) and I tried to come up with a nickname for her because we couldn't remember her real name. Bill suggested "Big Boobs," I suggested "Bad Dresser," and we just merged them into one name: "Big Boobs/Bad Dresser." That works. Andy is quite smitten with BBBD, which grosses me out, to be honest. Between his DeLorean, his bad taste in women and the girl who described him as "a little kid living inside a 30-year-old body," I'm seriously wondering if Andy's a virgin. Bill doesn't think he's a virgin -- more like Tom Hanks in "Big," living in a giant one-room apartment that has a pinball machine, a trampoline and a bunk bed, then he wakes up every morning and drives his DeLorean to work. Anything is possible with Andy I guess. In Episode 2 he even wore the very same Ray-Bans that Tom Cruise broke out in "Top Gun." Andy can't remember which '80s movie character he's supposed to be ripping off.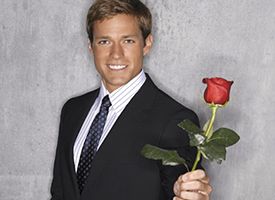 ABC
The Sports Gal's jury is still out on Lt. Andy Baldwin.
On the first group date, Andy took the girls to the Sunset Strip (cheesy!) and the Saddle Ranch Chop House (cheesier!), where they took turns riding a vibrating mechanical bull (cheesiest!). Andy was acting like a 12-year-old boy who just found his first Playboy. After one girl gyrated on the bull and held her breasts so they wouldn't fall out of her shirt, Andy told the camera, "I was like, 'Oh my God, this is really totally turning me on.'" Please stop saying things like this, Andy. Your goal here is to win me over, not repulse me. By the time the other Stephanie (a former gymnast) nailed the bull ride and stayed on for the whole time, Andy was so horned up that Bill joked they'd cut to Andy right as he was humping a plate of Saddle Ranch nachos.
That didn't happen, but Andy did take the girls to try on evening gowns (they played "Love Lifts Us Up Where We Belong" in this scene -- gag), then dinner (Andy's ecstatic take: "This is the greatest first date ever!"), then everyone hit the hot tub (Andy's body is smoking -- he looks like a chiseled statue), then Andy made out with this year's desperate girl who's really in her mid-30s but claims she's 29. Andy was cruising along until he made his first huge mistake of the season: wasting his private end-of-the-night special time on an uptight stiff who barely said a word. Bill said that Andy couldn't be faulted for this pick because her name was Tiffany and she was from Providence -- on paper, she looked like a sure thing. I thought that was mean. My friend Veronica is from Providence and she's not like that. Bill's counterargument was that it's illegal to be named Tiffany and come from Providence without dancing for at least six months at the Foxy Lady.
While we were arguing, we missed the beginning of Andy's next group date, when he had the bright idea to serve the girls mimosas at the Loews Santa Monica pool and make them do a mini-triathlon. He wanted to "see if they'll get their hair wet and their makeup messed up." What is this, the eighth grade? I disliked everything about this sequence except the two blondes who looked like two of Hef's playmates in "The Girls Next Door" refusing to go underwater as they swam. A girl named Amber ended up winning, although there were no winners; Bill was bummed because the seven girls weren't even cute, he kept calling them "The B Team."
Back at the mansion, BBBD was trying on dresses for her one-on-one date and threw on one brown cocktail dress that ABC almost had to blur in three places. The other girls in the house convinced her to wear a less provocative dress -- I thought this was a bad strategy by them, it's a competition, what were they thinking? I would have convinced her to wear the brown cocktail dress with no underwear and a fake heart tattoo that said "Andy" on her arm. On her yacht date with Andy, they "re-enacted" a scene from "Titanic" -- the part on the front of the boat when Kate Winslet stuck her arms out as Leo held her from behind. "The Bachelor" never ceases to provide the most clichéd moments you'll ever find on TV.
This date went pretty well and even ended with some smooching and another rose, which means we'll get to see more of BBBD in future episodes. Also, you're not going to believe this, but the girls back at the house were being catty and tearing BBBD to shreds. You knew that was coming. I did like one girl, the brunette who looked like a skinny Monica Lewinsky and admitted that she was home-schooled and saving herself for marriage. That's when Bill screamed out, "Surprise, surprise … a home-schooled virgin, those two things never go hand in hand!" It's really pathetic that these moments delight him so much.
Let's skip to the cocktail party before the final rose ceremony. Tessa (looking like a candidate for the Final 2 up to now) gave Andy a foot massage that was interrupted by two other girls, then melted down afterward because she's getting attached to Andy and hates sharing him with other girls (even though they've spent maybe 15 minutes together total). I know it's a "Bachelor" staple, but this one surprised me because I liked Tessa and didn't see the craziness coming. She's one of those sneaky crazy girls, you know, the ones who seem fine until you find out that they created fake profiles on various dating services to see if they could trap their boyfriend. Still, she ended up making the cut along with 11 other girls -- with only Tiffany from Providence, the home-schooled virgin and one of Hef's playmates getting axed.
If I had to pick a Final 4 right now, it would look like this: Gymnast Bull Rider, Amber the Triathlete, Tessa the Secret Psycho and Big Boobs/Bad Dresser. But I don't really care as much as I did. They need to win me back in Episode 3 and I need to see more of Andy driving around in the DeLorean. With his "Top Gun" Ray-Bans, please.