By Jim Baker
Special to Page 2
We are going to see quite a bit of a grainy piece of footage today. It features a pitcher named Al Downing -- a man who threw over 30,000 pitches in the major leagues but who is now remembered for just this one -- serving up a gopher ball to Henry Louis Aaron. It's a chaotic little piece of film, almost avant garde in its cutting, but it gets its point across: this is clearly no ordinary home run.
As we are treated to repeated showings of this great moment in baseball history on the 30th anniversary of the event, I can't help but wonder that this is all most people know of Hank Aaron.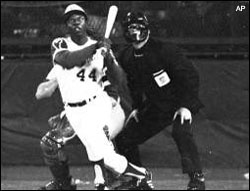 Signature moment: Aaron watches No. 715 leave the park.
It's his signature moment, obviously, but his 715th career home run works at cross purposes in regard to his legacy. On the one hand, it gives Aaron the occasional media spike that keeps him in the news. It's his calling-card moment, the kind that -- as many have pointed out -- fellow National League great Stan Musial does not have on his resume. Because of this, Musial's memory is forgotten in the modern public consciousness.
On the other hand, Aaron's signature moment is symbolic of an achievement so great that it obscures the rest of his career from popular awareness. Because he holds the game's most-cherished record and because it is mentally impossible to grasp a man hitting 755 different home runs, we all focus on the one that toppled the Babe. In the process, everything else Aaron did on and off the field has gone into eclipse.
Another thing working against Aaron is that it is a very hard thing to keep the past alive -- the History Channel's efforts to the contrary notwithstanding. Apart from people who listen to classic rock stations, it is human nature not to revel in the past on a consistent basis. The active player makes news while the retired one made history. Therefore, the worst active player in the league gets more ink on a daily basis than the best retired players -- which only makes sense.
After all, it's not healthy to stumble around in a fog of nostalgia. It is only on occasions such as today that the masses get a massive influx of reminders about someone like Aaron. The rest of the time, it's up to individuals -- many of whom were born after Aaron's date with destiny and therefore have no personal recollection of his greatness -- to seek out the evidence.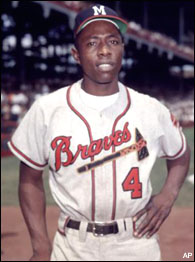 Aaron, as a 20-year-old rookie with the Milwaukee Braves in 1954.
So then, while you're watching the clip of Aaron tagging Al Downing today, remember that No. 715 is only the very tip of a Titanic-sized iceberg of a career:
The obvious stuff
In addition to the 755 home runs there are the truckloads of hits (3,771, 3rd all time), the wagonloads of runs (2,174, 3rd all time), the boatloads of RBI (2,297, 1st all time) and the planeloads of All-Star Game appearances (every year except his first and last). With Aaron, you'd run out of conveyances before you'd run out of cargo.
It's been argued that he achieved a lot of these numbers because he was around so long. That's certainly true, but the difference between Aaron and most players is that you wanted him to hang around because he, like few before or since, was still an A-list player until nearly the end.
Mr. Consistency
Aaron played MVP-caliber baseball for so long, it became like wallpaper: always there and unsurprising. Imagine that you're 6 years old in 1955, heading into first grade. You're just discovering baseball and with it, a skinny, young player in Milwaukee named Aaron who is quickly establishing himself as one of the best in the game. Fifteen years later, you're graduating from college and he's still registering the best year in the league.
An argument could be made his lack of anything resembling a downturn or off year actually works to his disadvantage since his greatness became routine. For instance, from 1955 through 1971, he hit .300 13 times and below .290 just twice (low of .279). He hit at least 30 home runs 15 times in 17 years, with a low of 24 in that span. He scored 100 runs 15 times in a 16-season stretch.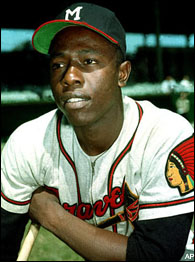 Aaron during his MVP season of 1957, when he hit .322 with 44 HRs and 132 RBI.
When you look at his career, this wall of "thick numbers" (three digits where there are usually two) leaves a decided lack of white space in his encyclopedia entries as each column is inked out with an almost workman regularity. The ramifications of this evidence are almost impenetrable. Without invoking all sorts of contextual clauses, how does a typical fan tell the difference between Aaron's 1958, 1959, 1967 or 1969 seasons? Even the one season where context gave him his biggest boost -- 1966 -- has counting stats impressive enough to fog the mind.
The rarity of a man playing at peak level from the age of 21 until he finally begins slowing down at 40 is hard to grasp. Even Willie Mays had his last great season at 35. (Yes, we now have Barry Bonds playing better than Aaron did at an advanced age, but let's not forget that Bonds took a while to get his career rolling whereas Aaron practically hit the ground running.)
The postseason
Aaron had three shots at the postseason and was a killer in two of them and did fairly well in the third. He dismantled the Yankees in the '57 World Series (.393, 3 HRs) and got on base 13 times in seven games the following year, but didn't bring his thunderstick that time around. Eleven years later, he did what he could against the Mets' vaunted pitching staff, driving in seven of the Braves 15 runs in the NLCS.
The diversity of his attack
Aside from being in the all-time home run leader, Aaron is also ninth in doubles all time. No other player shows up in the top 10 in both categories. These players are the closest and they're not very close at all:
The Aaron Files
No. 1 all time in home runs (755), RBI (2,297), total bases (6,856) and extra-base hits (1,477).
3rd in runs, 3rd in hits, 3rd in games played, 9th in doubles.
Named 1957 NL MVP. Won three Gold Gloves.
Led the NL four times in HRs, four times in RBI, twice in batting average, three times in runs scored, four times in slugging percentage, twice in hits, eight times in total bases, four times in doubles.
Hit 40 or more home runs eight times.
Hit .362 with six home runs in 17 career postseason games.
Catch 755 minutes of Hank Aaron highlights all day today on ESPN Classic!
Musial: 3rd in doubles, 23rd in HR
Carl Yastrzemski: 7th in doubles, 27th in HR
Eddie Murray: 17th in doubles, 19th in HR
Rafael Palmeiro: 18th in doubles, 13th in HR
This was not an all-or-nothing player. His home runs did not come at the expense of other aspects of his game.
Baserunning
Aaron's teammate Del Crandall once opined that had Aaron come along at a different time, he would have stolen 60 bases a season. That might be a bit of a stretch, but not a gross exaggeration. It's pretty obvious from looking at his record that he was a prisoner of his times. His first five years in the league he attempted a total of only 21 steals.
That brought him up to the dawn of the stolen-base revolution in the '60s. Stolen-base attempts increased by 50 percent over the next five years and Aaron was right in the middle of it. While he never piled up monster numbers, he was one of the more effective thieves of his era (seven times in the top 10 in his league) and it is not hard to imagine him -- like contemporary Mickey Mantle -- as a 40-40 man if he played today.
Defense
Aaron had established himself as the premier right fielder of the National League until everybody noticed that Roberto Clemente was toting around a panzerfaust on his right shoulder. (Actually, as is often the case with Gold Gloves, Clemente starting winning them around the same time he started hitting.) Aaron was just settling into that Gold Glove groove with three straight awards when Clemente took over and won every year until his untimely death 12 years later. (Another factor was that the award, instead of being given to specific positions, went to three outfielders beginning in 1961. This paved the way for Curt Flood to join perennial choice Willie Mays along with Clemente.)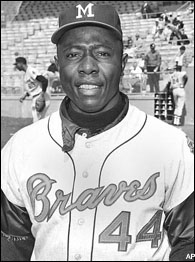 Hank Aaron in 1965, his final year in Milwaukee before the Braves moved to Atlanta. He hit .318 with 32 home runs.
MVP Awards
I don't know if this effects his legacy any, but Aaron consistently polled lower than his numbers indicated he should have in MVP balloting. Whether or not he should have won more than one MVP Award is not really the point. He was arguably the best player in the league in 1957, 1959, 1961 and 1963, yet he only copped that first season.
I don't believe there was a conspiracy against him or anything like that. I think it was just that voters were constantly changing their minds as to what an MVP was supposed to be. For instance, Frank Robinson was a legitimate choice in 1961, but Aaron finished eighth that year. One could suggest that the voters weren't quite understanding how much Aaron was helping his teams win.
On the other hand, their shifting attitudes about what made a player most valuable usually seemed to leave Aaron on the outside looking in. For instance, in 1959 he and teammate Eddie Mathews led the Braves into a first-place tie with the Dodgers. He and Mathews were the obvious choices for MVP that year based on both performance and the success of their team. Instead, the writers gave the award to Ernie Banks of the fifth-place Cubs.
The very next year, Mathews and Aaron were again right there at the top; joined this time by Willie Mays. On this go-round, however, the voters decided that someone had to take credit for the Pirates' pennant and split their first-place votes among Dick Groat (16), Don Hoak (5) and Clemente (1) none of whom were even remotely close to Aaron. So, in 1959 it was OK for the winner to come from an also-ran, but a year later, the voters fell all over themselves trying to assign credit for the pennant.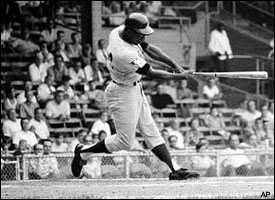 The sweet stroke of the all-time home-run king, in 1969.
The toughness factor
Has anybody -- outside of Jackie Robinson -- ever had to play baseball under conditions as adverse as those that confronted Aaron in 1973 and 1974? A lesser man might have snapped. By 1974, one would have thought the world was a much better place than it was when he became a professional 22 years previous; in many ways it was. From token representation on a few teams in 1952, African-American ballplayers were now dominant players in the game and were represented on the All-Star teams and in the record books in numbers far disproportionate to their percentage of players on major-league rosters.
It was, in many ways, a time of great strides in race relations and the mainstreaming of African-American culture. In the middle of this grand correction was Aaron, hotly pursuing Babe Ruth. This made him the most visible African-American -- but also made him Public Enemy Number One for those bigots who, until recently, had had the always-tacit and sometimes-full support of their government in keeping African-Americans at arm's length.
Now all they had left was the cowardly anonymity of writing nasty letters to a man trying to do his job. Because of this, what should have been a joyous time for Aaron turned into a nightmare of death threats and hatred. Being overexposed to the underside of humanity's baser instincts embittered Aaron to the point that it took him many years to want join in celebrating what he himself had accomplished on April 8. That his reaction wasn't more overstated is further testament to his greatness.
* * * * *
The anniversary date we should be commemorating actually comes five days from now. April 13 will mark the 50th anniversary of Aaron's major-league debut with the Milwaukee Braves as a skinny 20-year-old outfielder from Mobile, Alabama.
It's not very glamorous and it certainly doesn't have the media-friendly film footage that home run 715 provides, but it marks the origin of a baseball legacy rather than -- as today's anniversary does -- just one a single moment of that legacy.
Jim Baker writes on baseball for ESPN Insider and just predicted a Red Sox-Astros World Series.