They finally nabbed Jimmy Rollins. The Phillies shortstop had been successful on his first 25 stealing forays of 2008 until Atlanta's Brian McCann gunned him down in the first inning Saturday. Although the season has about two months to go, the possibility of Rollins' getting through it without getting caught -- and running up a serious swipe total in the process -- was an intriguing one. For now, he'll have to shoot for the record for the most steals while being caught only once, held by Carlos Beltran and Brady Anderson with 31.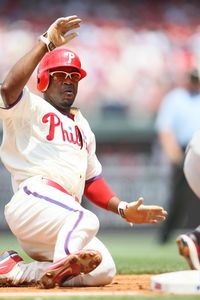 Rich Pilling/MLB Photos/Getty Images
Jimmy Rollins was perfect stealing bases this season, until recently.
Meanwhile, the Rangers'
Ian Kinsler
also has been caught only once this year. Through Thursday, he had stolen 25 bases to Rollins' 26. So far, in his three years in the bigs, Kinsler has been a most judicious thief. The next time he is caught (provided there is a next time) will finally put him into double figures in CS.
The simple truth is, of late, base stealers have been getting away with more than ever. The overall stolen base success rate was 68 percent in 2001 and has been creeping up ever since, though it is down slightly this year from last. In 2007, would-be thieves were successful 74 percent of the time. (Keep that in mind the next time you hear an announcer say a catcher has thrown out "just 25 percent of those trying to steal on him.") So far in 2008, that figure is down a bit to 73 percent. But that's still a fairly big jump from the turn of the century.
Given this environment, more of the current least susceptible crop might start showing up on the list below. What follows are the players with the most steals for each caught stealing milestone up to 25. In other words, it answers questions such as "Who stole the most bases among players who got caught 11 times in a season?" These figures date back to 1959. My guess is that, given the general increase in stealing success, most of these numbers -- especially in the caught 15 or fewer times groups -- were not topped in the pre-1959 period.
0 times caught stealing: Kevin McReynolds, 21 steals, 1988 Mets -- McReynolds had a two-year run of 35-for-36 in 1987 and '88. Evolution of the perfect stealing season since 1959: Hank Aaron (Braves), 8/0 in 1959 … Mickey Mantle (Yankees), 9/0 in 1962 … Tom Tresh (Yankees), 13/0 in 1964 … Jimmy Sexton (Athletics), 16/0 in 1982 … and then McReynolds.
1: Brady Anderson, 31, 1994 Orioles; and Carlos Beltran, 2001 Royals -- Beltran had been perfect in 13 tries the year before and remains the poster child of discreet theft with a career .880 percentage. He has been caught less in his career than Rickey Henderson was in his record-setting 130/42 1982 season -- which is not meant to denigrate Henderson but to point out how incredibly judicious Beltran has been. Now that Rollins got snagged, he can put aside the McReynolds mark and shoot for breaking Anderson and Beltran's one-steal record, as can Kinsler. Also, Randy Winn of the Giants is 20-for-21.
2: Ichiro Suzuki, 45, 2006 Mariners -- 2006 was part of Ichiro's American League record run of 45 consecutive attempts without getting caught (April 19, 2006, to May 17, 2007), ended by Jose Molina of the Angels. (The major league record of 50 is held by Vince Coleman.) Rollins and Kinsler also could have a shot at the two-steal mark. Ichiro already has been caught three times this year, so, at a proficient 34-for-37, he has a chance at the next spot on the list if he is not caught again.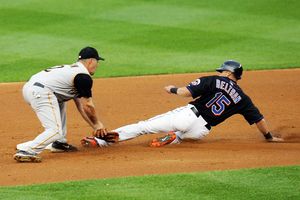 Jim McIsaac/Getty Images
Carlos Beltran hasn't run nearly as much since joining the New York Mets.
3: Carlos Beltran, 42, 2004 Royals (14/3) and Astros (28/0)
-- Some might count Beltran's 28-for-28 with Houston as a separate entity, giving him the record for most steals without getting caught, because it happened in a different league. I'm more inclined to do it this way.
4: Davey Lopes, 47, 1985 Cubs -- Willy Taveras is 48-for-52, so, if he doesn't get caught again the rest of the way, he'd be tops on this list. Lopes had this impressive 47-for-51 season at the age of 40. Moreover, he did it in just 99 games. He also is tied (with Bobby Bonds, 1969) for the second-best four-times-caught season -- 45 in 1978. Lopes also had a 44-for-48 season.
5: Jerry Mumphrey, 52, 1980 Padres -- Talk about a season out of context! Mumphrey was 8-for-19 the year before and 14-for-23 the year after. In fact, Mumphrey was only a 62 percent stealer in the rest of his career. In the runner-up spots, Barry Larkin was 51/5 with the '95 Reds and Tim Raines was 50/5 for the '87 Expos.
6: Eric Davis, 50, 1987 Reds -- Davis was devastating. His career high in CS was only 11 -- a figure that puts him on this list a second time because he stole 80 that season.
7: Tony Womack, 60, 1997 Pirates -- This was Womack's rookie season. He stole successfully on 37 of his first 38 attempts in the big leagues.
8: Bert Campaneris, 62, 1969 Athletics -- Willie Wilson went 59/8 in 1983, and Womack was 58/8 in his sophomore season.
9: Tim Raines, 70, 1985 and 1986 Expos -- One of the all-time great repeat stat lines ever: two straight seasons of 70/9. If you set the bar at 300 career attempts, Raines (.847) is the all-time percentage leader. If you lower the bar a bit, Beltran becomes the man at the top. Joe Morgan is probably the most famous percentage base stealer who does not appear as a leader at any of these numbers. He's third behind these two Raines seasons at nine, however, plus fourth at 10 caught and second at 15.
10: Rickey Henderson, 80, 1985 Yankees -- In his first four years in the majors, Henderson stole 319 bases at a 76 percent clip. In his second four, of which this was the last year, he had learned the ropes even better and swiped 341 at an 86 percent success rate.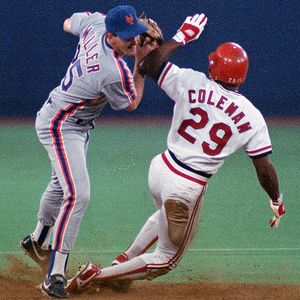 AP Photo/Jeff Roberson)
Vince Coleman, one of the all-time best base swipers.
11: Eric Davis, 80, 1986 Reds
12: Willie Wilson, 83, 1979 Royals
13: Maury Wills, 104, 1962 Dodgers
14: Vince Coleman, 107, 1986 Cardinals
15: Juan Samuel, 72, 1984 Phillies
16: Tim Raines, 78, 1982 Expos
17: Vince Coleman, 77, 1990 Cardinals
18: Rickey Henderson, 87, 1986 Yankees
19: Rickey Henderson, 108, 1983 Athletics
20: Lou Brock, 70, 1973 Cardinals
21: Dave Collins, 79, 1980 Reds
22: Vince Coleman, 109, 1987 Cardinals
23: Scott Podsednik, 59, 2005 White Sox
24: Billy North, 58, 1979 Giants
25: Vince Coleman, 110, 1985 Cardinals
On the other end of the spectrum are the seasons listed below. These are the players who were a little too adventurous for their own good. Some of these were busted hit-and-run plays, but in the end, the results are the same: death on the bases at an alarming rate.
10 steals/17 caught stealing: Duane Kuiper, 1976 Indians; Rod Carew, 1982 Angels; and Greg Gagne, 1994 Royals
9/13: Vic Power, 1959 Indians; and Tom Pagnozzi, 1993 Cardinals
8/14: Joe Simpson, 1982 Mariners
7/15: Buddy Bell, 1973 Indians
6/13: Don Kessinger, 1967 Cubs
5/17: Will Clark, 1987 Giants
4/11: George Scott, 1970 Brewers
3/13: Rick Miller, 1978 Angels; and Tony Johnson, 1982 Blue Jays
2/12: Jerry Morales, 1974 Cubs
1/11: Jose Vizcaino, 1994 Mets
0/8: Jose Offerman, 2000 Red Sox; and Oscar Robles, 2005 Dodgers
Tied for runner-up at the oh-fer mark is legendary Chet Lemon, one of the worst baserunners in modern memory. Lemon went 0-for-7 in 1983. This was part of a run that began in 1981 and ended in 1984 in which he was caught stealing on 17 of 18 attempts. We probably won't see the likes of that in this current environment. In fact, there aren't even a lot of players who are below the break-even point in 2008. Hunter Pence is 7-for-15, Bill Hall 4-for-10, Felipe Lopez 4-for-9 and Brad Wilkerson 3-for-8. That's about it for players who try to steal more than once a month. Where are the Will Clarks of today? Sure, Robinson Cano is just 1-for-5, but that's not going to land him on the list above because he's just not going often enough. Sure, keeping him on a tight leash is good for the Yankees, but it's not going to land him among the Inefficient Immortals shown here.
The only two players who are carrying numbers that might suggest a more reckless time are Melvin Mora, who is 2-for-9, and Magglio Ordonez, who is just 0-for-4. Two of those failed attempts have come in the past week or so, though, so Ordonez is very much in the game.
Jim Baker is a regular contributor to Page 2.