In honor of ESPN asking fans to pick the best players in the history of all 30 franchises, Page 2 is honoring those who weren't so accomplished.
We ran through the worst seasons for each National League franchise earlier in the week, so now we're tackling the American League.
We're giving you three candidates for each team and want you to choose the worst season for each franchise from the past 50 years. We scoured the records beginning in 1959 and came up with what we believe are three viable candidates for each team.
Check the American League for more specifics on how we chose the players, but keep in mind that players needed a minimum of 300 plate appearances and pitchers with more innings were given more consideration. We also didn't want to go too heavy on shortstops and catchers, since those are defense-first positions.
AMERICAN LEAGUE EAST

Baltimore Orioles
Ken Singleton, DH, 1984 (.215/.286/.289, 6 HR, 36 RBIs in 363 at-bats): This poll is very hard on designated hitters who don't perform well. It also treats all seasons alike, whether they are perpetrated by someone playing at the peak of their abilities or by someone like Singleton, who, after a great career, finished poorly in his final season. Singleton got off to a 1-for-24 start and missed a couple weeks in May with a bruised foot. He never showed any power and even lost his remarkable ability to draw walks. His 1984 OBP of .286 was almost lower than his career batting average (.282).
Billy Ripken, 2B, 1988 (.207/.260/.258, 2 HR, 34 RBIs in 512 at-bats): Baltimore infamously lost its first 21 games in 1988, and Ripken started every one of them, going .180/.230/.235 in the process. The team went 54-86 the rest of the way, but Ripken didn't get much better. Nor does he get a pass for being a middle infielder because his defensive stats were pretty grim as well. As Exhibit B in Ripken's awfulness, we can offer up 1991, when he hit .216/.253/.261, albeit in less playing time.
Tony Muser, 1B, 1976 (.227/.270/.264, 1 HR, 30 RBIs, nine extra-base hits in 326 at-bats): It's hard to reconcile Baltimore manager Earl Weaver writing Muser's name into a lineup card at first base, left field and designated hitter, but it happened 83 times in 1976. He also used him as a sub another 53 times for a total of 356 unproductive plate appearances. Muser had no power and, in the greatest departure from Weaver doctrine, a low walk rate. Furthermore, as evidenced by his management style with the Royals 20 years later, Muser was not learning at the master's knee.
Boston Red Sox
George Scott, 1B, 1968 (.171/.236/.237, 3 HR, 25 RBIs in 350 at-bats): Scott's presence on this ballot serves as proof that having a wretched season early in one's career is not a one-way ticket to Scrubville. Scott would go on to have a very productive run in the 1970s, leaving this crater of a season far in the past. When you look at his '68 line at its face, you wonder a few things: Was it this bad because it was the Year of the Pitcher? Was he on the disabled list? Did he spend a chunk of the season at Louisville in the International League? The answers in reverse order are: no, no and yes, but it's still pretty bad. Even adjusting for time and place, it's the worst season by a first baseman with at least 300 plate appearances not only in the scope of this poll, but going all the way back to 1901. A line of .171/.236/.237 from a first baseman playing his home games in an extreme hitters' park defies hyperbole.
Darren Lewis, CF/RF, 1999 (.240/.311/.309, 2 HR, 40 RBIs in 470 at-bats): The Red Sox are very fortunate in that finding their three candidates took some doing. What sets Lewis apart from the pack is that he was a full-timer and managed to run that .240/.311/.309 line in a hitter's park in a hitter's era. His defense kept this from being a totally lost season, but those anachronistic offensive numbers are pretty damning.
Butch Hobson, 3B, 1978 (.250/.312/.408, 17 HR, 80 RBIs in 512 at-bats, 43 errors): Putting stock in fielding percentage has gone the way of the rotary telephone, but every once in a while, one comes along that demands notice. Hobson infamously fielded .899 at third base while his offense was made to look passable by playing half his games at Fenway Park back when it was a true hitters' funhouse. On the road, Hobson went .211/.274/.289 -- more than a 300-point drop in OPS compared to at home. On top of that, he smacked into 23 double plays. Since Boston ended up in a dead heat in the American League East that year, it's easy to jump to the conclusion that Hobson cost them the division.
New York Yankees
Tim Leary, P, 1991 (4-10, 6.49 ERA, 120.2 IP, 150 H, 20 HR): As you can imagine, a list of the worst Yankee seasons doesn't look quite as bad as lists from other teams, and why should it? New York, after all, has the resources to cut and run on bad seasons the way few other teams do. Therefore, the credentials you see presented here might not measure up to what you're seeing listed under other clubs. As an illustration, there is not a single Yankee listed in the 200 worst pitching seasons since 1959 by the Baseball Prospectus stat Value Over Replacement Player. Leary had gone 9-19 the season before, but his ERA was very close to league average. In '91, it jumped to 6.49 in 120 2/3 innings. He made only four quality starts in 18 attempts. He was eventually removed to the bullpen, where his ERA was over 7.00.
Jim Bouton, P, 1965 (4-15, 4.82 ERA, 151.1 IP, 158 H, 23 HR): Poor Bouton. Just a year before this he had been on top of his game, throwing heat and losing his cap on every pitch in the reckless abandon of youth. As many of the pitchers listed in this poll learned all too painfully, it's tough to compete with busted tools. After winning 39 games the previous two years, Bouton fell to 4-15. His ERA of 4.82 doesn't look too bad by today's standards, but that was nearly the worst in the American League in 1965. Oh well -- in the end, it made for a better book.
Bill Robinson, RF/CF, 1967 (.196/.259/.281, 7 HR, 29 RBIs in 342 at-bats): Such is the deprivation of astoundingly bad Yankee seasons that we are forced to pick on the rookie Bill Robinson -- a man who would eventually enjoy some good years with Philadelphia and Pittsburgh in the next decade. Jerry Kenney in 1970 was not an offensive force, but his defensive stats at third take him out of the running. Ditto Clete Boyer, who in 1964 hit so poorly he might as well not have taken a bat to the plate with him. The man could sure pick it at third, though, so he's out of the running. Robinson hit .196 while playing all three outfield positions in 1967. His 1969 season was even worse, but he did not have enough plate appearances for our purposes.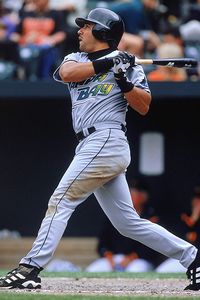 Getty Images
Vinny Castilla ... a two-time nominee for the worst seasons lists!
Tampa Bay Rays
Vinny Castilla, 3B, 2000 (.221/.254/.308, 6 HR, 42 RBIs in 331 at-bats): Emblematic of the then-Devil Rays ongoing attempts to import aging talent, Castilla cost a lot of money and ran out a line of .221/.254/.308, although he was hampered by injuries for most of his time in St. Petersburg. Castilla has already been on the ballot for Atlanta, while this next player appeared in our poll with the Dodgers.
Hideo Nomo, P, 2005 (5-8, 7.24 ERA, 100.2 IP, 127 H, 51 BB, 59 SO): This was a banner year for poor pitching performances in Tampa Bay in what will now be forever known as the "before time" in Rays history. With the Rays surrendering 936 runs, it stands to reason there would be a plethora of pitching badness from that year. Nomo checked in for 100 innings and pitched himself right onto our ballot with the worst ERA in team history among pitchers with 80 or more innings. Had Dewon Brazelton pitched a bit more that same season, he would probably have pushed Nomo aside.
John Flaherty, C, 1998 (.207/.261/.273, 3 HR, 24 RBIs in 304 at-bats): In spite of the deprivations of the Rays' first decade, they possess surprisingly few outstanding candidates for this poll. Their failures have owed more to collecting groups of players with routinely mediocre and subpar seasons rather than spectacularly unproductive ones. Flaherty caught the very first pitch in team history, but he had a rather uncharacteristic .207 average. He was much better the year before in San Diego and would rebound well for the Rays in 1999 and 2000.
Toronto Blue Jays
Danny Ainge, 2B, 1979 (.237/.269/.286, 2 HR, 19 RBIs, 10 extra-base hits in 308 at-bats): In its way, Ainge's 1981 season (.187) was even worse, but he didn't make our 300 plate appearances requirement that year. On the other hand, there was a strike that year, so we could waive it in this instance. Let's think of it this way: a vote for Ainge is to endorse his entire body of work. Still, though, the list of men who could function even this well in their second professional sport is minuscule -- especially considering Ainge was just 20 years old.
Bob Bailor, RF, 1979 (.229/.297/.287, 1 HR, 38 RBIs, 17 extra-base hits in 414 at-bats): The list of right fielders who have had seasons this bad since 1959 is a very short one. In fact, all the other members of the list also appear in our poll. Just one home run and 38 RBIs from a corner outfielder in 465 plate appearances? It's no wonder that 1979 was the worst Blue Jays team of them all.
Dave Lemanczyk, P, 1978 (4-14, 6.26 ERA, 136.2 IP, 170 H, 65 BB, 62 SO): Speaking of the worst Blue Jays team, here is the man who represented them in the 1979 All-Star Game. Not that he was a Cy Young candidate in '79 (he was 7-6 with a 3.09 ERA at the break when chosen), but he was greatly improved from the year before when he could have arm-wrestled Dick Pole of the Mariners for the worst season in the league. Phil Huffman's 1979 (6-18, 5.77) would have also made a worthy candidate, but we opted not to have all three choices from the same season.
AMERICAN LEAGUE CENTRAL

Chicago White Sox
Jason Bere, P, 1995 (8-15, 7.19 ERA, 137.2 IP, 151 H, 106 BB, 110 SO): In his first two seasons, Bere had excellent strikeout rates and posted a record of 24-7. Still, he was walking a batter every other inning. In 1995, though, the walk rate got completely out of control and his WHIP ballooned to 1.87. He made only seven quality starts in 27 attempts and posted the highest ERA ever by a White Sox pitcher with more than 100 IP.
Jaime Navarro, P, 1998 (8-16, 6.36 ERA, 172.2 IP, 223 H, 77 BB, 71 SO, 30 HR): The only trick for White Sox fans is picking which Navarro season was their least favorite, this one or 1997 (9-14, 5.79). This season gets the nod here because his K rate plummeted to the point where he was walking more batters than he struck out. He also let up an astounding amount of hits -- 11.6 per nine -- and gave up 30 home runs in 172 2/3 innings. One thing in Navarro's defense: Relative to the other pitchers in this poll, he had a pretty good quality start percentage in both seasons.
Mike Caruso, SS, 1999 (.250/.280/.297, 2 HR, 35 RBIs, 17 extra-base hits in 529 at-bats): We've tried to avoid using shortstops, but in this case, it just can't be avoided. Had Caruso put up even mediocre defensive numbers, we would have looked instead to Nyls Nyman's 1975 or perhaps George Bell's unfortunate DH turn in 1993. There is also the matter of playing time. Caruso logged 564 plate appearances, much more than the other best candidates. What catches the eye is the lack of a secondary average. Caruso hit .250, but neither his OBP nor slugging average cracked .300. Basically, if he wasn't making outs (and he made a lot of them: 423), he was hitting singles. Caruso had jumped all the way from Class A to the majors in 1998, finishing third in the Rookie of the Year at the age of 21. Unfortunately, 1999 pretty much killed his career.
Cleveland Indians
Steve Hargan, P, 1971 (1-13, 6.19 ERA, 113.1 IP, 138 H, 56 BB, 52 SO, 18 HR): "We were just one player shy of winning the pennant," said manager Alvin Dark at the end of the 1968 season. That player might have been Hargan, whose arm began to go south on him at midseason. He tried to pitch through it and then came back the next year and got worse. After a brief resurgence in 1970, things really fell apart for him in 1971 when he went 1-13 with an ERA more than two runs above league average. You hate to dun a guy for trying, but in the space of four seasons, Hargan racked up three of the worst Cleveland pitching seasons of the past 50 years.
Chris James, DH/OF, 1991 (.238/.273/.318, 5 HR, 41 RBIs in 437 at-bats): No Indians team in history lost more games (105) than the '91 installment. It certainly didn't help that Cleveland's main DH had a slugging average of .318. James also spent some time holding down corner outfield slots, so he was definitely working the end of the defensive spectrum from which more offensive output is expected. Instead, the Indians got an OPS 130 points below league average from a player they were counting on to repeat his decent 1990 showing.
Bubba Phillips, 3B, 1960 (.207/.249/.299, 4 HR, 33 RBIs in 304 at-bats): You thought I was going to say Brandon Phillips, didn't you? The latter Phillips' false start to his career with Cleveland was certainly a candidate for inclusion, but the earlier Phillips was a third baseman and left fielder, so his offensive shortcomings were more disappointing. He came over from the White Sox in an eight-player trade the previous offseason and immediately dropped to a .207 batting average and the second-worst OPS+ by an American League third baseman since 1959 behind only Vinny Castilla of the 2000 Devil Rays (see above). Phillips rebounded with a career year in 1961, but he was 33 by then.
Detroit Tigers
Mike Moore, P, 1995 (5-15, 7.53 ERA, 132.2 IP, 179 H, 68 BB, 64 SO, 24 HR): If it wasn't obvious enough by Aug. 31 of that year that Moore had better start planning for retirement -- he had an ERA of 7.21 at that point -- the coup de main fell that day when the White Sox scored eight runs against him in the first two innings. He was released shortly thereafter. Moore finished the season with the seventh-highest WHIP of the expansion era.
Dan Meyer, LF/1B, 1975 (.236/.277/.336, 8 HR, 47 RBIs in 470 at-bats): Here's to the players that spread it around. As you will see under the Mariners portion of the poll, Meyer is a viable candidate there, too. In 1975 he played mostly left field but hit like a middle infielder. To illustrate, his slugging average of .336 would have ranked him 25th among major league shortstops and second basemen that season.
Jerry Morales, RF, 1979 (.211/.260/.364, 14 HR, 56 RBIs in 440 at-bats): It probably seems like somebody from the 119-loss 2003 Tigers should be on this list, but in the case of extremely bad teams, there is often too much blame to go around to single anybody out. Clubs with winning percentages below .300 are never the work of one or two men having extraordinarily bad seasons. They are, instead, collaborations of the sublimely subpar. Thus, we get Jerry Morales, who dropped into Detroit for one season and left this campaign as his Motor City legacy. While he showed a little pop, it was undermined by his .211 batting average, low OBP and substandard fielding stats in right. And because that's what they did in those days, the Mets traded for him when the season ended.
Kansas City Royals
Neifi Perez, SS, 2002 (.236/.260/.303, 3 HR, 37 RBIs in 554 at-bats): His first full season outside of Coors Field (where he hit .321/.346/.481 in his career) was hard to watch. His specialty was a sort of running bunt/swing that he seemingly tried at least once every other at-bat. He hit .236/.260/.303, his OBP crippled by just 18 unintentional walks in 585 plate appearances. He was also 8-for-17 in stolen base attempts. To their credit, the Royals kept him out of the top of the lineup after the middle of the season. To their further credit, they did not re-sign him for 2003.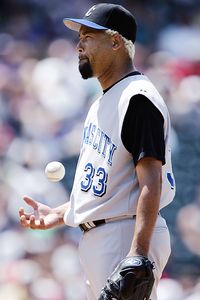 Brian Bahr/Getty Images
Amazingly, the Royals ran out Jose Lima for 32 starts in 2005 despite a 6.99 ERA.
Jose Lima, P, 2005 (5-16, 6.99 ERA, 168.2 IP, 219 H, 61 BB, 80 SO, 31 HR): Ah, the roller-coaster ride that is life. The previous fall, Lima was on top of the world after throwing a five-hit shutout for the Dodgers in their lone playoff win over St. Louis. Then came this: one of the great sustained disasters in pitching history. Lima was in the rotation the entire year and made just seven quality starts in 32 tries. Among pitchers with at least 30 starts, Lima's 6.99 ERA is the highest ever.
Angel Salazar, SS, 1987 (.205/.219/.246, 2 HR, 21 RBIs in 317 at-bats): We realize we said we wouldn't pick on the shortstops, but to a season like this, attention must be paid. Only one regular or semi-regular player in the history of baseball had a lower OPS+ than did Salazar in 1987 (minimum 300 PA), and that was the immortal Bill Bergen, arguably the worst hitter ever to get regular work in the big leagues. Salazar had nine extra-base hits and six walks in 332 plate appearances to supplement a .205 batting average. This was his best defensive showing; otherwise, his 1987 campaign would be in the running for the worst season ever by anyone, anywhere, anytime. In a bit of history repeating itself, Tony Pena of the Royals is having a 2008 season that even outdoes Salazar. Pena's OPS+ is just 2, but he only has 206 plate appearances and is unlikely to get too many more. He certainly won't match Salazar's playing time, but if we lower the threshold to 200 PA, Pena is the fourth-worst all time and Salazar drops to 27th.
Minnesota Twins
Nick Punto, 3B/2B/SS, 2007 (.210/.291/.271, 1 HR, 25 RBIs in 472 at-bats): Punto played so badly last year that it's something of a miracle he still has a big league job. The good news is that, in more limited playing time, he's doing much, much better in 2008.
David McCarty, DH/RF, 1993 (.214/.257/.286, 2 HR, 21 RBIs in 350 at-bats): On the one hand, this season launched a big league career that was still going 12 years later. On the other hand, he would never again get this much playing time. If you were not familiar with McCarty and looked at his 1993 stats, you would probably assume he was a middle infielder. Not so. He played three different corner positions: first base, left field and right field.
Jim Deshaies, P, 1994 (6-12, 7.39 ERA, 130.1 IP, 170 H, 30 HR): Pitching is a rough business. If you check our National League poll, you'll find Deshaies being held up as a paragon of virtue for the '89 Astros and here he is, five years later getting the negative nod on the Twins' ballot. He gave up a career-high 30 home runs, which is even worse than it sounds since this was his eighth-lowest innings pitched total. His HR/9 is the second-worst in team history. Even without all the homers, Deshaies still gave up more hits than innings pitched. His 7.39 ERA is the worst in team history for pitchers with at least 100 IP, and that includes all 60 seasons the team was in Washington.
AMERICAN LEAGUE WEST

Los Angeles Angels of Anaheim
Jim Abbott, P, 1996 (2-18, 7.48 ERA, 142 IP, 171 H, 78 BB, 58 SO, 23 HR): During his formative years, Abbott was piling up the innings for the Angels and then Yankees so that, by the time he returned to Anaheim at the ripe old age of 27, there wasn't a lot left to give. Abbott surrendered 171 hits in 142 innings, making for a bad bedfellow with a disastrous walk/strikeout ratio. Abbott struggled nearly every time out, logging just three quality starts. Still, the Angels kept giving him the ball and they went 4-19 in his starts.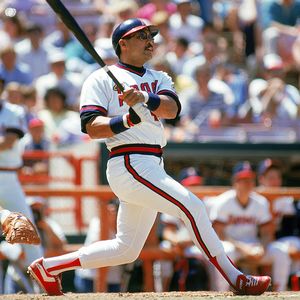 P Brouillet/Getty Images
Even Hall of Famers aren't exempt from having truly awful seasons.
Reggie Jackson, DH/RF, 1983 (.194/.290/.340, 14 HR, 49 RBIs in 397 at-bats): To be sure, there have been plenty of Angels who had worse offensive showings than Jackson did in 1983. Gary Pettis in 1987, Damion Easley in 1994, Bob Boone in 1984 and Gary DiSarcina in just about any year you'd care to name all hit much worse than this. The difference? They were able to earn some keep with their gloves. Playing the majority of his games as a full-time DH and the rest as a none-too-defensive-minded right fielder, Jackson was not so disposed. A case could certainly be made for Hubie Brooks' turn as Angels DH in 1992, but Jackson had 130 more plate appearances. Dave Parker's 1991 turn as their DH was not a shining moment, either.
Ken McBride, P, 1964 (4-13, 5.26 ERA, 116.1 IP, 104 H, 75 BB, 66 SO, 14 HR): It's the rare pitcher in this poll who has a batting average on balls in play as low as McBride did in 1964. Most are at least over .300 in that department, but not McBride. At .253, he's got the lowest BABIP among the pitchers with the 200 lowest VORP since 1959 -- meaning that he had a lot of help from his environment (a very stingy Dodger Stadium) and his defense. How, then, did he end up with an ERA almost double that of his team? By walking or hitting one out of every six men he faced. McBride walked 75 men in 116.1 innings pitched. While he had the third-worst walk rate in the league, he supplemented that by hitting 16 batters, the most in the league. On the basis of batters hit per innings pitched, of the nearly 250 pitchers who've hit at least 12 batters since 1959, nobody did it as frequently as Ken McBride did in 1964.
Oakland A's (Kansas City A's until 1968)
Matt Keough, P, 1982 (11-18, 5.72 ERA, 209.1 IP, 233 H, 101 BB, 75 SO, 38 HR): Keough walked 26 more men than he struck out while surrendering more than 10 hits per nine innings. The result? The second-worst ERA+ in the league and a tie for the lead in losses with 18.
Scott Brosius, 3B, 1997 (.203/.259/.317, 11 HR, 41 RBIs in 479 at-bats): The year before Brosius was traded to the Yankees to become an integral part of one of the best single-season teams ever (and land an All-Star berth in the process), he endured this horrific campaign. It is arguably one of the worst by a third baseman in the scope of this poll. The line of .203/.259/.317 would look pretty bad next to a third baseman's name in the most run-scarce environment. In the offensively orgiastic days of 1997, though, it was practically saltpeter.
Mike Hershberger, RF, 1965 (.231/.289/.312, 5 HR, 48 RBIs, 25 extra-base hits in 494 at-bats): Even by 1960s standards, Hershberger's numbers look comparatively weak. Imagine how frustrating it must have been for fans in Kansas City to have watched him patrol right field for three years while hitting a total of eight home runs, only to watch the team leave for Oakland when Reggie Jackson showed up. We can't leave the A's without mentioning shortstop Rob Picciolo, one of the most walk-resistant players ever to don spikes. His 1977 rookie year resulted in an astounding .218 OBP, mostly due to a .200 batting average. He avoided getting either the Hershberger or Brosius slots on the strength of his defensive value. Only Paul Casanova (.210 with the '68 Senators) and Mario Mendoza (.216 with the '79 Mariners) had lower OBPs among players with at least 300 PA since 1959.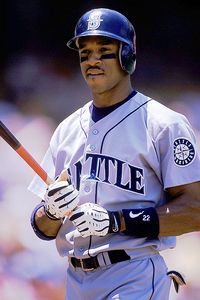 Elsa/Getty Images
Imagine being the leadoff hitter in front of A-Rod, Ken Griffey Jr. and Edgar Martinez -- and only scoring 71 runs.
Seattle Mariners
Brian Hunter, LF, 1999 (.231/.277/.300, 4 HR, 34 RBIs, 20 extra-base hits in 484 at-bats): First, the positive: Hunter stole 44 bases in just 49 tries. That's fantastic, and he is to be commended for his judiciousness and speed. It's too bad he was on base just 145 times in 527 tries. Compounding the problem, manager Lou Piniella batted him leadoff 100 games. This was in front of about as good a two-three-four as most teams could ever hope for: Alex Rodriguez, Ken Griffey Jr. in his prime and Edgar Martinez. The table setter rarely brought the silverware.
Mike Parrott, P, 1980 (1-16, 7.28 ERA, 94 IP, 136 H, 42 BB, 53 SO, 16 HR): By now, even novice baseball fans understand too much emphasis can be placed in a pitcher's won-loss record. Therefore, at first glance, you're all thinking that it is possible that there is a very logical explanation for why Mike Parrott went 1-16 in the Mariners' fourth season, an explanation that had nothing to do with how he pitched. Was it his ballpark? No, he pitched worse on the road. Was he better suited to a different role? No, his ERA was over 7.00 as both a starter and reliever. Did he pitch better than his record indicated? No, his ERA+ is the worst in team history. His run support wasn't great, but he lasted one inning twice, two innings once and was chased in the third two other times. He is the possessor of one of the 10 worst winning percentages of all time for pitchers with at least 10 decisions.
Leroy Stanton, DH/LF, 1978 (.182/.265/.248, 3 HR, 24 RBIs in 302 at-bats): While it's been a struggle to find three candidates for some teams, the Mariners have a rich tradition of this sort of ineptitude. In fact, you can put together an entire starting nine and starting rotation of Mariners who had seasons that put them in the running for inclusion:
C -- Larry Cox, 1979 (.215/.266/.314)
1B -- Dan Meyer, 1978 (.227/.264/.327)
2B -- Harold Reynolds, 1986 (.222/.275/.290)
3B -- Manny Castillo, 1982 (.257/.286/.336)
SS -- Mario Mendoza, 1979 (.198/.216/.249)
LF -- Mike Felder, 1993 (.211/.262/.269)
CF -- John Moses, 1987 (.246/.301/.331)
RF -- Al Cowens, 1983 (.205/.255/.329)
DH -- Jose Vidro, 2008 (.234/.274/.338)
SP -- Dick Pole, 1978 (4-11, 6.48 ERA)
SP -- Horacio Ramirez, 2007 (8-7, 7.16 ERA)
SP -- Miguel Batista, 2008 (4-12, 6.55 ERA)
SP -- Jeff Fassero, 1999 (5-14, 7.20 ERA)
SP -- Jeff Weaver, 2007 (7-13, 6.20 ERA)
And don't count out Carlos Silva making a late push this season!
Imagine that the Mariners are so deep in candidates that we have to leave out Mario Mendoza, the man for whom the Mendoza Line was named. In the end, we went with a designated hitter who didn't hit. Stanton, a fan favorite in the team's first season the year before, fell completely off the table in the club's sophomore season. He served primarily as a DH, although his 30 games in left field produced a line of .118/.191/.141, so he didn't hit there, either.
Texas Rangers (Washington Senators, 1961-1971)
George Wright, RF/CF, 1985 (.190/.241/.242, 2 HR, 18 RBIs, 4 SB, 7 CS in 363 at-bats): Wow! Maybe, just maybe, the worst season of the past 50 years, at least relative to position. Wright's 1985 campaign is further below replacement value than any other player since 1959. That includes banjo-hitting shortstops, broken-down catchers, slothlike left fielders, overmatched second basemen and skill-challenged first basemen. Everybody. And it's not even close. A low batting average (.190), a complete power outage, an inability to get on base (.242 OBP) and a 4-for-11 stealing slate -- combined with the fact that he was mostly a corner outfielder of no defensive consequence -- made for his undoing.
Matt Perisho, P, 2000 (2-7, 7.37 ERA, 105 IP, 136 H, 67 BB, 74 SO, 20 HR): He didn't pitch all that much, but when he did, opponents rejoiced. He allowed nearly two baserunners per inning and had seven "disaster" starts (as many or more runs allowed as innings pitched) in 13 tries. He may well have also participated in one of the greatest pitching mismatchups in baseball history that year. On Aug. 19, the Rangers visited Fenway Park, where the Red Sox were starting Pedro Martinez, who was in the midst of one of the most dominant seasons ever. Meanwhile, Perisho took the mound with an ERA well above 6.00. If the Rangers had acknowledged the foregone conclusion and taken the day off, they would have lost by the forfeit score of 9-0. Instead, they chose to play the game and … lost by the score of 9-0 as, predictably, Perisho got lit up and Martinez whiffed 10 and scattered three hits.
Joe Lovitto, CF, 1972 (.224/.306/.267, 1 HR, 19 RBIs, 11 extra-base hits in 330 at-bats): You have your choice here. If you like a little more OBP, vote for him based on 1972, when he went .224/.306/.267. If you prefer power, try 1974's .223/.285/.297. (In between was a brief call-up in 1973 in which he went 6-for-44.) On top of all that, Lovitto was a low-percentage base stealer. He was a contributor to that immortal '72 Rangers outfit that logged a .290 team slugging average.
Jim Baker is a frequent contributor to Page 2. You can e-mail Jim at bottlebat@gmail.com.
INSIDE THE NUMBERS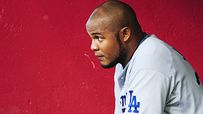 STATISTICAL PRIMER
An explanation of the statistics used in the piece:
ERA+:
The ratio of a league's ERA to that of the pitcher (adjusted for the pitcher's home park. 100 is average; less than 100 is below average.
OPS+:
Adjusted OPS; on-base percentage plus slugging average, normalized to the park and the league the player played. 100 is average, less than 100 is below average.
VORP:
From Baseball Prospectus, Value Above Replacement Player. The number of runs contributed beyond (or less than) what a replacement-level player would contribute given the same number of plate appearances or innings.
ESPN Top Headlines