ESPN.com illustration
Music cue: "Turn! Turn! Turn!" by The Byrds.
Roll voice-over: "The year was 1969, and a gallon of gas was 4 cents and a fill-up came with a free accordion. Monkey burgers were only a quarter, and a million people gathered in Woodstock for a polka festival. Richard Nixon was growing marijuana plants in the White House rose garden, and a plucky meter maid named Norma Armstrong made a trip to the moon. And in sports …"
1969 HIGHLIGHTS
No. 1 Ohio State defeats No. 2 USC 27-16 in Rose Bowl. … Namath guarantees victory, Jets stun 18-point favorite Baltimore in the Super Bowl. … Lew Alcindor wins third straight Final Four MOP award, becomes No. 1 pick of the Bucks. … Major League Baseball expands to Seattle, Kansas City, Montreal and San Diego and adds League Championship Series. … Mario Andretti wins Indy 500, only Indy title for the Andretti family. … Elvin Hayes averages 28.4 points per game, leading NBA in scoring as a rookie. … In Bill Russell's final season, Celtics win 10th title in 11 seasons, beating Lakers in seven games (Lakers had put thousands of balloons in the Forum rafters, anticipating victory in Game 7). … In first-round match at Wimbledon, Pancho Gonzales beats Charlie Pasarell 22-24, 1-6, 16-14, 6-3, 11-9. … Spencer Haywood becomes pro basketball's first "hardship case," signing with the Denver Rockets of the ABA. … Rod Laver wins U.S. Open to become the last man to win tennis' grand slam. … Tom Seaver wins 25 games, NL Cy Young Award. … Miracle Mets shock Orioles in five games to win World Series. … Trailing 14-0 after three quarters, No. 1 Texas rallies to beat No. 2 Arkansas 15-14 (both teams were 9-0).
That's your obligatory stage setting -- something that seems to be required of all historical retrospectives -- as if one can evoke an era with a few factoids. Although painting a broad picture at the start, rest assured that this particular reminiscence will push every button for the outlander convinced that the media are gotham-centric in their outlook because this is all about New York City.
It's not geoprejudice at work here, however, but simple necessity. Consider the familiarity of what was happening in other major sports in 1969. In the NBA, the Boston Celtics won their 11th title since 1957, and it came at the expense of the Lakers for the seventh time. In hockey, the Montreal Canadiens won their fourth Stanley Cup in five seasons. In college basketball, UCLA nailed down its fifth title in six years. Things were downright routine elsewhere. Is it geocentrist to point out that it just so happened to be that the teams that provided the decade's two biggest surprises hailed from New York?
Soon after the year began, the New York Jets of the American Football League were installed as major underdogs to the National Football League champion Baltimore Colts, leading up to the third Super Bowl. Because the Colts were so dominant defensively (they had the third-best ratio of points for to points against in the 14-game era), because the Green Bay Packers had set aside the AFL competition so easily in the first two Super Bowls, because Baltimore won its league title game handily (34-0) and the Jets struggled in theirs, the point spread was set in the mid- to high teens, usually cited as 18.
Soon after, Jets quarterback Joe Namath -- who actually had thrown more interceptions than touchdown passes in the regular season -- offhandedly guaranteed a Jets victory. The world laughed. Most believed the point spread was less than what the actual final score would be. Amazingly, New York nearly reversed that spread. Because of missed field goals and turnovers, Baltimore failed to score on numerous opportunities deep in Jets territory and narrowly avoided being shut out in a 16-7 loss.
Next, it was the Jets' Shea Stadium co-inhabitants' turn to surprise the sporting world. The Mets, though they had improved on their disastrous early seasons in the previous year, were not considered a factor in 1969. While not necessarily looking like a contender for much of the first two-thirds of the season, they did at least look like a team that had, at last, arrived. Down the stretch, though, they went 38-11, passing and burying the division-leading Cubs.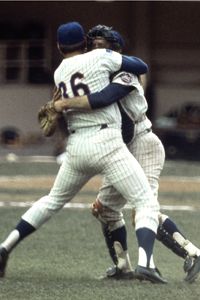 Focus on Sport/Getty Images
Before 1969, the Mets had finished ninth or 10th in all seven of their seasons.
In the newly inaugurated league championship series, the Mets blasted the Braves in three games, outscoring them 27-15. In spite of these successes, they were regarded as monumental underdogs to the 109-53 Baltimore Orioles. After dropping the first game in Baltimore, though, they shut down the Orioles on great pitching, spectacular catches and a couple of questionable calls. Tom Seaver, the team's ace and Cy Young winner, was named The Associated Press' Male Athlete of the Year. It is quite a coincidence that, in both cases, the big-city team was a profound underdog to the same smaller town down the Eastern Seaboard. (The New York Knicks also defeated the Baltimore Bullets in the first round of the NBA playoffs that spring.)
Off the field, another incident of great significance to sport took place in 1969 -- also in New York. The first edition of the Macmillan Baseball Encyclopedia issued forth from that city (complete with a panoramic photo of Shea Stadium on the hardbound sleeve, staying with all things Big Apple), and sports statistics have not been the same since. The "Big Mac" marked the dawn of taking stat tracking to a new level. Never before had there been such a comprehensive repository of numerical detail. Although the book is no longer relevant in published form -- in fact, Macmillan stopped printing it years ago -- its legacy is still going strong. Visit the statistics page of this Web site -- or any other -- and know that the Macmillan book helped create the foundation upon which this kind of specificity was built, not only for baseball but for all sports. It also would be nice to claim another seminal book for 1969 -- Jim Bouton's "Ball Four" -- but although it was a diary of that season, the ex-Yankee's book didn't explode upon the sports world until it was published the following year.
Jim Baker is a regular contributor to Page 2.
Page 2's Most Memorable Sports Years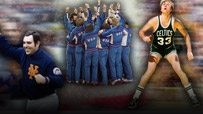 With 2008 already full of amazing moments, Page 2 is looking back at the greatest years in sports history.
THE YEARS
•
Jonah Keri on 1961: The year of the dynasty
•
Jim Caple on 1968: A year of unrest
•
Jim Baker on 1969: New York, New York
•
David Schoenfield on 1972: AL in trouble
•
Eric Neel on 1978: Greatest duel ever
•
Mary Buckheit on 1980: A miracle
•
Mike Philbrick on 1984: Bridging the gap
•
Paul Lukas on 1986: Three great weeks
•
DJ Gallo on 1994: The good old days
•
Scoop Jackson on 1998: Still resonates
•
Kieran Darcy on 2001: Darkness, and light
•
Patrick Hruby on 2004: End of exuberance
VOTE
•
PollCenter: Best year ever -- '80, '86, '98, '01 or '08?
ESPN Top Headlines