By Jeff Merron
Page 2 staff
Editor's Note: This is the 21st report card in Page 2's summerlong series rating all 30 ballparks in Major League Baseball.
"Sure holds the heat well."

-- Casey Stengel on Busch Stadium, 1966
REPORT CARD
Busch Stadium
Capacity: 50,354
Opened: May 12, 1966
Surface: Grass Our Ratings:
Seat comfort: 2.5
Hot dogs: 4
Concessions: 2
Signature food: 2
Beer: 3
Bathrooms: 4
Scoreboard: 3.5
P.A. system: 2
Fun stuff: 4
Souvenirs: 5
Tickets: 3
Exterior: 3.5
Interior: 3
Access: 3.5
Ushers: 5
Trading up: 5
Fan knowledge: 5
7th inning stretch: 5
Local scene: 5
Wild card: 8

---

Total: 78
ST. LOUIS -- Cardinals fans love Busch Stadium almost as much as they love the Redbirds, which is good, because that means they come out to the old ballgame in droves. Yes, the fans themselves make Busch a terrific place to see a game, much more than the structure itself. Go to a game in Saint Louis, and you'll see more folks decked out in the team colors than just about any other stadium in the country. They wear McGwire shirts and Pujols jerseys, and rich red Cards T-shirts that amplify the intensity of the red seats.
And these aren't fantasy fans, or displaced fans. They're here to cheer their team. Look in the Cards souvenir shop, and you'll see -- unlike other ballparks -- almost no memorabilia featuring other teams' players or logos. It makes sense that those items wouldn't sell well in the heartland, where diehards come by bus from hundreds of miles away to see what is, for many in the Midwest, the hometown team.
A new ballpark is slated to open for the 2006 season right next to Busch, along with a five-block area called "Ballpark Village." It'll have all the modern amenities. Let's hope it keeps some of that old Busch fan vibe.
The ratings:
1. Seat comfort: I abandoned my original upper-upper deck seat after the first, and played Goldilocks to get close to the action. I never did find a seat that was just right, though -- three of the four seats I found open had slight downward slopes. Reminded me of the old $1 movie theaters. Cupholders only for the field-level riche. Excellent sight lines, though. Points: 2.5
2. Quality of hot dogs: "They're OK. They're not as good as Wrigley's," said one fan, as he scarfed down a couple, sticking close to the stand ready to order a few more. 4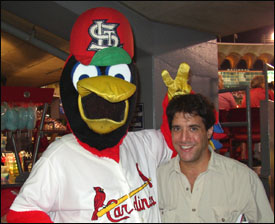 That's Fredbird giving a big hug to one of his biggest fans.
3. Quality/selection of other concession-stand fare: Scores and scores of concession stands, and the same stuff at almost all of them -- standard ballpark fare, if you still live in the 1970s. There's a Hardees, and one Edy's ice cream stand, and a couple of places to get pizza, but to find anything but the usual, you really have to look. That said, my slice of pizza was excellent, and $3 for a large portion of Edy's ice cream was a real bargain. And I was able to find a Shalfly's, the local microbrew. But it wasn't easy. 2
4. Signature concession item: Bud, Bud Light, Busch and salty snacks. Can you blame them? 2
5. Beer: If ever a ballpark called for a beer tap at every seat (they could pipe it in and price it by the gallon, like at a gas station), Busch is it. 3
6. Bathrooms: Lines, lines, everywhere, but they werenąt terribly long, the facilities were clean enough, and it was a sellout. 4
BUSCH STADIUM BUDGET
Here's what Page 2's Jeff Merron spent during his day at Busch Stadium: Upper Terrace Seat: $14.75 ($11 +$3.75 Ticketmaster charge)

Schlafly Ale: $5.75

Slice of pizza: $3.50

Ice cream: $3

Lemonade: $4

Transportation/Parking: $0

Total: $30.50
7. Scoreboard: The two big scoreboards in left and right feature 3/4 advertising, 1/4 content -- perhaps the worst ratio in the Bigs. The one video board was relatively small and not visible from my upper deck seat; it's situated low, making viewing difficult from many different angles.
Full line scores are provided for all out of town games, on old-fashioned hand-operated boards, which is terrific. 3.5
8. Quality of public address system: P.A. announcements come through loud and clear, but anything related to video playing on the scoreboard or music is almost indecipherable. 2
9. Fun stuff to do besides the game: Cards management knows St. Louis fans don't want distractions after the National Anthem is played. A pregame concert in the picnic area, postgame fireworks, a couple of kiddie diversions, and a place where you can order and watch your own bat being made by Rawlings suffice. This is serious baseball territory. 4
10. Price/selection of baseball souvenirs: Kudos to the Cards for offering many reasonably-priced items. You can get four Cardinals' logo coasters for $10, a luggage tag for $6.50, a shot glass for $6.50, and, of course, a Cardinal Red ladies thong for $9.29. I guess those are for the guys who really have to think baseball on their way to home plate. What's next -- Nuke Laloosh garter belts with the Durham Bulls logo? 5
11. Ticket price/availability: I want to meet the marketing genius who came up with the idea of calling the highest, worst upper deck seats, "Upper Terrace Reserved." It sounds so good, like you're going to a special place on a mountaintop, to be served by butlers. But the words on the ticket don't make the view any better, especially when you're not peering around the right-field foul pole, but over the top, to see the action. Yes, you're a long ways away for $11. 3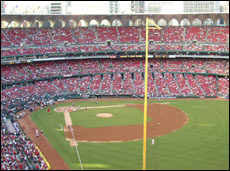 The view from the upper deck doesn't exactly scream "luxury box."
12. Exterior architecture: Busch looks great from atop the Gateway Arch, and the smaller arches that ring the top of the stadium are a nice echo of that great landmark. The Stan Musial statue surrounded by a semi-circle of Cards pennant and World Series flags, and other, smaller statues of other Cards greats, adds some luster. 3.5
13. Interior architecture: The deep concession-stand lines during most of the game made passage through the upper concourses difficult. But real turf, Cardinal red seats, and good views of the arch and downtown give the interior a little extra juice. 3
14. Access: Smack dab in dowtown St. Louis, and right at the convergence of multiple Interstates. Plenty of parking garages within a few blocks. It's a downtown snarl postgame. There's also MetroLink, the city's mass transportation system, which stops right at the stadium. 3.5
15. Ushers: "Usher," derived from the Middle English usser, means both doorkeeper and escort. As at most ballparks, those at Busch play both roles -- they escort those who've paid top dollar to the good seats, and keep others out. But they're nice about it. And they'll let you stand near the good seats without a hassle. 5
16. Trading-up factor: When you pay $11 for a ticket, is it legal, technically, to move into a $31 seat? Or is it stealing? Is it ethical? These are the questions I pondered on my four-inning vagabond journey that finally -- score! -- landed a field-level seat. Right about the time Pujols doubled to right to extend his hitting streak to 22 games. Not bad considering the crowd was SRO. 5
17. Knowledge of local fans: They say keeping score is going out of style, but St. Louis has missed that news. About five of my seat-neighbors went at it with pencil and scorecard. Besides which, everyone was talking baseball. Is St. Louis the best baseball town in the country? 5
18. Seventh-inning stretch: Sarah Fisher, the hot IRL driver, sang Take Me Out, accompanied by four kids who sang way out of key. Classic. 5
19. Pre-and-postgame bar-and-restaurant scene: Within a two- or three-block radius of the downtown stadium, you've got some good choices. Pitchers, a smallish sports bar at the Ramada just across from the park, was packed postgame with fans sucking down brews and margaritas. Mike Shannon's steakhouse is a popular place for both eating and drinking. TGI Fridays also saw plenty of action. Oh, there's also riverboat gambling just a few minutes away. 4
20. Wild Card: The fans deserve five bonus points for their sea of red and love of baseball, which enhance the Busch experience. The ballpark gets two bonus points for not only making the Stan the Man monument the place to meet, but also for having a second Stan statue, out there with Red Schoendienst, Lou Brock, Bob Gibson, and all the other immortals. The park speaks history more than you'd expect of the original "cookie cutter" stadium.
And a bonus point for Ernie Hays, who played "Entry of the Gladiator," a circus tune, when the Reds gave up six runs in the first inning of a game in St. Louis last season. That inspired the ire of Cincinnati skipper Bob Boone, who told reporters, "Tell that organist to take his organ monkey and stick it." You gotta love it when the organist is, in a way, the 26th man. 8
TOTAL SCORE FOR BUSCH STADIUM: 78