By Eric Neel
Page 2
Editor's Note: In the summer of 2003, Page 2 toured and rated all 30 Major League Baseball stadiums. This season, two new ballparks opened. We reviewed the new stadium in San Diego (like the evil character in the Harry Potter series, reviewer Jim Caple has decreed that its corporate name must never be writ) in May. And, yes, it's taken us most of the season to get to the other one; but, hey, the important thing is we got there, and we even left ourselves 10 whole days to spare. So here it is, Eric Neel's report card on Philadelphia's new ballpark.
PHILADELPHIA -- It was supposed to be perfect.
The Phillies were poised for a run at the flag. They had Thome and Abreu. They had Millwood, Padilla, and Wagner. They had daylight in front of them and the Braves (finally) behind them. They were the team to beat.
And best of all, after years of baking and scraping, they were free of the Vet. Their breakout year was going to break in beautiful new digs just outside of downtown Philadelphia. They were going to christen Citizens Bank Park with a glorious run to the 2004 playoffs.
It was supposed to be perfect. But it didn't work out.
It seems the Braves are still the Braves, after all; and Millwood wasn't exactly Millwood, anyway; and Thome and Abreu got no help; and the team enters the last week and a half of the season four games over .500 and 11.5 games back.
REPORT CARD
Citizens Bank Park
Capacity: 43,500
Opened: 2004
Surface: Grass

Our Ratings:
Seat comfort: 3
Hot dogs: 4
Concessions: 5
Signature food: 5
Beer: 4
Bathrooms: 5
Scoreboard: 5
P.A. system: 3.5
Fun stuff: 5
Souvenirs: 4
Tickets: 3
Exterior: 4
Interior: 5
Access: 4
Ushers: 5
Trading up: 4
Fan knowledge: 5
7th inning stretch: 2.5
Local scene: 3
Wild card: 6

---

Total: 85
But you can't blame the ballpark for the ugly death the 2004 dream is dying. The ballpark did its part. The ballpark came ready to play. The ballpark buried the Vet and raised the bar. Now, if only the team would rise up and over its standard, things would be perfect.
THE RATINGS:
1. Access: I was at P---o Park in San Diego earlier this summer; and nice as the park was, the experience was marred by the fact that if you weren't willed a parking place by some eccentric Rancho Bernardo uncle who's had tickets since '69, you were in for a long walk. By comparison, Citizens Bank Park is surrounded by lots and the flow in and out of them looked easy to me. Points: 4
2. Exterior Architecture: Red brick and red steel beams and girders. It's not spectacular, but it doesn't look like it's trying too hard, either. It looks like a ballpark, in a solid, old-time sort of way; and there are causeways and courtyards outside (four main entrances, along first and third base, and in right and left field) that invite early arrivers to hang out or get their pictures taken with statues of Philly greats like Carlton, Schmidt, and Robin Roberts. The park is away from downtown, and part of a complex along with the city's football and basketball stadiums. That's bad, but it feels like its own world, thanks to the consistent design and open areas, which is good. Points: 4
3. Interior Architecture: I could tell you about the inviting sight lines. I could tell you about the way the seats, even up high, feel close to the action. I could tell you how the place is full of quirky angles. I could tell you how much I liked the stacked bullpens in right-center, or the bleacher seats on the rooftop of the Ashburn's Alley entertainment area out that way. Or I could tell you that the concourses offer views all the way around the park.
But I'm not going to tell you any of that. I'm just going to say this: There are ledges behind the seating areas, all around the park, where you can set your drink and your dog down and watch the action. That's right, the place is designed to encourage you to get a better view, to keep your eyes on the game, and to come in close. Crazy, huh? Memo to Steve Schott in Oakland: Should you ever get the dough to buy that new park you want, you better include some of these. They beat the hell out of those "don't you dare sneak a peek" barriers you're sporting at Network Associate Coliseum. Points: 5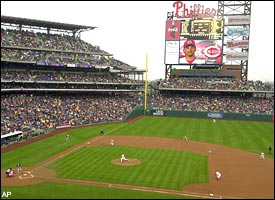 There are great views from all over Citizens Bank Park.
4. Ticket Availability and Price: Here's the good news: Even though their season's been a sad march across the plains of mediocrity, the people come out. They're loyal ... to the park, at least. So here's the bad news: Tickets are hard to come by. When I went, there were some SROs available at 4 in the afternoon (three hours before first pitch); but I was looking to see things up close, so I bought a single from a guy selling extras over by my hotel. It was a $40 ticket, and I got it for $30. If you're looking to bring the family, buy your tickets in advance. And be ready to pay a bit, because the cheapies (upper decks) are $15 and the good seats (infield and baseline sections) run to $40. Points: 3
5. Quality of Hot Dogs: They do the right thing: They grill 'em. And they're XL. The jumbo dogs and Italian sausages are a meal in themselves. Points: 4
6. Quality/Selection of Concession-Stand Fare: They keep it simple at the regular stands: dogs, burgers, fries, etc. I like that. The last thing you want when you know what you want is to be confused about what you want. You know what I mean? The highlight, though, are the specialty stands out in Ashburn Alley. I couldn't decide between a Philly Cheese Steak sandwich and a rack of ribs at Bull's BBQ (The 'Bull' in question is, of course, Greg Luzinski). So I had both. The price was high: I could barely move afterward, my notes were a scrambled mess, my vision was blurry, and there were flashbacks and hallucinations involved. But oh, it was worth it. I'd crawl back to Philly for the baked beans at Bull's. I'd sell my soul for another whiff of the grilled onions on the Geno's cheese steak. Points: 5
7. Signature Concession Item: The only downside on the cheese steaks is that you have to wait in a long, sweaty line to get one (or, if you're smart, two). This can be a real problem. The lines start forming an hour before the game and they don't let up. Here's how you solve the problem, though: On the way over to the cheese steak stand, you get yourself Signature Concession Item No. 2: a Philadelphia Water Ice. I recommend the lemon. Points: 5
8. Beer: For a ballpark, the prices are reasonable -- $5.50 for domestic bottles, $5.75 for premium. The smart money is on the local stuff. Try the Flying Fish. This, by the way, is another excellent tide-me-over while waiting in line for your cheese steak. Points: 4
9. Bathrooms: Throughout the Page 2 Ballpark Tour last summer, I found it difficult to get excited about the bathrooms. That all changed in Philly. These things are line-proof huge and totally unpretentious (simple red, white, and blue-painted cinder block walls), and they feature toilets you actually flush. (I hate the is-it-going-to-work-or-is-my-um-business-going-to-linger-there-for-all-to-see automatic ones.) And they provide genuine paper towels for washing up and drying off. Points: 5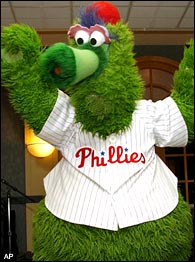 The Philly Phanatic is just the icing on the cake.
10. Seat Comfort: Fine. Though why the seats are blue hard plastic, when all the rest of the park is done in greens and reds, is lost on me. Points: 3
11. Price/Selection of Souvenirs: The guy behind the counter at the shop says "anything Thome!" is a big seller. I'm more inclined to invest in the blue-chip stocks, the guys with tradition and history in their veins, the guys you know will be around come what may. I'm talking the Philly Phanatic, of course, and I'm talking a do-it-yourself-Phanatic stand where you can decided how much fluff you want in your doll, and what you want him (her?) to wear, etc. It's a scam, and I'm sure I'm only susceptible to it because I have a toddler daughter, but I liked it. Points: 4
12. Scoreboard: The main scoreboard in left field is great -- two giant screens, lineup boards so you can keep track of who's doing what, etc. But the best features are the out-of-town scoreboards along the right-field wall. They're scorebook-style, so you can follow game situations. This would have been especially cool if, say, the Phillies had actually managed to stay in the race. Points: 5
13. Sound System: Unlike most new parks, they actually keep the decibel level in check. Bonus points. The musical selections were pretty clichéd, though (K.C. and the Sunshine Band, Kool and the Gang, etc.). Demerits. Points: 3.5
14. Fun Stuff to do Besides The Game: I've seen a lot of this kind of stuff lately, but Citizens Bank Park offers some games I'd never seen before, including one where kids run like Jamie Lee Curtis leading an aerobics routine in "Perfect" while racing various incarnations of the Phanatic around a diamond. (You have to see it up-close to understand.) Another lets you swing a huge foam bat at a huge foam ball as part of a huge baseball pinball machine, which felt like some sort of Tony Soprano dream sequence. Points for originality: 5
15. Ushers: I'd heard a lot about how rough the vibe in Philly is. But everyone I dealt with, from the girl selling the lemon ice to the guy taking my ticket, said, "Thank you, and have a nice night." It was eerie. Sweet, but eerie. Points: 5
16. Trading-Up Factor: This was a close game featuring an eighth-inning rally, so there weren't many empty seats to move into. That said, I saw people move around in the ninth and never get hassled. Points: 4
17. Seventh-Inning Stretch: I don't know if it's because the game was tight. I don't know if it's because, like me, they could hardly move thanks to the ribs and cheese steaks in their guts. But this was a half-hearted rendition of "Take Me Out To The Ballgame," saved only by the fact that the musical accompaniment sounded like a real, live organ. Points: 2.5
18. Knowledge of Local Fans: They're tough. A line drive shoots over the outstretched glove of left fielder Jason Michaels and folks start shouting, "Burrell would have had that!" and "You couldn't carry Burrell's jock!" They're tough, but they're also faithful. A full hour before the game, there was a line 100 people long waiting to get into the Memory Lane historical timeline out in Ashburn Alley. Points: 5
19. Pre-And-Postgame Bar-And-Restaurant-Scene: The park is too far from anything for a bar scene. But the tailgating is going on, at least before the games start. Points: 3
20. Wild Card: You're either for or against the Phanatic. There is no middle ground. Frankly, I'd always been against him. But seeing him up close, seeing the way he weaves his magic middle at rally time like a big green Elvis, like the soulful, spirited doppleganger to all the empty evil that is Barney, I gotta say, I'm for him. Points: 6
Total Points For Citizens Bank Ballpark: 85
Eric Neel is a regular columnist for Page 2. His "On Baseball" column appears weekly.