Single page view
By Don Barone
Special to Page 2
It has come down to this. I'm currently the high bidder on eBay, for coyote urine.
Someone in Kansas outbid me on the red fox whiz.
Bobcat tinkle has no bids. I've got it bookmarked.
I've never seen a coyote in my life, but suddenly I'm desperately bidding $20.50 for 16 ounces of his No. 1. And it's even in "a convenient spray bottle."
Blame my wife, and Father's Day. Maybe Home Depot too, but I'm afraid that someday I might need an orange extension cord, so I'm leaving them out of this.
For Father's Day, my wife bought me a "Squirrel Proof" bird feeder and 25 pounds of something called "oiled sunflower seeds." It had a cardinal -- feathered, not St. Louis -- on the bag.
The squirrels have been having a free banquet in my backyard ever since.
It only took me two 25-pound bags of Home Depot bird seed to figure this out. How in the world were six-ounce birds eating three pounds of seed a day? And still flying?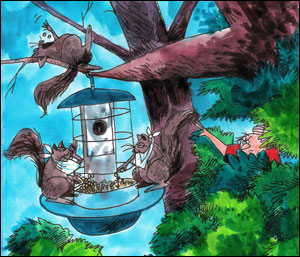 Then I saw it. Perched on my state-of-the-art, just-for-birds feeder, a squirrel, casually eating away, knocking down some of the $10.99 seed to a couple of his friends on the ground.
Not being an "Animal Planet" kind of guy, I had no idea squirrels ate bird seed. I figured, if anything, they ate squirrel seeds. And some nuts.
Of course, I remember the nursery tales of squirrels storing nuts and seeds for winter -- I just had no idea they got their food from squirrel-proof bird feeders. Mother Goose left that part out.
So the battle began. Me against the squirrels. And like any guy on a me-vs.-them mission, I started out full-bore, giving it everything I had.
I dialed up Google.
Rodents got no chance when you have broadband.
Type in squirrels ... bird feeder .. problems ... wait .003 seconds. Up comes my answer, with 307,812 hits.
Squirrels it seems, don't need broadband.
SQUIRREL DEFENSE FUND: $21.98 (50 pounds of seed, gone)
Two hours later, and a few more pounds of seed lost to the squirrels in the backyard, I find that of the 307,812 pieces of insightful Gooooooooogle advice boils down to this:
"Shoot them."
The squirrels, not Google.
I sense PETA problems.
While searching eBay for "NWT Squirrel Gun," I'm thinking two things: I don't actually want to harm the squirrels, I just want them to go eat in my neighbor's garden; and my wife will never let me buy this "Buy-It-Now New in Box Spring Loaded BB."
Back to Google, with no need yet for PETA to picket my backyard -- although the crowds might help keep the squirrels away.
Click on ADVANCED SEARCH, type in: squirrels, problems, bird feeder, minus gun, bullets, kill, animal rights.
Up pops ... pepper.
Google is now telling me I can get rid of the squirrels with a condiment.
All I've got to do is to get the squirrels to sneeze, and they'll leave. I can do that.
But it has to be cayenne pepper. Squirrels know pepper? Down the stairs, spin the Lazy Susan, stop at this bottle of pepper that's red. Off with the top, I look in, and being a guy, I sniff.
This is bad. It's not about squirrels sneezing, it's about lighting them up. Since my wife has never actually heard me spin the Susan before, she's now in the kitchen, and through my watering eyes and running nose, I put the now empty bottle of fire-pepper down and say to her, "I need your Stop & Shop card."
Experience tells her that this is not going to be good.
In the spice section, wife waiting in the minivan, I'm doing food-aisle math. I've got 25 pounds of premium seed, and cayenne comes in tiny little cans.
I buy 12.
In the backyard, my wife Barb hands me a white plastic Home Depot bucket and then, inexplicably, hurries inside.
In goes the seed, in comes the cayenne. Since the cans are small, and I have two hands, I do four cans at a time.
Unlike my kitchen, my deck has a breeze. Barb, I guess, sensed this.
I'm in a cloud of cayenne ... the sunflower seeds are still mostly black. I need walls, but Barb has already locked the door.
In the garage, sneezing, I mix in seven cans, holding one out for an emergency. Seeds and hands are now turning red. Mix, sneeze, mix, sneeze, back out to the feeder.