Commentary
Pillow fights are serious business here
Originally Published:
January 28, 2010
By
Katie Barry
| Special to Page 2
TORONTO -- It's not like a scene from young girls' slumber parties or "Grease." It's more like "Nacho Libre" with a little "A League of Their Own" thrown in.
It's the Pillow Fight League.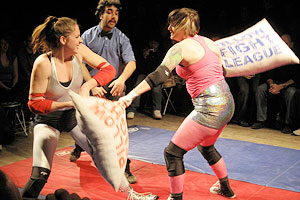 Kristy BarryNeed to see it to believe it? Well, here you go.
Yes, it's a real league, with real women who love this funky mishmash of sports. They fight twice a month: once locally here in Toronto and once on the road. And it's not about the money (the most any fighter is paid is $100 per bout), but rather the workout, the sense of glory and keeping the league alive.
It's been around for four years now. The women train in an old coffin factory in Toronto three times a week with Eric Yu, a Brazilian jiu-jitsu fighter and Kizarny from "WWE SmackDown," who helps them with their mental game when he's not working at Carnival Diablo's Sideshow. Only a man willing to put steel nails up his nose could teach these chicks how to use their heads as instruments of annihilation. The fights are unscripted -- but just like the WWE, the crowd eats it up.
"I had no idea what to expect," PFL fighter Charley Davidson said about joining the league. "I didn't know if it would be models flinging feathers or ripped girls killing each other in a basement."
The competitors all have clever nicknames, to go along with vicious styles of play. Polly Ester has suffered a bruised lung in PFL competition. PhDemon broke a finger, sprained another and suffered a concussion. Bobbi Pinn broke a finger and suffered whiplash. Apocalipstick broke her wrist in two spots while fighting two girls at once. Champain was dealt a bruised kidney by Betty Clocker. And the beat goes on.
At "PFL 36: Showdown" on Jan. 14, 10 fighters faced off in front of a crowd of 300 people in a retro party space here in Toronto. Competing for the gaudy gold PFL championship belt was defending champ Olivia Neutron-Bomb, a curvy blonde known for her raw power, and Davidson, a petite redhead with a huge Harley-Davidson tattoo on her calf.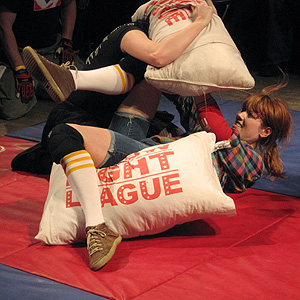 Kristy BarryAs you can see, the competitors do more than just swing pillows.
But before the main event, there were several preliminary bouts. Each fight starts with the ref patting down the competitors for things like rocks and razors in their protective gear. There's a list of seven rules, ranging from pad requirements to prohibitions on biting, scratching and hair-pulling. Fights are won via a pin to the ground, surrender or referee stoppage. If a pillow fight ends at the time limit without conclusion, a winner is declared by a three-judge committee, using a traditional 10-point system. Pillow fighters are judged on style, stamina and "eye of the tiger."
At one point, after the preliminary fights but before the championship match, "Amateur Night" was announced. I was in attendance with my twin sister Kristy, and I had no qualms about beating the blonde out of her. We have been fighting for 25 years now, at family gatherings, rest stops, church or wherever a squabble bubbles up. We've argued about everything from socks to boys to money to who has to turn off the bedroom light. "You two fight like cats and dogs," our mom said all through our childhood. "You're worse than junkyard dogs!"
The only difference now was a bigger audience, and the big red-and-blue mat. The ringside announcer bellowed: "And next, welcome to the mats, PillowBiteHer and Katastrophe!" I felt like I was in a hippie's version of "Fight Club." With several PFL stars watching from the sidelines, we removed our boots and straightened out our dresses.
"If I happen to knock your head off tonight, don't take it personally," I warned my sister.
The whistle was blown, and we darted toward the pillows in the middle of the mat. I grabbed both of them, chucking hers into the audience. The fight quickly turned into a brawl, complete with hair-pulling and clothes-ripping. At one point, I took a running jump and leapt onto my sister's back like the furry midget twin from "Nacho Libre", I was told.
[+] Enlarge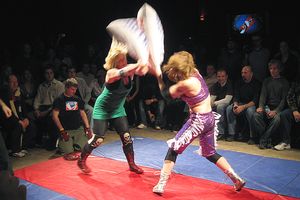 Kristy BarryThe championship bout was an epic clash.
We danced around each other, delivering blows with classic baseball swings and fake-out spinning smacks. I underestimated the physicality of the sport; to strike over and over with a double-stuffed polyester pillow requires mad muscles. (And a sports bra, which I didn't have.) Kristy beat me out of the womb, so there was no way I was going to lose this one. Time ran out, but we kept hitting each other. In the end, the referee lifted my hand; I was declared the victor. The PFL fighters congratulated both of us, laughing at the sibling smackdown. Shady Godiva called it "the best amateur fight I've ever seen."
Then, at last, came the championship match.
"I hope you don't run out of gas, because it's on," Olivia said to Charley right before the bout, batting her eyes, which were adorned with pink glittery eyeshadow. Charley looked intimidating in a purple fringe disco outfit, reminiscent of a rockabilly performer, with rippling abs and mullet flying. Their prefight fist-bump was the last show of civility.
Charley quickly landed five elbow drops to Olivia's back, and Olivia retaliated by stuffing Charley's head in a pillow, then flipping her into a midair somersault by her neck. It was like watching Reese Witherspoon fight Hilary Swank. Olivia's perfectly coiffed blonde hair became a disheveled mess. It was an all-out slugfest. Eventually, Charley wrangled Olivia to the floor, pinning her for a takedown victory.
[+] Enlarge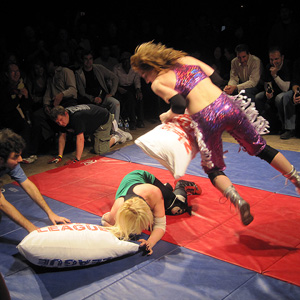 Kristy BarryIn the end, Charley Davidson dished out some serious punishment on Olivia Neutron-Bomb.
Commissioner Stacey P. Case snapped the PFL belt around Charley's waist as the ravenous crowd cheered in adoration. The fans then filtered out, many still extremely excited. "How sick was that when she flipped her?! Did you see when she gave her an uppercut with her knee to the chin?" one fan remarked on the way to the exit.
The Pillow Fight League continues to grow in popularity. Next month, Charley Davidson and Shady Godiva will fight for the PFL championship belt in South Korea, on live TV. I found the whole experience to be a riot, great fun for people who love action and campy, sexy costumes. The fans worshipped the competitors as if they were wrestling stars like The Undertaker or Ultimate Warrior.
The next day, my neck was still tender and my shoulder was not rotating properly when a Facebook friend sent me an app invite for "Pillow Fight," an electronic way to badger someone. You have two days to respond, or you lose.
Such amateurs …