Commentary
What, never heard of outhouse racing?
Originally Published:
January 29, 2010
By
Kristy Barry
| Special to Page 2
MACKINAW CITY, Mich. -- An outhouse race may sound like hillbilly heaven, or Uncle Buck's version of a Cub Scouts Pinewood Derby.
It's actually a little bit of both.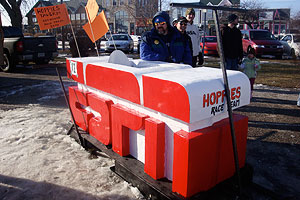 Kristy Barry for ESPN.comYes, that's an outhouse in the shape of the ESPN logo.
Mackinaw City actually hosts a series of outhouse races every year. The event is billed as "The Best Case of the Runs You'll Ever Have" by Greg "Big G" Yoder, who first commissioned the event.
I simply had to see this for myself.
The rules require each racing outhouse to contain a toilet seat and a toilet paper dispenser. There can be only two pushers, two pullers and one rider per outhouse, which is mounted on skis.
Fans wear Big G's badges, which read, "Don't Wipe Out!"
The Pope probably wouldn't have been thrilled with the Holy Crapper -- an outhouse modeled after the Popemobile, with clear plastic casing, gilded toilet paper and a poinsettia in the corner. Classy.
Last year, the rider wore Pope garb while the pushers dressed as monks. They tripped -- a horrible fate when you really consider it -- when the monks' pants fell to their ankles.
[+] Enlarge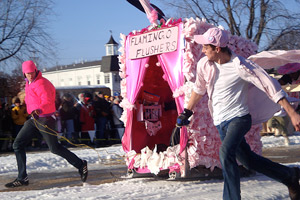 Kristy BarryA flamingo theme -- yeah, that's one way to go.
Scott Forsmark, a dentist by day, constructed an outhouse out of the ESPN logo this year. It took two days, four men and $350 worth of Styrofoam to build it in his barn. While putting on the finishing touches, he narrowly avoided a major blowtorch mishap. "Nearly burnt down a $4,000 barn for ESPN!" Scott said -- as if he and his stunning teeth deserved an ice cream treat for the trauma.
In one race, Team ESPN smoked the Holy Crapper, with one fan yelling, "I've seen faster races to the bathroom!"
The Shot and Squat Saloon is a barfly's paradise on skis. An upside-down plunger serves as a beer can holder. You can watch cardboard mock TV -- complete with a color photo of a Miami Dolphins touchdown catch. Other decorations include liquor bottles, a tap handle, old beer posters and a hockey schedule.
Others kept it simple -- there was the Wee Wee Tee Pee, the Royal Throne, and an oversized Red Bull. Gives a literal meaning to "being in the can."
The Flamingo Flushers made bird-watching bearable. It's awfully odd to see a pink-winged Porta-Potty barreling down a 700-foot snow track.
[+] Enlarge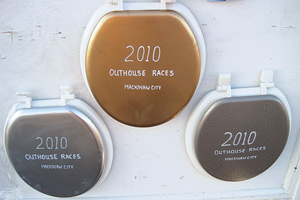 Kristy BarryHere we are, the illustrious outhouse-racing trophies.
The races brought more than 500 people to town for the hee-hawing and never-ending bathroom jokes. And there were prizes to be had: trophies in the form of toilet seats -- gold, silver and bronze.
Dixie Saloon looked like a powder keg, with four harnessed young stud movers who gave mush dogs a new name -- they grunted their way to the gold. The Wee Wee Tee Pee earned the silver, while the Flamingo Flushers took turd … I mean, third. (It's so hard to resist!)
An event organizer who calls himself Pork Chop invited me back to Mackinaw City for the Polar Bear Plunge in February. Men carve a hole in the lake with a chainsaw; you jump in and try not to die.
Might just have to make a return trip.