By Jeff Merron and David Schoenfield
Page 2
4. YOU NEED PLAYOFF EXPERIENCE

Theory popularized by: The 1998-2000 Yankees; managers who distrust rookies; ex-players who think you "learn" how to play the game as you get older.
The numbers
In a 2000 article for ESPN.com, Keith Law of Baseball Prospectus studied playoff results from 1980 to 1999. He concluded that "Experienced playoff teams" beat "Inexperienced" in 13 of 23 series. Hardly conclusive evidence.
Since then, in fact, we've seen two inexperienced playoff teams win the World Series -- the 2002 Angels and the 2003 Marlins.
In 2003, Baseball Prospectus' Michael Wolverton went a step further in another article for ESPN.com, looking at the playoff experience of individual players.
He looked at all post-World War II players with 30 or more plate appearances in at least two different postseasons. Guess what? They hit better in their first postseason (.755 OPS) compared with their last postseason (.720 OPS). "Experience" did not improve their play.
Wolverton then checked pitchers with at least nine innings pitched in two or more postseasons. Their stats also declined -- 2.86 ERA in their first postseason, 3.50 in their last postseason.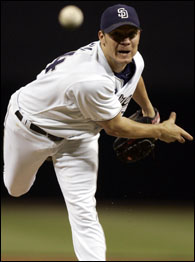 Padres ace Jake Peavy is new to the playoffs, but don't hold it against him. (Donald Miralle/Getty Images)
In both cases, 55 percent of hitters and pitchers fared better in their initial postseason experience.
Wolverton also pointed out that in looking at just the post-1995 totals, he found an even larger decline in performance for pitchers. As Wolverton wrote, "[I]s there a good explanation for the declines we found? Part of it could be age, but I suspect a bigger reason could be the inflated importance that managers attach to experience. Many managers will bend over backwards to favor veteran players over younger ones in October, regardless of what the regular season showed about their abilities."
Theory applied to 2005 playoff teams
Only the White Sox and Padres are new to the playoffs from last season, although the Braves will rely on a slew of rookies. But don't use lack of playoff experience as an excuse if those teams lose.
In fact, one manager already has chosen the "experienced" route. Joe Torre elected to start playoff vet Mike Mussina to start Game 1 of the playoffs over Shawn Chacon, even though Chacon clearly has been the better pitcher (1 run over his last three starts) down the stretch. But Chacon lacks playoff experience.
Verdict: FALSE

Jeff
Merron
and
David
Schoenfield
PLAYOFF THEORIES