By Jeff Merron and David Schoenfield
Page 2
Eight teams. Seven series. And the one that wins 11 games becomes World Series champion.
Everyone has a theory about how to become the champ. It's only natural. The Braves, Cardinals, Astros, Padres, Yankees, Red Sox, White Sox and Angels have been playing every day for six months, and after 162 games, the infopressure just builds up. We've got to find a release. So we talk about what we know, and we explain why some teams have what it takes.
We've come up with our own playoff prediction here at Page 2: Whatever you expect will happen, won't.
That's our grand unifying theory of October baseball.
And the other ones? Does pitching really win championships? Do you need momentum heading into the playoffs? Do small-ball teams fare better than power teams? We decided to take a closer look at nine popular playoff theories.
1. PITCHING WINS CHAMPIONSHIPS

Theory popularized by: Conventional wisdom; trading-deadline talk of "arms for hire"; former pitchers.
The numbers (Examining 20 World Series teams since 1995, the first season the playoffs included wild-card teams)
Ranked in regular season as top team in AL or NL in ERA: 4
Ranked in regular-season top-three teams in league in ERA: 15
Ranked in regular season as top run-scoring team in AL or NL: 4
Ranked in regular-season top-three teams in league in scoring: 9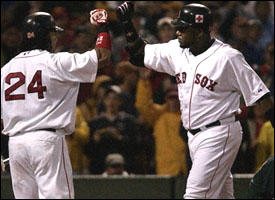 With Manny Ramirez and David Ortiz, the Red Sox have the power to overcome their pitching problems. (AP Photo)
When's the last time you heard "scoring runs wins championships"? But to get to the World Series, being one of the top-scoring teams in your league is nearly as important as being a great pitching team. Four teams that led the AL or NL in ERA since '95 reached the World Series; four teams that led the league in runs scored made the Series. And in the World Series itself, all bets are off -- the average WS winner is ranked third in the league in runs allowed, as is the average loser. And the average WS winner is ranked fifth in runs scored, as is the average loser.
Pitching seems to have a slight edge -- it's unusual for a below-average pitching team to make it to the World Series, but you can be a below-average offensive team and make it.
Theory applied to 2005 playoff teams
Yankees: 8th in ERA, 2nd in runs
Red Sox: 11th in ERA, 1st in runs
White Sox: 2nd in ERA, 9th in runs
Angels: 3rd in ERA, 7th in runs


Braves: 6th in ERA, 4th in runs
Cardinals: 1st in ERA, 3rd in runs
Astros: 2nd in ERA, 11th in runs
Padres: 7th in ERA, 13th in runs
The Cardinals have the best balance between pitching and hitting, while the Red Sox and Yankees must rely on their powerhouse offenses. While Boston had a similar powerhouse attack last season, it also had the third-best ERA in the AL.
Verdict: SPLIT

Jeff
Merron
and
David
Schoenfield
PLAYOFF THEORIES